If you believe there is intelligent extraterrestrial life out there, have you ever stopped to wonder why?
Are atheists who believe in aliens falling for one of humanity's oldest brain biases? In a series of four studies titled 'We Are Not Alone: The Meaning Motive, Religiosity, and Belief in Extraterrestrial Intelligence', psychologist Clay Routledge and his colleagues discovered that participants who report low religiosity demonstrate a greater belief in intelligent extraterrestrial life existing out there, elsewhere in the universe. This tendency is particularly interesting to science writer and skeptic Michael Shermer, because let's face it, he says, "religions have no more evidence for god than scientists have for extraterrestrials." These two beliefs are as detached from proof as each other, yet both fill the all too human need to be comforted by the thought of another world—whether takes the form of moral and kind sky gods, or technologically advanced aliens. Is a belief in intelligent extraterrestrial life just another expression of our religious impulse? Michael Shermer's new book is Heavens on Earth: The Scientific Search for the Afterlife, Immortality, and Utopia.
Churchill displays a surprising amount of knowledge on a question that we are still wrestling with.
Winston Churchill is admired for his statesmanship today. Few know he was also a science writer.
He was also among the first to see Germany as a growing threat and helped modernize and prepare Britain for the oncoming fight. His speeches during the war helped soothe and strengthen the resolve of the British people. He also coined the phrase "iron curtain" in a speech a year after the war, regarding the Soviet Union and how it was beginning to control an enormous swath of Eastern Europe.
As one of history's foremost political and military leaders, Churchill is today looked upon with respect and admiration. What he is not well known for are his ruminations regarding science. According to a newly unearthed essay, the statesman contemplated our presence in the universe, and whether or not we are the only form of intelligent life.
Churchill was in fact a prolific writer. He'd been a military reporter and penned several books. But what's less well documented is that Churchill also wrote on topics as diverse as nuclear fission, cells, and evolution, with articles published throughout the 1920s and 30s. Some scholars believe that this newly discovered piece may have been inspired by the 1938 radio broadcast of The War of The Worlds by Orson Welles, which resulted in a "Mars fever."
Churchill kept close ties with scientists during and after the war, and was the first prime minister to bring on a science adviser. He spurred an interest in science in the country, supported the erecting of labs and telescopes, and even founded Churchill College, an institution much like MIT which has since turned out 32 Nobel Prize winners. During the war, he promoted the use of radar and supported the country's nuclear program.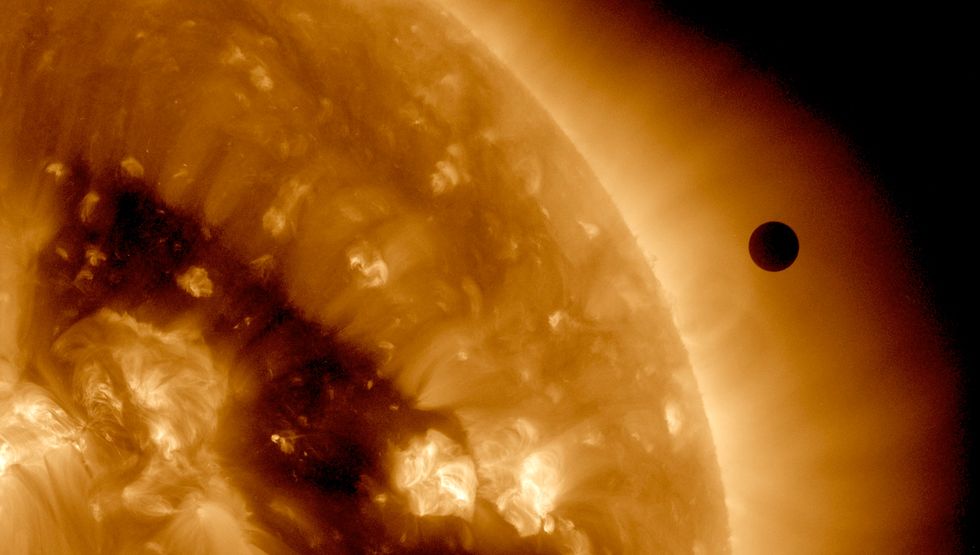 Churchill considered the Goldilocks Zone, and other astronomical principles in his argument.  
Still, it was a great shock when this newly discovered document entitled, "Are We Alone in the Universe?" was unearthed. The 11-page article was first written in 1939 and had been edited lightly for publication in the 1950s. Somehow, it had been forgotten. Then in the 1980s, a copy was given to the National Churchill Museum in Fulton, Missouri. There it remained until the museum's newest director, Timothy Riley, came across it in 2016.
After finding out it hadn't been published, he passed it on to the journal Nature. Soon, two other copies were found in UK archives. The journal didn't publish the article in its entirety.
Astrophysicist Dr. Mario Livio, who received the piece from Riley, penned the version in Nature. He told the BBC that copyright issues, for the time being, made its full publication impossible. But the museum is working to see that it will eventually be released. Livio gave insights into the famous leader's thinking, peppering his piece with quotes from the original text. Using the "Copernican Principle," Churchill argues that the vastness of the universe and the multiplicity of planets leads us to believe that we are not alone.
"The sun is merely one star in our galaxy, which contains several thousand millions of others" Churchill writes. From there, he presumes that there are probably other forms of "comparatively highly-organised life." Next, he concentrates on life's need for water. Though other liquids may support it, "nothing in our present knowledge entitles us to make such an assumption."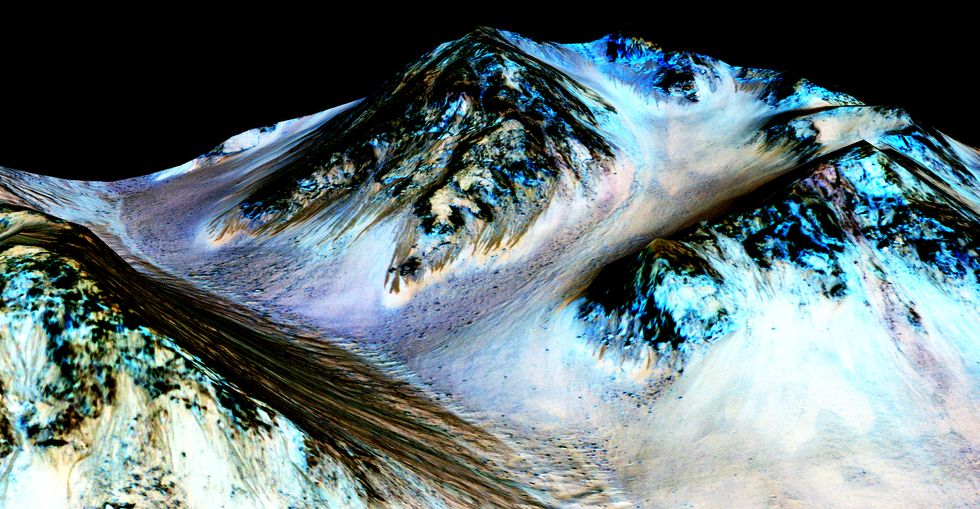 Water on Mars. Unfortunately, nothing lingers there now. But life may have inhabited the red planet in the past.
We are just beginning to learn that water is abundant in the universe, and can even be found on asteroids and on the moon. Next, Churchill concentrates on areas in solar systems which are in what we'd call today the "Goldilocks" zone, where a planet is far enough from a star as not to be too hot, but close enough so as not to be too cold. Having the right atmosphere and gravity to trap gases are important too, which Churchill considered.
He then states that Mars and Venus are our only neighbors who could harbor life. Venus's atmosphere is poisonous. But some studies suggest that it may have, at one time, been habitable. Today, astrobiologists consider Saturn's moon Titan or Jupiter's Europa as possible life-containing bodies.
Though Churchill says that our sun may be unique, he also states, "I am not sufficiently conceited to think that my sun is the only one with a family of planets." Churchill's words were extremely forward thinking, as the discovery of exoplanets only began two decades ago. He also foresaw the space program. "One day, possibly even in the not very distant future, it may be possible to travel to the Moon, or even to Venus and Mars." But whether we could cross the great distances to see if nearby exoplanets host life, Churchill was in doubt.
The then-prime-minister ends his essay by writing, "with hundreds of thousands of nebulae, each containing thousands of millions of suns, the odds are enormous that there must be immense numbers which possess planets whose circumstances would not render life impossible."
Then he says, "I, for one, am not so immensely impressed by the success we are making of our civilization here that I am prepared to think we are the only spot in this immense universe which contains living, thinking creatures, or that we are the highest type of mental and physical development which has ever appeared in the vast compass of space and time."
To learn more about this newly unearthed essay, click here: 
Peel off your tin-foil hat like a Hershey's Kiss, because Bill Nye has a reality check for the alien conspiracy theorists out there.
Peel off your tin-foil hat like a Hershey's Kiss, because Bill Nye has a reality check for the alien conspiracists out there. Roswell? Area 51? Vincent D'Onofrio as the roach alien in MIB? Bill Nye shoos them away, deeming each as unrealistic as the next.
Nye has some experience when it comes to classified information – not much, he admits, but a little. He once had security clearance while working as an engineer on secret government planes, and although he did not visit Area 51 himself, colleagues with one level higher security clearance than him did go, and what did they find there? Planes. Lots of people, lots of planes, and zero trace of alien life.
The origin of alien conspiracies go back to 1947, when something mysterious fell out of the sky and crashed at a ranch near Roswell, New Mexico. It spurred curiosity and panic; claims emerged that the unknown object was an extraterrestrial spaceship. The government eased people's minds by revealing that it was nothing but a standard weather balloon that had crashed – and of course, that was a filthy lie. The intrigue was quieted until the late 1970s, when UFO enthusiasts rediscovered the story and images and amped up the interest once again, developing conspiracy theories about alien crash landings. There was no closure until the 1990s, when the US military published reports disclosing what really happened in Roswell: it was an experimental US government spy balloon that had crashed, part of Project Mogul, an attempt to listen out for Soviet murmurs of nuclear testing.
It has been thoroughly investigated and officially debunked, but seeing as the government lied once, the heat on the theory has never really died in the hearts of passionate conspiracy theorists.
But Nye does not believe the government is concealing aliens from us for an even simpler reason: as we can see from the daily political scandals in the media, it is so hard for the government to keep anything a secret.
But he's not quick to dismiss alien life, and is excited at the prospect of traces being discovered in the next 50 or 100 years, under the icy layers of Mars, or on Jupiter's intriguing moon Europa. whether that's a sizeable organism or a mere cell, or fossil.
So there's no reason to narrow your eyes at the government when you ponder alien life. Then again, it's possible Bill Nye's body was commandeered by the government using alien technology for the duration of this interview. Or maybe Nye is an alien. And he hangs out with Tupac and Elvis drinking green slime mojitos in a secret ET spa club way out in desert Nevada.
Bill Nye's most recent book is Unstoppable: Harnessing Science to Change the World.