3 stunning ways Earth and spacetime could be destroyed
A well-known cosmologist comes out with very stark warnings about particle accelerators.
11 October, 2018
Respected astrophysicist Martin Reese has serious misgivings about the safety of the Large Hadron Collider.
The collider could destroy us in 3 different ways, warns Reese.
Despite the dangers, innovation should continue but with caution.

---
The Large Hadron Collider (LHC), the world's biggest scientific instrument, is also the planet's most powerful particle accelerator. And that makes it a potential danger not just to itself or its immediate surroundings in Switzerland, but to Earth and maybe even our reality itself.
This warning comes not from an incorrigible luddite but the influential British astrophysicist Lord Martin Rees, who sees three ways in which the collider could cause a disaster of cosmic proportions.
1. A BLACK HOLE SUCKS US IN
For one, cautions Rees in his new book On The Future: Prospects for Humanity, it's possible for the experiments conducted at the LHC to form a black hole which would "suck in everything around it".
2. EARTH GETS SHRUNK
And if apocalypse by way of black holes doesn't come to pass, it's also conceivable that Earth could get compressed into a "hyperdense sphere about one hundred metres across," as writes Lord Rees, the Emeritus Professor of Cosmology and Astrophysics at the University of Cambridge.
That could happen due to the subatomic quarks generated by the Large Hadron Collider, which smashes particles against each other at super-high speeds to study the fallout. The quarks could reassemble themselves into appropriately named (and currently hypothetical) particles called strangelets, which, in turn, could transform everything in their way into a new highly-compressed form of matter. So Earth would become no larger than a football field.
Aerial view of CERN'S Large Hadron Collider.
3. SPACETIME GETS RIPPED
There is, unfortunately, a third way towards unimaginable disaster courtesy of the LHC and other particle accelerators like the new one being built in China which would be twice as large and 7 times as powerful as CERN's. Martin Rees thinks that there's a chance the colliders could cause a "catastrophe that engulfs space itself". That's certainly nothing to take lightly.
Rees explains that contrary to what might be popularly imagined, the vacuum of space is not really full of mostly nothing but emptiness. The vacuum, says Rees, has in it "all the forces and particles that govern the physical world." And it's possible that the vacuum we can observe is actually "fragile and unstable."
What this means is that when a collider creates concentrated energy by crashing particles together, it can cause a "phase transition" which would tear the fabric of space. "This would be a cosmic calamity not just a terrestrial one," notes Rees.
Professor Baron Martin Rees of Ludlow, speaks during a news conference in London on July 20, 2015.
Photo credit: NIKLAS HALLE'N/AFP/Getty Images
So, can it happen?

While dramatic fears have circled around the Large Hadron Collider from the start, the LHC has always maintained that the work carried out there is safe. CERN, which runs the LHC, states on its website that according to a 2003 report "LHC collisions present no danger and that there are no reasons for concern."
In fact, points out the European nuclear research organization, there's nothing being done at the lab that nature hasn't already "done many times over during the lifetime of the Earth and other astronomical bodies."
The LHC staff goes even so far as to specifically refute the threat from strangelets. They turn to a study done in 2000 that "showed that there was no cause for concern." The statement goes on to observe that the collider "has now run for eight years, searching for strangelets without detecting any."
"The second scary possibility is that the quarks would reassemble themselves into compressed objects called strangelets," writes Rees. "That in itself would be harmless. However under some hypotheses a strangelet could, by contagion, convert anything else it encounters into a new form of matter, transforming the entire earth in a hyperdense sphere about one hundred metres across."
Still, an argument that there's nothing to fear just because they haven't found anything too strange and extraordinary is not completely comforting.
What would Lord Rees, who sees such dangers, do to the collider? The scientist, known for carrying out important theoretical work on a variety of subjects – from black hole formation to extragalactic radio sources and the evolution of the Universe – is not necessary calling for the LHC to be shut down.
Rather he reminds that "innovation is often hazardous." That doesn't mean you shouldn't innovate but that "physicists should be circumspect about carrying out experiments that generate conditions with no precedent, even in the cosmos." Words to live by when nothing less than the continual existence of the world is at stake.
Malcolm Gladwell teaches "Get over yourself and get to work" for Big Think Edge.
Big Think Edge
Learn to recognize failure and know the big difference between panicking and choking.

At Big Think Edge, Malcolm Gladwell teaches how to check your inner critic and get clear on what failure is.

Subscribe to Big Think Edge before we launch on March 30 to get 20% off monthly and annual memberships.
It's one of the most consistent patterns in the unviverse. What causes it?
Videos
Spinning discs are everywhere – just look at our solar system, the rings of Saturn, and all the spiral galaxies in the universe.
Spinning discs are the result of two things: The force of gravity and a phenomenon in physics called the conservation of angular momentum.
Gravity brings matter together; the closer the matter gets, the more it accelerates – much like an ice skater who spins faster and faster the closer their arms get to their body. Then, this spinning cloud collapses due to up and down and diagonal collisions that cancel each other out until the only motion they have in common is the spin – and voila: A flat disc.
It turns out, that tattoo ink can travel throughout your body and settle in lymph nodes.
17th August 1973: An American tattoo artist working on a client's shoulder. (Photo by F. Roy Kemp/BIPs/Getty Images)
popular
In the slightly macabre experiment to find out where tattoo ink travels to in the body, French and German researchers recently used synchrotron X-ray fluorescence in four "inked" human cadavers — as well as one without. The results of their 2017 study? Some of the tattoo ink apparently settled in lymph nodes.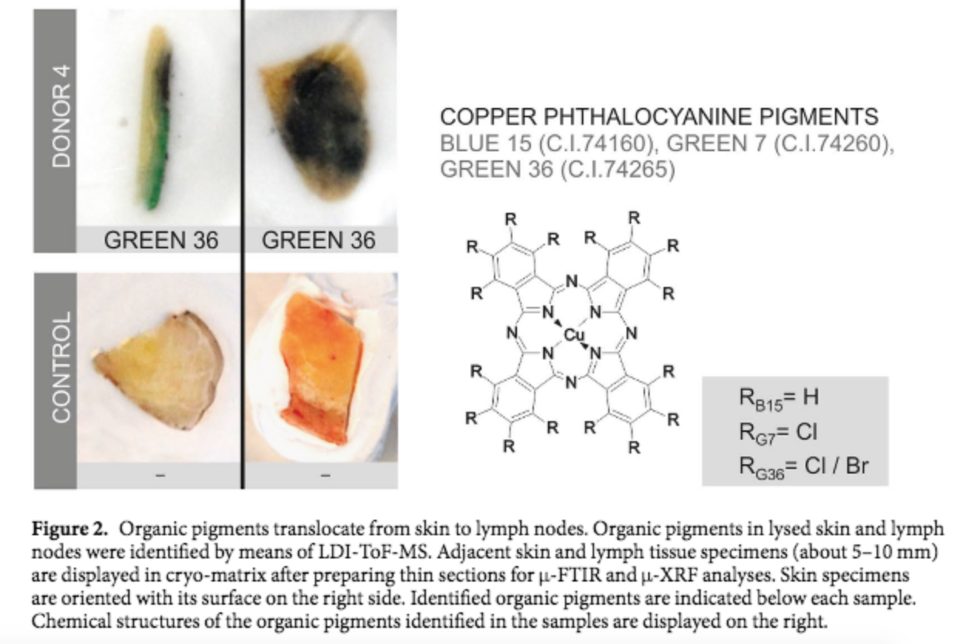 Image from the study.
As the authors explain in the study — they hail from Ludwig Maximilian University of Munich, the European Synchrotron Radiation Facility, and the German Federal Institute for Risk Assessment — it would have been unethical to test this on live animals since those creatures would not be able to give permission to be tattooed.
Because of the prevalence of tattoos these days, the researchers wanted to find out if the ink could be harmful in some way.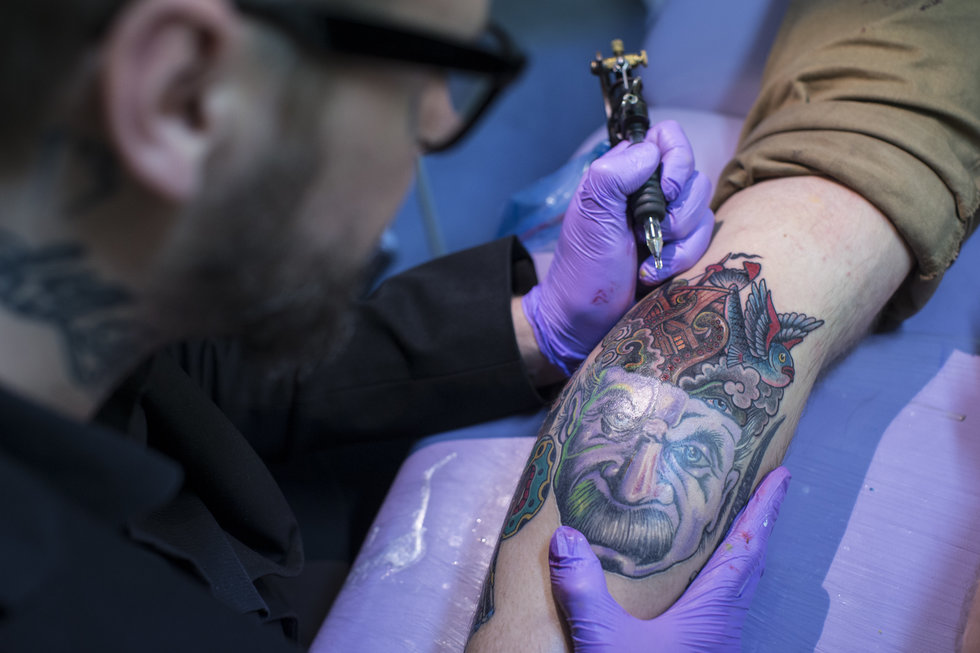 "The increasing prevalence of tattoos provoked safety concerns with respect to particle distribution and effects inside the human body," they write.
It works like this: Since lymph nodes filter lymph, which is the fluid that carries white blood cells throughout the body in an effort to fight infections that are encountered, that is where some of the ink particles collect.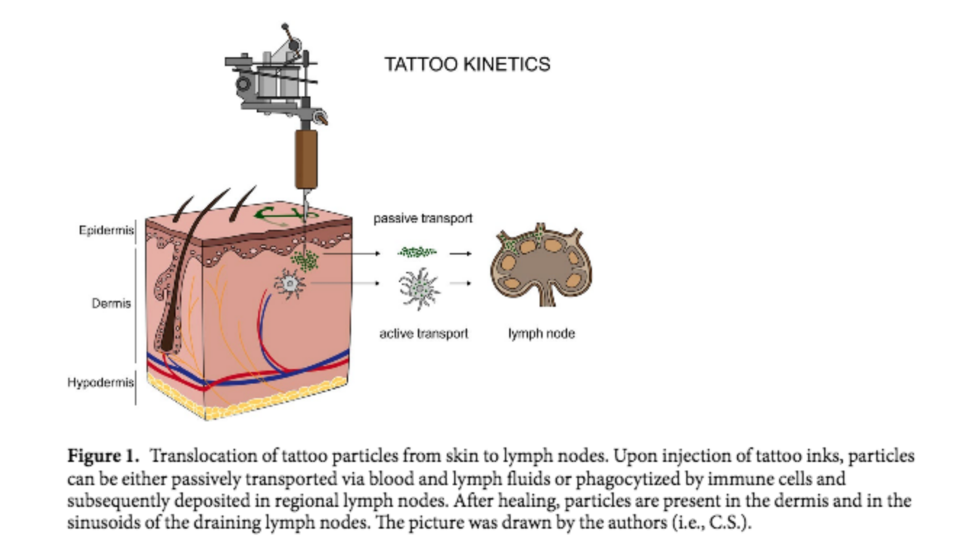 Image by authors of the study.
Titanium dioxide appears to be the thing that travels. It's a white tattoo ink pigment that's mixed with other colors all the time to control shades.
The study's authors will keep working on this in the meantime.
"In future experiments we will also look into the pigment and heavy metal burden of other, more distant internal organs and tissues in order to track any possible bio-distribution of tattoo ink ingredients throughout the body. The outcome of these investigations not only will be helpful in the assessment of the health risks associated with tattooing but also in the judgment of other exposures such as, e.g., the entrance of TiO2 nanoparticles present in cosmetics at the site of damaged skin."
Do you have a magnetic compass in your head?
Big think's weekly newsletter.
Get smarter faster from the comfort of your inbox.
See our newsletter privacy policy
here
Most Popular
Most Recent
Big think's weekly newsletter.
Get smarter faster from the comfort of your inbox.
See our newsletter privacy policy
here
© Copyright 2007-2018 & BIG THINK, BIG THINK EDGE,
SMARTER FASTER trademarks owned by The Big Think, Inc. All rights reserved.