The Woman in White: Tracing a Ghost Story on the Map of London
The Woman in White is a Victorian mystery novel containing a "songline" of a chance slice of London.
10 February, 2015
Place means nothing without context. It needs to be sung into existence. Do this for a string of places, and you have a songline. This could be a mundane tune (the itinerary of a day's wander through the city), an epic opera (the Odyssey, the mother of all return trips), or both (James Joyce's Ulysses). 
---
A storied city like London is of course replete with songlines, from ancient ones surviving only as the sediment on which later narratives are built. Others are barricaded against oblivion within the covers of a book. 
The first edition of The Happy Reader — a magazine about the pleasures of being lost in a good book — retraces one such excursion; fictional, but described nevertheless with remarkable accuracy, in Wilkie Collins' The Woman in White. The novel, one of the first in the mystery/detective genre, was serialized in 1859-60 both in Charles Dickens's All the Year Round magazine and in Harper's Weekly before being published in book form.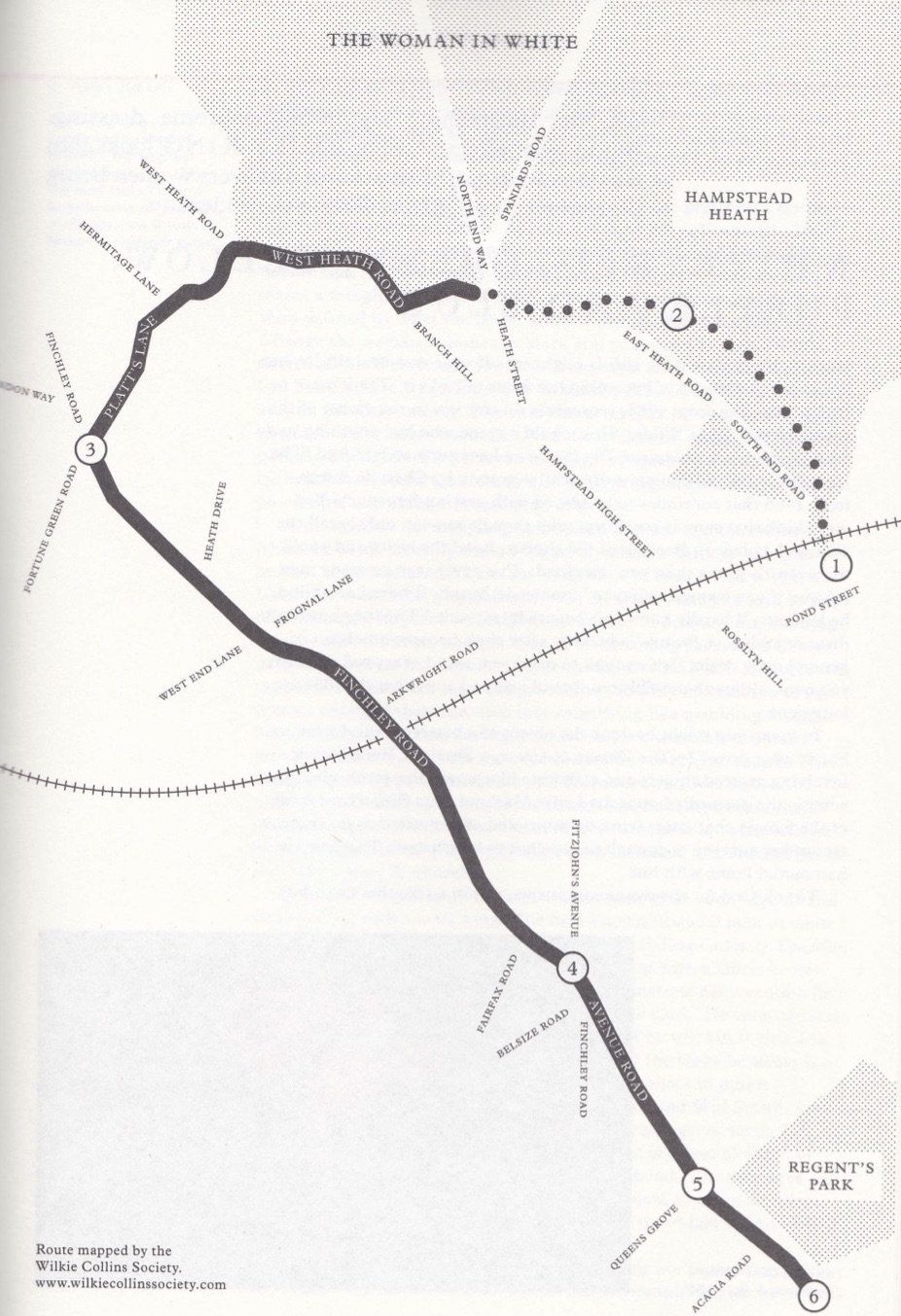 The Woman in White uses multiple narrators to tell a tale hinging on switched identities, insanity as a means of social exclusion, and the inequality of Victorian marriage laws. 
(Attention: spoilers ahead)
The story begins in Hampstead, where Walter Hartwright meets a mysterious woman who's dressed all in white. Her name is Anne Catherick, and she's escaped from an insane asylum. She also bears a striking resemblance to Laura Fairlie, a member of the Limmeridge household in Cumberland, where Walter is to teach drawing.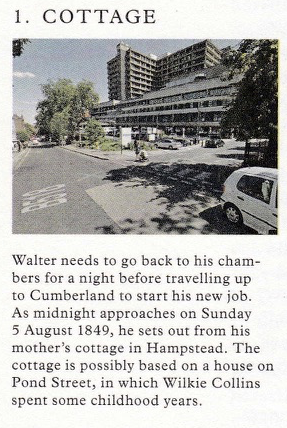 Walter and Laura fall in love, but Laura fulfills a promise to her father to marry Sir Percival Glyde. Walter leaves for Honduras. Heavily indebted, Percival vainly attempts to gain access to Laura's fortune. He then plots to switch her identity with the now terminally ill Anne, so he can pass off her death as Laura's, and inherit her money.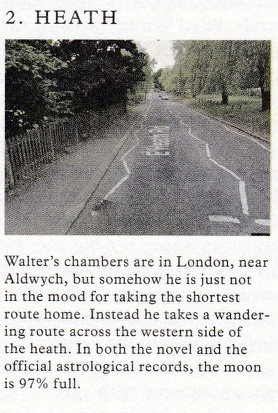 Laura is then locked up in the asylum as Anne, now with the added delusion that she is Lady Glyde. But she escapes and reunites with Walter, returned from his voyages. He eventually manages to reclaim Laura's true identity, and after they marry, their son becomes the heir to Limmeridge.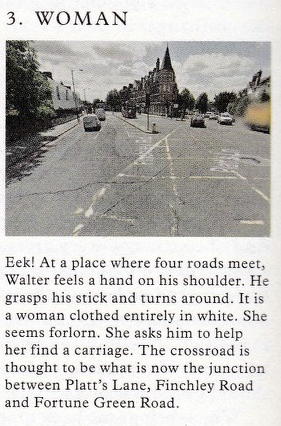 The Woman in White was immensely popular (except with "serious" critics), perhaps because it explored some of the Victorian Age's more profound anxieties: the impermanence and loss of personal identity, the inequality and insecurity of marriage laws, and the paralyzing effect of the class system.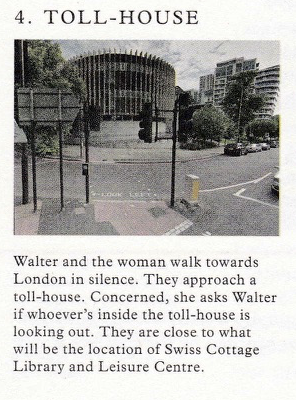 It was adapted many times for both the stage and the silver screen, notable among them Andrew Lloyd Webber's 2004 musical, and German (Die Frau in Weiß, 1971) and Soviet (Женщина в белом, 1982) movie versions, and even as a computer game (Victorian Mysteries: Woman in White, 2010).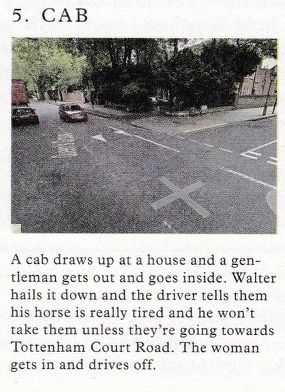 It's now also a London walk — an easy translation from literature to life, as the book "evoked [the walk] in beautiful, but also painstaking detail. The distances between landmarks, the weather, and even the angle and intensity of moonlight are plotted so as to be uncompromisingly true to life, precisely as they would have been on the imagined date."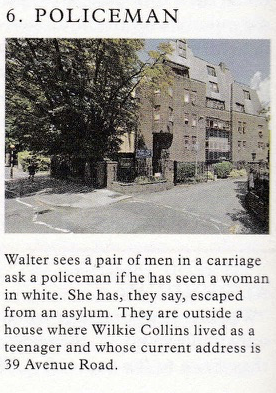 That makes it fairly easy to reconstruct Walter Hartwright's fictional, century-and-a-half-old encounter with the Woman in White. Google Street View provides further help in superimposing the Victorian Gothic tale on today's London. Following the "songline" of Wilkie Collins' novel, visitors to London experience a different aspect of the city from the all too familiar one centered on Big Ben, the Tower of London, and other landmarks in London's so-called "heritage core."
In spite of its meticulous detail, Wilkie probably didn't envision the itinerary described in The Woman in White as a tourist draw. Which makes it an excellent candidate for a guided dérive, a semi-random ramble across a chance slice of London.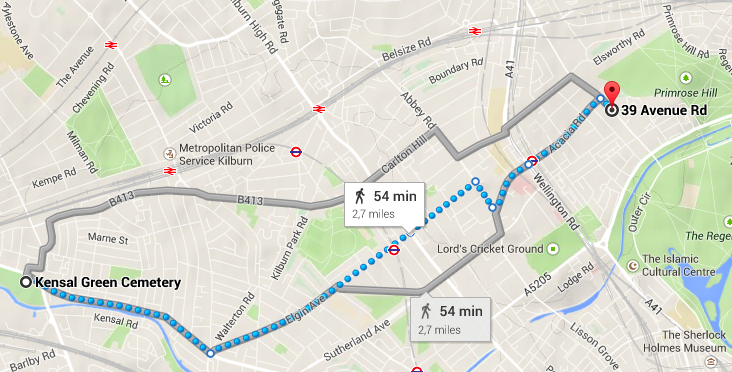 Perhaps to be topped off with a visit to Kensal Green Cemetery — 2.7 miles to the west (just under an hour's walk). The cemetery is not mentioned in the book, for it is where Wilkie Collins was buried in 1889. Although the author is perhaps better remembered for The Moonstone, his epitaph mentions only his proudest literary achievement by name: Author of "The Woman in White" and other works of fiction.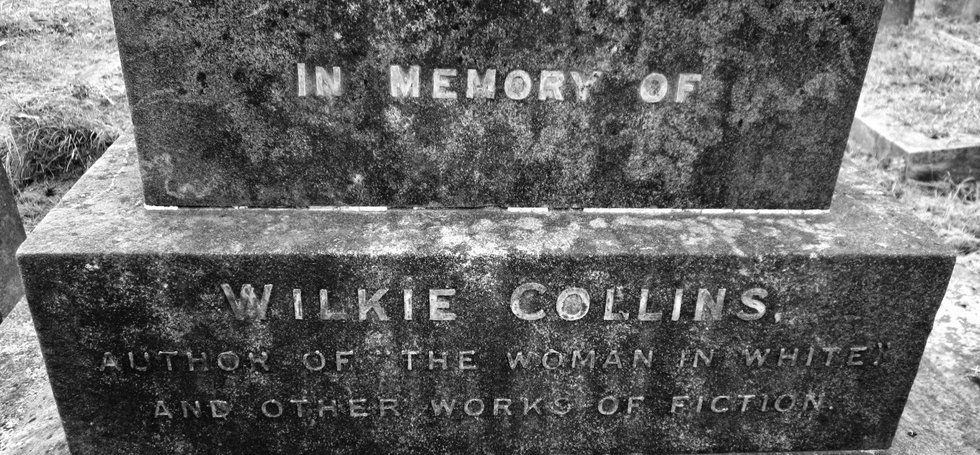 Many thanks to The Happy Reader and the Wilkie Collins Society for granting their permission to republish the map and related artwork. Map of the route from Avenue Road to Kensal Green Cemetery taken from Google Maps. Picture of the Wilkie Collins gravestone by James Gracey, reproduced with kind permission (original context here, on Mr. Gracey's horror movie blog Behind the Couch).
Strange Maps #701
Got a strange map? Let me know at strangemaps@gmail.com.
The Russian-built FEDOR was launched on a mission to help ISS astronauts.
Most people think human extinction would be bad. These people aren't philosophers.
Shutterstock
Politics & Current Affairs
A new opinion piece in The New York Times argues that humanity is so horrible to other forms of life that our extinction wouldn't be all that bad, morally speaking.
The author, Dr. Todd May, is a philosopher who is known for advising the writers of The Good Place.
The idea of human extinction is a big one, with lots of disagreement on its moral value.
Picking up where we left off a year ago, a conversation about the homeostatic imperative as it plays out in everything from bacteria to pharmaceutical companies—and how the marvelous apparatus of the human mind also gets us into all kinds of trouble.
Think Again Podcasts
"Prior to nervous systems: no mind, no consciousness, no intention in the full sense of the term. After nervous systems, gradually we ascend to this possibility of having to this possibility of having minds, having consciousness, and having reasoning that allows us to arrive at some of these very interesting decisions."

"We are fragile culturally and socially…but life is fragile to begin with. All that it takes is a little bit of bad luck in the management of those supports, and you're cooked…you can actually be cooked—with global warming!"