Big ideas.
Once a week.
Subscribe to our weekly newsletter.
Which Countries Have the Best Passports — And Which Have the Worst
Passport specifications are regulated by the International Civil Aviation Organisation (ICAO), the relative power of your country's passport says a lot about its standing in thew world.
19 May, 2016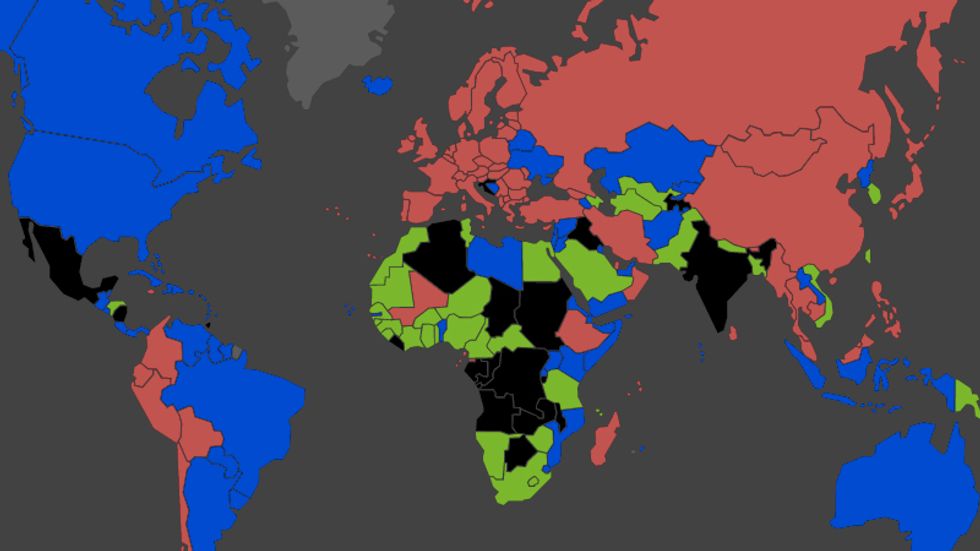 Sweden and Germany have the world's most useful passports. If your government-issued travel document says Sverige or Deutschland on the front cover, you have visa-free access to 157 countries across the globe. That's more than the holders of any other passport. 
---
The Afghans are on the other end of the scale. Their passport only grants them visa-free access to 24 countries. No nationals are less welcome abroad, although the Pakistani are almost as unpopular: they only get visa-free access to 27 countries – less even than Iraq or Somalia (30 and 32 visa-free destinations, respectively).
Passport power is a rough compound of your country's wealth and peace. The higher it scores on either index, the more welcome you'll be around the world. But if your visit is statistically more likely to add to a country's poverty or turmoil, the less likely it is that your passport alone will get you in.

Burgundy is the main colour among European passports.

North American passports: mainly blue.
And yet even those pacifist Swedes and affluent Germans still require a visa for some countries. Which ones? Well, for starters: Afghanistan, Pakistan, Iraq and Somalia. If they have a hard time getting out, you'll have a hard time getting in. 
But Swedes and Germans (and many other nationalities with powerful passports) also need visas for Saudi Arabia, Russia, India, Cuba, China, Belarus, both Congos and even the puny, Pacific atoll of Nauru. Among quite a few others. Being top of the heap list doesn't mean you get to walk into anywhere just for free. Still, most of the world is your oyster.
That oyster is shut tight if you're a Kabuli planning a get-away-from-it-all holiday. Only three countries grant genuine visa-free entry to Afghan nationals: Haiti and St. Vincent and the Grenadines in the Caribbean, and Micronesia in the Pacific. Question to any readers over there: see many Afghan holidaymakers? 
A further 21 countries are satisfied to furnish Afghan visitors with a visa on arrival (and for a fee, of course). These include Bangladesh and Burundi, Madagascar and the Maldives, Togo and Tuvalu.
Where is America on the powerful-passport scale? Quite high up – in fourth place, granting access to 154 nations. As do the passports of Singapore, Luxembourg, Austria and Portugal. Doing one better are South Korea, Denmark, Norway, the Netherlands and Belgium, with 155 visa-free destinations. Six countries rank second after Sweden and Germany, with 156 visa-free countries: France, the UK, Italy, Spain, Switzerland and Finland.
The ranking is more complex than simply adding or subtracting one visa-free destination. For example: the U.S. ranks one destination higher than Japan, but that doesn't mean that U.S. passport holders get visa-free travel to all of Japan's visa-free destinations plus one.
With a Japanese passport, you don't need a visa for China, Laos or Vietnam, Bolivia, Paraguay and a few other destinations. With an American one, you do. Inversely, Japanese visitors need a visa for Armenia, Canada, Equatorial Guinea and some others, whereas American passport holders don't.
For the full ranking, and to see which countries you need a visa for, visit Passport Index.
That website includes a few intriguing graphics. One page shows the cover of all the world's passports, in what seems to be a riot of colour. In fact, passports come in many hues of only four basic colours: red and blue, green and black. Isolate 'Europe' in the drop-down menu, and the palette narrows to burgundy, mainly. Choose 'North America', and you're faced with twenty shades of blue.
What, if any, is the system behind the geographic distribution of passport colours?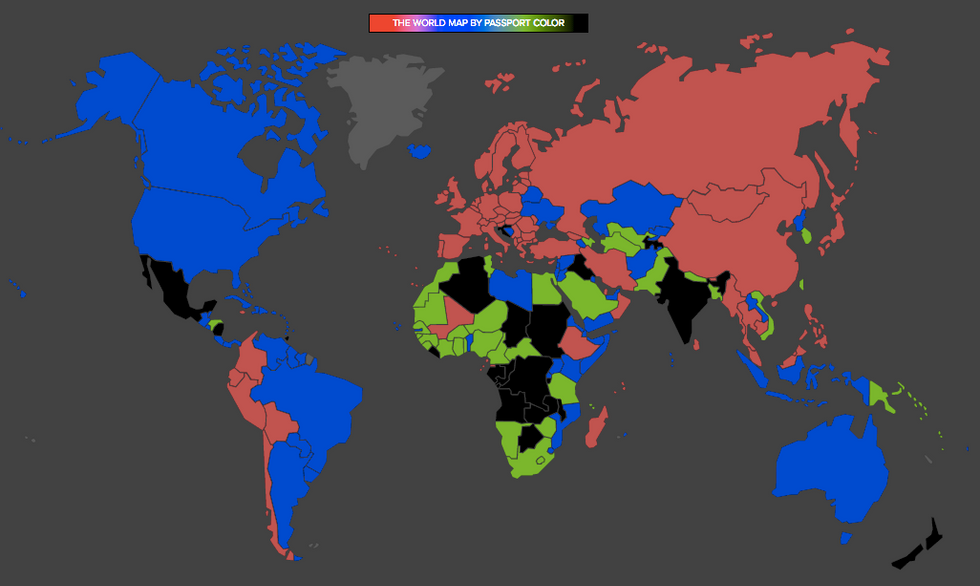 Passport specifications are regulated by the International Civil Aviation Organisation (ICAO), but colours are not part of the requirements listed in Document 9303. Countries are completely free to choose, but that choice is often determined by the regional club to which they belong – or want to belong.
Elsewhere on the Passport Index website, a world map provides an overview. Eliminating the hues to focus on the four main colours, the map looks like a game of Risk in full progress: some clustering ongoing, but still plenty of random variation.
Europe is red, but not entirely. Four countries prefer blue: Ukraine and Belarus, Bosnia and Iceland. Croatia is the even odder one out, preferring black. If we return to the passport picture overview for Europe, we see that Europe's red is mainly burgundy-tinted, as required by the European Union.
In 1981, "anxious to promote any measures which might strengthen the feeling among nationals of the Member States that they belong to the same Community," representatives of the member states of the European Communities – a precursor to the EU – resolved that their passports should have a similar design, including a burgundy cover.
If you're Boris Johnson (1), that probably adds to the evidence that the European project is a thinly veiled fascist superstate. Having decided to leave the European Union, Britain can finally cast off this burgundy straitjacket, among many other continental impositions.
Croatia, the EU's newest member state, will have to change its passport cover to burgundy next time it updates their design. Turkey, in wishful mimicry, imitates the EU's burgundy on its passports, in anticipation of one day joining the European club - although that ambition seems to have been put on the back-burner by both Turkish president Erdogan and the EU itself. Switzerland, on the other hand, distinguishes itself from Europe's subdued burgundy by adopting the bright red of its national flag.
Europe's red spills over into Asia via Turkey and Russia, all the way to Iran and Oman, and China and Japan – although the further east one gets, that is less likely to reflect any ambition to join the European Union, and more an indication of conformity to what is the world's most popular passport colour.
Blue, on the other hand, is the most popular colour in the Americas, all the way from Canada, via the U.S. and Brazil, down to Argentina. The laissez-passer for the U.S. has been navy blue since its bicentennial year, 1976, when the colour was chosen to match a shade in the American flag. Before that, U.S. passports were green (2).
Black is also the colour for Mexico, Nicaragua and Trinidad and Tobago. Nevertheless, blue is the colour for the other members of the 15-nation Caribbean Community (Caricom). It would seem that Mercosur, the South American economic association comprising Brazil, Argentina, Paraguay, Uruguay and Venezuela, follows the same rule. Blue, some say, symbolises the New World, perhaps because old-worlders needed to cross an ocean to discover, colonise and populate it.
Mercosur's South American rival, the Andean Community, appears to prescribe red for its four member countries, which would explain why Colombia, Ecuador, Peru and Bolivia's passports are in that colour – as well as those of Chile, a former Andean Community member. Jamaica also sports a red passport. Honduras is America's sole green spot.
Green is most popular in Africa, where one imagines it symbolises either the continent's verdant lushness, or the Islamic religion. The latter would explain why green spills over into southwest Asia (Saudi Arabia, Pakistan, Bangladesh, some of the 'stans). There is also a more prosaic reason for green's preponderance in Africa: it is the preferred colour for most (but not all) member states of Ecowas, the Economic Community of West African States.
Black is also most prevalent in Africa, from Algeria via Sudan and Congo to Botswana. The few non-African black passports, besides Croatia, are Iraq, Kyrgyzstan, India and New Zealand (doubtlessly a nod to the country's treasured All Blacks rugby team).
Does the world map of passport colours tend towards order or chaos? If the former, then perhaps one day all the passports in the Americas will be blue, all European ones red, all Islamic ones green, allsubsaharan African ones black. And all others the colour of the region they would most like to adhere to. But perhaps the latter is more preferable. The passport club could certainy use a few extra colours. How about a passport in bastard-amber, gingerline, drunk tank pink or banan?
--
Strange Maps #784
Got a strange map? Let me know at strangemaps@gmail.com.
(1) Former mayor of London, leading campaigner for Brexit, currently British Foreign Secretary.
(2) And not, as earlier stated, green the 1930s, and burgundy and black at later dates. Reader David Hecht explains: "all (regular) passports were green; there were -and are- however, burgundy and black U.S. passports to this day". 
"Black passports (or 'black books' to use the jargon of the well-traveled government employee) are reserved to diplomatic personnel: if you ever read or hear of an American "traveling on a diplomatic passport," you may rest assured that the color of their passport is black. These carry the imprint 'Diplomatic Passport'".
"Next down in the hierarchy are 'red books'. These are U.S.-government ("For Official Use Only") passports that are issued to civil servants who are not diplomatic personnel. Red books are marked 'Official Passport'".
"Finally, there are ordinary passports, blue since the Bicentennial and green prior to the changeover". 
Geologists discover a rhythm to major geologic events.
Surprising Science
It appears that Earth has a geologic "pulse," with clusters of major events occurring every 27.5 million years.
Working with the most accurate dating methods available, the authors of the study constructed a new history of the last 260 million years.
Exactly why these cycles occur remains unknown, but there are some interesting theories.
Our hearts beat at a resting rate of 60 to 100 beats per minute. Lots of other things pulse, too. The colors we see and the pitches we hear, for example, are due to the different wave frequencies ("pulses") of light and sound waves.
Now, a study in the journal Geoscience Frontiers finds that Earth itself has a pulse, with one "beat" every 27.5 million years. That's the rate at which major geological events have been occurring as far back as geologists can tell.
A planetary calendar has 10 dates in red
Credit: Jagoush / Adobe Stock
According to lead author and geologist Michael Rampino of New York University's Department of Biology, "Many geologists believe that geological events are random over time. But our study provides statistical evidence for a common cycle, suggesting that these geologic events are correlated and not random."

The new study is not the first time that there's been a suggestion of a planetary geologic cycle, but it's only with recent refinements in radioisotopic dating techniques that there's evidence supporting the theory. The authors of the study collected the latest, best dating for 89 known geologic events over the last 260 million years:
29 sea level fluctuations
12 marine extinctions
9 land-based extinctions
10 periods of low ocean oxygenation
13 gigantic flood basalt volcanic eruptions
8 changes in the rate of seafloor spread
8 times there were global pulsations in interplate magmatism
The dates provided the scientists a new timetable of Earth's geologic history.
Tick, tick, boom
Credit: New York University
Putting all the events together, the scientists performed a series of statistical analyses that revealed that events tend to cluster around 10 different dates, with peak activity occurring every 27.5 million years. Between the ten busy periods, the number of events dropped sharply, approaching zero.

Perhaps the most fascinating question that remains unanswered for now is exactly why this is happening. The authors of the study suggest two possibilities:
"The correlations and cyclicity seen in the geologic episodes may be entirely a function of global internal Earth dynamics affecting global tectonics and climate, but similar cycles in the Earth's orbit in the Solar System and in the Galaxy might be pacing these events. Whatever the origins of these cyclical episodes, their occurrences support the case for a largely periodic, coordinated, and intermittently catastrophic geologic record, which is quite different from the views held by most geologists."
Assuming the researchers' calculations are at least roughly correct — the authors note that different statistical formulas may result in further refinement of their conclusions — there's no need to worry that we're about to be thumped by another planetary heartbeat. The last occurred some seven million years ago, meaning the next won't happen for about another 20 million years.
Brain cells snap strands of DNA in many more places and cell types than researchers previously thought.
Mind & Brain
The urgency to remember a dangerous experience requires the brain to make a series of potentially dangerous moves: Neurons and other brain cells snap open their DNA in numerous locations — more than previously realized, according to a new study — to provide quick access to genetic instructions for the mechanisms of memory storage.
The extent of these DNA double-strand breaks (DSBs) in multiple key brain regions is surprising and concerning, says study senior author Li-Huei Tsai, Picower Professor of Neuroscience at MIT and director of The Picower Institute for Learning and Memory, because while the breaks are routinely repaired, that process may become more flawed and fragile with age. Tsai's lab has shown that lingering DSBs are associated with neurodegeneration and cognitive decline and that repair mechanisms can falter.
"We wanted to understand exactly how widespread and extensive this natural activity is in the brain upon memory formation because that can give us insight into how genomic instability could undermine brain health down the road," says Tsai, who is also a professor in the Department of Brain and Cognitive Sciences and a leader of MIT's Aging Brain Initiative. "Clearly, memory formation is an urgent priority for healthy brain function, but these new results showing that several types of brain cells break their DNA in so many places to quickly express genes is still striking."
Tracking breaks
In 2015, Tsai's lab provided the first demonstration that neuronal activity caused DSBs and that they induced rapid gene expression. But those findings, mostly made in lab preparations of neurons, did not capture the full extent of the activity in the context of memory formation in a behaving animal, and did not investigate what happened in cells other than neurons.
In the new study published July 1 in PLOS ONE, lead author and former graduate student Ryan Stott and co-author and former research technician Oleg Kritsky sought to investigate the full landscape of DSB activity in learning and memory. To do so, they gave mice little electrical zaps to the feet when they entered a box, to condition a fear memory of that context. They then used several methods to assess DSBs and gene expression in the brains of the mice over the next half-hour, particularly among a variety of cell types in the prefrontal cortex and hippocampus, two regions essential for the formation and storage of conditioned fear memories. They also made measurements in the brains of mice that did not experience the foot shock to establish a baseline of activity for comparison.
The creation of a fear memory doubled the number of DSBs among neurons in the hippocampus and the prefrontal cortex, affecting more than 300 genes in each region. Among 206 affected genes common to both regions, the researchers then looked at what those genes do. Many were associated with the function of the connections neurons make with each other, called synapses. This makes sense because learning arises when neurons change their connections (a phenomenon called "synaptic plasticity") and memories are formed when groups of neurons connect together into ensembles called engrams.
"Many genes essential for neuronal function and memory formation, and significantly more of them than expected based on previous observations in cultured neurons … are potentially hotspots of DSB formation," the authors wrote in the study.
In another analysis, the researchers confirmed through measurements of RNA that the increase in DSBs indeed correlated closely with increased transcription and expression of affected genes, including ones affecting synapse function, as quickly as 10-30 minutes after the foot shock exposure.
"Overall, we find transcriptional changes are more strongly associated with [DSBs] in the brain than anticipated," they wrote. "Previously we observed 20 gene-associated [DSB] loci following stimulation of cultured neurons, while in the hippocampus and prefrontal cortex we see more than 100-150 gene associated [DSB] loci that are transcriptionally induced."
Snapping with stress
In the analysis of gene expression, the neuroscientists looked at not only neurons but also non-neuronal brain cells, or glia, and found that they also showed changes in expression of hundreds of genes after fear conditioning. Glia called astrocytes are known to be involved in fear learning, for instance, and they showed significant DSB and gene expression changes after fear conditioning.
Among the most important functions of genes associated with fear conditioning-related DSBs in glia was the response to hormones. The researchers therefore looked to see which hormones might be particularly involved and discovered that it was glutocortocoids, which are secreted in response to stress. Sure enough, the study data showed that in glia, many of the DSBs that occurred following fear conditioning occurred at genomic sites related to glutocortocoid receptors. Further tests revealed that directly stimulating those hormone receptors could trigger the same DSBs that fear conditioning did and that blocking the receptors could prevent transcription of key genes after fear conditioning.
Tsai says the finding that glia are so deeply involved in establishing memories from fear conditioning is an important surprise of the new study.
"The ability of glia to mount a robust transcriptional response to glutocorticoids suggest that glia may have a much larger role to play in the response to stress and its impact on the brain during learning than previously appreciated," she and her co-authors wrote.
Damage and danger?
More research will have to be done to prove that the DSBs required for forming and storing fear memories are a threat to later brain health, but the new study only adds to evidence that it may be the case, the authors say.
"Overall we have identified sites of DSBs at genes important for neuronal and glial functions, suggesting that impaired DNA repair of these recurrent DNA breaks which are generated as part of brain activity could result in genomic instability that contribute to aging and disease in the brain," they wrote.
The National Institutes of Health, The Glenn Foundation for Medical Research, and the JPB Foundation provided funding for the research.
Reprinted with permission of MIT News. Read the original article.
Research shows that those who spend more time speaking tend to emerge as the leaders of groups, regardless of their intelligence.
Credit: Adobe Stock / saksit.
Surprising Science
A new study proposes the "babble hypothesis" of becoming a group leader.
Researchers show that intelligence is not the most important factor in leadership.
Those who talk the most tend to emerge as group leaders.
If you want to become a leader, start yammering. It doesn't even necessarily matter what you say. New research shows that groups without a leader can find one if somebody starts talking a lot.
This phenomenon, described by the "babble hypothesis" of leadership, depends neither on group member intelligence nor personality. Leaders emerge based on the quantity of speaking, not quality.
Researcher Neil G. MacLaren, lead author of the study published in The Leadership Quarterly, believes his team's work may improve how groups are organized and how individuals within them are trained and evaluated.
"It turns out that early attempts to assess leadership quality were found to be highly confounded with a simple quantity: the amount of time that group members spoke during a discussion," shared MacLaren, who is a research fellow at Binghamton University.
While we tend to think of leaders as people who share important ideas, leadership may boil down to whoever "babbles" the most. Understanding the connection between how much people speak and how they become perceived as leaders is key to growing our knowledge of group dynamics.
The power of babble
The research involved 256 college students, divided into 33 groups of four to ten people each. They were asked to collaborate on either a military computer simulation game (BCT Commander) or a business-oriented game (CleanStart). The players had ten minutes to plan how they would carry out a task and 60 minutes to accomplish it as a group. One person in the group was randomly designated as the "operator," whose job was to control the user interface of the game.
To determine who became the leader of each group, the researchers asked the participants both before and after the game to nominate one to five people for this distinction. The scientists found that those who talked more were also more likely to be nominated. This remained true after controlling for a number of variables, such as previous knowledge of the game, various personality traits, or intelligence.
How leaders influence people to believe | Michael Dowling | Big Think www.youtube.com
In an interview with PsyPost, MacLaren shared that "the evidence does seem consistent that people who speak more are more likely to be viewed as leaders."

Another find was that gender bias seemed to have a strong effect on who was considered a leader. "In our data, men receive on average an extra vote just for being a man," explained MacLaren. "The effect is more extreme for the individual with the most votes."
13-8
The great theoretical physicist Steven Weinberg passed away on July 23. This is our tribute.
Scroll down to load more…