Just 10 streams carry 95% of all river-borne plastic into the ocean
Just ten rivers are responsible for up to 95% of all river-borne plastic trash that ends up in the sea. Silver lining: cleaning them up would have a huge positive impact.
Frank Jacobs
From a young age, Frank was fascinated by maps and atlases, and the stories they contained. Finding his birthplace on the map in the endpapers of Tolkien's Lord of the Rings only increased his interest in the mystery and message of maps.
While pursuing a career in journalism, Frank started a blog called Strange Maps, as a repository for the weird and wonderful cartography he found hidden in books, posing as everyday objects and (of course) floating around the Internet.
"Each map tells a story, but the stories told by your standard atlas for school or reference are limited and literal: they show only the most practical side of the world, its geography and its political divisions. Strange Maps aims to collect and comment on maps that do everything but that - maps that show the world from a different angle".
A remit that wide allows for a steady, varied diet of maps: Frank has been writing about strange maps since 2006, published a book on the subject in 2009 and joined Big Think in 2010. Readers send in new material daily, and he keeps bumping in to cartography that is delightfully obscure, amazingly beautiful, shockingly partisan, and more.
10 August, 2018
Cheap, durable and multifunctional, plastic is one of humanity's most successful inventions. From the 1950s to 2015, we've produced 8.3 billion metric tons of the stuff. By now, it's everywhere. It's also non-biodegradable. And that's devastating the environment. Only 9% of all plastic waste has been recycled, and another 12% has been incinerated. That means that almost 80%—nearly 6.3 billion tons—has turned into waste with no half-life to speak of: condemned to an eternity as landfill, litter or ocean-clogging junk.
---
Every year, plastic kills around 1 million seabirds, 100,000 sea mammals and inestimable numbers of fish. The volume of plastic trash in the world's oceans is currently estimated to be around 150 million tons. No less than eight million tons are added to that every year—that's one truckload every minute. Between 0.5 and 2.75 million tons come from rivers alone.
Large rivers are particularly efficient conveyors of plastic waste to the oceans, especially in countries lacking a well-developed waste management infrastructure. Up to 95% of river-borne plastic comes from just 10 rivers, scientists at the Helmholtz Center for Environmental Research in Leipzig, Germany have found.
The scientists analysed data on both microplastic debris (<5mm) such as beads and fibres, as well as microplastic objects (plastic bottles, bags, etc.) from 79 sampling sites on 57 of the world's largest rivers, singling out the 10 mapped out here as the biggest culprits, due to "mismanagement of plastic waste in their watersheds".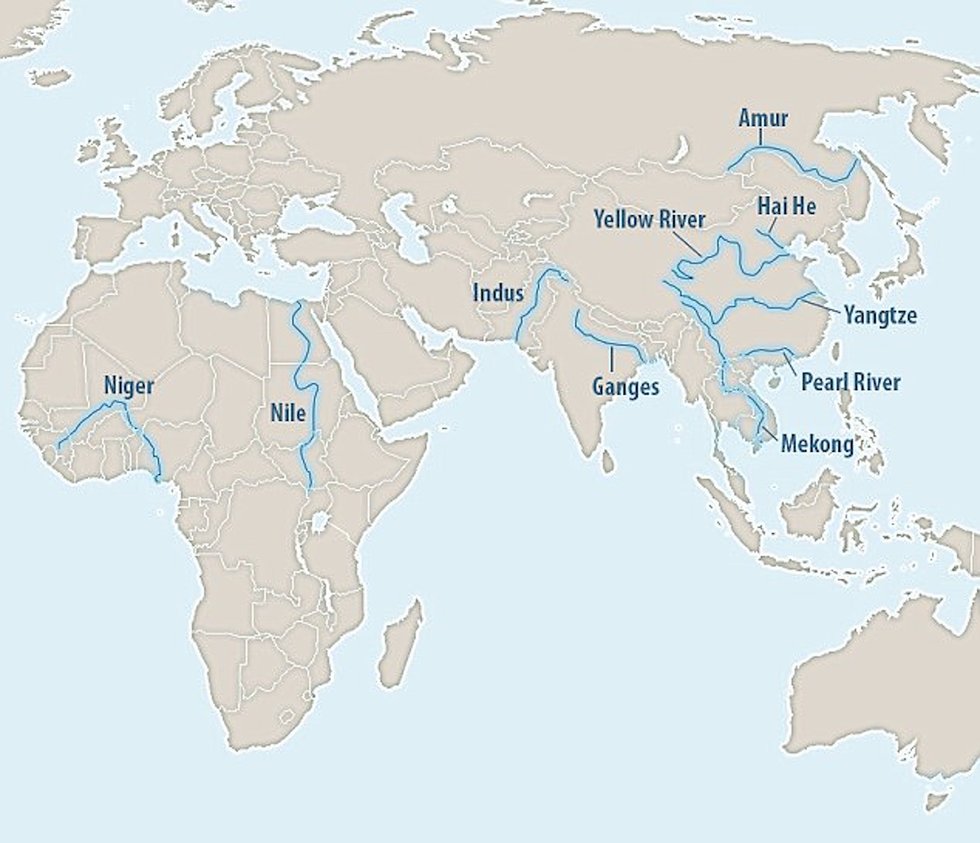 As this map shows, eight of the rivers are in Asia.
Four are solely in China:
The Yangtze, which flows into the East China Sea.
The Hai He and the Yellow River, both debouching in the Yellow Sea. 
The Pearl River, going into the South China Sea.
Two others closely involve China:
The Amur rises in Russia and flows into the Sea of Okhotsk, but for a large part of its course forms the border with China (where it's called Heilong Jang). 
The Mekong rises in China, but touches or crosses Myanmar, Laos, Thailand, Cambodia and Vietnam on its way to the South China Sea.
Two flow through the Indian subcontinent:
The Indus, which rises in China and crosses India, but mainly runs through Pakistan, ending in the Arabian Sea.
The Ganges, flowing through India and Bangladesh, into the Bay of Bengal.
The two non-Asian rivers are both in Africa:
The Nile, with two sources in Ethiopia (Blue Nile) and Rwanda (White Nile) and flowing through Uganda, South Sudan, Sudan and Egypt towards the Mediterranean. 
The Niger, rising in Guinea and flowing through Mali, Niger, Benin and Nigeria into the Gulf of Guinea.
Not all of these rivers are equally guilty. As the graph below shows, the Yangtze is the main culprit, ejecting around 1.5 million tonnes of plastic into the East China Sea. That's more than the other nine rivers combined.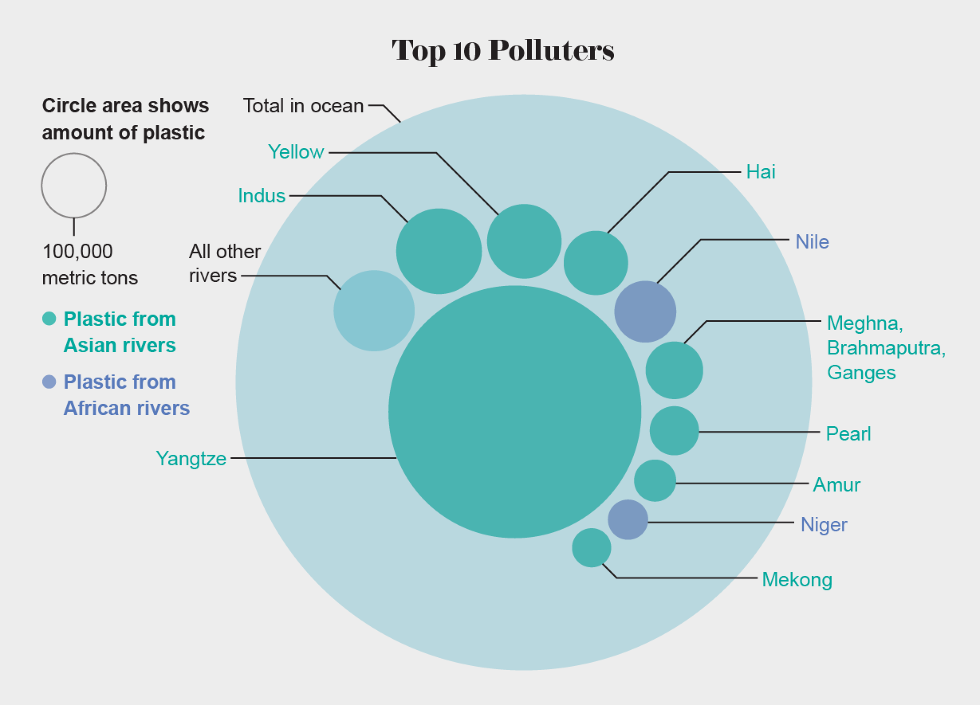 While awareness of the issue is rising, plastic pollution itself is still on the increase as well. In 2016, 480 billion plastic bottles were sold globally. By 2021, that figure will be close to 540 billion. Fewer than half of that total is currently recycled.
If current trends continue, the amount of plastic dumped into the ocean will increase to one truckload every minute today to one every 15 seconds in 2050, by which time plastic waste will literally outweigh all the fish in the ocean.
However, as the scientists from Leipzig point out, quick fixes are possible. Focusing waste management efforts on just these 10 rivers could put a serious dent in the plastic pollution trend. Halving the discharge of plastic waste in Yangtze, Ganges, Niger and the other seven rivers listed above would reduce the global flow of river-borne plastic into the oceans by no less than 45%.

Map found here at the Daily Mail. Graph found here on Scientific American's Twitter feed.
Strange Maps #929
Got a strange map? Let me know at strangemaps@gmail.com.
NASA astronomer Michelle Thaller is coming back to Big Think to answer YOUR questions! Here's all you need to know to submit your science-related inquiries.
Surprising Science
Big Think's amazing audience has responded so well to our videos from NASA astronomer and Assistant Director for Science Communication Michelle Thaller that we couldn't wait to bring her back for more!

And this time, she's ready to tackle any questions you're willing to throw at her, like, "How big is the Universe?", "Am I really made of stars?" or, "How long until Elon Musk starts a colony on Mars?"
All you have to do is submit your questions to the form below, and we'll use them for an upcoming Q+A session with Michelle. You know what to do, Big Thinkers!
Anatomy and physiology professor David Harper claims a recent study in The Lancet is flawed.
Photo: Shutterstock
Surprising Science
The low-carbohydrate group in a recent Lancet study were typically middle-aged, obese, sedentary, diabetic smokers.
The study was not a randomized, controlled, double-blind experiment.
Harper has been in ketosis for six years, and says it has profound effects on cancer patients, among other chronic ailments.
Calling all big thinkers!
Big think's weekly newsletter.
Get smarter faster from the comfort of your inbox.
See our newsletter privacy policy
here
Most Popular
Most Recent
Big think's weekly newsletter.
Get smarter faster from the comfort of your inbox.
See our newsletter privacy policy
here
© Copyright 2007-2018 & BIG THINK, BIG THINK EDGE,
SMARTER FASTER trademarks owned by The Big Think, Inc. All rights reserved.