The Geography of Genius
How genius travels, and where it settles
09 September, 2014
Genius follows its own law of gravity. It migrates in ever greater numbers to where it thrives. Hence places like Silicon Valley – and attempts to replicate it elsewhere, like London's Silicon Roundabout. The phenomenon is older than the microchip, of course, as proven by these maps.
---
Focusing on four creative disciplines, they chart the geography of genius in Europe and, over three consecutive periods (1400-1600, 1600-1800 and 1800-1950), the drastic changes to that geography. For genius, like money, is a highly mobile form of capital, as demonstrated by each of these maps, describing the origin of significant figures in art, literature, music and science.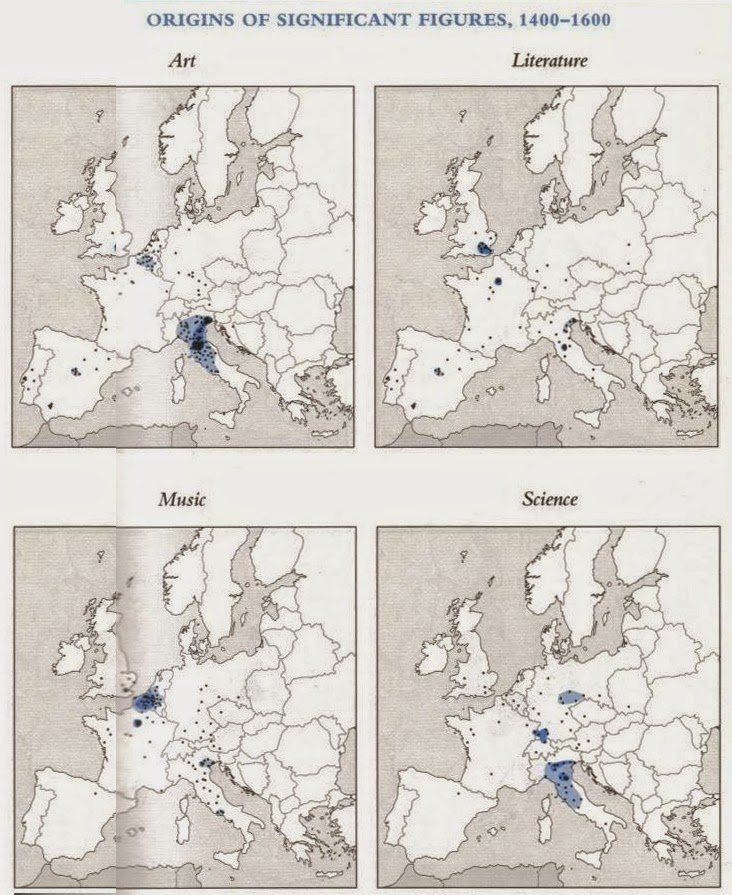 In the 15th and 16th century, three distinct areas emerged as the centres of creative genius. The art world was dominated by northern Italy (in blue) and especially by its cities (black dots), with secondary centres in the Low Countries and around Madrid. The world of literature was more polycentric, concentrated around major cities like Paris, again Madrid, and some of the northern Italian cities, but the major concentration is around London.
The place to be for music in this period was the southern half of the Low Countries (later to become Belgium). Northern Italy is again the centre of gravity for science in the 15th and 16th century – with two more 'Silicon Valleys' in Germany, one near the tripoint with France and Switzerland, the other in the east, around cities like Leipzig and Dresden.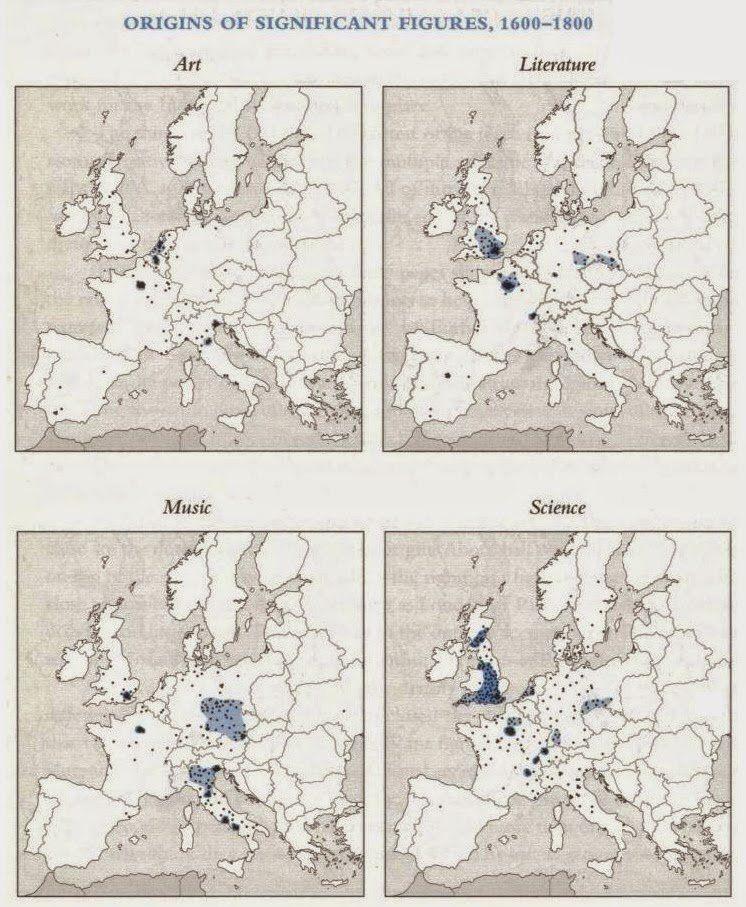 In the second period, the four 'valleys' have moved and/or changed shape. The art world seems to have retreated from northern Italy, save for some of the big cities – Venice among them. In the Netherlands, an axis of density now extends from the southern cities of Brussels and Antwerp all the way up north to Amsterdam. England continues to dominate the literary world, its 'valley' now extending from London deep into the Midlands. But France – and especially Paris and the Ile de France around it – are moving up into the (literary) world. Other literary concentrations: central Germany, and Geneva, at the western extremity of Switzerland.
The Low Countries have fallen off the musical bandwagon, and the centre of gravity has moved to an area of central Europe in and around Bohemia (currently a.k.a. the Czech Republic). The small area around Venice has extended to encompass much of northern Italy, with two hotspots in the south of the peninsula. In science, Britain has firmly taken the lead, and Italy has completely lost it. Other great scientists dot Germany and France, with particular concentrations in Paris, the same central German area also doing well in literature (and music), and Geneva and some neighbouring cities.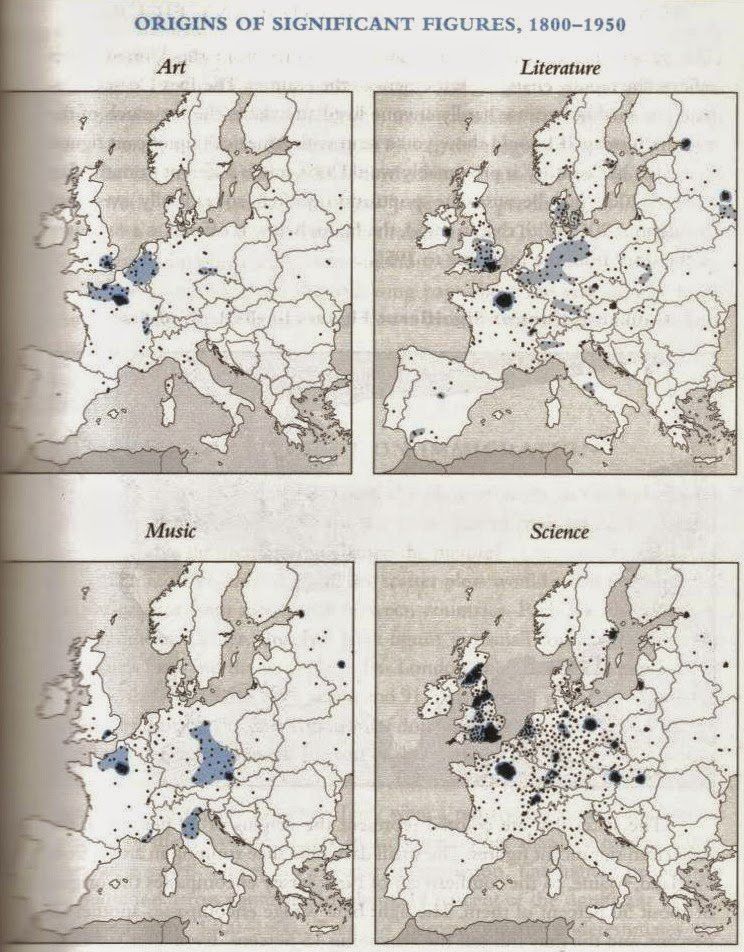 In the last period, 'art' has intensified in the Low Countries and northern France, and made the leap across the Channel to London and the south east of England, presenting a contiguous zone dense with artists. Paris and London are the capitals of literature, but a large band of literary figures stretches in one fell swoop across the Low Countries into northern Germany. For the rest, literature seems to be best practised in capital cities – St Petersburg, Moscow, Vienna and Prague also light up.
Music is dominated by three very regional zones in three continental cultures: Paris and the north in France, the central/southern area in the German culture zone (in which we'll include, for historical reasons, Bohemia), and a similarly contiguous area in northern Italy. But much more than other disciplines, this is the age of science: three black bands across Britain, and large dots surrounding Paris, Berlin and Vienna indicate high concentrations of famous scientists; but the whole of northern Europe is dappled with birth places of famous scientists...
Many thanks to J.B. Post for sending in these images, found here on Dark Roasted Blend. They were taken from Human Accomplishment: The Pursuit of Excellence in the Arts and Sciences, 800 B.C. to 1950 by Charles Murray and are reproduced here with kind permission from the author).
Strange Maps #678
Got a strange map? Let me know at strangemaps@gmail.com.
What can 3D printing do for medicine? The "sky is the limit," says Northwell Health researcher Dr. Todd Goldstein.
Northwell Health
Sponsored by Northwell Health
Medical professionals are currently using 3D printers to create prosthetics and patient-specific organ models that doctors can use to prepare for surgery.
Eventually, scientists hope to print patient-specific organs that can be transplanted safely into the human body.
Northwell Health, New York State's largest health care provider, is pioneering 3D printing in medicine in three key ways.
The periodic table was a lot simpler at the beginning of the universe.
The controversial herbicide is everywhere, apparently.
Surprising Science
U.S. PIRG tested 20 beers and wines, including organics, and found Roundup's active ingredient in almost all of them.
A jury on August 2018 awarded a non-Hodgkin's lymphoma victim $289 million in Roundup damages.
Bayer/Monsanto says Roundup is totally safe. Others disagree.
Can dirt help us fight off stress? Groundbreaking new research shows how.
University of Colorado Boulder
Surprising Science
New research identifies a bacterium that helps block anxiety.
Scientists say this can lead to drugs for first responders and soldiers, preventing PTSD and other mental issues.
The finding builds on the hygiene hypothesis, first proposed in 1989.
Are modern societies trying too hard to be clean, at the detriment to public health? Scientists discovered that a microorganism living in dirt can actually be good for us, potentially helping the body to fight off stress. Harnessing its powers can lead to a "stress vaccine".
Researchers at the University of Colorado Boulder found that the fatty 10(Z)-hexadecenoic acid from the soil-residing bacterium Mycobacterium vaccae aids immune cells in blocking pathways that increase inflammation and the ability to combat stress.
The study's senior author and Integrative Physiology Professor Christopher Lowry described this fat as "one of the main ingredients" in the "special sauce" that causes the beneficial effects of the bacterium.
The finding goes hand in hand with the "hygiene hypothesis," initially proposed in 1989 by the British scientist David Strachan. He maintained that our generally sterile modern world prevents children from being exposed to certain microorganisms, resulting in compromised immune systems and greater incidences of asthma and allergies.
Contemporary research fine-tuned the hypothesis, finding that not interacting with so-called "old friends" or helpful microbes in the soil and the environment, rather than the ones that cause illnesses, is what's detrimental. In particular, our mental health could be at stake.
"The idea is that as humans have moved away from farms and an agricultural or hunter-gatherer existence into cities, we have lost contact with organisms that served to regulate our immune system and suppress inappropriate inflammation," explained Lowry. "That has put us at higher risk for inflammatory disease and stress-related psychiatric disorders."
University of Colorado Boulder
Christopher Lowry
This is not the first study on the subject from Lowry, who published previous work showing the connection between being exposed to healthy bacteria and mental health. He found that being raised with animals and dust in a rural environment helps children develop more stress-proof immune systems. Such kids were also likely to be less at risk for mental illnesses than people living in the city without pets.
Lowry's other work also pointed out that the soil-based bacterium Mycobacterium vaccae acts like an antidepressant when injected into rodents. It alters their behavior and has lasting anti-inflammatory effects on the brain, according to the press release from the University of Colorado Boulder. Prolonged inflammation can lead to such stress-related disorders as PTSD.
The new study from Lowry and his team identified why that worked by pinpointing the specific fatty acid responsible. They showed that when the 10(Z)-hexadecenoic acid gets into cells, it works like a lock, attaching itself to the peroxisome proliferator-activated receptor (PPAR). This allows it to block a number of key pathways responsible for inflammation. Pre-treating the cells with the acid (or lipid) made them withstand inflammation better.
Lowry thinks this understanding can lead to creating a "stress vaccine" that can be given to people in high-stress jobs, like first responders or soldiers. The vaccine can prevent the psychological effects of stress.
What's more, this friendly bacterium is not the only potentially helpful organism we can find in soil.
"This is just one strain of one species of one type of bacterium that is found in the soil but there are millions of other strains in soils," said Lowry. "We are just beginning to see the tip of the iceberg in terms of identifying the mechanisms through which they have evolved to keep us healthy. It should inspire awe in all of us."
Check out the study published in the journal Psychopharmacology.
Big think's weekly newsletter.
Get smarter faster from the comfort of your inbox.
See our newsletter privacy policy
here
Most Popular
Most Recent
Big think's weekly newsletter.
Get smarter faster from the comfort of your inbox.
See our newsletter privacy policy
here
© Copyright 2007-2019 & BIG THINK, BIG THINK EDGE,
SMARTER FASTER trademarks owned by The Big Think, Inc. All rights reserved.