The Geography of Genius
How genius travels, and where it settles
09 September, 2014
Genius follows its own law of gravity. It migrates in ever greater numbers to where it thrives. Hence places like Silicon Valley – and attempts to replicate it elsewhere, like London's Silicon Roundabout. The phenomenon is older than the microchip, of course, as proven by these maps.
---
Focusing on four creative disciplines, they chart the geography of genius in Europe and, over three consecutive periods (1400-1600, 1600-1800 and 1800-1950), the drastic changes to that geography. For genius, like money, is a highly mobile form of capital, as demonstrated by each of these maps, describing the origin of significant figures in art, literature, music and science.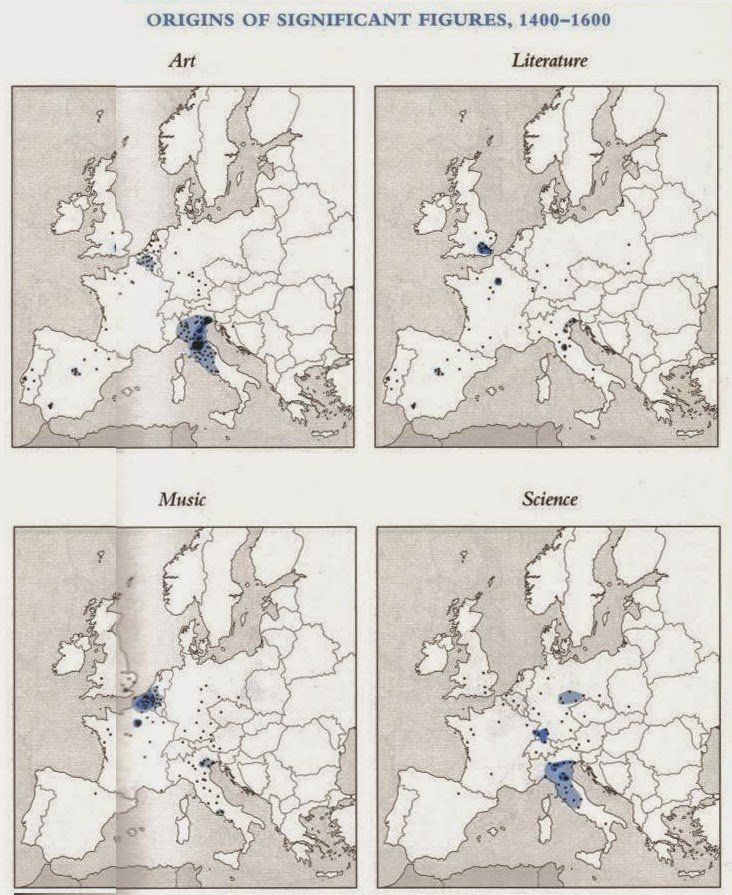 In the 15th and 16th century, three distinct areas emerged as the centres of creative genius. The art world was dominated by northern Italy (in blue) and especially by its cities (black dots), with secondary centres in the Low Countries and around Madrid. The world of literature was more polycentric, concentrated around major cities like Paris, again Madrid, and some of the northern Italian cities, but the major concentration is around London.
The place to be for music in this period was the southern half of the Low Countries (later to become Belgium). Northern Italy is again the centre of gravity for science in the 15th and 16th century – with two more 'Silicon Valleys' in Germany, one near the tripoint with France and Switzerland, the other in the east, around cities like Leipzig and Dresden.
In the second period, the four 'valleys' have moved and/or changed shape. The art world seems to have retreated from northern Italy, save for some of the big cities – Venice among them. In the Netherlands, an axis of density now extends from the southern cities of Brussels and Antwerp all the way up north to Amsterdam. England continues to dominate the literary world, its 'valley' now extending from London deep into the Midlands. But France – and especially Paris and the Ile de France around it – are moving up into the (literary) world. Other literary concentrations: central Germany, and Geneva, at the western extremity of Switzerland.
The Low Countries have fallen off the musical bandwagon, and the centre of gravity has moved to an area of central Europe in and around Bohemia (currently a.k.a. the Czech Republic). The small area around Venice has extended to encompass much of northern Italy, with two hotspots in the south of the peninsula. In science, Britain has firmly taken the lead, and Italy has completely lost it. Other great scientists dot Germany and France, with particular concentrations in Paris, the same central German area also doing well in literature (and music), and Geneva and some neighbouring cities.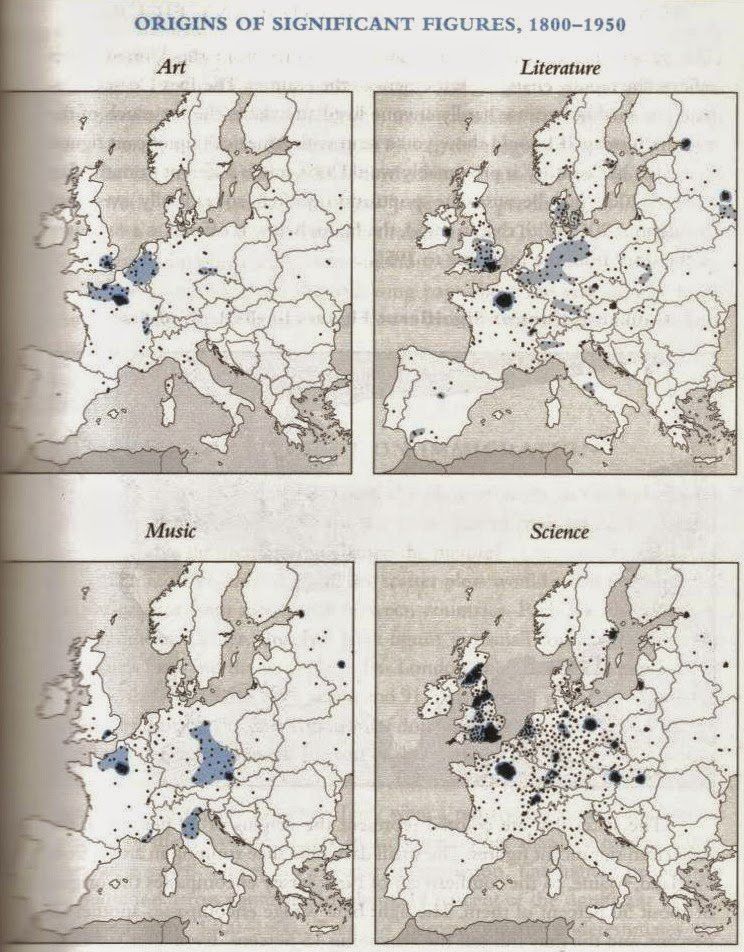 In the last period, 'art' has intensified in the Low Countries and northern France, and made the leap across the Channel to London and the south east of England, presenting a contiguous zone dense with artists. Paris and London are the capitals of literature, but a large band of literary figures stretches in one fell swoop across the Low Countries into northern Germany. For the rest, literature seems to be best practised in capital cities – St Petersburg, Moscow, Vienna and Prague also light up.
Music is dominated by three very regional zones in three continental cultures: Paris and the north in France, the central/southern area in the German culture zone (in which we'll include, for historical reasons, Bohemia), and a similarly contiguous area in northern Italy. But much more than other disciplines, this is the age of science: three black bands across Britain, and large dots surrounding Paris, Berlin and Vienna indicate high concentrations of famous scientists; but the whole of northern Europe is dappled with birth places of famous scientists...
Many thanks to J.B. Post for sending in these images, found here on Dark Roasted Blend. They were taken from Human Accomplishment: The Pursuit of Excellence in the Arts and Sciences, 800 B.C. to 1950 by Charles Murray and are reproduced here with kind permission from the author).
Strange Maps #678
Got a strange map? Let me know at strangemaps@gmail.com.
Upstreamism advocate Rishi Manchanda calls us to understand health not as a "personal responsibility" but a "common good."
Sponsored by Northwell Health
Upstreamism tasks health care professionals to combat unhealthy social and cultural influences that exist outside — or upstream — of medical facilities.
Patients from low-income neighborhoods are most at risk of negative health impacts.
Thankfully, health care professionals are not alone. Upstreamism is increasingly part of our cultural consciousness.
It marks a major shift in the government's battle against the opioid crisis.
George Frey/Bloomberg via Getty Images
Politics & Current Affairs
The nation's sixth-largest drug distributor is facing criminal charges related to failing to report suspicious drug orders, among other things.
It marks the first time a drug company has faced criminal charges for distributing opioids.
Since 1997, nearly 222,000 Americans have died from prescription opioids, partly thanks to unethical doctors who abuse the system.
A new study shows that some men's reaction to sex is not what you'd expect, resulting in a condition previously observed in women.
Credit: Pixabay
Sex & Relationships
A new study shows men's feelings after sex can be complex.
Some men reportedly get sad and upset.
The condition affected 41% of men in the study
The real Game of Thrones might be who best leverages the hit HBO show to shape political narratives.
Photo credit: Mario Tama / Getty Images
Politics & Current Affairs
Sen. Elizabeth Warren argues that Game of Thrones is primarily about women in her review of the wildly popular HBO show.
Warren also touches on other parallels between the show and our modern world, such as inequality, political favoritism of the elite, and the dire impact of different leadership styles on the lives of the people.
Her review serves as another example of using Game of Thrones as a political analogy and a tool for framing political narratives.
Big think's weekly newsletter.
Get smarter faster from the comfort of your inbox.
See our newsletter privacy policy
here
Most Popular
Most Recent
Big think's weekly newsletter.
Get smarter faster from the comfort of your inbox.
See our newsletter privacy policy
here
© Copyright 2007-2019 & BIG THINK, BIG THINK EDGE,
SMARTER FASTER trademarks owned by The Big Think, Inc. All rights reserved.