The Accidental Beauty of Flight Paths
Discover the invisible ballet in the sky.
04 November, 2014
There is more between heaven and earth than bird migrations and weather fronts. These maps capture the poetic beauty of something utterly mundane and usually invisible: the flight patterns of the planes that bring us from airport A to airport B.
---
We live in the age of mass air travel. At any given moment, there are about 10,000 commercial planes airborne, carrying an estimated half a million passengers across the skies. We also live in the era of Big Data. Which means that the movements of those thousands of planes can be followed in real time on websites such as Plane Finder and Flightradar24.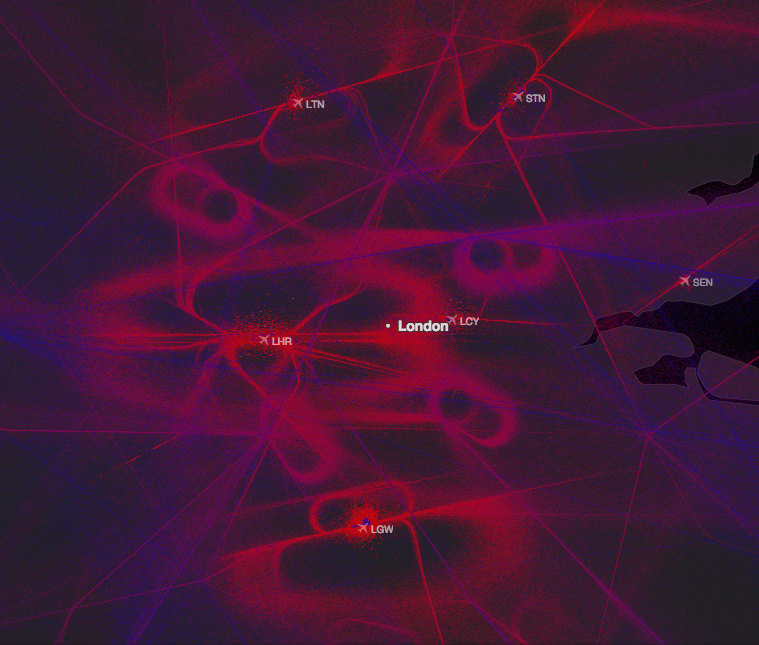 London and the pretty holding patterns around its airports: Heathrow (LHR), Gatwick (LGW), City (LCY), Luton (LTN), Stansted (STN) and Southend-on-Sea (SEN).
Their screens swarm with moving airplane icons, each containing a wealth of information on the flight in question. Click on the plane now over the Mediterranean, just south of the Pelopponesos: Emirates flight EK78, en route from Nice to Dubai, cruising at 35,000 feet at a speed of 540 knots, and a heading of 123°. The Boeing 777-300ER with tail number A6-EBM is 976 miles in, and has 2,975 miles to go. It left Nice with just over 5 hours' delay. ETA is 23:35, Gulf Standard Time. All we don't know, is how many passengers are on the plane, which movies are being shown, and what's on the menu (although my guess is: chicken or beef).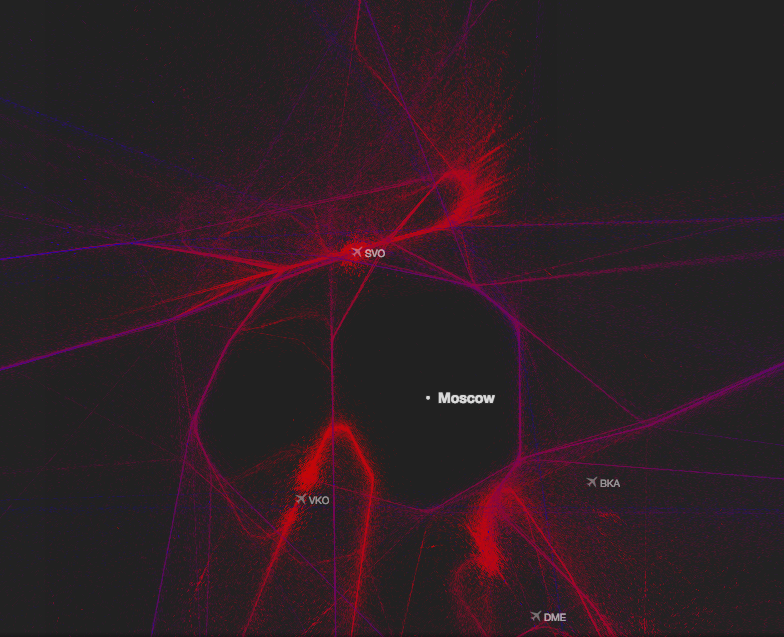 Moscow and its two black holes.
Alexey Papulovsky and Nikolay Guryanov, two Moscow-based software engineers, took their fascination with live flight data in the other direction, from the specific to the general. They collected over a billion data points from a single month's worth of flight information on Plane Finder (i.c. October 2012), and plotted them out on a searchable, scalable world map. The result is called Contrailz, after the condensation trails momentarily tracing the flight paths of planes.
On a grand scale, the project is reminiscent of another experiment in data visualisation discussed on this blog – mapping the geotagged log entries of 19th-century whaling ships (see #636). Like that map, this one reveals a traffic map, with minor and major roads, intersections and junctions. Only this time not made from seawater, but out of thin air.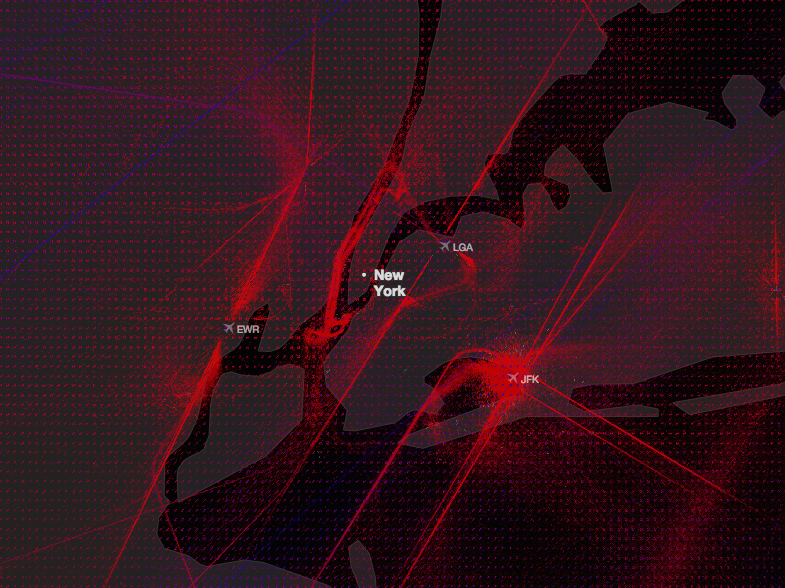 New York area flight patterns seem aligned with Manhattan.
However, the Contrailz data is not as globe-covering as the whaling routes map: outside the denser populated areas of Europe and North America, the flight paths – red for lower altitude, blue for higher up – only cluster around the bigger cities, leaving large parts of Latin America, Africa, Asia and Oceania blank.  
But that's alright, because the visual fun really starts when the lines approach an airport and turn from blue to red: from straight, they bend into intricate looping pathways, denoting the approach paths and holding patterns around the world's major airports.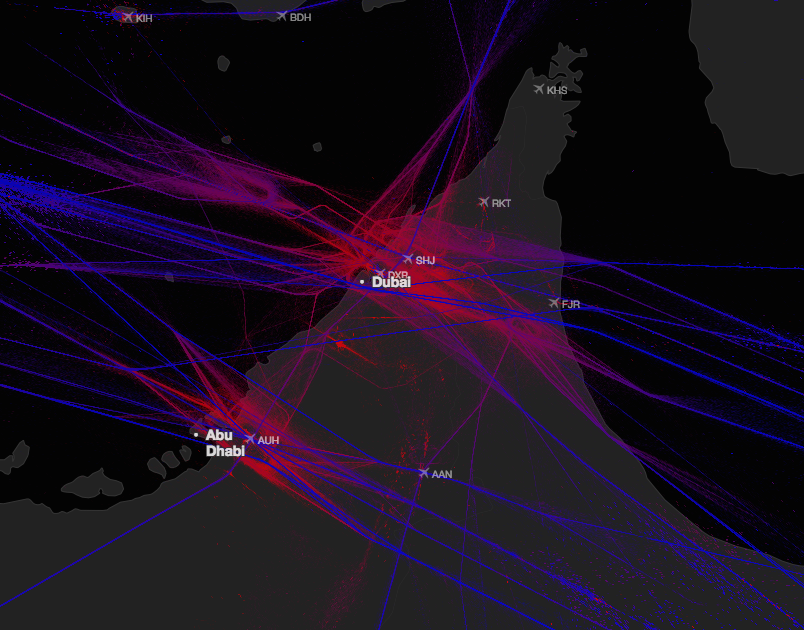 The twin transit hubs of Abu Dhabi and Dubai.
The patterns are especially pretty over London, with the holding patterns shaped like athletics tracks. The one over Moscow is intriguing, with two black holes in the middle. Only since March 2013 are civil flights allowed in those zones – the city centre and Rublyovka, an expensive residential area to the west of the city, home to much of Russia's elite – and even then only with an altitude of at least 27,000 feet.
Whatever the story behind each of those patterns, the fascinating thing about them is their accidental beauty – action painting conjured up out of thin air, with nothing but big data and the computing power to crunch them.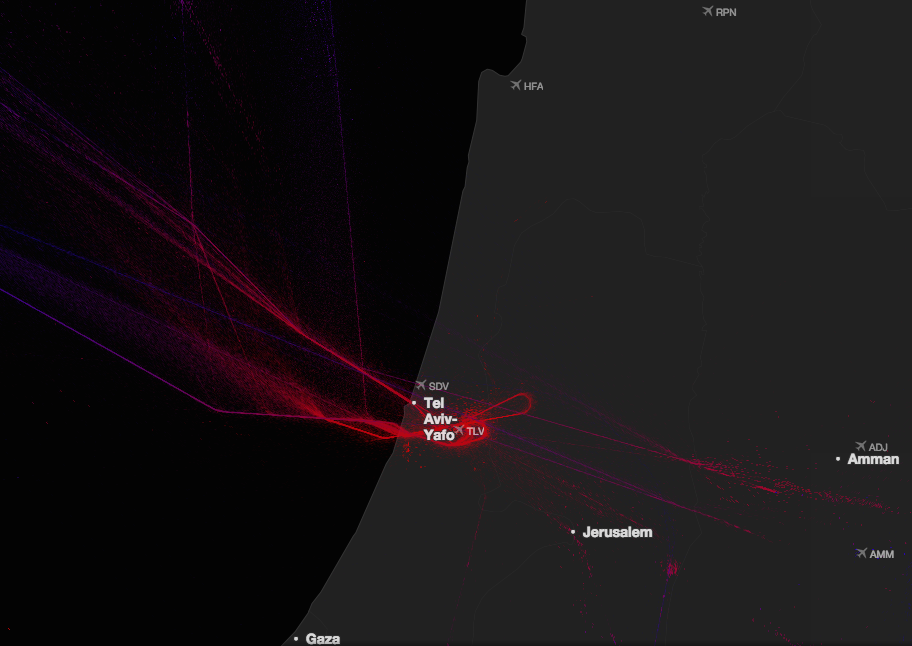 Israel's regional isolation, aeronautically exemplified.
All images taken from Contrailz, reproduced by kind permission of Nikolay Guryanov
Strange Maps #687
Got a strange map? Let me know at strangemaps@gmail.com.
Big Think
Sponsored by Lumina Foundation
Upvote/downvote each of the videos below!

As you vote, keep in mind that we are looking for a winner with the most engaging social venture pitch - an idea you would want to invest in.
Lumina Foundation and Big Think have partnered to bring this entrepreneurial competition to life, and we hope you'll participate! We have narrowed down the competition to four finalists and will be announcing an audience's choice award and a judges' choice award in May.
The creator of the winning video — chosen by Big Think's audience, the Lumina Foundation, and an independent panel of experts (bios below) — will be flown to New York for a taping in the Big Think studio as a way to further promote their vision for a new, disruptive idea in post-secondary education.
Thank you to all of the contestants who spent time submitting applications, and best of luck to our final four competitors.
Finalist: Greater Commons - Todd McLeod
Greater Commons, founded by Todd McLeod and Andrew Cull, is an organization that helps people live happier, more successful and fulfilling lives through agile learning. The current education system is inefficient and exclusionary, in which many students who end up earning a degree, if at all, enter a career not related to their field of study. Greater Commons solves this problem and gap in post-high school secondary education in a variety of ways. Passionately and diligently, Great Commons helps others obtain skills, knowledge, wisdom, motivation, and inspiration so that they may live better lives.
Finalist: PeerFoward - Keith Frome
PeerForward is an organization dedicated to increasing the education and career success rates of students in low-income schools and communities by mobilizing the power of positive peer influence. PeerForward works with partner schools to select influential students as a part of a team, systemizing the "peer effect." Research in the fields of sociology of schools, social-emotional learning, adult-youth partnerships, and civic education demonstrates that students can have a positive effect on the academic outcomes of their peers. PeerForward is unique through its systemic solutions to post-secondary education.
Finalist: Cogniss - Leon Young
Cogniss combines technology and best practice knowledge to enable anyone to innovate and share solutions that advance lifelong learning. Cogniss is the only platform to integrate neuroscience, through which it solves the problem of access by providing a low-code platform that enables both developers and non-developers to build sophisticated education apps fast, and at a much lower cost. It addresses the uneven quality of edtech solutions by embedding research-based learning design into its software. App creators can choose from a rich set of artificial intelligence, game, social and data analytics, and gamification to build their perfect customized solution.
Finalist: Practera - Nikki James
Practera's mission is to create a world where everyone can learn through experience. Today's workplaces are increasingly dynamic and diverse, however, costly and time-consuming experiential learning is not always able to offer the right opportunities at scale. Many students graduate without developing the essential skills for their chosen career. Practera's team of educators and technologists see this problem as an opportunity to transform the educational experience landscape, through a CPL pedagogical framework and opportunities to apply students' strengths through active feedback.
Thank you to our judges!
Our expert judges are Lorna Davis, Dan Rosensweig, and Stuart Yasgur.
Lorna Davis is the Senior Advisor to Danone CEO and is a Global Ambassador for the B Corp movement. Lorna has now joined B-Lab, the non-for-profit that supports the B Corporation movement on an assignment to support the journey of large multi nationals on the path to using business as a force of good.
Dan Rosensweig joined Chegg in 2010 with a vision for transforming the popular textbook rental service into a leading provider of digital learning services for high school and college students. As Chairman and CEO of Chegg, Dan commits the company to fulfilling its mission of putting students first and helping them save time, save money and get smarter.

Stuart Yasgur leads Ashoka's Social Financial Services globally. At Ashoka, Stuart works with others to initiate efforts that have mobilized more than $500 million in funding for social entrepreneurs, engaged the G20 through the Toronto, Seoul and Los Cabos summits and helped form partnerships with leading financial institutions and corporations.
Again, thank you to our incredible expert judges.
Historic Environment Scotland
Surprising Science
A forensic artist in Scotland has made a hyper realistic model of an ancient dog.
It was based on the skull of a dog dug up in Orkney, Scotland, which lived and died 4,000 years ago.
The model gives us a glimpse of some of the first dogs humans befriended.
Some evidence attributes a certain neurological phenomenon to a near death experience.
Credit: Petr Kratochvil. PublicDomainPictures.net.
Surprising Science
Time of death is considered when a person has gone into cardiac arrest. This is the cessation of the electrical impulse that drive the heartbeat. As a result, the heart locks up. The moment the heart stops is considered time of death. But does death overtake our mind immediately afterward or does it slowly creep in?
Big think's weekly newsletter.
Get smarter faster from the comfort of your inbox.
See our newsletter privacy policy
here
Most Popular
Most Recent
Big think's weekly newsletter.
Get smarter faster from the comfort of your inbox.
See our newsletter privacy policy
here
© Copyright 2007-2019 & BIG THINK, BIG THINK EDGE,
SMARTER FASTER trademarks owned by The Big Think, Inc. All rights reserved.