The Accidental Beauty of Flight Paths
Discover the invisible ballet in the sky.
Frank Jacobs
From a young age, Frank was fascinated by maps and atlases, and the stories they contained. Finding his birthplace on the map in the endpapers of Tolkien's Lord of the Rings only increased his interest in the mystery and message of maps.
While pursuing a career in journalism, Frank started a blog called Strange Maps, as a repository for the weird and wonderful cartography he found hidden in books, posing as everyday objects and (of course) floating around the Internet.
"Each map tells a story, but the stories told by your standard atlas for school or reference are limited and literal: they show only the most practical side of the world, its geography and its political divisions. Strange Maps aims to collect and comment on maps that do everything but that - maps that show the world from a different angle".
A remit that wide allows for a steady, varied diet of maps: Frank has been writing about strange maps since 2006, published a book on the subject in 2009 and joined Big Think in 2010. Readers send in new material daily, and he keeps bumping in to cartography that is delightfully obscure, amazingly beautiful, shockingly partisan, and more.
04 November, 2014
There is more between heaven and earth than bird migrations and weather fronts. These maps capture the poetic beauty of something utterly mundane and usually invisible: the flight patterns of the planes that bring us from airport A to airport B.
---
We live in the age of mass air travel. At any given moment, there are about 10,000 commercial planes airborne, carrying an estimated half a million passengers across the skies. We also live in the era of Big Data. Which means that the movements of those thousands of planes can be followed in real time on websites such as Plane Finder and Flightradar24.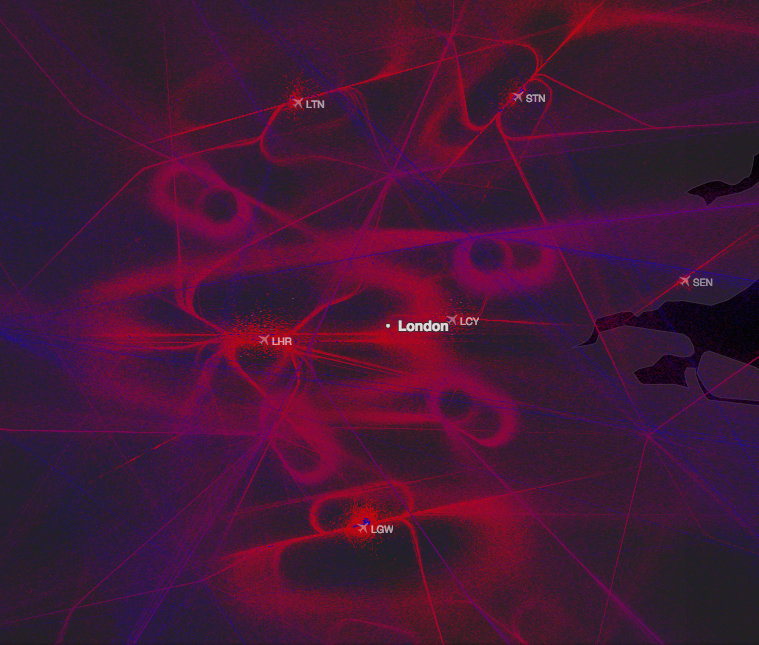 London and the pretty holding patterns around its airports: Heathrow (LHR), Gatwick (LGW), City (LCY), Luton (LTN), Stansted (STN) and Southend-on-Sea (SEN).
Their screens swarm with moving airplane icons, each containing a wealth of information on the flight in question. Click on the plane now over the Mediterranean, just south of the Pelopponesos: Emirates flight EK78, en route from Nice to Dubai, cruising at 35,000 feet at a speed of 540 knots, and a heading of 123°. The Boeing 777-300ER with tail number A6-EBM is 976 miles in, and has 2,975 miles to go. It left Nice with just over 5 hours' delay. ETA is 23:35, Gulf Standard Time. All we don't know, is how many passengers are on the plane, which movies are being shown, and what's on the menu (although my guess is: chicken or beef).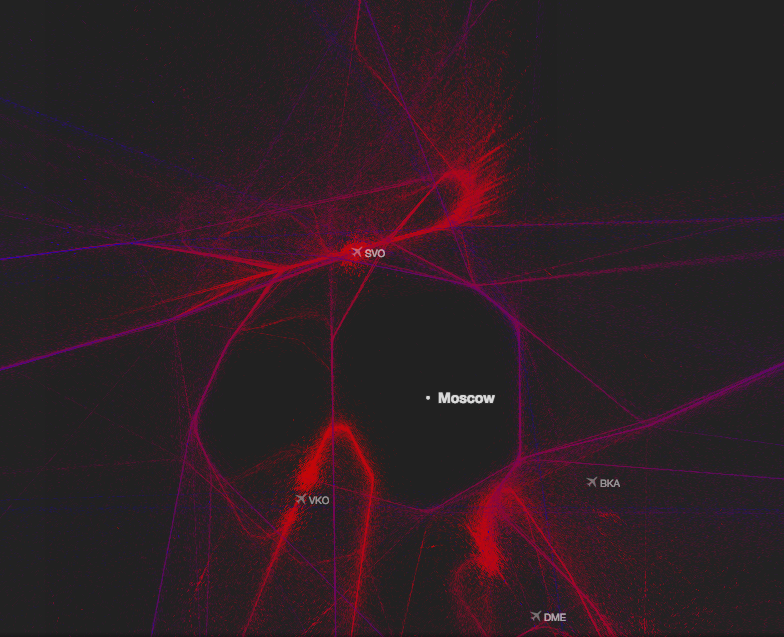 Moscow and its two black holes.
Alexey Papulovsky and Nikolay Guryanov, two Moscow-based software engineers, took their fascination with live flight data in the other direction, from the specific to the general. They collected over a billion data points from a single month's worth of flight information on Plane Finder (i.c. October 2012), and plotted them out on a searchable, scalable world map. The result is called Contrailz, after the condensation trails momentarily tracing the flight paths of planes.
On a grand scale, the project is reminiscent of another experiment in data visualisation discussed on this blog – mapping the geotagged log entries of 19th-century whaling ships (see #636). Like that map, this one reveals a traffic map, with minor and major roads, intersections and junctions. Only this time not made from seawater, but out of thin air.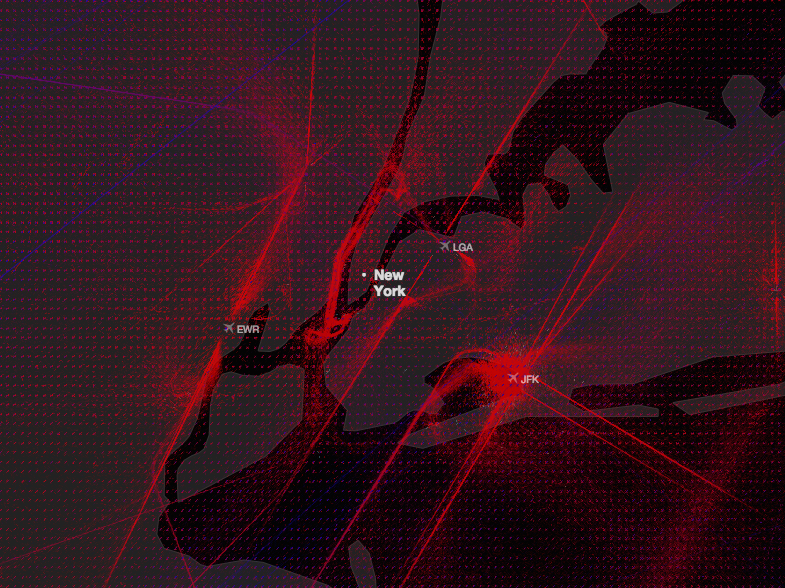 New York area flight patterns seem aligned with Manhattan.
However, the Contrailz data is not as globe-covering as the whaling routes map: outside the denser populated areas of Europe and North America, the flight paths – red for lower altitude, blue for higher up – only cluster around the bigger cities, leaving large parts of Latin America, Africa, Asia and Oceania blank.  
But that's alright, because the visual fun really starts when the lines approach an airport and turn from blue to red: from straight, they bend into intricate looping pathways, denoting the approach paths and holding patterns around the world's major airports.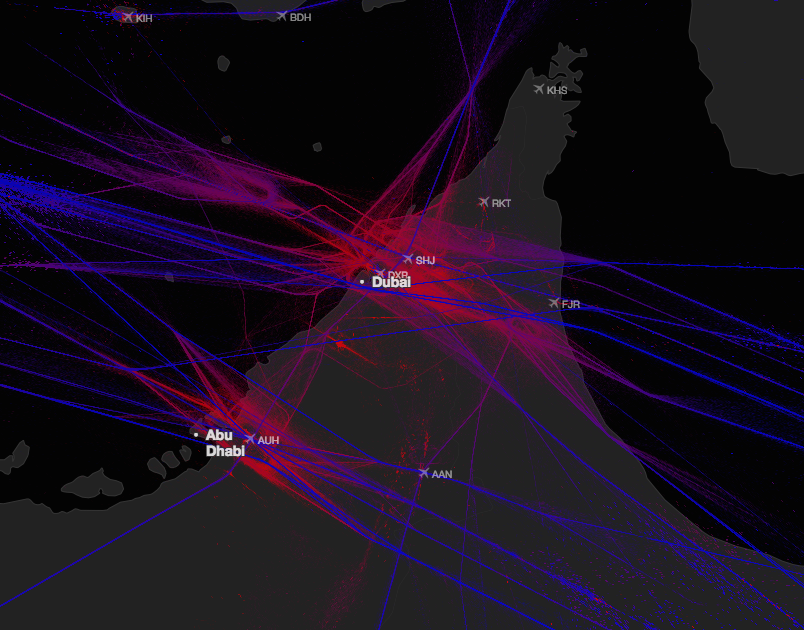 The twin transit hubs of Abu Dhabi and Dubai.
The patterns are especially pretty over London, with the holding patterns shaped like athletics tracks. The one over Moscow is intriguing, with two black holes in the middle. Only since March 2013 are civil flights allowed in those zones – the city centre and Rublyovka, an expensive residential area to the west of the city, home to much of Russia's elite – and even then only with an altitude of at least 27,000 feet.
Whatever the story behind each of those patterns, the fascinating thing about them is their accidental beauty – action painting conjured up out of thin air, with nothing but big data and the computing power to crunch them.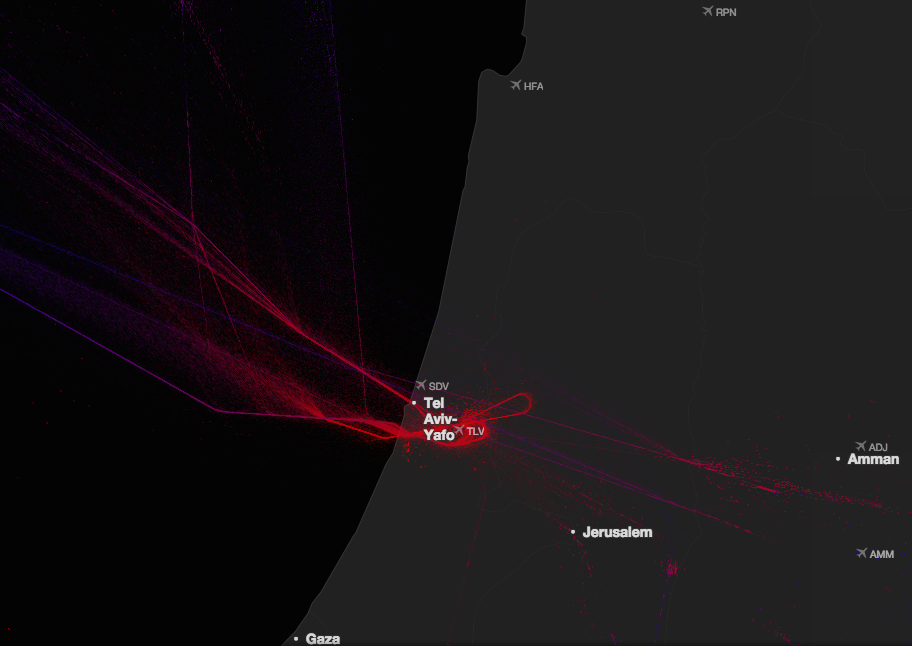 Israel's regional isolation, aeronautically exemplified.
All images taken from Contrailz, reproduced by kind permission of Nikolay Guryanov
Strange Maps #687
Got a strange map? Let me know at strangemaps@gmail.com.
New research links urban planning and political polarization.
Pixabay
Politics & Current Affairs
Canadian researchers find that excessive reliance on cars changes political views.
Decades of car-centric urban planning normalized unsustainable lifestyles.
People who prefer personal comfort elect politicians who represent such views.
Progressive America would be half as big, but twice as populated as its conservative twin.
Image: Dicken Schrader
Strange Maps
America's two political tribes have consolidated into 'red' and 'blue' nations, with seemingly irreconcilable differences.
Perhaps the best way to stop the infighting is to go for a divorce and give the two nations a country each
Based on the UN's partition plan for Israel/Palestine, this proposal provides territorial contiguity and sea access to both 'red' and 'blue' America
Science and the squishiness of the human mind. The joys of wearing whatever the hell you want, and so much more.
Flickr / 13winds
Think Again Podcasts
Why can't we have a human-sized cat tree?
What would happen if you got a spoonful of a neutron star?
Why do we insist on dividing our wonderfully complex selves into boring little boxes
Big think's weekly newsletter.
Get smarter faster from the comfort of your inbox.
See our newsletter privacy policy
here
Most Popular
Most Recent
Big think's weekly newsletter.
Get smarter faster from the comfort of your inbox.
See our newsletter privacy policy
here
© Copyright 2007-2018 & BIG THINK, BIG THINK EDGE,
SMARTER FASTER trademarks owned by The Big Think, Inc. All rights reserved.