San Escobar, a Masterclass in Accidental Nation-Building
A minister misspeaks - and accidentally creates an entire Latin American country
Frank Jacobs
From a young age, Frank was fascinated by maps and atlases, and the stories they contained. Finding his birthplace on the map in the endpapers of Tolkien's Lord of the Rings only increased his interest in the mystery and message of maps.
While pursuing a career in journalism, Frank started a blog called Strange Maps, as a repository for the weird and wonderful cartography he found hidden in books, posing as everyday objects and (of course) floating around the Internet.
"Each map tells a story, but the stories told by your standard atlas for school or reference are limited and literal: they show only the most practical side of the world, its geography and its political divisions. Strange Maps aims to collect and comment on maps that do everything but that - maps that show the world from a different angle".
A remit that wide allows for a steady, varied diet of maps: Frank has been writing about strange maps since 2006, published a book on the subject in 2009 and joined Big Think in 2010. Readers send in new material daily, and he keeps bumping in to cartography that is delightfully obscure, amazingly beautiful, shockingly partisan, and more.
14 January, 2017
Fake news is so yesterday. The future belongs to entirely fake nations. Like San Escobar, created in January this year by a slip of the tongue of the Polish foreign minister. Despite being wholly fictional, the tiny Caribbean country soon boasted many of the trappings of actual statehood: a flag, an anthem, a map, a Wikipedia entry, a Facebook page and of course a Twitter account.
---
Rewind to Tuesday, January 10. Poland's foreign minister is in New York to drum up support for his country's bid for a non-permanent seat on the Security Council in 2018-'19. And it's going well, Witold Waszczykowski tells the assembled Polish press corps: "I have had meetings with officials from more than 20 countries, including some Caribbean nations with which we have never had bilateral diplomatic contact before. Countries like Belize, and San Escobar". 
The Belizeans must have been delighted that their diminutive, obscure nation was name-checked by the minister. But the San Escobarians can't have been: that country simply does not exist. Poland's internet community picked up quickly on the gaffe, and directed howls of derision at Waszczykowski. A foreign ministry spokesperson tried to limit the damage by hastily explaining that the minister, tired after a 22-hour flight, had simply misspoken: he was actually referring to St Kitts and Nevis, a two-island Caribbean state known in Spanish as San Cristóbal y Nieves.
To no avail: it was too late. By the end of the week, San Escobar was a many-splendoured reality, albeit an entirely virtual one, and one whose main raison d'être seemed to be to mock the minister and his right-wing government. Witold Waszczykowski had inadvertently created one of the new year's first major internet memes.

Almost immediately, a Twitter account popped up for the República Popular Democrática de San Escobar (handle: @rpdsanescobar; hashtag: #SanEscobar). In a weird twist on the trope of the self-fulfilling prophecy, one of the account's first tweets was to offer San Escobar's full support for Poland's Security Council ambitions. Fleshing out fledgling country's bilateral relations with Poland (to say nothing of reality in general), the non-existent republic's official Twitter account further informed the world that:
LOT Polish Airlines would soon introduce daily flights between Warsaw and San Escobar in a codeshare with that country's national carrier, Escobariana de Aviación.
San Escobar's counter-intelligence services were verifying reports of St. Kitts & Nevis interfering with its relations with Poland.
Tomato exports rose by 23% in 2016.
Poles would be able to travel to San Escobar visa-free.
Parliament had declared the Frente Comunista de San Escobar an illegal terrorist organization (the San Escobarian communists have a Facebook page that rivals the 'official' one).
Responding to articles in the British press calling San Escobar "non-existent", the government had urged the EU to force a 'hard Brexit' for the UK.
Within a day, #SanEscobar was tracked by over 2 million Twitter users. The account itself soon had thousands of followers.
San Escobar also boasted a Wikipedia entry, showing the coat of arms and flag for the Caribbean nation. According to the article, San Escobar has an area of 459 km2 and a population of about 360,000 San Escobarians. Its president is Nemo Incognito, and the capital is Vinatusca, also known as Santo Subito (a play on words, as it refers to the cries from the Italian faithful after the death of the Polish pope John Paul II – santo subito: '(make him a) saint now').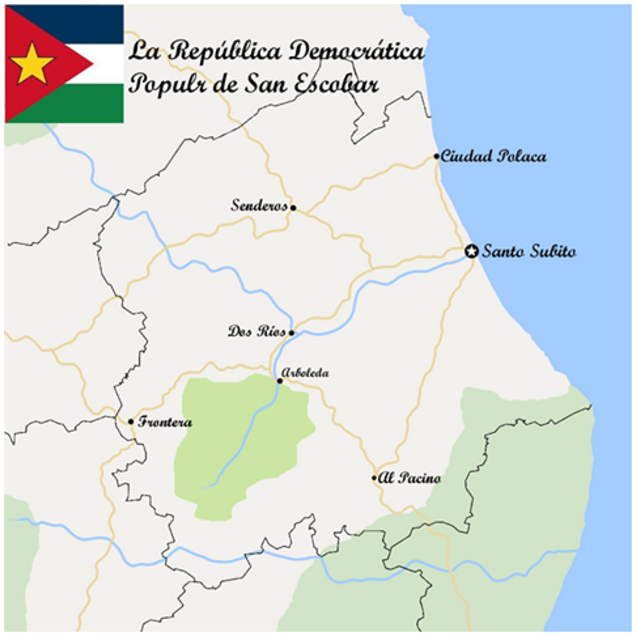 A map of San Escobar, previously shown on the Wikipedia page, seems to have disappeared (but retrieved from this PRI article). As it shows, San Escobar is bounded to the east by the ocean, and has land borders with five non-specified neighbours. On the coast north from the capital is Ciudad Polaca, literally 'Polish city'. Few cities dot the interior: Senderos, Dos Rios, Asboleda, Frontera and Al Pacino. 
The San Escobar Facebook page features a load of touristy pictures and information on the country – much of which is a more or less indirect dig at the Polish government, such as the news that the citizens of San Escobar had erected a giants statue of Waszczykowski for his efforts to place their country on the map.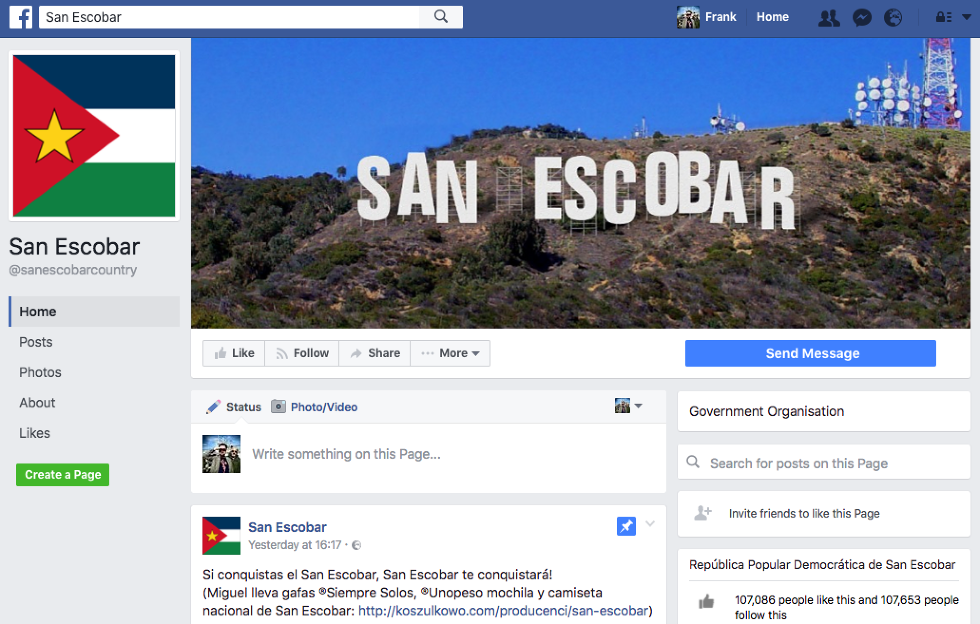 The Facebook page has over 100,000 followers, and you can even order San Escobar t-shirts. YouTube features the country's national anthem. And so on and on.
Why has the San Escobar meme proved such a runaway success? Because it allows the many Poles who abhor the increasingly authoritarian tilt of their right-wing government to poke fun at its pretentions of international respectability. Also because the inadvertent naming of the nation might be an indication of the minister's viewing habits: Narcos, the Netflix series based on the life of Colombian drug lord Pablo Escobar, is very popular in Poland. But San Escobar also plays into an outdated, but persistently popular stereotype of Latin America as a continent composed of interchangeable banana republics, all equally comical in their pompous backwardness. To name just a few other fictional San-Something states:
San Lorenzo, the tiny Caribbean island nation from Kurt Vonnegut's novel Cat's Cradle.
San Pedro, the South American country in the Sherlock Holmes short story The Adventure of Wisteria Lodge.
San Theodoros, the South American nation in several Tintin comics.
San Marcos, the Latin American republic in Woody Allen's Bananas.
San Seriffe, the April-fools gag perpetrated upon the readers of the Guardian in 1977 (and discussed earlier on this blog at #318).
So, will the San Escobar craze flame out and die off? Perhaps. But, as the tweet below suggests, it is also possible that San Escobar will morph into an anti-government platform (anti Polish government, to be clear), in which case it might have some life in it yet.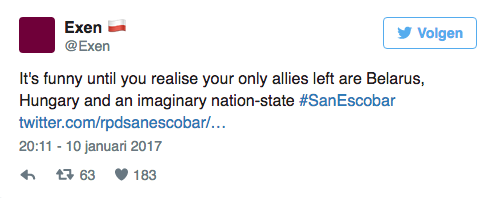 Update - many thanks to Andrzej Jaroszkiewicz for sending in the most recent, much more detailed map of San Escobar. Original context here at the Polish newspaper Polytika.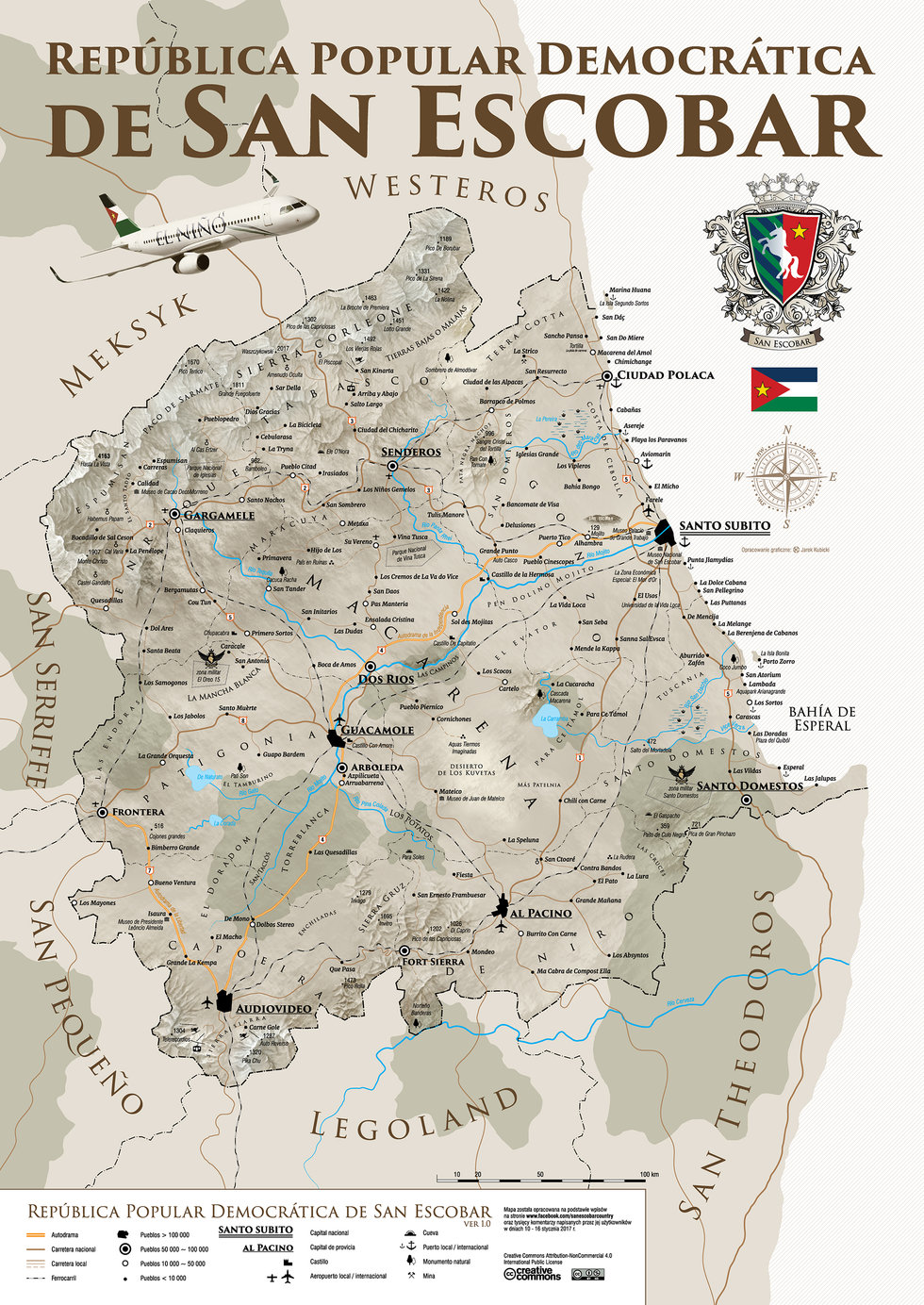 Many thanks to Robert Capiot for sending in this article in Die Welt on San Escobar - featuring a very Julian Assange-esque picture of the Polish foreign minister. 
Strange Maps #819
Got a strange map? Let me know at strangemaps@gmail.com.
The best-selling author tells us his methods.
Videos
James Patterson has sold 300 million copies of his 130 books, making him one of the most successful authors alive today.
He talks about how some writers can overdo it by adding too much research, or worse, straying from their outline for too long.
James' latest book, The President is Missing, co-written with former President Bill Clinton, is out now.

Pfizer's partnerships strengthen their ability to deliver vaccines in developing countries.
Susan Silbermann, Global President of Pfizer Vaccines, looks on as a health care worker administers a vaccine in Rwanda. Photo: Courtesy of Pfizer.
Sponsored
Community healthcare workers face many challenges in their work, including often traveling far distances to see their clients
Pfizer is helping to drive the UN's sustainable development goals through partnerships.
Pfizer partnered with AMP and the World Health Organization to develop a training program for healthcare workers.
It's the first time the association hasn't hired a comedian in 16 years.
(Photo by Anna Webber/Getty Images for Vulture Festival)
Culture & Religion
The 2018 WHCA ended in controversy after comedian Michelle Wolf made jokes some considered to be offensive.
The WHCA apologized for Wolf's jokes, though some journalists and many comedians backed the comedian and decried arguments in favor of limiting the types of speech permitted at the event.
Ron Chernow, who penned a bestselling biography of Alexander Hamilton, will speak at next year's dinner.
Big think's weekly newsletter.
Get smarter faster from the comfort of your inbox.
See our newsletter privacy policy
here
Most Popular
Most Recent
Big think's weekly newsletter.
Get smarter faster from the comfort of your inbox.
See our newsletter privacy policy
here
© Copyright 2007-2018 & BIG THINK, BIG THINK EDGE,
SMARTER FASTER trademarks owned by The Big Think, Inc. All rights reserved.