Meet Tabarnia, Catalonia's counter-separatist nightmare
Once you start seceding, who's to say where it will stop?
Frank Jacobs
From a young age, Frank was fascinated by maps and atlases, and the stories they contained. Finding his birthplace on the map in the endpapers of Tolkien's Lord of the Rings only increased his interest in the mystery and message of maps.
While pursuing a career in journalism, Frank started a blog called Strange Maps, as a repository for the weird and wonderful cartography he found hidden in books, posing as everyday objects and (of course) floating around the Internet.
"Each map tells a story, but the stories told by your standard atlas for school or reference are limited and literal: they show only the most practical side of the world, its geography and its political divisions. Strange Maps aims to collect and comment on maps that do everything but that - maps that show the world from a different angle".
A remit that wide allows for a steady, varied diet of maps: Frank has been writing about strange maps since 2006, published a book on the subject in 2009 and joined Big Think in 2010. Readers send in new material daily, and he keeps bumping in to cartography that is delightfully obscure, amazingly beautiful, shockingly partisan, and more.
17 January, 2018
Even a month ago, Tabarnia did not exist. Now the region has a flag, a map – and the intent to secede from Catalonia, if Catalonia secedes from Spain. 
---
New elections have failed to defuse the Catalan crisis. At the vote on 21 December, the three pro-independence parties retained their majority in the Catalan regional parliament. The government they will be forming from today could take the rich, northeastern region of Spain once more to the brink of independence. 
But something has changed since Catalonia's latest attempt at slipping Spain's surly bonds. Until last month, opponents of Catalan independence – both inside and outside Catalonia – seemed powerless to stop the region's geopolitical drift away from Madrid. Now they have found a rallying cause: autonomy for Tabarnia!
The name may sound as if it has an ancient pedigree, but it is no more than a portmanteau for Tarragona and Barcelona, and a very recent one at that. While recent polls and elections have shown clear majorities pro independence in most of Catalonia's regions, voters in the coastal strip from Tarragona to Barcelona have rejected it.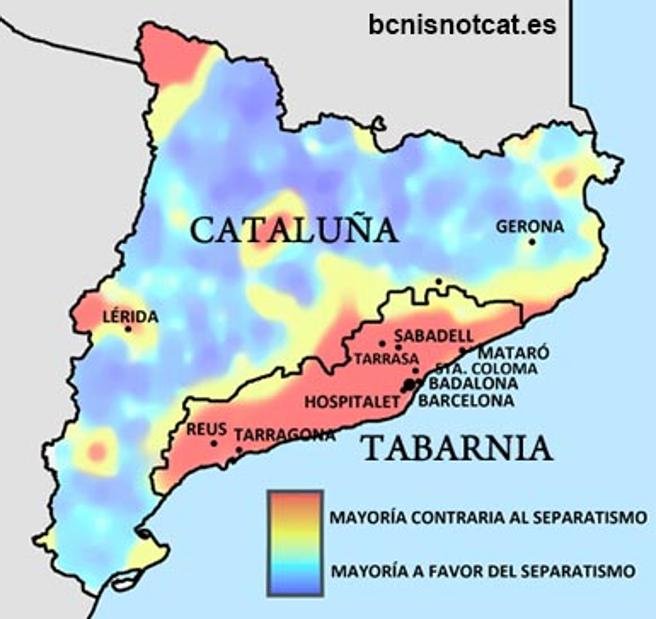 This is Tabarnia, and the mirror it holds up to Catalan separatism not only mocks its demands, it could eventually prove the most effective way to frustrate them. 
Where Catalan nationalists proudly proclaim that 'Catalonia is not Spain', Tabarnia replies that 'Barcelona is not Catalonia'. Tabarnians also echo the Catalan complaint that they contribute much more to the state coffers than they get back.
The fictional region went viral on 26 December, a few days after those latest elections confirmed its anti-secessionist exceptionalism, and a petition in favour of independence from Catalonia garnered tens of thousands of signatures in no time (1).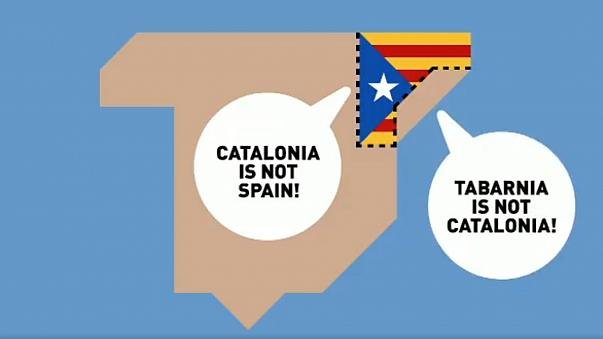 Last Tuesday, Tabarnia even got a president. Albert Boadella (74) is a theatre director who left Barcelona for Madrid in 2007 claiming he was being boycotted by Catalan nationalists. He swore the oath via video link from his 'exile' in Madrid, a dig at the insistence of Carles Puigdemont to be sworn in as Catalan president from his exile in Brussels.
How far will Tabarnia go? "As far as the secessionists have gone", said Jaume Vives, Tabarnia spokesman Jaume Vives told the Guardian. Indeed, some Tabarnians want to do more than hold up a mirror to Catalan nationalism and are campaigning for a referendum in October 2019. They effectively want to create the Autonomous Region of Tabarnia, which could decide to remain part of Spain in case Catalonia – or what's left of it – goes for independence. 
"Tabarnia will become their nightmare just as they have become ours", said Vives.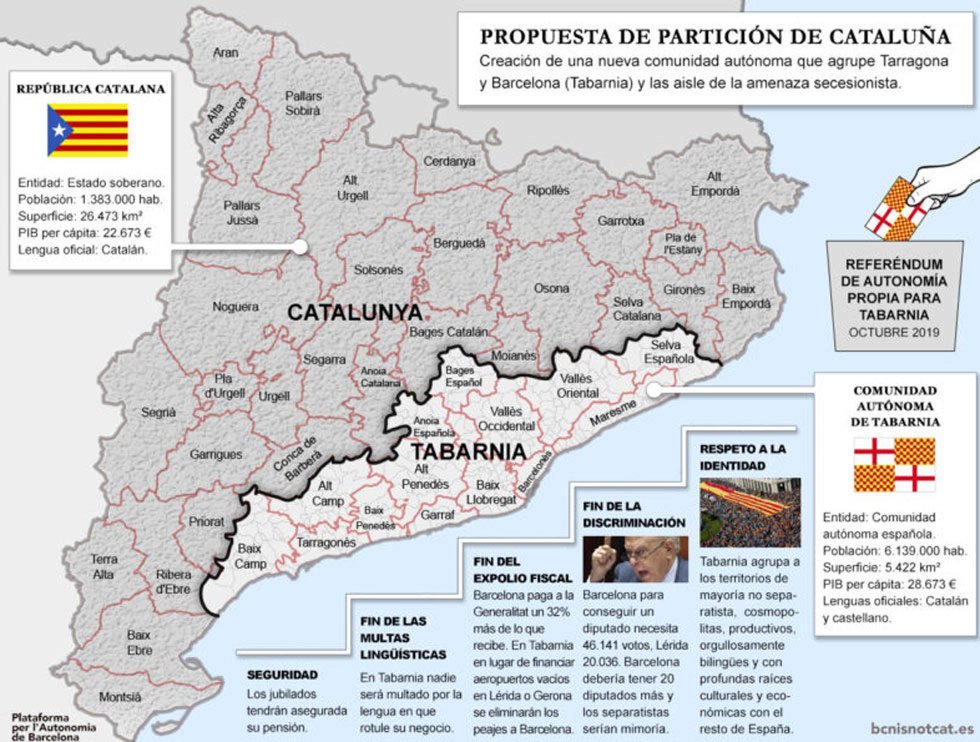 This map shows the proposed flag for the Autonomous Region of Tabarnia, and lists a few arguments in favour if its establishment: pension security, an end to fines for businesses that do not use Catalan, a redress of the fiscal and electoral imbalance to the disadvantage of Barcelona, and respect for the cosmopolitan, multilingual and pro-Spanish nature of the region. Tabernia would have 6.1 million inhabitants, the rest of Catalonia only has 1.4 million. 
Electoral heat map found here on La Vanguardia, speech bubble map found here on Euronews (Spanish), third map found here on El Pais. See previous story on Catalan independence at #861.
Strange Maps #881
Got a strange map? Let me know at strangemaps@gmail.com.
(1) Counter-separatism as a remedy for (or at least vengeance against) separatism is not unprecedented in history. West Virginia seceded to remain in the Union when Viriginia joined the Confederacy. Transnistria and Abkhazia tore free from Moldova and Georgia respectively when those two former Soviet republics declared independence. The (virtually unrecognised) independence of those regions is maintained by Russian troops. 
Related Articles
Are university safe spaces killing intellectual growth?
Videos
Why you should want your ideological opposites on campus
Universities must be safe—but they cannot be censored
Don't be afraid of being offended. Be afraid of never changing your mind.
Our experience of time may be blinding us to its true nature, say scientists.
Back to the Future.
Surprising Science
Time may not be passing at all, says the Block Universe Theory.
Time travel may be possible.
Your perception of time is likely relative to you and limited.
From questionable shipwrecks to outright attacks, they clearly don't want to be bothered.
Culture & Religion
Many have tried to contact the Sentinelese, to write about them, or otherwise.
But the inhabitants of the 23 square mile island in the Bay of Bengal don't want anything to do with the outside world.
Their numbers are unknown, but either 40 or 500 remain.
Big think's weekly newsletter.
Get smarter faster from the comfort of your inbox.
See our newsletter privacy policy
here
Most Popular
Most Recent
Big think's weekly newsletter.
Get smarter faster from the comfort of your inbox.
See our newsletter privacy policy
here
© Copyright 2007-2018 & BIG THINK, BIG THINK EDGE,
SMARTER FASTER trademarks owned by The Big Think, Inc. All rights reserved.