How long to learn that language? Here's a map for that
How the U.S. teaches foreign languages to its diplomats.
Frank Jacobs
From a young age, Frank was fascinated by maps and atlases, and the stories they contained. Finding his birthplace on the map in the endpapers of Tolkien's Lord of the Rings only increased his interest in the mystery and message of maps.
While pursuing a career in journalism, Frank started a blog called Strange Maps, as a repository for the weird and wonderful cartography he found hidden in books, posing as everyday objects and (of course) floating around the Internet.
"Each map tells a story, but the stories told by your standard atlas for school or reference are limited and literal: they show only the most practical side of the world, its geography and its political divisions. Strange Maps aims to collect and comment on maps that do everything but that - maps that show the world from a different angle".
A remit that wide allows for a steady, varied diet of maps: Frank has been writing about strange maps since 2006, published a book on the subject in 2009 and joined Big Think in 2010. Readers send in new material daily, and he keeps bumping in to cartography that is delightfully obscure, amazingly beautiful, shockingly partisan, and more.
27 November, 2017
For English-speakers, Romanian is easier to learn than German. And you'll be speaking Russian sooner than Hungarian.
---
How is that? Because the Foreign Service Institute says so. Located in Arlington, Virginia, the FSI is the U.S. government's main provider of foreign affairs training, including language courses.
As the chief learning organisation for the State Department, the FSI is where diplomats go to study the languages they will need on foreign postings. The Institute has a very practical approach to languages, dividing them into five categories, depending solely on how long it takes to learn them. 
This map shows how the FSI judges the difficulty of European languages. Note that the Institute only teaches languages that are required for diplomatic intercourse; hence the grey spots on the map.
You won't find any courses in Basque (the area straddling the Franco-Spanish border), Breton (in the 'nose' of France), Welsh (in, ehm, Wales) or Scots or Irish Gaelic in Arlington. In the countries where those minority languages are spoken, you'll get by with Spanish, French and English.
English, by the way, is a 'Category 0' language (pink on the map), meaning that Americans are expected to be proficient in it. English is of course an official language in Ireland and the UK, but also in Malta (although it is coloured grey on the map, since it also has its native Maltese language, which is based on Sicilian Arabic and is the only Semitic language to have official status in the European Union).
'Category I' languages (in red on the map) are the easiest for English speakers, who should be able to reach reading an speaking proficiency within approximately 24 weeks (i.e. a little less than half a year of intense study).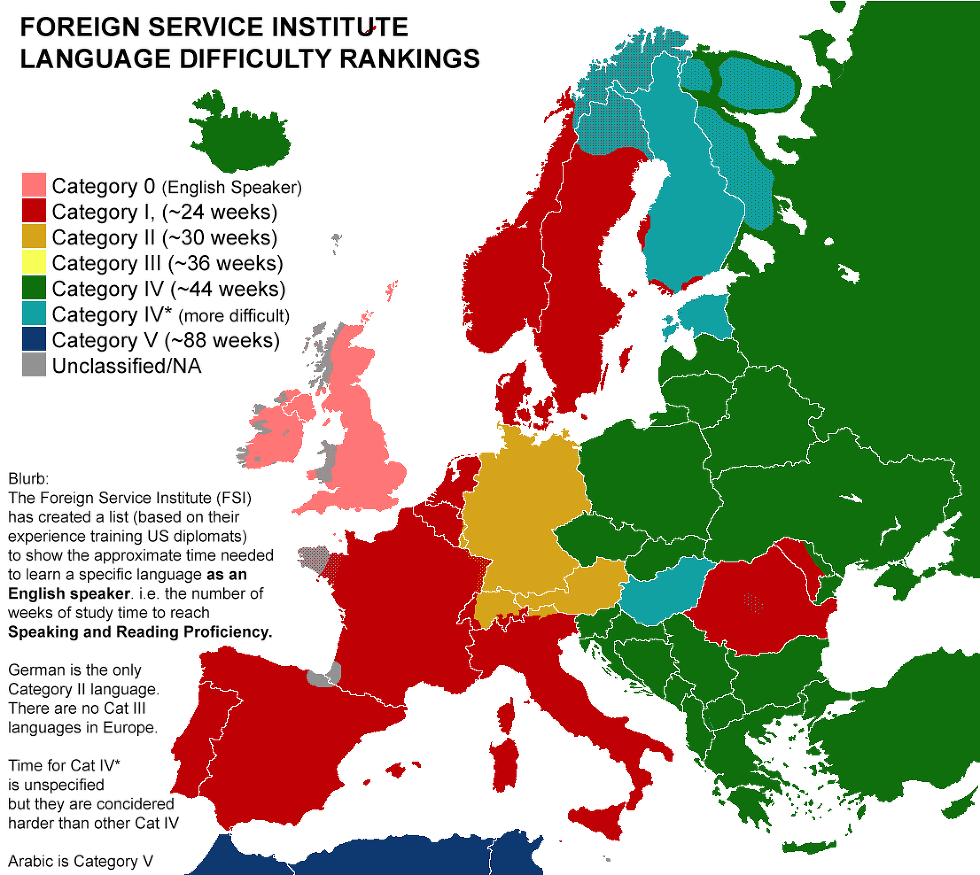 These languages include both Germanic ones (Dutch, Danish, Norwegian and Swedish) and Romance ones (French, Spanish, Portuguese, Italian, Romanian). That may seem strange, since English is more closely related to the former than the latter.
However, the peculiar history of English means that it is heavily influenced by French (and Latin), especially in vocabulary. One study says that the share of Latin and French words in English is greater than that of Germanic origin (29% each, versus 26%).
German, on the other hand, might share a lot of basic vocab with English (1), but according to the FSI it is a 'Category II' language (orange) – meaning that it would require around 30 weeks of intense study to master written and spoken proficiency. 
That doesn't quite chime with the experience of Mark Twain, who wrote that
"(m)y philological studies have satisfied me that a gifted person ought to learn English (barring spelling and pronouncing) in thirty hours, French in thirty days, and German in thirty years. It seems manifest, then, that the latter tongue ought to be trimmed down and repaired. If it is to remain as it is, it ought to be gently and reverently set aside among the dead languages, for only the dead have time to learn it" (2).
So why is German rated a grade more difficult than, Dutch, which is a directly related language, or even than Romanian, which is from another language family altogether?
Because, despite the large extent to which the vocabulary of German is cognate with that of English, the grammar of German is way more complex than that of Dutch or Romanian among others – or English itself, for that matter.
For example, German nouns are gendered, meaning they are either male, female or neutral. This is not always logical. Yes, der Mann is male and die Frau is female, but das Mädchen (the girl) is neutral. And like Latin, German has different cases – 'of the man': des Mannes (genitive), 'to the woman': zu der Frau (dative), and so on. And don't get us started on verb conjugations, word order and detachable prefixes!   
Still, German is a breeze compared to Europe's 'Category IV' languages (in green) – basically all the Slavic ones (Russian, Belarusian, Ukrainian, Polish, Czech, Slovak, Slovenian, Croatian, Bosnian, Serbian, Macedonian, Bulgarian), two of the three Baltic ones (Lithuanian and Latvian), plus Greek, Albanian, Turkish and Icelandic.
The latter four are mutually (3) completely unintelligible, as are the Baltic and Slavic families with all the others, but they share a level of difficulty. According to the FSI, it will take you about 10 months (i.e. 44 weeks) of full-time study to get the hang of any of these.
But wait, it gets worse. If you're an American diplomat about to be stationed in Hungary, Finland or Estonia, you're going to have to deal with the asterisk behind either of those 'Category IV*' languages. It means they're not quite 'Category V', but still a lot harder than, say, Icelandic or Greek. So you're looking at about a year of full-time study to make yourself understood in either Finnish, Estonian or Hungarian.
There are no 'Category V' languages in Europe, but the blue bits on the map hint at where – and what – they might be: Arabic, spoken, among other places, in Morocco, Algeria and Tunisia, on the southern edge of this map. Getting a good grasp of Arabic would require at least 88 weeks of day in, day out studying.
So why is Arabic harder than for example Turkish? Both languages are equally unrelated to English. While that may be so, Turkish has an easy orthography (in Latin script, unlike Arabic), an uncomplicated case system and extremely regular verb declensions – all factors which distinguish it from Arabic.
There are no 'Category III' languages in Europe, but of course the FSI system does not stop at Europe's borders. 
The only other 'Category I' language outside Europe is Afrikaans, the Dutch-derived language spoken in southern Africa.
German is the only 'Category II' language in the FSI ranking; Indonesian, Malaysian and Swahili are the only three 'Category III' languages.
Hebrew, Hindi and Burmese are some examples of non-European 'Category IV' languages. Mongolian, Thai and Vietnamese are 'Category IV*'.
The only other 'Category V' languages apart from Arabic are Cantonese, Mandarin, Korean and Japanese (although the latter gets an asterisk on top of that). 
Considering all that effort, why would an English-speaker –even a diplomat – learn another language? Doesn't everybody else speak English anyway?
True, English will get you pretty far in the world, but not everywhere. Speaking the local language – or at least making a decent effort to do so – will earn you good will and open doors that otherwise may stay closed.
Another reason is that being English-only speakers may be a disadvantage even if everybody else speaks English. According to a recent BBC article, native English speakers are the world's worst communicators. Being monolingual means they are less proficient in detecting the subtleties of language variation than non-native speakers of English.
Those non-native speakers will be less proficient in slang, word-play and cultural-specific references, and will avoid them more than monolingual Anglophones. In fact, they are better at using English as a lingua franca than native English speakers.
Also, learning another language exercises the brain, and provides insight into another culture. As the saying goes: "As many languages you speak, so many times are you human".
In the original Latin, that's: "Quot linguas calles, tot homines vales". The quote is by Emperor Charles V (1500-1558), who also said: "I speak in Latin to God, Italian to women, French to men, and German to my horse". 
Neigh twice for the accusative, Misty!
Strange Maps #871 
Got a strange map? Let me know at strangemaps@gmail.com.
(1) Mann, Haus, Hand, Fisch, Ring, Gold, Hunger, Bett, Name, Land and, erh, Doppelgänger, to name but ten.
(2) In Appendix D to 'A Tramp Abroad'. Twain's attitude towards German can be described as abhorrent admiration, as witnessed by these two further quotes:
"Whenever the literary German dives into a sentence, that is the last you are going to see of him till he emerges on the other side of his Atlantic with his verb in his mouth";
and:
"Some German words are so long that they have a perspective. Observe these examples: Freundschaftsbezeigungen; Dilettantenaufdringlichkeiten; Stadtverordnetenversammlungen".
(3) Thanks for pointing out that indispensible adjective, Andy!
Related Articles
Through computationally intensive computer simulations, researchers have discovered that "nuclear pasta," found in the crusts of neutron stars, is the strongest material in the universe.
Accretion disk surrounding a neutron star. Credit: NASA
Surprising Science
The strongest material in the universe may be the whimsically named "nuclear pasta."
You can find this substance in the crust of neutron stars.
This amazing material is super-dense, and is 10 billion times harder to break than steel.
---
Superman is known as the "Man of Steel" for his strength and indestructibility. But the discovery of a new material that's 10 billion times harder to break than steel begs the question—is it time for a new superhero known as "Nuclear Pasta"? That's the name of the substance that a team of researchers thinks is the strongest known material in the universe.
Unlike humans, when stars reach a certain age, they do not just wither and die, but they explode, collapsing into a mass of neurons. The resulting space entity, known as a neutron star, is incredibly dense. So much so that previous research showed that the surface of a such a star would feature amazingly strong material. The new research, which involved the largest-ever computer simulations of a neutron star's crust, proposes that "nuclear pasta," the material just under the surface, is actually stronger.
The competition between forces from protons and neutrons inside a neutron star create super-dense shapes that look like long cylinders or flat planes, referred to as "spaghetti" and "lasagna," respectively. That's also where we get the overall name of nuclear pasta.
Caplan & Horowitz/arXiv
Diagrams illustrating the different types of so-called nuclear pasta.
The researchers' computer simulations needed 2 million hours of processor time before completion, which would be, according to a press release from McGill University, "the equivalent of 250 years on a laptop with a single good GPU." Fortunately, the researchers had access to a supercomputer, although it still took a couple of years. The scientists' simulations consisted of stretching and deforming the nuclear pasta to see how it behaved and what it would take to break it.
While they were able to discover just how strong nuclear pasta seems to be, no one is holding their breath that we'll be sending out missions to mine this substance any time soon. Instead, the discovery has other significant applications.
One of the study's co-authors, Matthew Caplan, a postdoctoral research fellow at McGill University, said the neutron stars would be "a hundred trillion times denser than anything on earth." Understanding what's inside them would be valuable for astronomers because now only the outer layer of such starts can be observed.
"A lot of interesting physics is going on here under extreme conditions and so understanding the physical properties of a neutron star is a way for scientists to test their theories and models," Caplan added. "With this result, many problems need to be revisited. How large a mountain can you build on a neutron star before the crust breaks and it collapses? What will it look like? And most importantly, how can astronomers observe it?"
Another possibility worth studying is that, due to its instability, nuclear pasta might generate gravitational waves. It may be possible to observe them at some point here on Earth by utilizing very sensitive equipment.
The team of scientists also included A. S. Schneider from California Institute of Technology and C. J. Horowitz from Indiana University.
Check out the study "The elasticity of nuclear pasta," published in Physical Review Letters.
Scientists think constructing a miles-long wall along an ice shelf in Antarctica could help protect the world's largest glacier from melting.
Image: NASA
Surprising Science
Rising ocean levels are a serious threat to coastal regions around the globe.
Scientists have proposed large-scale geoengineering projects that would prevent ice shelves from melting.
The most successful solution proposed would be a miles-long, incredibly tall underwater wall at the edge of the ice shelves.
The world's oceans will rise significantly over the next century if the massive ice shelves connected to Antarctica begin to fail as a result of global warming.
To prevent or hold off such a catastrophe, a team of scientists recently proposed a radical plan: build underwater walls that would either support the ice or protect it from warm waters.
In a paper published in The Cryosphere, Michael Wolovick and John Moore from Princeton and the Beijing Normal University, respectively, outlined several "targeted geoengineering" solutions that could help prevent the melting of western Antarctica's Florida-sized Thwaites Glacier, whose melting waters are projected to be the largest source of sea-level rise in the foreseeable future.
An "unthinkable" engineering project
"If [glacial geoengineering] works there then we would expect it to work on less challenging glaciers as well," the authors wrote in the study.

One approach involves using sand or gravel to build artificial mounds on the seafloor that would help support the glacier and hopefully allow it to regrow. In another strategy, an underwater wall would be built to prevent warm waters from eating away at the glacier's base.
The most effective design, according to the team's computer simulations, would be a miles-long and very tall wall, or "artificial sill," that serves as a "continuous barrier" across the length of the glacier, providing it both physical support and protection from warm waters. Although the study authors suggested this option is currently beyond any engineering feat humans have attempted, it was shown to be the most effective solution in preventing the glacier from collapsing.
Source: Wolovick et al.
An example of the proposed geoengineering project. By blocking off the warm water that would otherwise eat away at the glacier's base, further sea level rise might be preventable.
But other, more feasible options could also be effective. For example, building a smaller wall that blocks about 50% of warm water from reaching the glacier would have about a 70% chance of preventing a runaway collapse, while constructing a series of isolated, 1,000-foot-tall columns on the seafloor as supports had about a 30% chance of success.

Still, the authors note that the frigid waters of the Antarctica present unprecedently challenging conditions for such an ambitious geoengineering project. They were also sure to caution that their encouraging results shouldn't be seen as reasons to neglect other measures that would cut global emissions or otherwise combat climate change.
"There are dishonest elements of society that will try to use our research to argue against the necessity of emissions' reductions. Our research does not in any way support that interpretation," they wrote.
"The more carbon we emit, the less likely it becomes that the ice sheets will survive in the long term at anything close to their present volume."
A 2015 report from the National Academies of Sciences, Engineering, and Medicine illustrates the potentially devastating effects of ice-shelf melting in western Antarctica.
"As the oceans and atmosphere warm, melting of ice shelves in key areas around the edges of the Antarctic ice sheet could trigger a runaway collapse process known as Marine Ice Sheet Instability. If this were to occur, the collapse of the West Antarctic Ice Sheet (WAIS) could potentially contribute 2 to 4 meters (6.5 to 13 feet) of global sea level rise within just a few centuries."
The world's getting hotter, and it's getting more volatile. We need to start thinking about how climate change encourages conflict.
Christopher Furlong/Getty Images
Politics & Current Affairs
Climate change is usually discussed in terms of how it impacts the weather, but this fails to emphasize how climate change is a "threat multiplier."
As a threat multiplier, climate change makes already dangerous social and political situations even worse.
Not only do we have to work to minimize the impact of climate change on our environment, but we also have to deal with how it affects human issues today.
Big think's weekly newsletter.
Get smarter faster from the comfort of your inbox.
See our newsletter privacy policy
here
Most Popular
Most Recent
Big think's weekly newsletter.
Get smarter faster from the comfort of your inbox.
See our newsletter privacy policy
here
© Copyright 2007-2018 & BIG THINK, BIG THINK EDGE,
SMARTER FASTER trademarks owned by The Big Think, Inc. All rights reserved.