Only 19% of European synagogues still stand, post-WWII
This is the first-ever database of Europe's 3,318 remaining synagogues.
Frank Jacobs
From a young age, Frank was fascinated by maps and atlases, and the stories they contained. Finding his birthplace on the map in the endpapers of Tolkien's Lord of the Rings only increased his interest in the mystery and message of maps.
While pursuing a career in journalism, Frank started a blog called Strange Maps, as a repository for the weird and wonderful cartography he found hidden in books, posing as everyday objects and (of course) floating around the Internet.
"Each map tells a story, but the stories told by your standard atlas for school or reference are limited and literal: they show only the most practical side of the world, its geography and its political divisions. Strange Maps aims to collect and comment on maps that do everything but that - maps that show the world from a different angle".
A remit that wide allows for a steady, varied diet of maps: Frank has been writing about strange maps since 2006, published a book on the subject in 2009 and joined Big Think in 2010. Readers send in new material daily, and he keeps bumping in to cartography that is delightfully obscure, amazingly beautiful, shockingly partisan, and more.
13 March, 2018
If you've ever wondered how many synagogues there are in Europe, now you have an answer: 3,318. The precision of that answer is down to the Foundation for Jewish Heritage, a UK-based institute that ordered what it says is the first-ever continent-wide study of Jewish houses of worship. 
---
The result can be seen on an online map, which offers details for each of the 3,000-plus synagogues. Here are a few special ones:
Europe's northernmost synagogue is in the Norwegian city of Trondheim. The neo-romanesque building, currently painted a lovely blue, has stood in Christiesgate since 1925. 
The westernmost Jewish house of worship in Europe is the Shaare Tikvah Synagogue in Lisbon, built in 1904. 
The map includes all of Russia as part of Europe, meaning that the easternmost synagogue is very far to the east of the Urals indeed: a modern synagogue built in the early 2000s, standing on Frunze Street in Khabarovsk, capital of Russia's Far Eastern region. 
The Cypriot city of Larnaca is home to the southernmost synagogue in Europe, a contemporary building constructed in 2005 serving the local Chabad community.  
Click on each of the bubbles to get more info on each synagogue: a picture, where available; details on the date and style of construction; and its current purpose. Less than a quarter are in use as a synagogue. Others are disused, or converted to a number of other purposes—examples include a swimming pool, a bar, police station, a funeral parlor, and a mosque.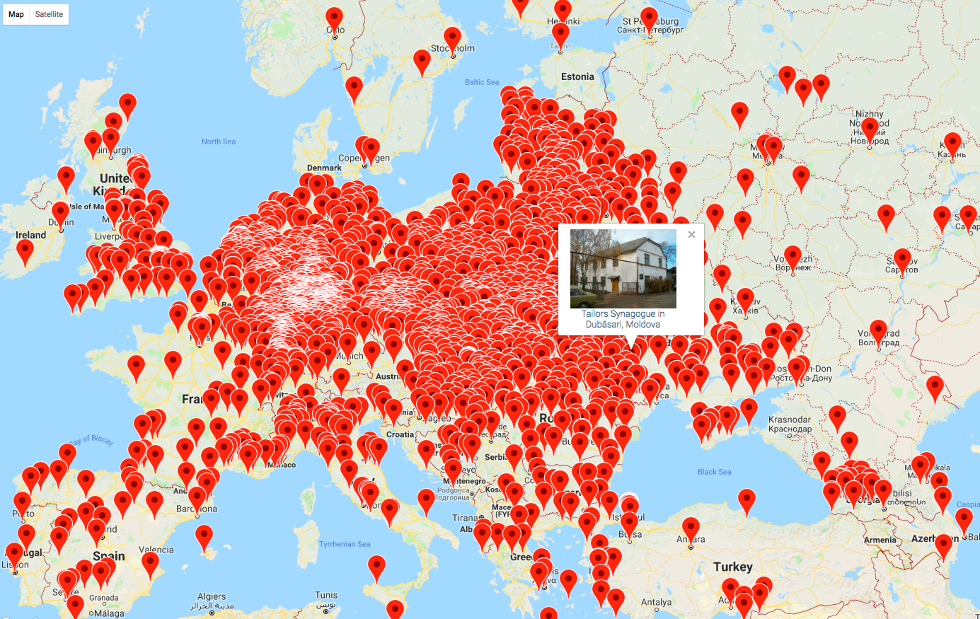 The point of mapping all of Europe's remaining synagogues—before World War II, there were about 17,000—is to identify those in imminent danger of ruin. The foundation has identified around 160 houses of worship which are in imminent danger of ruin. It is hoped that this will spur restoration efforts. 
Map found here on at the Foundation for Jewish Heritage.

Strange Maps #891
Got a strange map? Let me know at strangemaps@gmail.com.
Related Articles
How a cataclysm worse than what killed the dinosaurs destroyed 90 percent of all life on Earth.
Credit: Ron Miller
Surprising Science
While the demise of the dinosaurs gets more attention as far as mass extinctions go, an even more disastrous event called "the Great Dying" or the "End-Permian Extinction" happened on Earth prior to that. Now scientists discovered how this cataclysm, which took place about 250 million years ago, managed to kill off more than 90 percent of all life on the planet.
A new study discovers the "liking gap" — the difference between how we view others we're meeting for the first time, and the way we think they're seeing us.
New acquaintances probably like you more than you think. (Photo by Simone Joyner/Getty Images)
Surprising Science
We tend to be defensive socially. When we meet new people, we're often concerned with how we're coming off. Our anxiety causes us to be so concerned with the impression we're creating that we fail to notice that the same is true of the other person as well. A new study led by Erica J. Boothby, published on September 5 in Psychological Science, reveals how people tend to like us more in first encounters than we'd ever suspect.
Using advanced laser technology, scientists at NASA will track global changes in ice with greater accuracy.
Firing three pairs of laser beams 10,000 times per second, the ICESat-2 satellite will measure how long it takes for faint reflections to bounce back from ground and sea ice, allowing scientists to measure the thickness, elevation and extent of global ice
popular
Leaving from Vandenberg Air Force base in California this coming Saturday, at 8:46 a.m. ET, the Ice, Cloud, and Land Elevation Satellite-2 — or, the "ICESat-2" — is perched atop a United Launch Alliance Delta II rocket, and when it assumes its orbit, it will study ice layers at Earth's poles, using its only payload, the Advance Topographic Laser Altimeter System (ATLAS).
Big think's weekly newsletter.
Get smarter faster from the comfort of your inbox.
See our newsletter privacy policy
here
Most Popular
Most Recent
Big think's weekly newsletter.
Get smarter faster from the comfort of your inbox.
See our newsletter privacy policy
here
© Copyright 2007-2018 & BIG THINK, BIG THINK EDGE,
SMARTER FASTER trademarks owned by The Big Think, Inc. All rights reserved.