Only 19% of European synagogues still stand, post-WWII
This is the first-ever database of Europe's 3,318 remaining synagogues.
13 March, 2018
Before the WWII, Europe had more than 17,000 synagogues. Less than a quarter of the buildings listed are still used as Jewish houses of worship.
If you've ever wondered how many synagogues there are in Europe, now you have an answer: 3,318. The precision of that answer is down to the Foundation for Jewish Heritage, a UK-based institute that ordered what it says is the first-ever continent-wide study of Jewish houses of worship. 
---
The result can be seen on an online map, which offers details for each of the 3,000-plus synagogues. Here are a few special ones:
Europe's northernmost synagogue is in the Norwegian city of Trondheim. The neo-romanesque building, currently painted a lovely blue, has stood in Christiesgate since 1925. 
The westernmost Jewish house of worship in Europe is the Shaare Tikvah Synagogue in Lisbon, built in 1904. 
The map includes all of Russia as part of Europe, meaning that the easternmost synagogue is very far to the east of the Urals indeed: a modern synagogue built in the early 2000s, standing on Frunze Street in Khabarovsk, capital of Russia's Far Eastern region. 
The Cypriot city of Larnaca is home to the southernmost synagogue in Europe, a contemporary building constructed in 2005 serving the local Chabad community.  
Click on each of the bubbles to get more info on each synagogue: a picture, where available; details on the date and style of construction; and its current purpose. Less than a quarter are in use as a synagogue. Others are disused, or converted to a number of other purposes—examples include a swimming pool, a bar, police station, a funeral parlor, and a mosque.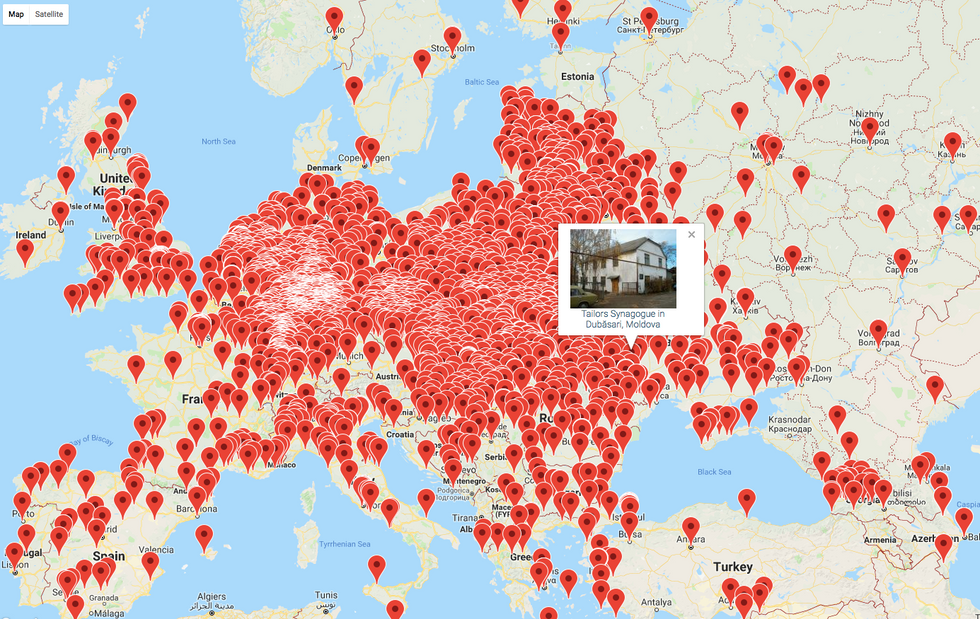 The point of mapping all of Europe's remaining synagogues—before World War II, there were about 17,000—is to identify those in imminent danger of ruin. The foundation has identified around 160 houses of worship which are in imminent danger of ruin. It is hoped that this will spur restoration efforts. 
Map found here on at the Foundation for Jewish Heritage.

Strange Maps #891
Got a strange map? Let me know at strangemaps@gmail.com.
Who is to blame for the U.S.'s dismal college graduation rate? "Radical" educator Dennis Littky has a hunch.
Sponsored by Charles Koch Foundation
COVID-19 has magnified the challenges that underserved communities face with regard to higher education, such as widening social inequality and sky-high tuition.
At College Unbound, where I am president, we get to know students individually to understand what motivates them, so they can build a curriculum based on goals they want to achieve.
My teaching mantra: Everything is permitted during COVID-19. Everything is permitted during COVID-19. Everything is permitted during COVID-19.
Meteorologists propose a stunning new explanation for the mysterious events in the Bermuda Triangle.
Surprising Science
One of life's great mysteries, the Bermuda Triangle might have finally found an explanation. This strange region, that lies in the North Atlantic Ocean between Bermuda, Miami and San Juan, Puerto Rico, has been the presumed cause of dozens and dozens of mind-boggling disappearances of ships and planes.
The planet that we are searching for is a little bit smaller and closer than we originally thought.
Videos
Years ago, California Institute of Technology professor Konstantin Batygin was inspired to embark on a journey of discovering what lurked beyond Neptune. What he and his collaborator discovered was a strange field of debris.
This field of debris exhibited a clustering of orbits, and something was keeping these orbits confined. The only plausible source would be the gravitational pull of an extra planet—Planet Nine.
While Planet Nine hasn't been found directly, the pieces of the puzzle are coming together. And Batygin is confident we'll return to a nine-planet solar system within the next decade.
Inbreeding leads to a problematically small gene pool.
PIERRE ANDRIEU/AFP via Getty Images
Culture & Religion
In a cave tucked into the limestone hills of the Asturias region of Spain, there lie the remains of a group of 13 Neanderthals that date to between
50,600 and 47,300 years ago
.
Scroll down to load more…