All Pop Music Since 1880 in One Clickable Map
Welcome to Music City - just click and play!
09 October, 2016
Four circular objects illuminate the sky over a row of colour-coded skyscrapers. Zoom in on any of the buildings, and they dissolve into an intricate family tree of their occupants. Each node of the tree is clickable. Each click produces a short family history, and a playlist of representative songs. Welcome to Musicmap, an obsessive attempt to shoehorn a century and a half of popular music into a single map.
---
Musicmap is the brainchild of Kwinten Crauwels, a Belgian architect – and music lover rather than musician himself. Crauwels looked for, but couldn't find a website that gave music the cartographic treatment, i.e. using spatial representation to reflect on the history of and relations between musical genres. So he decided to do it himself.
That was in 2008. After almost a decade of R&D, Musicmap went live on June 1st. "In the beginning, I didn't know where I was going to end", Crauwels told the Observer. "It wasn't even a website at first. The main goal was to create the view itself, the visual image, the map."
The four suns/moons hovering above the stylised cityscape are for Utilty, Folk, Classical and World music. These four 'Super-genres' are zoomable, but the genres they contain are not clickable. The focus of Musicmap is on the buildings below, each one another Supergenre housing a multitude of Genres and Subgenres.
As you zoom in, dates for each decade from 1880 to now affix themselves to the horizontal lines, top to bottom. Which means the height of the skyscrapers reflects each Supergenre's age.
The tallest building is the blue one in the centre of town, a cohabitation of Gospel and its two slightly younger sisters, Blues and Jazz. To the left are the green-ish buildings for Rhythm 'n' Blues and Country; two brownstones, one housing Pop and the other the many siblings of the Rock family; and two orange dwellings for Metal and Industrial.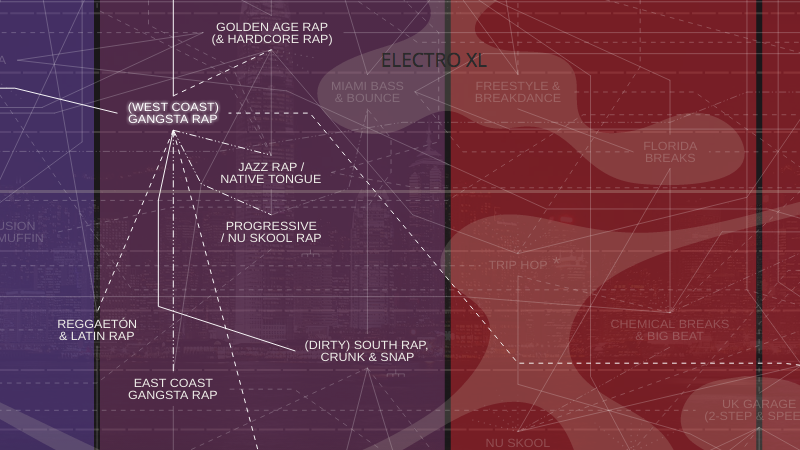 On the right side of the blue building are the purple mansions of Jamaican/Reggae and Rap/Hip Hop music. Further to the right, a lower, more recent development of red houses, for Breakbeat, Drum 'n' Bass, Hardcore, Techno, House and Trance. They are flanked by the older residences of Downtempo and Industrial music. 
Zooming in will reveal a spider's web of links within and between the different houses. Those links can indicate parentage or influence, but also a backlash (i.e. as 'anti-links'). The name of each genre – over 230 in all – is clickable, and will reveal a short synopsis and a playlist of representative songs. 
Click, for example, on the Jazz part of the blue building for a potted history of the supergenre; click on genres at the bottom of the page for more than a dozen varieties, from New Orleans and Dixieland jazz over hard bop and free jazz and electro swing. Click on Nordic jazz, and you get another short overview, and a playlist. There's the Esbjörn Svensson Trio playing 'Round Midnight, Jan Garbarek tooting away at the Brother Wind March and Black Motor diving into Pispala Jazz. 
Zoom out, move to another part of the map, zoom in and repeat. Revisit classics and discover new stuff. And by knowing where they live and how they are linked, find out how they relate to each other. 
There's enough here to get lost in for a few days, but keep in mind this is still version 1.0 of Musicmap. In later versions, the playlists will be expanded, perhaps even community-generated. Crauwels also wants to sync the site with Spotify, and add many more features. 
Musicmap's goal will remain the same: to provide the ultimate genealogy of popular music genres, including their relations and history; and to focus on the delicate balance between comprehensibility, accuracy and accessibility – with zoomable cartography as the ideal metaphor/tool for striking that balance. 
Crauwels realises his this is a never-ending project, but on the way to perfection, he will be happy if his project manages to inspire people to explore and discover music a little bit outside their comfort zone: "Musicmap believes that knowledge about music genres is a universal right and should be part of basic education".
Find the Musicmap here. Many thanks to Jeremy Hoogmartens for sending it in.
Strange Maps #805
Got a strange map? Let me know at strangemaps@gmail.com. 
What can 3D printing do for medicine? The "sky is the limit," says Northwell Health researcher Dr. Todd Goldstein.
Northwell Health
Sponsored by Northwell Health
Medical professionals are currently using 3D printers to create prosthetics and patient-specific organ models that doctors can use to prepare for surgery.
Eventually, scientists hope to print patient-specific organs that can be transplanted safely into the human body.
Northwell Health, New York State's largest health care provider, is pioneering 3D printing in medicine in three key ways.
Moral grandstanding is a vanity project that sabotages public discourse says moral philosopher Brandon Warmke.
Sponsored by the Institute for Humane Studies
Moral grandstanding is the use of moral talk for self-promotion. Moral grandstanders have egotistical motives: they may want to signal that they have superhuman insight into a topic, paint themselves as a victim, or show that they care more than others.
Moral philosophers view moral grandstanding as a net negative. They argue that it contributes to political polarization, increases levels of cynicism about moral talk and its value in public life, and it causes outrage exhaustion.
Grandstanders are also a kind of social free rider, says Brandon Warmke. They get the benefits of being heard without contributing to any valuable discourse. It's selfish behavior at best, and divisive behavior at worst.
A new study shows that some men's reaction to sex is not what you'd expect, resulting in a condition previously observed in women.
Credit: Pixabay
Sex & Relationships
A new study shows men's feelings after sex can be complex.
Some men reportedly get sad and upset.
The condition affected 41% of men in the study
You wouldn't think even a 10-second break would help, but it does.
Mind & Brain
A study finds that even short breaks help you solidify new learning.
In a way, learning really only happens during your breaks.
For the most effective learning sessions, build-in short rest periods.
Big think's weekly newsletter.
Get smarter faster from the comfort of your inbox.
See our newsletter privacy policy
here
Most Popular
Most Recent
Big think's weekly newsletter.
Get smarter faster from the comfort of your inbox.
See our newsletter privacy policy
here
© Copyright 2007-2019 & BIG THINK, BIG THINK EDGE,
SMARTER FASTER trademarks owned by The Big Think, Inc. All rights reserved.