A man, a van, a GPS tracker: This Brit is writing 'STOP BREXIT' across Europe
Englishman Andy Pardy is traveling 18,000 miles (30,000 km) across Europe this summer to make a continent-sized political statement
12 August, 2018
On 29 March 2019, the UK is leaving the European Union. Which means that this summer may be the last in which British citizens can travel restrictions-free across much of Europe, Andy Pardy realized.
---
So the 28-year-old from Exeter quit his job as a digital consultant and mapped out a tour that would take him from the Arctic Circle to the south of Spain, and from Ireland's Atlantic coast to Estonia's border with Russia.
Mr. Pardy is calling it, perhaps a bit hyperbolically, 'The Last European Tour'. But it's more than a farewell trip, it's also a political statement—it's a call to halt Britain's seemingly inexorable slide towards its exit from the EU.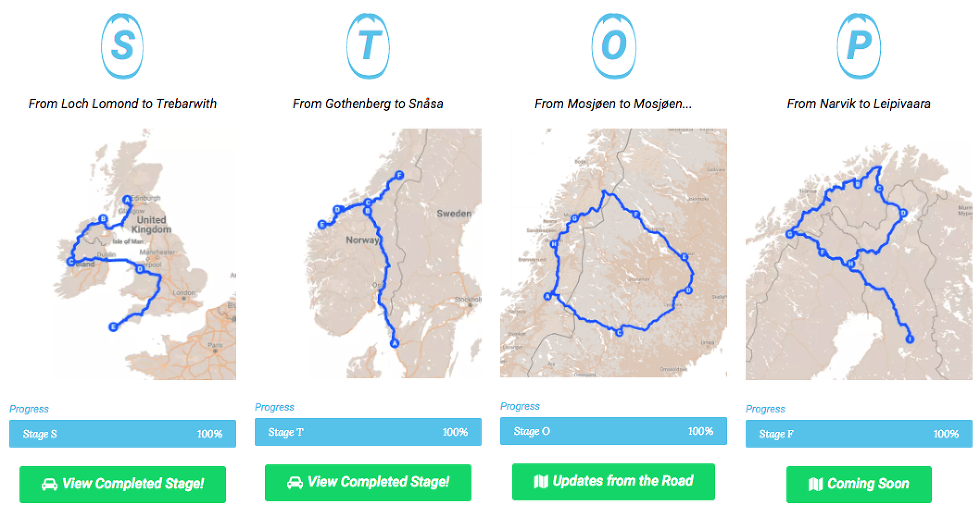 Mr. Pardy is bringing his GPS tracker, and he's using it to spell out a continent-sized message across the map of Europe: STOP BREXIT. It's a statement short on words but big in size—in fact, a good candidate for the largest political slogan in history.
The trip began on 16 July at Loch Lomond in Scotland. Hopping over on the ferry from the Port of Stranraer to Northern Ireland, Mr. Pardy drove his van south into the Republic of Ireland, then east towards Dublin, crossing over to Wales in order to reach Trebarwith Strand in Cornwall. After 846 miles (1,522 km) and 30 hours on the road, that was the 'S' done.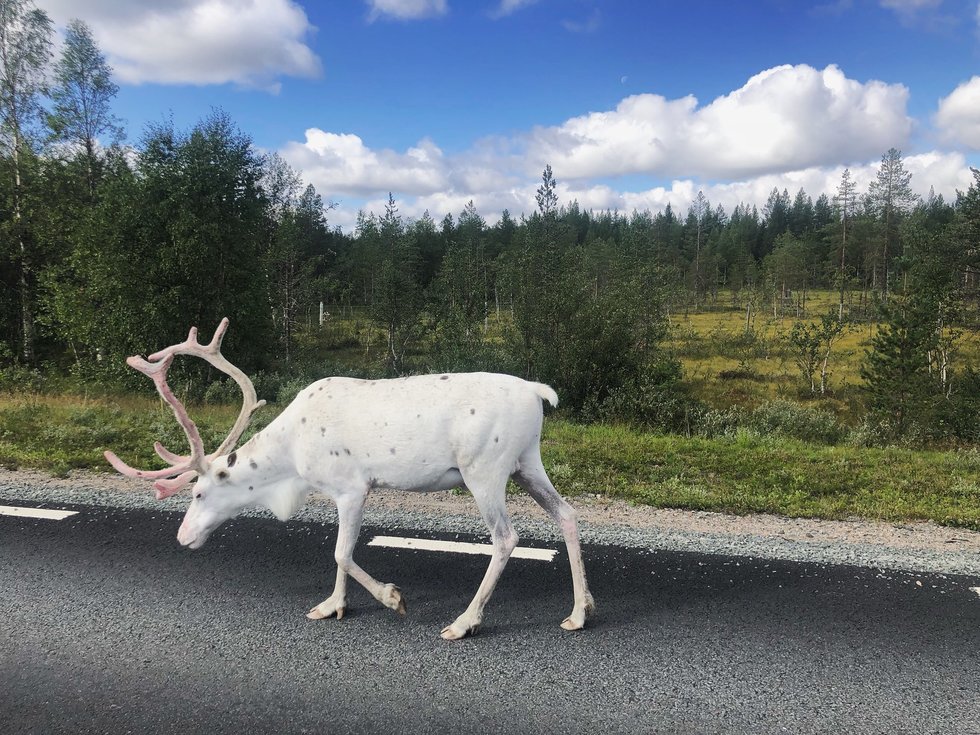 A rare white reindeer on the road near Arvidsjaur in Swedish Lapland, while completing the letter 'O'.
On July 24, Mr. Pardy set off for Göteborg in Sweden to start the second leg of his tour. "I blasted past Oslo and on to Alesund before spinning around and heading through Trondheim, taking in as much of the breath-taking scenery as possible," he wrote on his website.
With a parcours of 2,250 miles (3,621 km) to complete over mountainous terrain, the second letter was a bit tougher than the first. But on July 31, in the Norwegian town of Snåsa, Mr. Pardy finished the 'T'.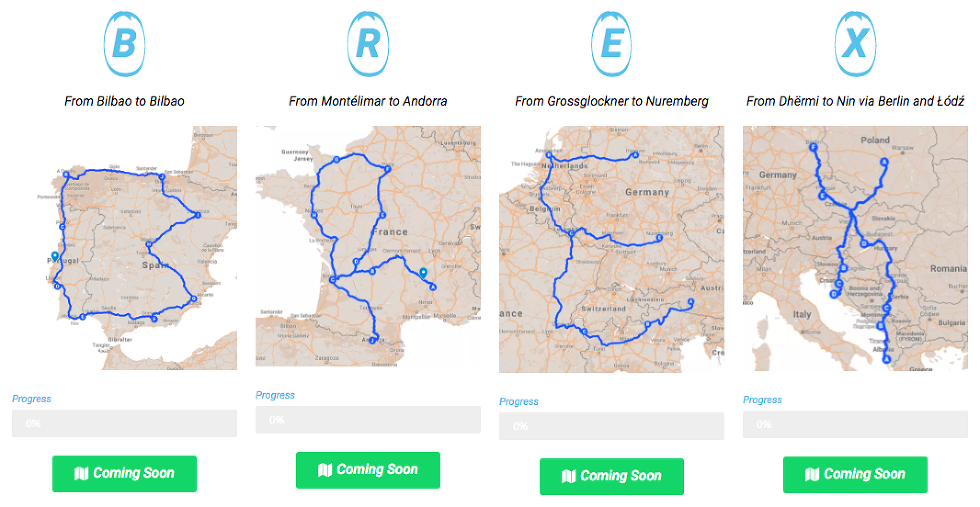 Following a circular trip with start and finish in Mosjøen (also in Norway), Mr. Pardy at the time of this writing had just finished the 'P' in Leipivaara, Finland. That's a lot of effort for just four letters, but the point of the trip is the journey itself as much as the message Mr. Pardy is splashing across the map.
"Freedom of movement is something I'm passionate about (…) I'm making the most of our last summer inside the EU by embracing the concept of free movement and embarking on a farewell tour," he told Sky News.
Coming soon: the 'B' in Brexit, or a drive around the Iberian peninsula starting and stopping in Bilbao. The 'R' will be mainly in France, while the 'E' will see Mr. Pardy also visit the Benelux countries, Germany, Italy and Austria. At 3,200 miles (5,150 km), the 'X' will be the longest trip, from Albania north to Berlin and then from Lodz in Poland south again to Nin Beach in Croatia. The 'I' will also take in a number of countries in Eastern Europe, and the final 'T' will be crossed in the Baltic states.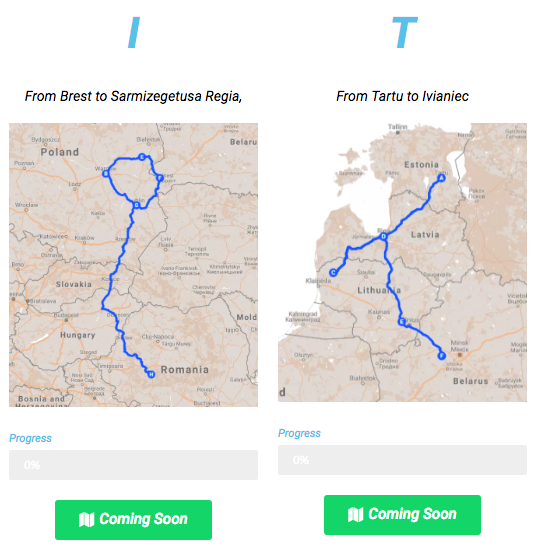 Mr. Pardy expects to be finished with his tour in October. Follow his progress on his website, The Rogue Consultant, or follow him on Twitter @ConsultantRogue.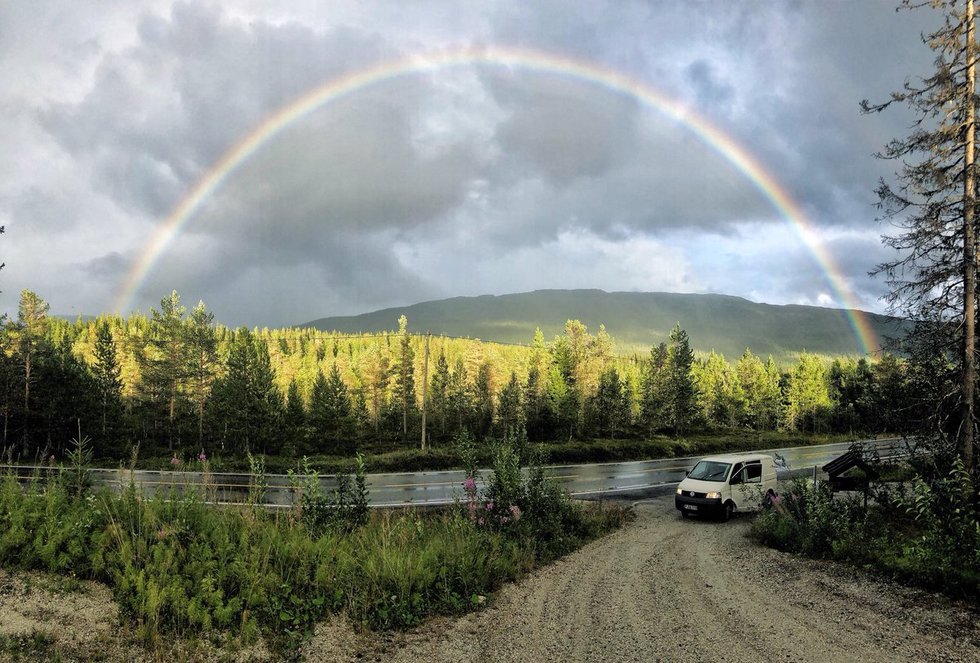 A rainbow on the way to Storjord, Norway.
Many thanks to Astrid Geeraerts for sending in this story, found here in The New European. 
Strange Maps #930 
Got a strange map? Let me know at strangemaps@gmail.com.
NASA astronomer Michelle Thaller is coming back to Big Think to answer YOUR questions! Here's all you need to know to submit your science-related inquiries.
Videos
Big Think's amazing audience has responded so well to our videos from NASA astronomer and Assistant Director for Science Communication Michelle Thaller that we couldn't wait to bring her back for more!

And this time, she's ready to tackle any questions you're willing to throw at her, like, "How big is the Universe?", "Am I really made of stars?" or, "How long until Elon Musk starts a colony on Mars?"
All you have to do is submit your questions to the form below, and we'll use them for an upcoming Q+A session with Michelle. You know what to do, Big Thinkers!
Lumina Foundation is partnering with Big Think to unearth the next large-scale, rapid innovation in post-high school education. Enter the competition here!
A parlor-trick mystery explained at last.
Slepkov, et al
Surprising Science
Two grape halves heated in a microwave produce light-emitting ionized gas, or plasma.
The grapes collect and trap microwaves whose energy eventually bursts outward.
The discovery could lead to passive microwave antennas.
The Megachile pluto is about four times the size of a honeybee.
Clay Bolt
Surprising Science
The giant bee was first discovered in 1859, but since has only officially sighted once.
An international team of researchers set out to rediscover the bee in January.
Determining exactly when a species is extinct is difficult, especially for small animals like insects.
The plan to stop megacorps from owning superintelligence is already underway.
Videos
A.I. technology is often developed within the proprietary silos of big tech companies. What if there was an open, decentralized hub for A.I. developers to share their creations? Enter SingularityNET.
The many A.I.s in the network could compete with each other to provide services for users but they could also cooperate, giving way to an emergent-level mind: artificial general intelligence.
SingularityNET is powered by blockchain technology, meaning whatever 'digital organism' emerges will not be owned or controlled by any one person, company or government.
Big think's weekly newsletter.
Get smarter faster from the comfort of your inbox.
See our newsletter privacy policy
here
Most Popular
Most Recent
Big think's weekly newsletter.
Get smarter faster from the comfort of your inbox.
See our newsletter privacy policy
here
© Copyright 2007-2018 & BIG THINK, BIG THINK EDGE,
SMARTER FASTER trademarks owned by The Big Think, Inc. All rights reserved.