Big ideas.
Once a week.
Subscribe to our weekly newsletter.
A Map of the Smells of Newport, Rhode Island
Memories triggered by smell are more emotional than those triggered by sounds, pictures or words
08 January, 2014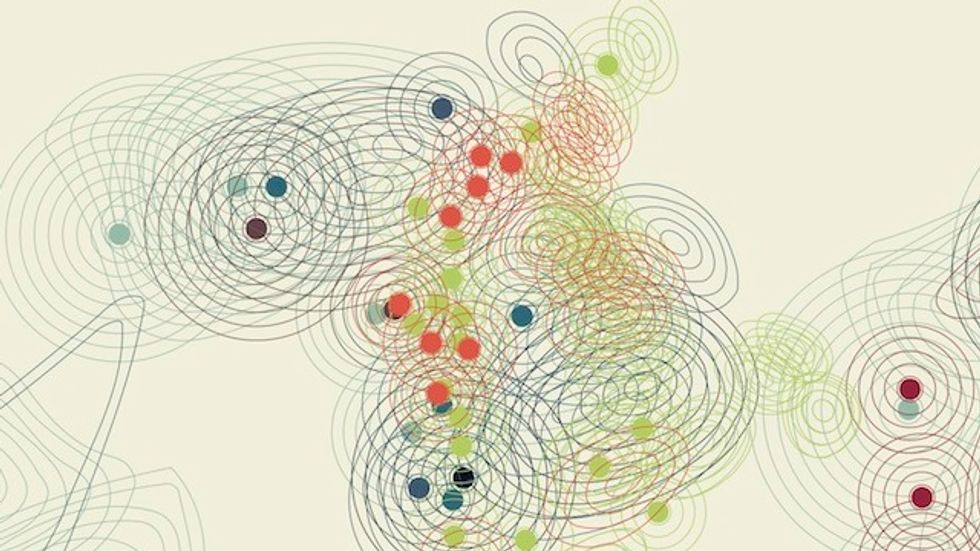 Cartography is a supremely visual discipline. The vast majority of maps are made by looking, and to be seen. Of course there are exceptions. Tactile maps, in the style of Braille lettering, have been around since at least the 1830s (see #574).
---
These maps raise an interesting point [1]: they are made for the blind and visually impaired, but not by them. Just because we're used to maps being entirely visual, doesn't mean their sensory input needs to correspond to their sensory output. As in the case of the Braille maps, where the input is still visual, but the output is tactile. 
Just imagine the possibilities: multiply the two ends to the process with our five senses, that gives 25 potential permutations for sensory mapping. Some of them are actually quite common. Sound waves [2] are used to map the ocean floor: auditory input, visual output. Mountainous terrain is often best rendered in 3D, in tactile maps similar to the Braille ones mentioned above (except that the touchable topography on the map corresponds to the actual relief of the terrain).
But take away the visual element on both sides of the process, and the sensory pairings are harder to imagine. A map gathered by touch, but rendered in smell? Or a cityscape of sounds, translated to taste? That sounds (or feels, or looks) like a job for an accomplished synaesthete [3], not for the mere mono-aesthetes that the most of us are. 
One step back from those far-flung fantasies are the smell maps produced by Kate McLean: olfactory [4] input, visual output. Her ongoing project Sensory Maps seeks to explore the links between smell, emotion and a sense of place. This map of summer smells in Newport, Rhode Island is a fantastic example. For, as she reminds us in the notes to this map, "memories triggered by smell are more emotional than those triggered by sounds, pictures or words".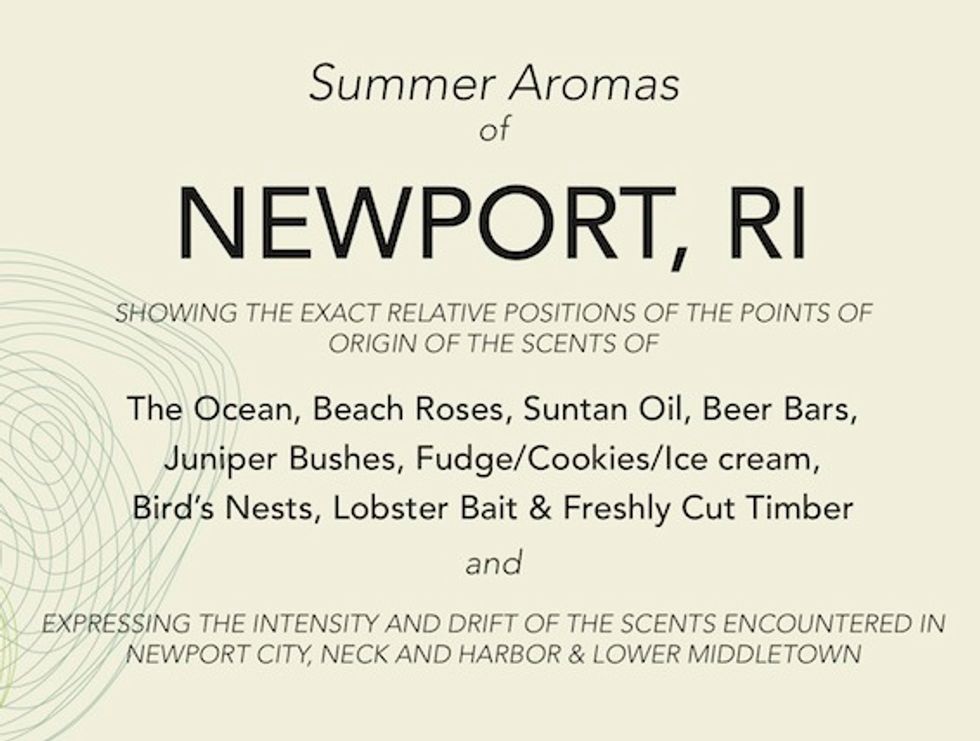 As the name implies, Newport is a seaside town. It is located some 60 miles south of Boston, on the southern tip of Aquidneck Island. Its history and character are intimately entwined with the surrounding Atlantic, lapping the city on three sides.
Newport was Rhode Island's most important colonial port city, a hub for whaling, piracy and the slave trade. Once a rival to New York, the city now numbers less than 30,000 permanent residents. 
From the 18th century onwards, Newport reinvented itself as a holiday destination, earning nicknames such as America's Sailing Capital and Queen of the Summer Resorts. Many of those so-called Newport Mansions survive, some preserved as National Historical Landmarks.
Newport's appeal to New England's elite survived the Gilded Age, as evidenced by the fact that both presidents Eisenhower and Kennedy had their so-called Summer White Houses here [5]. 
Newport is also a major naval town, formerly home to part of the US Atlantic Fleet and still the site of several US Navy schools. Its social calendar boasts a Jazz Festival and Folk Festival [6], and many sporting events (notably in boating, golf and tennis). 
Plenty to work with for Ms. McLean, who describes her charting of smell perceptions in the urban environment as 'sensory ethnography', and an 'alternative platform for meaningful communication'. In the case of Newport, is that just a fancy way of saying "smells like fish"? Let's have a sniff...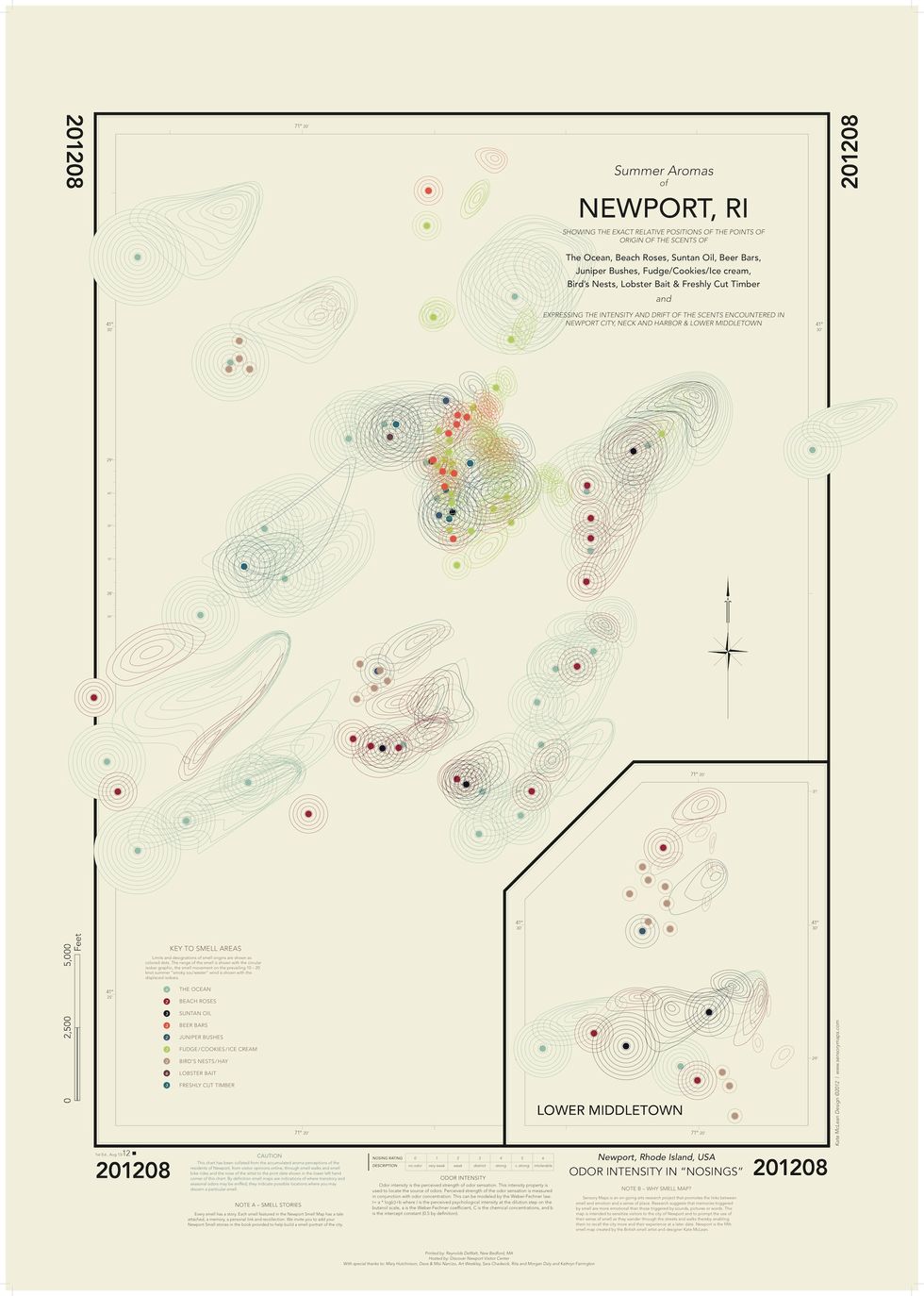 First of all, it must be said that for a map concentrating on the olfactory, this one is also very pleasing to the eye. Streets, shorelines and other elements of topography have been eradicated, giving centre stage to what seems a randomly distributed collection of beautifully coloured, radiant dots.
The colour of each dot corresponds to one of nine known smell origins, each apparently typical for a Newport summer: the ocean, beach roses, suntan oil, beer bars, juniper bushes, fudge/cookies/ice cream [7], bird's nests/hay, lobster bait and freshly cut timber.
The number of isobars surrounding each point indicate the intensity of the smell. Perfect circularity means that the smell stays local, elongated isobars denote both direction and distance of scent drift.
The data for this smell map was collated from aroma perceptions by Newport residents and visitors, through smell walks and bike rides and online questionnaires, and by the artist herself. Respondents were asked to identify a smell and then rate their 'nosings', from 1 (very weak) over 2 (weak) and 3 (distinct) through 4 (strong) and 5 (very strong) to 6 (intolerable).
The map shows an arc of ocean smell, in some places intermingled with the aroma of beach roses, elsewhere mixing with freshly cut timber or bird's nests, encircling a centre enveloped in a multitude of tasty odours: beer bars, and that irresistible conglomerate of fudge, cookies and ice cream.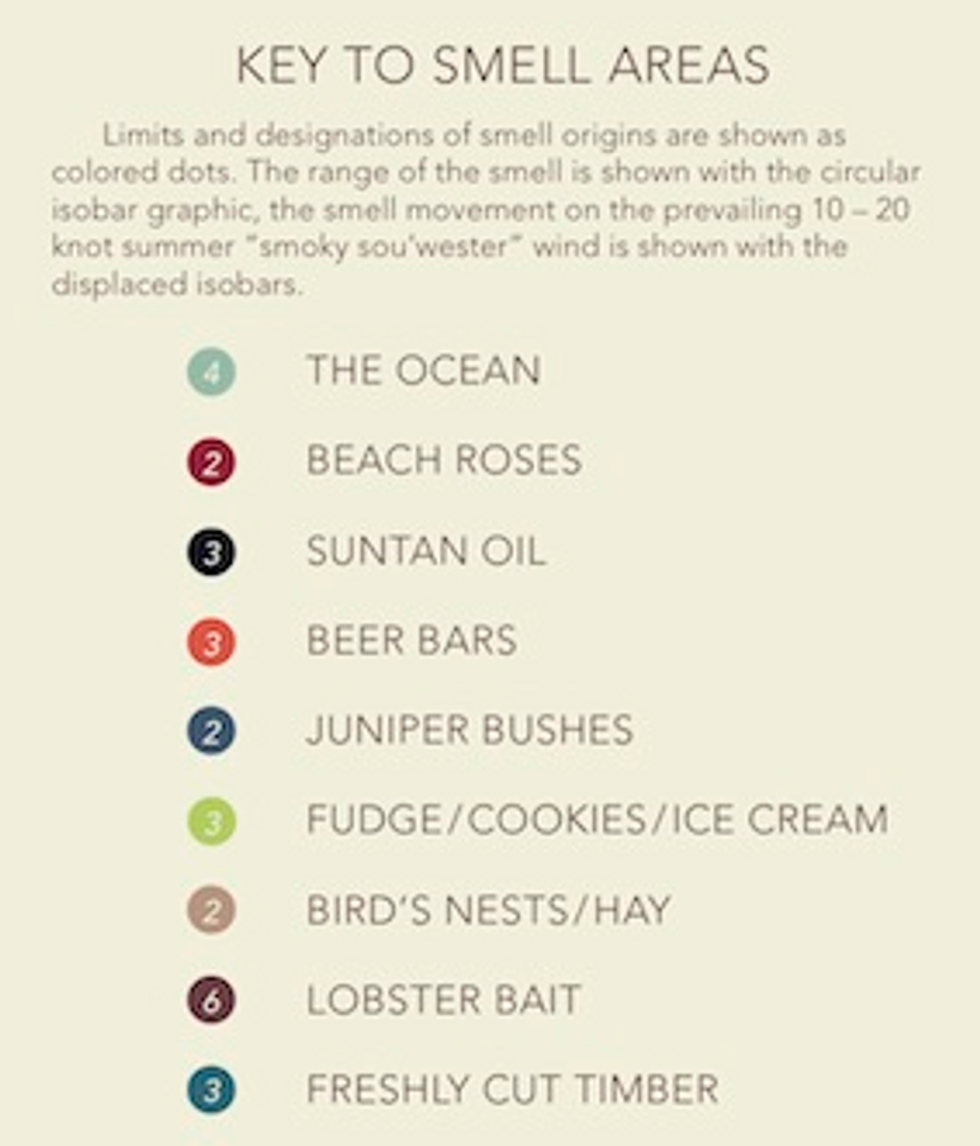 That central area is a riot of smells, competing with each other for nasal prominence. Move away from the centre a bit, and you're finding places where two or three aromas mix to produce combinations so uniquely blended that a Newport resident, or a nostalgic visitor, might smell it, and be transported back to its exact place of origin: that particular mix of suntan oil and beach roses; an unmistakable combination of bird's nests and freshly cut timber; or a just-right cocktail of lobster bait and juniper bushes...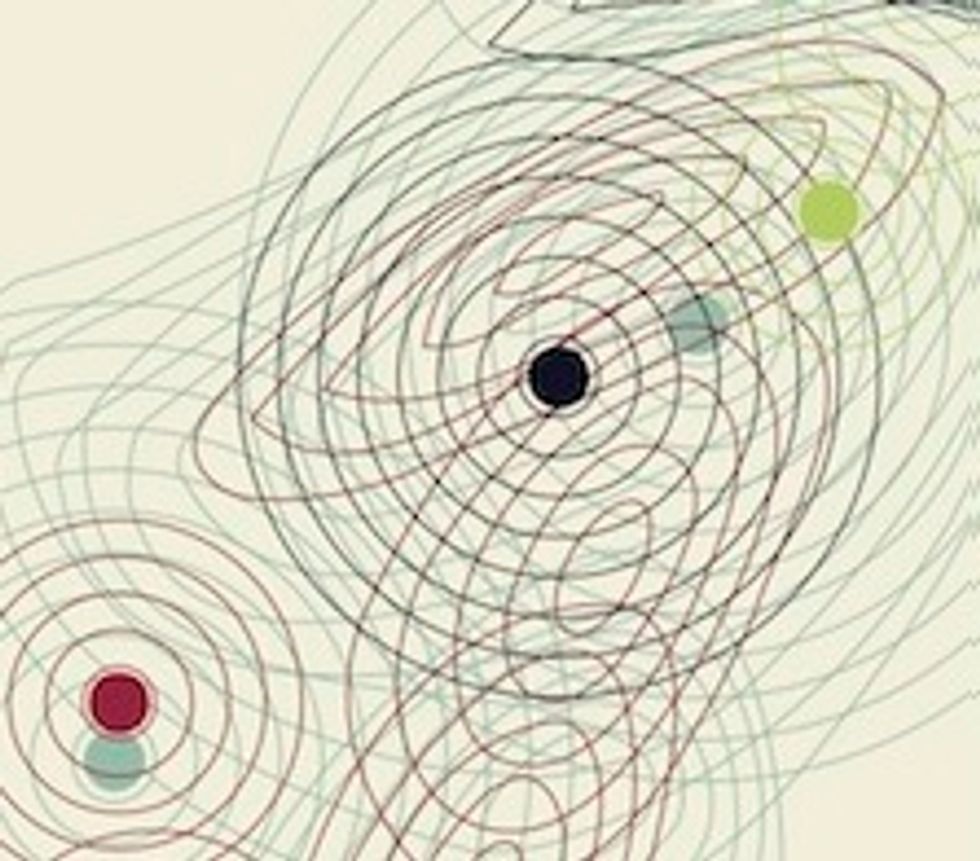 More on Kate McLean's Sensory Maps (including the Newport, RI map) here on her website. This high-resolution map found here on this page on fastcoexist.com.
Strange Maps #638
Got a strange map? Let me know at strangemaps@gmail.com.
[1] Pun not intended ↩
[2] Via sonar, short for sound navigation and ranging. ↩
[3] Synaesthesia, literally the 'union of senses', describes a condition whereby stimulation of one sense leads to perceptions in another sense. Synaesthetes will 'sense' certain colours or tastes when reading, hearing or thinking about specific numbers, letters or days of the week, for example. ↩
[4] TMy favourite sensory adjective! From olfactus, Latin for the sense of smell, deriving from oleo ('I smell'). The other sensory adjectives are: gustatory (taste), auditory (hearing), tactile (touch) and visual (seeing). ↩
[5] Eisenhower holidayed at a house at Fort Adams, originally built in 1873 for Civil War general Henry Jackson Hunt, because it was close to the Newport Country Club, where he like to play golf. JFK at Hammersmith Farm – Jackie Kennedy's childhood home. New England is the location of many Summer White Houses, notably those of FDR (Campobello Island), George Bush Sr (Kennebunkport), Bill Clinton and Barack Obama (both on Martha's Vineyard). ↩
[6] Bob Dylan went electric at the 1965 edition of the Newport Folk Festival, shocking many of his fans. ↩
[7] Why mentioned together? Do they smell the same, or always co-occur? ↩
"You dream about these kinds of moments when you're a kid," said lead paleontologist David Schmidt.
Surprising Science
The triceratops skull was first discovered in 2019, but was excavated over the summer of 2020.
It was discovered in the South Dakota Badlands, an area where the Triceratops roamed some 66 million years ago.
Studying dinosaurs helps scientists better understand the evolution of all life on Earth.
Are "humanized" pigs the future of medical research?
Surprising Science
In recent years, our team at Iowa State University has found a way to make pigs an even closer stand-in for humans. We have successfully transferred components of the human immune system into pigs that lack a functional immune system. This breakthrough has the potential to accelerate medical research in many areas, including virus and vaccine research, as well as cancer and stem cell therapeutics.
Existing biomedical models
Severe Combined Immunodeficiency, or SCID, is a genetic condition that causes impaired development of the immune system. People can develop SCID, as dramatized in the 1976 movie "The Boy in the Plastic Bubble." Other animals can develop SCID, too, including mice.
Researchers in the 1980s recognized that SCID mice could be implanted with human immune cells for further study. Such mice are called "humanized" mice and have been optimized over the past 30 years to study many questions relevant to human health.
Mice are the most commonly used animal in biomedical research, but results from mice often do not translate well to human responses, thanks to differences in metabolism, size and divergent cell functions compared with people.
Nonhuman primates are also used for medical research and are certainly closer stand-ins for humans. But using them for this purpose raises numerous ethical considerations. With these concerns in mind, the National Institutes of Health retired most of its chimpanzees from biomedical research in 2013.
Alternative animal models are in demand.
Swine are a viable option for medical research because of their similarities to humans. And with their widespread commercial use, pigs are met with fewer ethical dilemmas than primates. Upwards of 100 million hogs are slaughtered each year for food in the U.S.
Humanizing pigs
In 2012, groups at Iowa State University and Kansas State University, including Jack Dekkers, an expert in animal breeding and genetics, and Raymond Rowland, a specialist in animal diseases, serendipitously discovered a naturally occurring genetic mutation in pigs that caused SCID. We wondered if we could develop these pigs to create a new biomedical model.
Our group has worked for nearly a decade developing and optimizing SCID pigs for applications in biomedical research. In 2018, we achieved a twofold milestone when working with animal physiologist Jason Ross and his lab. Together we developed a more immunocompromised pig than the original SCID pig – and successfully humanized it, by transferring cultured human immune stem cells into the livers of developing piglets.
During early fetal development, immune cells develop within the liver, providing an opportunity to introduce human cells. We inject human immune stem cells into fetal pig livers using ultrasound imaging as a guide. As the pig fetus develops, the injected human immune stem cells begin to differentiate – or change into other kinds of cells – and spread through the pig's body. Once SCID piglets are born, we can detect human immune cells in their blood, liver, spleen and thymus gland. This humanization is what makes them so valuable for testing new medical treatments.
We have found that human ovarian tumors survive and grow in SCID pigs, giving us an opportunity to study ovarian cancer in a new way. Similarly, because human skin survives on SCID pigs, scientists may be able to develop new treatments for skin burns. Other research possibilities are numerous.

The ultraclean SCID pig biocontainment facility in Ames, Iowa. Adeline Boettcher, CC BY-SA
Pigs in a bubble
Since our pigs lack essential components of their immune system, they are extremely susceptible to infection and require special housing to help reduce exposure to pathogens.
SCID pigs are raised in bubble biocontainment facilities. Positive pressure rooms, which maintain a higher air pressure than the surrounding environment to keep pathogens out, are coupled with highly filtered air and water. All personnel are required to wear full personal protective equipment. We typically have anywhere from two to 15 SCID pigs and breeding animals at a given time. (Our breeding animals do not have SCID, but they are genetic carriers of the mutation, so their offspring may have SCID.)
As with any animal research, ethical considerations are always front and center. All our protocols are approved by Iowa State University's Institutional Animal Care and Use Committee and are in accordance with The National Institutes of Health's Guide for the Care and Use of Laboratory Animals.
Every day, twice a day, our pigs are checked by expert caretakers who monitor their health status and provide engagement. We have veterinarians on call. If any pigs fall ill, and drug or antibiotic intervention does not improve their condition, the animals are humanely euthanized.
Our goal is to continue optimizing our humanized SCID pigs so they can be more readily available for stem cell therapy testing, as well as research in other areas, including cancer. We hope the development of the SCID pig model will pave the way for advancements in therapeutic testing, with the long-term goal of improving human patient outcomes.
Adeline Boettcher earned her research-based Ph.D. working on the SCID project in 2019.

Christopher Tuggle, Professor of Animal Science, Iowa State University and Adeline Boettcher, Technical Writer II, Iowa State University
This article is republished from The Conversation under a Creative Commons license. Read the original article.
Satellite imagery can help better predict volcanic eruptions by monitoring changes in surface temperature near volcanoes.
Credit:
Ammit
via Adobe Stock
Surprising Science
A recent study used data collected by NASA satellites to conduct a statistical analysis of surface temperatures near volcanoes that erupted from 2002 to 2019.
The results showed that surface temperatures near volcanoes gradually increased in the months and years prior to eruptions.
The method was able to detect potential eruptions that were not anticipated by other volcano monitoring methods, such as eruptions in Japan in 2014 and Chile in 2015.
How can modern technology help warn us of impending volcanic eruptions?
One promising answer may lie in satellite imagery. In a recent study published in Nature Geoscience, researchers used infrared data collected by NASA satellites to study the conditions near volcanoes in the months and years before they erupted.
The results revealed a pattern: Prior to eruptions, an unusually large amount of heat had been escaping through soil near volcanoes. This diffusion of subterranean heat — which is a byproduct of "large-scale thermal unrest" — could potentially represent a warning sign of future eruptions.
Conceptual model of large-scale thermal unrestCredit: Girona et al.
For the study, the researchers conducted a statistical analysis of changes in surface temperature near volcanoes, using data collected over 16.5 years by NASA's Terra and Aqua satellites. The results showed that eruptions tended to occur around the time when surface temperatures near the volcanoes peaked.

Eruptions were preceded by "subtle but significant long-term (years), large-scale (tens of square kilometres) increases in their radiant heat flux (up to ~1 °C in median radiant temperature)," the researchers wrote. After eruptions, surface temperatures reliably decreased, though the cool-down period took longer for bigger eruptions.
"Volcanoes can experience thermal unrest for several years before eruption," the researchers wrote. "This thermal unrest is dominated by a large-scale phenomenon operating over extensive areas of volcanic edifices, can be an early indicator of volcanic reactivation, can increase prior to different types of eruption and can be tracked through a statistical analysis of little-processed (that is, radiance or radiant temperature) satellite-based remote sensing data with high temporal resolution."
Temporal variations of target volcanoesCredit: Girona et al.
Although using satellites to monitor thermal unrest wouldn't enable scientists to make hyper-specific eruption predictions (like predicting the exact day), it could significantly improve prediction efforts. Seismologists and volcanologists currently use a range of techniques to forecast eruptions, including monitoring for gas emissions, ground deformation, and changes to nearby water channels, to name a few.

Still, none of these techniques have proven completely reliable, both because of the science and the practical barriers (e.g. funding) standing in the way of large-scale monitoring. In 2014, for example, Japan's Mount Ontake suddenly erupted, killing 63 people. It was the nation's deadliest eruption in nearly a century.
In the study, the researchers found that surface temperatures near Mount Ontake had been increasing in the two years prior to the eruption. To date, no other monitoring method has detected "well-defined" warning signs for the 2014 disaster, the researchers noted.
The researchers hope satellite-based infrared monitoring techniques, combined with existing methods, can improve prediction efforts for volcanic eruptions. Volcanic eruptions have killed about 2,000 people since 2000.
"Our findings can open new horizons to better constrain magma–hydrothermal interaction processes, especially when integrated with other datasets, allowing us to explore the thermal budget of volcanoes and anticipate eruptions that are very difficult to forecast through other geophysical/geochemical methods."
Scroll down to load more…