Big ideas.
Once a week.
Subscribe to our weekly newsletter.
Sandy Island, the Last Island to be Un-Discovered
If phantom islands can be discovered as recently as 2012, maybe there are still more of them out there.
29 November, 2012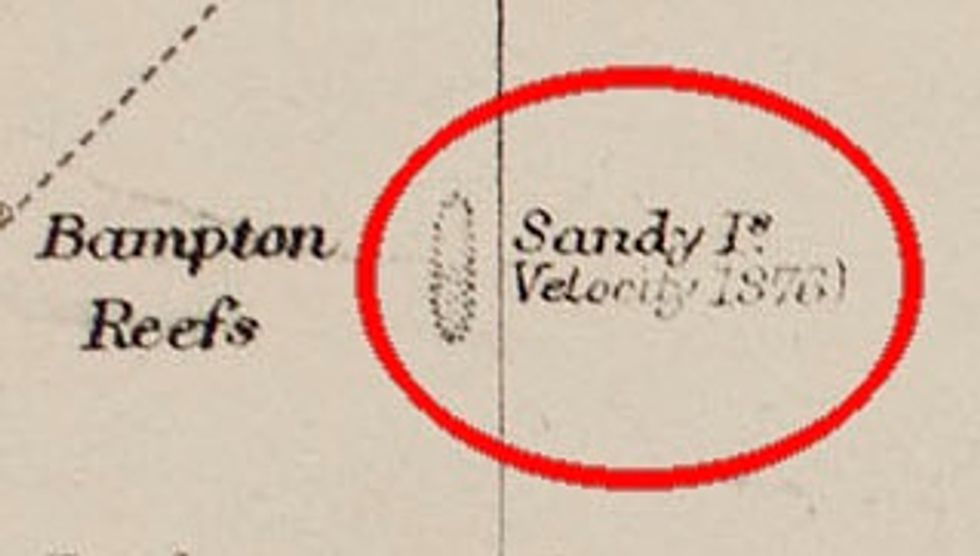 In 2012, the world lost an island, and gained a phantom island. Losing islands is a regrettable, but increasingly common occurrence [1], what with rising sea levels and all. Gaining a phantom island, on the other hand, is an exciting event - especially since that particular category was considered extinct. Map-lovers were under the assumption that scientific rigour and satellite technology had illuminated the shadows out of the cartographic twilight in which phantom islands thrive. The Age of Un-Discovery had been closed for good, we thought. We thought wrong. 
---
A phantom island can be defined as 'An island once believed to exist, and accordingly depicted on maps, but of which the existence was later disproved, and its cartographic representation removed'. These fallacies started infesting maps by the dozen during the Age of Discovery, when explorers sailing for regions unknown mistook their fevered ambitions, or a random fog bank, for islands that weren't there [2].  
Some of these phantom islands lingered on maps for centuries, at least partly, it seems, because they had such a great hold on the imagination of generation after generation of sailors. But eventually, they were proven not to exist. Gone from today's maps are places with such captivating names as the Isle of Demons, Estotiland, the Island of the 11,000 Virgins, and Hy-Brasil [3]. All of these and more were un-discovered, removed from nautical charts, and added to the select club of Phantom Islands. 
The most recent member of that club, as far as we could tell, was Sannikov Land [4]. It was presumed to lie in the Arctic Sea off Siberia, ever since the Russian explorer Yakov Sannikov in 1811 reported a 'bluish fog' to the northeast of the New Siberian Islands. Distant mirages of the island were subsequently observed by the Baltic baron Edward Toll in 1886 and 1893, before their false promise lured him to his death in 1902, on a third expedition. Finally, the Soviet ice-breaker Sadko [5] found only frozen sea where the island ought to be, relegating it to the Phantom Island Hall of Fame.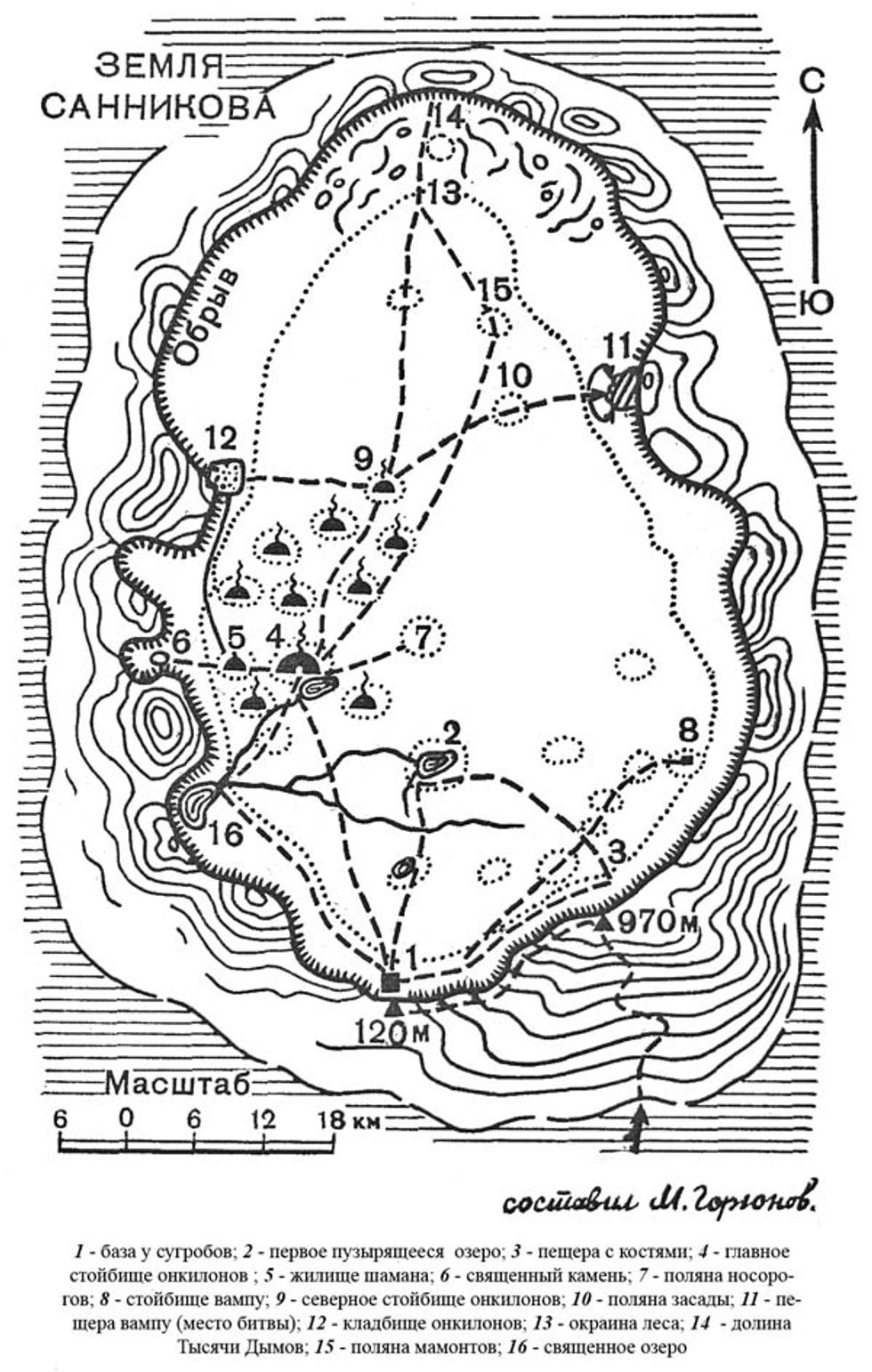 Sannikov Land, the phantom island, also became a fictional island when it was chosen in 1926 as the setting for a Soviet science fiction novel of the same name (Image here at Wikimedia Commons).
That was in 1937. And that seemed to be the very fag-end of the Age of Un-Discovery. 
Cue to 21 November 2012, as the Australian RV (Research Vessel) Southern Surveyor puts into port at Brisbane, after a 25-day exploration of the tectonic framework for the easternmost Coral Sea, in the Pacific Ocean between the eastern coast of Australia and the French territory of Nouvelle Calédonie. The ship's crew, marine geologists from the University of Sydney, have a strange tale to tell. During their expedition, they noticed that the sea floor beneath an island in the French part of the Coral Sea is recorded as 4,600 feet (1,400 m) deep. That seems odd. So they go and check it out.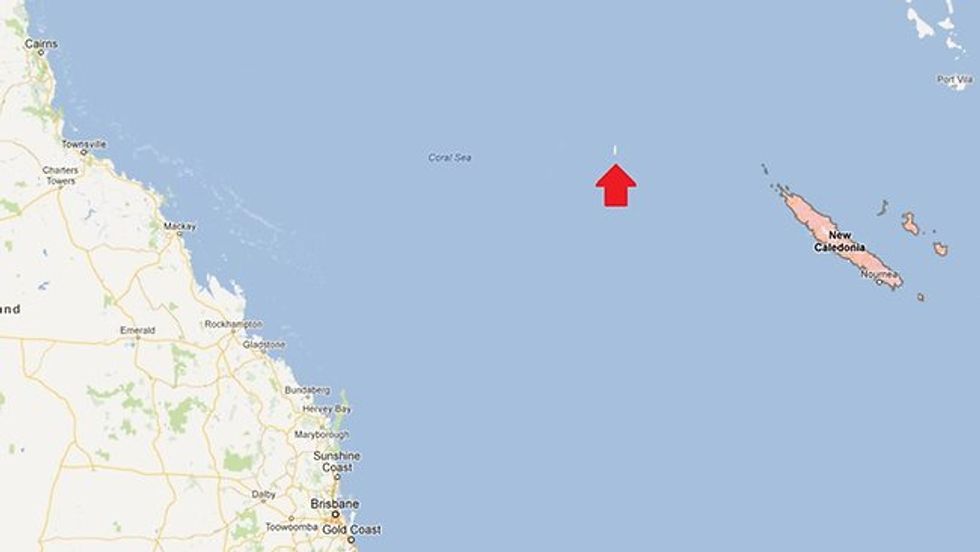 A map view image from Google Maps pointing out Sandy Island, with Australia to the west and New Caledonia to the east (taken here at Perth Now). 
The lens-shaped fleck of land, 15 miles (24 km) from north to south and 3 miles (5 km) across, is marked as Sandy Island on the ship's nautical charts (and on Google Maps), and as Sable Island in the Times Atlas of the World. 
The Southern Surveyor approaches the island's supposed location with great care, lest it runs aground. But the ship's instruments consistently indicate a depth of 4,600 feet. And when it arrives at 19°15' S 159°55' E, there is no island, only ocean. How is this possible? Did Sandy Island perhaps fly away, like the fictional island of Laputa in Gulliver's Travels [6]? 
With the benefit of hindsight, Sandy Island's appearance on Google Maps - since removed [7] - provides a clue to its non-existence. Its presence there was more of an absence: a black rift in the undulating blues of the Coral Sea, as if someone punched a hole in the very fabric of Google Maps itself. It's hard to see how nobody - or, more precisely, no satellite - was able to spot this anomaly before. And it's incredible that it took a good, old-fashioned look-see to discover Sandy Island's non-existence. For its supposed size was considerable: at 45 square miles, it would have been almost exactly double the area of Manhattan.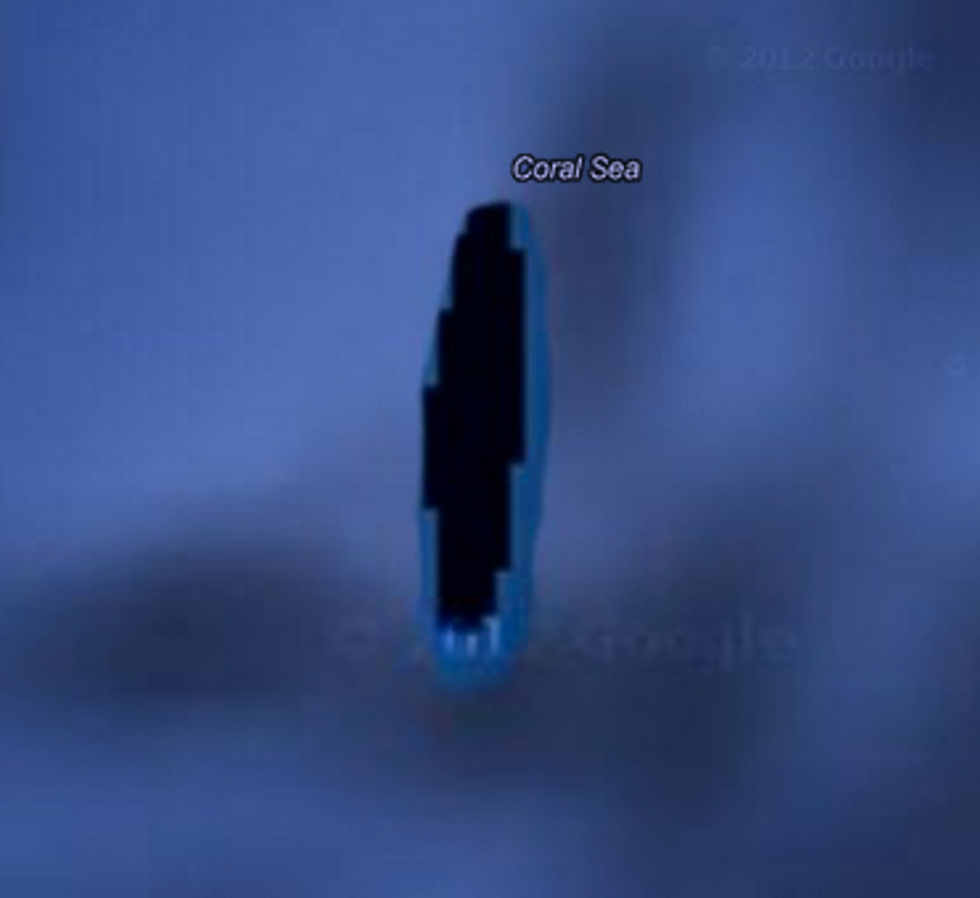 Sandy Island as a - now unnamed - rift in the fabric of the Coral Sea (taken from Google Maps).
"How did it find its way onto the maps? We just don't know", mused Dr Maria Seton, the expedition leader on board the Southern Surveyor.
Early press reports mentioned that Sandy Island had been struck off some nautical charts, notably the French ones, but had appeared on others, including the Australian ones, since "at least the year 2000". Some experts opined that Sandy Island had been a relatively recent glitch, imported into cartographic databases when analog maps had been digitised. Perhaps a (literal) bug had been squished between the paper map and the scanner? It could explain the curious, hole-in-the-map appearance of Sandy Island on Google Maps. Or could it be a 'trap island', analogous to the 'trap streets' sprinkled across London's A-to-Z and other street maps to identify unauthorised copying?
Both theories crumbled as much older maps of Sandy Island surfaced. A librarian in Auckland, New Zealand located it on a chart of the Pacific Ocean, published in 1908 but first compiled in 1876. The island was sighted in that year by the British vessel Velocity. The chart includes a warning that helps explain why it included even doubtful sightings of land: Caution is necessary while navigating among the low-lying island of the Pacific Ocean. The general details have been collated from the voyages of various navigators extending over a long series of years. The relative position of many dangers may therefore not be exactly given.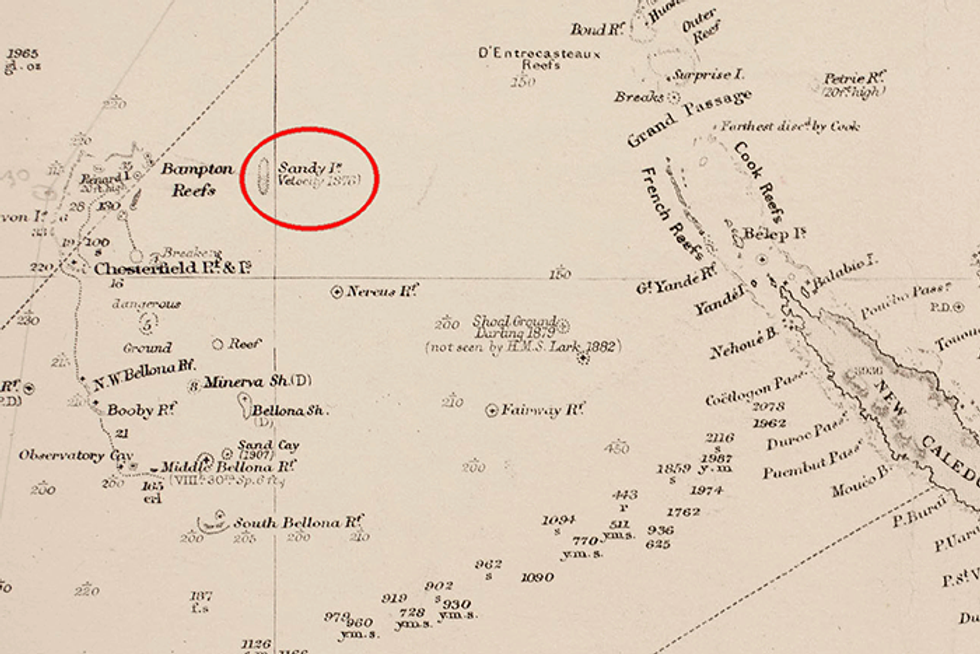 The 1908 map showing Sandy Island, circled (map taken here at the Auckland Museum Blog).  
The Coral Sea in particular is rich in treacherous reefs that lurk just beneath, or barely above the ocean's surface. Take for instance the Chesterfield Islands, an uninhabited archipelago in French territorial waters, west of Sandy Island's supposed location. The Chesterfields are a collection of about a dozen islets, some still shifting, and numerous reefs, spread out over an area 75 by 45 mile (120 by 70 km), but totalling less than 10 km2 (6 sq. mi) in dry land. Apart from the occasional visits by guano harvesters and whalers in the 19th century and meteorologists in the 20th, these shipping hazards have generally been shunned by seafarers [8].
In such a tricky environment, it's understandable that the precautionary principle is maximally applied. This explains why a cluster of potential dangers to shipping to the east of New Zealand, consisting of Wachusett Reef, Ernest Legouvé Rock, the Jupiter Breakers, and Maria Theresia Reef, is still a fixture on most nautical maps, even though they appear not to exist. Absence of evidence is not evidence of absence. Until an obstacle's existence is positively disproved, it stays on the map.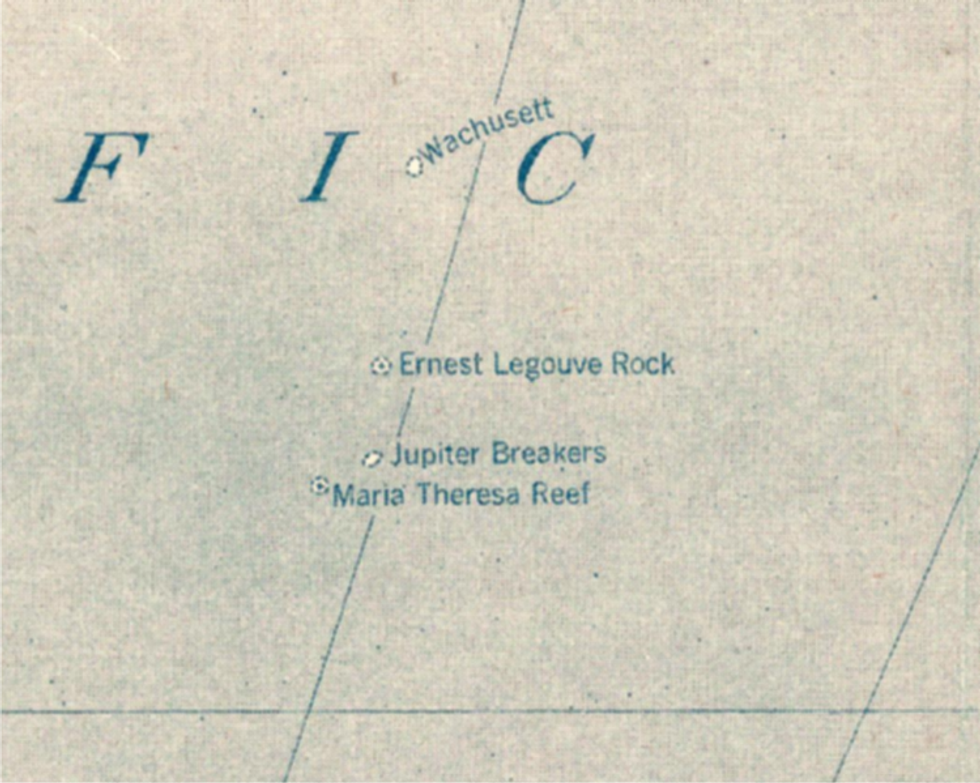 When in doubt, leave it in: the cluster of South Pacific reefs that is either dangerous or non-existent (taken here from Wikipedia).
But that only deepens the mystery of Sandy Island; for it seems the Southern Surveyor's recent un-discovery was already the second time that the island's existence was disproved. 
In 2000, a group of radio amateurs headed to the Chesterfield Islands on a so-called DXpedition, hoping to find the remotest dry land possible from which to send a ham radio message. In order for the Chesterfields to qualify, they scoured its surroundings for land, found Sandy Island on the map, but not where it should be in the ocean. Perhaps because this allowed the radio amateurs to proceed with their über-nerdy expedition, their un-discovery of Sandy Island didn't receive as much worldwide attention as it merited. The original report of their expedition does mention that Sandy Island is marked on some maps, but not on others, and quotes a Senior Editor of National Geographic Maps as saying that their cartography is "hopelessly outdated for this area", and would be updated 'soon'.
Which still leaves the question: When and by whom was Sandy Island first put on the map?
One source mentions the French navigator Joseph Bruny d'Entrecasteaux as the discoverer, in 1792, of several islands in the area, among which one he called Ile de Sable (Sandy Island). The British whaler Velocity then re-reports it in 1876 as Sandy Island, but indicates that it may in fact be 'islands', noting several groups of surf waves. Possibly the Velocity is confusing an island in d'Entrecasteaux's report with the Chesterfields to the west. Even the discovery phantom islands can be subject to international rivalry. Another source has not the Frenchman d'Entrecasteaux, but the British Captain Cook survey the island in 1772, before the Velocity re-maps it in 1876.
A more interesting question regards not Sandy Island's past, but the future of Un-Discovery. Is its non-existence, in our age of eyes in the sky, and computers that can crunch more data than can be contained in a shipful of logbooks, a fluke? Or are there many more islands out there waiting to be un-discovered? 
One final note on Sandy Island: it does really exist. At least, another curious island of (almost) the same name does. Sable Island (also from the French Ile de Sable) is a giant dune far off Canada's Atlantic Coast, the bane of transatlantic shipping, and home to a tribe of wild horses. See #387 for more on this remarkable place.
Many thanks to Vlad Atanasiu and G. Ockeloen for sending in information on Sandy Island.
Strange Maps #588
Got a strange map? Let me know at strangemaps@gmail.com.
[1] Some examples of islands that disappeared naturally: Bermeja (off Mexico), New Moore Island, a.k.a. South Talpatti (disputed between India and Bangladesh). See this episode of Borderlines for a discussion of Okinotorishima (south of Japan) and Ferdinandea (south of Sicily), islands that have trouble staying afloat.
[2] Another possibility: famous, otherwise meticulous cartographer fills in empty space on map with places referenced in unverified stories, unwittingly creating phantom islands that will outlive him by many decades. See #116. 
[3] For more on Estotiland, and other phantom islands on the Zeno map, see #62. More on Hy-Brasil at #572.
[4] See #64.
[5] Interestingly, the icebreaker Sadko - itself named after a Russian mythical hero - gave its name to an island, one of the 90-odd ones in the Nordenskjold Archipelago, in the Kara Sea north of Siberia.
[6] For more on the fictional islands in Gulliver's Travels, see #83 (Houyhnhnms Land), #383 (Brobdingnag).
[7] If you zoom out enough, it's still there, though.
[8] One of the many shipwrecks in the area was the whaling vessel Prince of Denmark, which ran aground in 1863. Its crew used its wooden planks to construct a rescue vessel, which was baptised, with an admirable sense of humour, considering the circumstances, Hamlet's Ghost. The crew sailed it to Brisbane, leaving 11 native crewmen on Chesterfield Reef with 18 months' worth of provision. No record survives of their eventual rescue.
So much for rest in peace.
Credit: fergregory via Adobe Stock
Surprising Science
Australian scientists found that bodies kept moving for 17 months after being pronounced dead.
Researchers used photography capture technology in 30-minute intervals every day to capture the movement.
This study could help better identify time of death.
We're learning more new things about death everyday. Much has been said and theorized about the great divide between life and the Great Beyond. While everyone and every culture has their own philosophies and unique ideas on the subject, we're beginning to learn a lot of new scientific facts about the deceased corporeal form.
An Australian scientist has found that human bodies move for more than a year after being pronounced dead. These findings could have implications for fields as diverse as pathology to criminology.
Dead bodies keep moving
Credit: Flickr
Researcher Alyson Wilson studied and photographed the movements of corpses over a 17 month timeframe. She recently told Agence France Presse about the shocking details of her discovery.
Reportedly, she and her team focused a camera for 17 months at the Australian Facility for Taphonomic Experimental Research (AFTER), taking images of a corpse every 30 minutes during the day. For the entire 17 month duration, the corpse continually moved.
"What we found was that the arms were significantly moving, so that arms that started off down beside the body ended up out to the side of the body," Wilson said.
The researchers mostly expected some kind of movement during the very early stages of decomposition, but Wilson further explained that their continual movement completely surprised the team:
"We think the movements relate to the process of decomposition, as the body mummifies and the ligaments dry out."
During one of the studies, arms that had been next to the body eventually ended up akimbo on their side.
The team's subject was one of the bodies stored at the "body farm," which sits on the outskirts of Sydney. (Wilson took a flight every month to check in on the cadaver.)
Her findings were recently published in the journal,
Forensic Science International: Synergy.
Implications of the study
The researchers believe that understanding these after death movements and decomposition rate could help better estimate the time of death. Police for example could benefit from this as they'd be able to give a timeframe to missing persons and link that up with an unidentified corpse. According to the team:
"Understanding decomposition rates for a human donor in the Australian environment is important for police, forensic anthropologists, and pathologists for the estimation of PMI to assist with the identification of unknown victims, as well as the investigation of criminal activity."
While scientists haven't found any evidence of necromancy. . . the discovery remains a curious new understanding about what happens with the body after we die.
Credit: Willrow Hood / 362693204 via Adobe Stock
13-8
The distances between the stars are so vast that they can make your brain melt. Take for example the Voyager 1 probe, which has been traveling at 35,000 miles per hour for more than 40 years and was the first human object to cross into interstellar space. That sounds wonderful except, at its current speed, it will still take another 40,000 years to cross the typical distance between stars.
Worse still, if you are thinking about interstellar travel, nature provides a hard limit on acceleration and speed. As Einstein showed, it's impossible to accelerate any massive object beyond the speed of light. Since the galaxy is more than 100,000 light-years across, if you are traveling at less than light speed, then most interstellar distances would take more than a human lifetime to cross. If the known laws of physics hold, then it seems a galaxy-spanning human civilization is impossible.
Unless of course you can build a warp drive.
Warp speed!
Ah, the warp drive, that darling of science fiction plot devices. So, what about a warp drive? Is that even a really a thing?
Let's start with the "warping" part of a warp drive. Without doubt, Albert Einstein's theory of general relativity ("GR") represents space and time as a 4-dimensional "fabric" that can be stretched and bent and folded. Gravity waves, representing ripples in the fabric of spacetime, have now been directly observed. So, yes spacetime can be warped. The warping part of a warp drive usually means distorting the shape of spacetime so that two distant locations can be brought close together — and you somehow "jump" between them.
This was a basic idea in science fiction long before Star Trek popularized the name "warp drive." But until 1994, it had remained science fiction, meaning there was no science behind it. That year, Miguel Alcubierre wrote down a solution to the basic equations of GR that represented a region that compressed spacetime ahead of it and expanded spacetime behind to create a kind of traveling warp bubble. This was really good news for warp drive fans.
The problems with a warp drive
There were some problems though. Most important was that this "Alcubierre drive" required lots of "exotic matter" or "negative energy" to work. Unfortunately, there's no such thing. These are things theorists dreamed up to stick into the GR equations in order to do cool things like make stable open wormholes or functioning warp drives.
It's also noteworthy that researchers have raised other concerns about an Alcubierre drive — like how it would violate quantum mechanics or how when you arrived at your destination it would destroy everything in front of the ship in an apocalyptic flash of radiation.
Warp drives: A new hope
Credit: Primada / 420366373 via Adobe Stock
Recently, however, there seemed to be good news on the warp drive front with the publication this April of a new paper by Alexey Bobrick and Gianni Martre entitled "Introducing Physical Warp Drives." The good thing about the Bobrick and Martre paper was it was extremely clear about the meaning of a warp drive.

Understanding the equations of GR means understanding what's on either side of the equals sign. On one side, there is the shape of spacetime, and on the other, there is the configuration of matter-energy. The traditional route with these equations is to start with a configuration of matter-energy and see what shape of spacetime it produces. But you can also go the other way around and assume the shape of spacetime you want (like a warp bubble) and determine what kind of configuration of matter-energy you will need (even if that matter-energy is the dream stuff of negative energy).
Warp drives are simpler and much less mysterious objects than the broader literature has suggested.
What Bobrick and Martre did was step back and look at the problem more generally. They showed how all warp drives were composed of three regions: an interior spacetime called the passenger space; a shell of material, with either positive or negative energy, called the warping region; and an outside that, far enough away, looks like normal unwarped spacetime. In this way they could see exactly what was and was not possible for any kind of warp drive. (Watch this lovely explainer by Sabine Hossenfelder for more details). They even showed that you could use good old normal matter to create a warp drive that, while it moved slower than light speed, produced a passenger area where time flowed at a different rate than in the outside spacetime. So even though it was a sub-light speed device, it was still an actual warp drive that could use normal matter.
That was the good news.
The bad news was this clear vision also showed them a real problem with the "drive" part of the Alcubierre drive. First of all, it still needed negative energy to work, so that bummer remains. But worse, Bobrick and Martre reaffirmed a basic understanding of relativity and saw that there was no way to accelerate an Alcubierre drive past light speed. Sure, you could just assume that you started with something moving faster than light, and the Alcubierre drive with its negative energy shell would make sense. But crossing the speed of light barrier was still prohibited.
So, in the end, the Star Trek version of the warp drive is still not a thing. I know this may bum you out if you were hoping to build that version of the Enterprise sometime soon (as I was). But don't be too despondent. The Bobrick and Martre paper really did make headway. As the authors put it in the end:
"One of the main conclusions of our study is that warp drives are simpler and much less mysterious objects than the broader literature has suggested"
That really is progress.
The Black Death wasn't the only plague in the 1300s.
Culture & Religion
In a unique study, researchers have determined how many people in medieval England had bunions
A fashion trend towards pointed toe shoes made the affliction common.
Even monks got in on the trend, much to their discomfort later in life.
Late Medieval England had its share of problems. The Wars of Roses raged, the Black Death killed off large parts of the population, and passing ruffians could say "Ni" at will to old ladies.
To make matters worse, a first of its kind study published in the International Journal of Paleopathology has demonstrated that much of the population suffered from another plague — a plague of bunions likely caused by a ridiculous medieval fashion trend.
If the shoe fits, it won't cause bunions
The outlines of a leather shoe from the King's Ditch, Cambridge. It is easy to see how these shoes might be constricting. Copyright Cambridge Archaeological Unit.
The bunion, known to medicine as "hallux valgus," is a deformity of the joint connecting the big toe to the rest of the foot. It is painful and can cause other issues including poor balance. The condition is associated with having worn constrictive shoes for a long period of time as well as genetic factors. Today, it is often caused by wearing high heeled shoes.
The medieval English didn't care for high heeled shoes as much as modern fashionistas, but there was a major fashion trend toward shoes with long, pointed toes called "poulaines" or "crakows" for their supposed place of origin, Krakow, Poland.
This trend, already silly-looking to a modern observer, got out of hand in a hurry. According to some records, the points on nobleman's shoes could be so long as to require tying them to the leg with string so the wearer could walk. At one point, King Edward IV had to ban commoners from wearing points longer than two inches. A couple years later, he saw fit to ban the shoes altogether.
But, just knowing that people back in the day made poor fashion choices doesn't prove they suffered for it. That is where digging up old skeletons to look at their feet comes in.
Beauty is pain: the price of high medieval fashion
To learn how bad the bunion epidemic was, the researchers looked to four burial sites in and around Cambridge. One was a rural cemetery where poor peasants were buried. Another was the All Saints by the Castle parish, which had a mixed collection of people that tended toward poverty. The Hospital of St. John's burial ground contained both the poor charges of a charity hospital and wealthy benefactors. Lastly, they considered the cemetery of a local Augustinian friary, home to monks and well-to-do philanthropists.
The team considered 177 adult skeletons that were at least a quarter complete and still had enough of their feet to make studying them possible. The remains were classified by age and sex by observation and DNA testing. Each was examined for evidence of bunions and signs of complications from the condition, such as falling.
Those buried in the monastery's graveyard were the most affected. Nearly half, 43 percent, of the remains found there had bunions. This includes five of the eleven members of the clergy they found. Twenty-three percent of those laid to rest at the Hospital of St. John had bunions, though only 10 percent of those at the All Saints by the Castle parish graveyard did.
The rural cemetery had a much lower rate of instances, only three percent, suggesting that these peasants were able to avoid at least one plague.
Overall, eighteen percent of the individuals examined had bunions, with men more likely to have them than women. Those at cemeteries known for exclusivity were more likely to have them as well, though it is clear that the condition also affected members of other classes. This makes sense, as it is known that these shoes had mass appeal.
The authors note that the rural cemetery having fewer cases is partly because that cemetery "went out of use prior to the wide adoption of pointed shoes, and it is likely that those residing in the parish predominately wore soft leather shoes, or possibly went barefoot."
Those skeletons with evidence of bunions were more likely to have fractures indicative of a fall. This was more common on those estimated or recorded as having lived past age 45.
In our much more enlightened times, 23 percent of the population currently endures having bunions, most of them women, and one of the leading culprits behind this is the high heeled shoe.
Some things never change.
Scroll down to load more…