Big ideas.
Once a week.
Subscribe to our weekly newsletter.
537 - What's the Plural of Texas?
24 October, 2011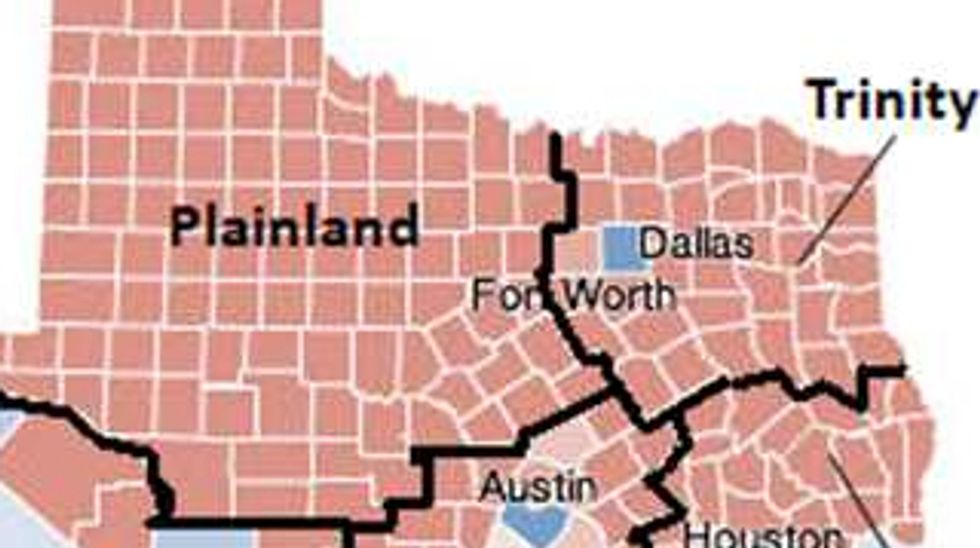 The plural of Texas? My money's on Texases, even though that sounds almost as wrong as Texae, Texi or whatever alternative you might try to think up. Texas is defiantly singular. It is the Lone Star State, priding itself on its brief independence and distinct culture. Discounting Alaska, it is also the largest state in the Union.  
---
Texas is both a maverick and a behemoth, and as much an claimant to exceptionalism within the US as America itself is on the world stage. Texans are superlative Americans. When other countries reach for an American archetype to caricature (or to demonise), it's often one they imagine having a Texan drawl: the greedy oil baron, the fundamentalist preacher, the trigger-happy cowboy (1).
Texans will rightly object to being pigeonholed, but they probably won't mind the implied reference to their tough-guy image. Nobody minds being provided with some room to swagger. See also the popularity of the slogan Don't Mess With Texas, the state's unofficial motto. It is less historical than it sounds, beginning life only in 1986 as the tagline of an anti-littering campaign. 
You'd have to be crazy to mess with a state that's this big and fierce. In fact, you'd have to be Texas to mess with Texas. Really. That's not just a clever put-down. It's the law. When Texas joined the Union in 1845, voluntarily giving up its independence, it was granted the right by Congress to form "new States of convenient size, not exceeding four in number and in addition to the said State of Texas." 
This would increase the total number of Texases to five, and enhance their political weight - at least in the US Senate, which would have to make room for 10 Senators from all five states combined, as opposed to just the twosome that represents the single state of Texas now. 
On May 26, 1930, TIME Magazine reported on one of the periodical bouts of Texas Divisionism that have gripped the state ever since its annexation: 
As other States were last week gloating over population increases which, by reapportionment next year, would give them greater political strength in the House of Representatives, Texas, biggest of them all, pointed with huge pride to Pampa as a sample of its own spectacular growth. In 1920 Pampa, high in the Panhandle, had 987 inhabitants. This year, thanks to oil and energy, it was found to be a full-fledged city of 10,453, a population increase of 959% in a decade. The disclosure of Pampa's spurty growth came just 24 hours after Texas' Congressman John Nance Garner, Democratic Leader of the House, had made a proposal which, if ever executed, would be far more subversive of U. S. political divisions than any readjustment of House representation consequent to the Census.  
Leader Garner declared that the time had come to carve five States out of Texas. Purpose: "To transfer the balance of political power from New England to the South and secure for the Southern States . . . prestige and recognition." What moved Representative Garner, as a Texan, as Minority leader of the House and as a member of the House Ways & Means Committee, to advocate this major change was the apparent victory of the industrial Northeast over the South & West in the Hawley-Smoot Tariff Bill. If the Lone Star State were changed into a constellation of five, Mr. Garner foresaw eight additional Democratic Senators from the four new States — enough to overwhelm Grundy-Republican-Tariffism. And incidently, under the Garner plan, what is now Texas would cast 28 electoral votes for President instead of 20. The mule-like kick in Mr. Garner's threat-proposal lay in the fact that Texas can turn itself into five States whether or not the rest of the U. S. approves […]
So immense is Texas (265,896 sq. mi.) that few persons can conceive of its size. It takes as long by train to travel from the Panhandle on the north to Brownsville on the south as it does to go from New York to Key West. Leader Garner gave his own figures: "Texas would make 220 States the size of Rhode Island, 54 the size of Connecticut, six the size of New York. Texas is four times bigger than the combined New England States. . . . With an estimated population of 5,600,000 Texas ranks fifth among the States, being exceeded only by New York, Pennsylvania, Illinois and Ohio..." Such a split-up of Texas into five States the size of Arkansas fired Mr. Garner's political imagination. He foresaw an East Texas, West Texas, North Texas, South Texas and just plain Texas in the middle. New State capitals would blossom on the mesa. Political jobs would increase fourfold. Every U. S. flag would be rendered instantly obsolete.
So how would such a quintet of Texases look like? Over the decades, several proposals - some more serious than others - have been put forward.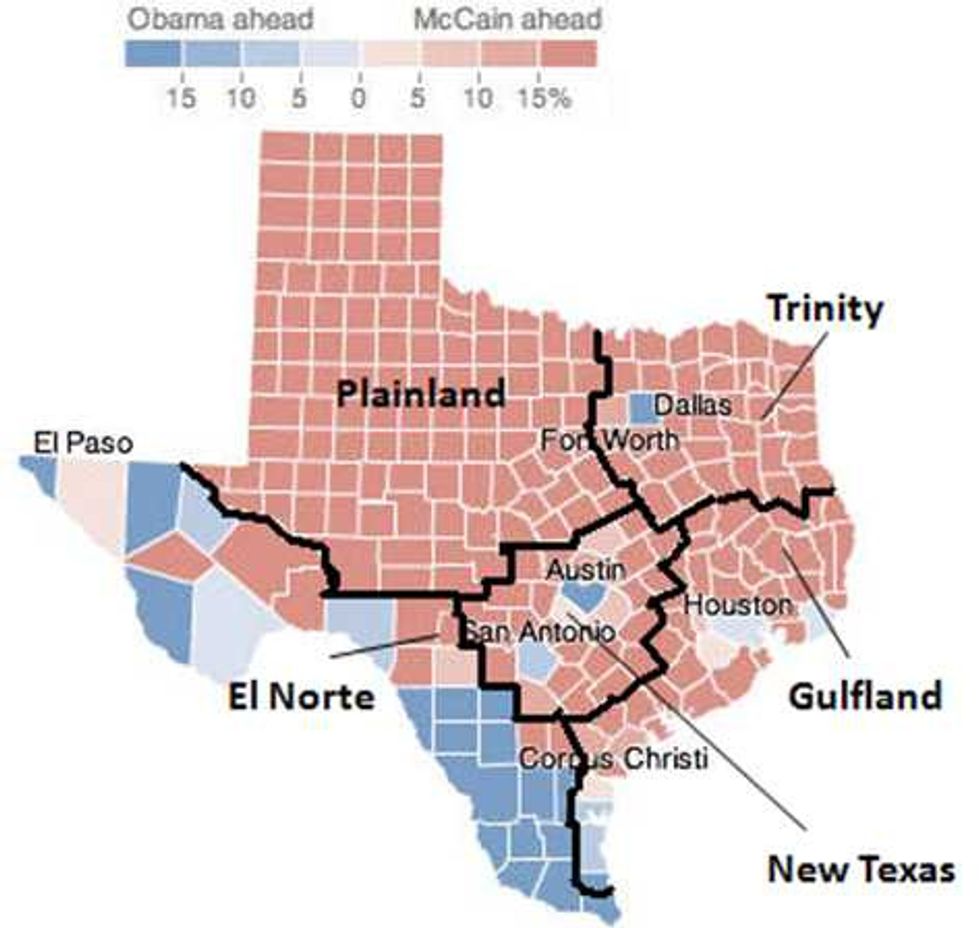 In 2009, the political blog FiveThirtyEight overlaid their plan on a county-level map of the Obama-McCain presidential election results (showing Texas to be overwhelmingly red, except for a band of blue along the Rio Grande). The five Texases are:
(New) Texas, comprising the Austin-San Antonio metropolitan area in central Texas;
Trinity, uniting Dallas, Fort Worth and Arlington;
Gulfland, along the coast and including Houston;
Plainland, from Lubbock all the way up the panhandle (with 40% of Texas's territory, the largest successor state); 
El Norte, south of the other states but north of Mexico, where most of the new state's 85% Hispanics would have their roots. 
Back in 1998, Mother Jones, in a thought experiment aimed to end the tyranny of Wyoming, dreamed up 25 new states, among which four new ones for Texas. The nomenclature for the five new states being:
Alamo, in the central part of the state;
Tejas, covering the western and northern extremes;
Texahoma, between Alamo and Oklahoma;
Petroland, in the oil-rich east of the state; and
North Mexico, covering the mostly Hispanic south of the state.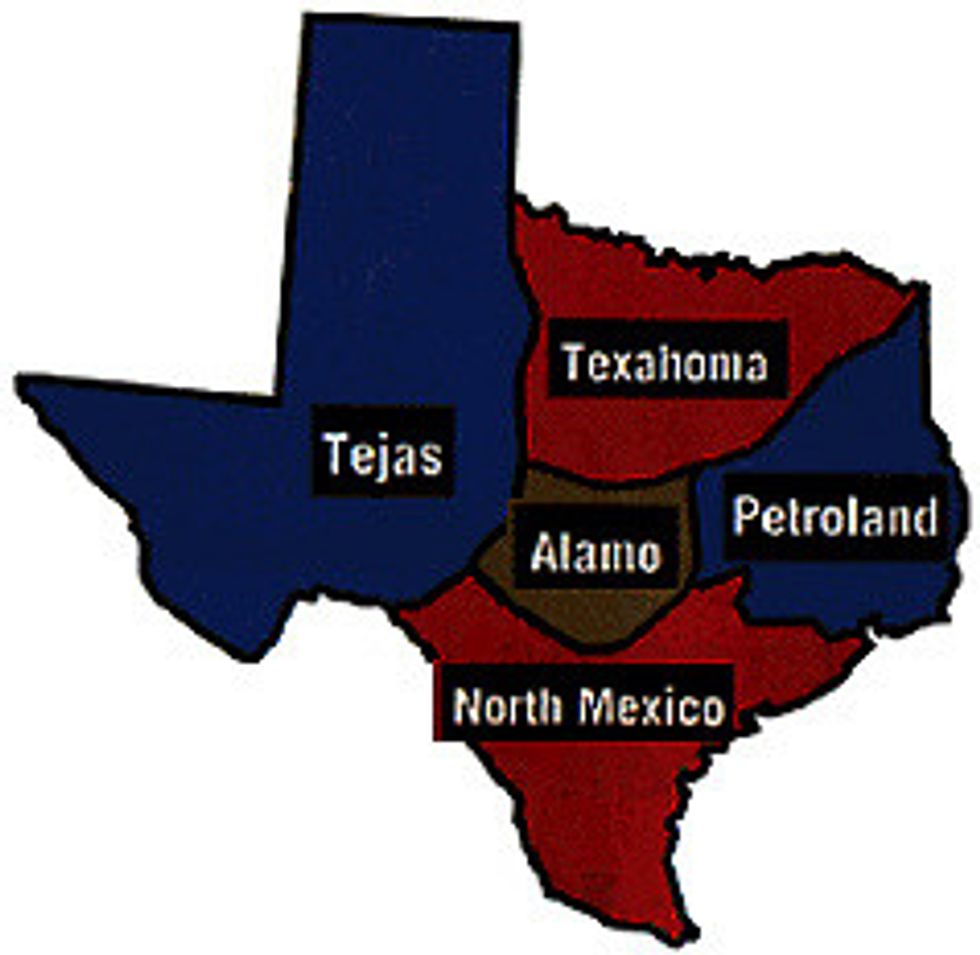 The MoJo map showed some similarity with the FiveThirtyEight one. But why speculate on the names for the new states and their exact borders, when the State of Texas itself has prepared a Master Plan, right under everybody's noses? This map, masquerading as an innocuous infographic over at the deceptively-named Texas Department of Insurance, openly flaunts the state-orchestrated divisionist plan and its nomenclature, opting for a Central, North, East, South and West Texas, each where you'd expect them. This is almost exactly as foreseen by John Nance Garner back in 1930.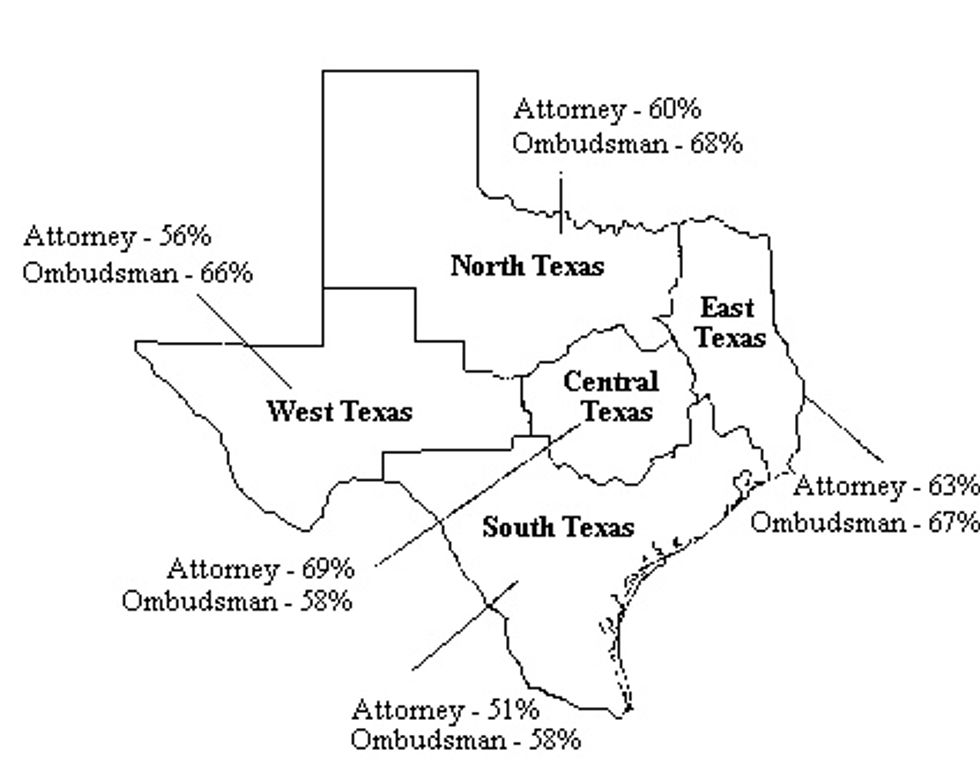 One has to wonder why Texas divisionism - a political force with such clear aims, and with aims that have such potential benefit for Texans - has never come to fruition. Maybe John Nance Garner had the answer to that question all along, as TIME concludes: 
But as clearly as anyone else Leader Garner saw that Texas itself will object to five Texases. The bigness of Texas is the supreme boast of every Texan. To hack the State up into five Arkansases would, to most of its citizens, be dismembering an empire. No longer could Texas brag of the fact that it grew more cotton (five million bales), produced more oil, than any other State. In such a split-up, North Texas would lose the historic glory of The Alamo (Roman Catholic mission at San Antonio cruelly besieged by Santa Anna). Bunker's Monthly, unique journal of and for Big Texas, would become just an ordinary interstate publication.  
Proud columns of Texas figures would wilt away. Vainly did Mr. Garner argue: "To divide the State would in no wise detract from the glory of the past but would add to the glory of the future by reason of additional political power and the enhancement of sectional initiative. . . ." This sentimental opposition to any partition of the State the New York World described thus: "A Texan is so proud of Texas as it is he can hardly sleep at night. He boasts that if all the steers in Texas were one big steer the critter would stand with his forefeet in the Gulf of Mexico and his hindfeet in Hudson's Bay and would drink water out of the Panama Canal while brushing the flies off the North Pole with his tail." 
_________
(1) Major T.J. 'King' Kong, the character in Dr Strangelove who rides the nuclear bomb into oblivion as if it were a bull at a rodeo, is about as over-the-top Texan cowboy caricature as they get. He was played by Slim Pickens - a native and lifelong Californian.
Why mega-eruptions like the ones that covered North America in ash are the least of your worries.
Image: USGS - public domain
Strange Maps
The supervolcano under Yellowstone produced three massive eruptions over the past few million years.
Each eruption covered much of what is now the western United States in an ash layer several feet deep.
The last eruption was 640,000 years ago, but that doesn't mean the next eruption is overdue.
The end of the world as we know it
Panoramic view of Yellowstone National Park
Image: Heinrich Berann for the National Park Service – public domain
Of the many freak ways to shuffle off this mortal coil – lightning strikes, shark bites, falling pianos – here's one you can safely scratch off your worry list: an outbreak of the Yellowstone supervolcano.
As the map below shows, previous eruptions at Yellowstone were so massive that the ash fall covered most of what is now the western United States. A similar event today would not only claim countless lives directly, but also create enough subsidiary disruption to kill off global civilisation as we know it. A relatively recent eruption of the Toba supervolcano in Indonesia may have come close to killing off the human species (see further below).
However, just because a scenario is grim does not mean that it is likely (insert topical political joke here). In this case, the doom mongers claiming an eruption is 'overdue' are wrong. Yellowstone is not a library book or an oil change. Just because the previous mega-eruption happened long ago doesn't mean the next one is imminent.
Ash beds of North America
Ash beds deposited by major volcanic eruptions in North America.
Image: USGS – public domain
This map shows the location of the Yellowstone plateau and the ash beds deposited by its three most recent major outbreaks, plus two other eruptions – one similarly massive, the other the most recent one in North America.
Huckleberry Ridge
The Huckleberry Ridge eruption occurred 2.1 million years ago. It ejected 2,450 km3 (588 cubic miles) of material, making it the largest known eruption in Yellowstone's history and in fact the largest eruption in North America in the past few million years.
This is the oldest of the three most recent caldera-forming eruptions of the Yellowstone hotspot. It created the Island Park Caldera, which lies partially in Yellowstone National Park, Wyoming and westward into Idaho. Ash from this eruption covered an area from southern California to North Dakota, and southern Idaho to northern Texas.
Mesa Falls
About 1.3 million years ago, the Mesa Falls eruption ejected 280 km3 (67 cubic miles) of material and created the Henry's Fork Caldera, located in Idaho, west of Yellowstone.
It was the smallest of the three major Yellowstone eruptions, both in terms of material ejected and area covered: 'only' most of present-day Wyoming, Colorado, Kansas and Nebraska, and about half of South Dakota.
Lava Creek
The Lava Creek eruption was the most recent major eruption of Yellowstone: about 640,000 years ago. It was the second-largest eruption in North America in the past few million years, creating the Yellowstone Caldera.
It ejected only about 1,000 km3 (240 cubic miles) of material, i.e. less than half of the Huckleberry Ridge eruption. However, its debris is spread out over a significantly wider area: basically, Huckleberry Ridge plus larger slices of both Canada and Mexico, plus most of Texas, Louisiana, Arkansas, and Missouri.
Long Valley
This eruption occurred about 760,000 years ago. It was centered on southern California, where it created the Long Valley Caldera, and spewed out 580 km3 (139 cubic miles) of material. This makes it North America's third-largest eruption of the past few million years.
The material ejected by this eruption is known as the Bishop ash bed, and covers the central and western parts of the Lava Creek ash bed.
Mount St Helens
The eruption of Mount St Helens in 1980 was the deadliest and most destructive volcanic event in U.S. history: it created a mile-wide crater, killed 57 people and created economic damage in the neighborhood of $1 billion.
Yet by Yellowstone standards, it was tiny: Mount St Helens only ejected 0.25 km3 (0.06 cubic miles) of material, most of the ash settling in a relatively narrow band across Washington State and Idaho. By comparison, the Lava Creek eruption left a large swathe of North America in up to two metres of debris.

The difference between quakes and faults
The volume of dense rock equivalent (DRE) ejected by the Huckleberry Ridge event dwarfs all other North American eruptions. It is itself overshadowed by the DRE ejected at the most recent eruption at Toba (present-day Indonesia). This was one of the largest known eruptions ever and a relatively recent one: only 75,000 years ago. It is thought to have caused a global volcanic winter which lasted up to a decade and may be responsible for the bottleneck in human evolution: around that time, the total human population suddenly and drastically plummeted to between 1,000 and 10,000 breeding pairs.
Image: USGS – public domain
So, what are the chances of something that massive happening anytime soon? The aforementioned mongers of doom often claim that major eruptions occur at intervals of 600,000 years and point out that the last one was 640,000 years ago. Except that (a) the first interval was about 200,000 years longer, (b) two intervals is not a lot to base a prediction on, and (c) those intervals don't really mean anything anyway. Not in the case of volcanic eruptions, at least.
Earthquakes can be 'overdue' because the stress on fault lines is built up consistently over long periods, which means quakes can be predicted with a relative degree of accuracy. But this is not how volcanoes behave. They do not accumulate magma at constant rates. And the subterranean pressure that causes the magma to erupt does not follow a schedule.
What's more, previous super-eruptions do not necessarily imply future ones. Scientists are not convinced that there ever will be another big eruption at Yellowstone. Smaller eruptions, however, are much likelier. Since the Lava Creek eruption, there have been about 30 smaller outbreaks at Yellowstone, the last lava flow being about 70,000 years ago.
As for the immediate future (give or take a century): the magma chamber beneath Yellowstone is only 5 percent to 15 percent molten. Most scientists agree that is as un-alarming as it sounds. And that its statistically more relevant to worry about death by lightning, shark, or piano.
Strange Maps #1041
Got a strange map? Let me know at strangemaps@gmail.com.

How imagining the worst case scenario can help calm anxiety.
Credit
: OLIVIER DOULIERY via Getty Images
Personal Growth
Stoicism is the philosophy that nothing about the world is good or bad in itself, and that we have control over both our judgments and our reactions to things.
It is hardest to control our reactions to the things that come unexpectedly.
By meditating every day on the "worst case scenario," we can take the sting out of the worst that life can throw our way.
Are you a worrier? Do you imagine nightmare scenarios and then get worked up and anxious about them? Does your mind get caught in a horrible spiral of catastrophizing over even the smallest of things? Worrying, particularly imagining the worst case scenario, seems to be a natural part of being human and comes easily to a lot of us. It's awful, perhaps even dangerous, when we do it.
But, there might just be an ancient wisdom that can help. It involves reframing this attitude for the better, and it comes from Stoicism. It's called "premeditation," and it could be the most useful trick we can learn.
Practical Stoicism
Broadly speaking, Stoicism is the philosophy of choosing your judgments. Stoics believe that there is nothing about the universe that can be called good or bad, valuable or valueless, in itself. It's we who add these values to things. As Shakespeare's Hamlet says, "There is nothing either good or bad, but thinking makes it so." Our minds color the things we encounter as being "good" or "bad," and given that we control our minds, we therefore have control over all of our negative feelings.
Put another way, Stoicism maintains that there's a gap between our experience of an event and our judgment of it. For instance, if someone calls you a smelly goat, you have an opportunity, however small and hard it might be, to pause and ask yourself, "How will I judge this?" What's more, you can even ask, "How will I respond?" We have power over which thoughts we entertain and the final say on our actions. Today, Stoicism has influenced and finds modern expression in the hugely effective "cognitive behavioral therapy."
Helping you practice StoicismCredit: Robyn Beck via Getty Images
One of the principal fathers of ancient Stoicism was the Roman statesmen, Seneca, who argued that the unexpected and unforeseen blows of life are the hardest to take control over. The shock of a misfortune can strip away the power we have to choose our reaction. For instance, being burglarized feels so horrible because we had felt so safe at home. A stomach ache, out of the blue, is harder than a stitch thirty minutes into a run. A sudden bang makes us jump, but a firework makes us smile. Fell swoops hurt more than known hardships.
What could possibly go wrong?
So, how can we resolve this? Seneca suggests a Stoic technique called "premeditatio malorum" or "premeditation." At the start of every day, we ought to take time to indulge our anxious and catastrophizing mind. We should "rehearse in the mind: exile, torture, war, shipwreck." We should meditate on the worst things that could happen: your partner will leave you, your boss will fire you, your house will burn down. Maybe, even, you'll die.
This might sound depressing, but the important thing is that we do not stop there.
Stoicism has influenced and finds modern expression in the hugely effective "cognitive behavioral therapy."
The Stoic also rehearses how they will react to these things as they come up. For instance, another Stoic (and Roman Emperor) Marcus Aurelius asks us to imagine all the mean, rude, selfish, and boorish people we'll come across today. Then, in our heads, we script how we'll respond when we meet them. We can shrug off their meanness, smile at their rudeness, and refuse to be "implicated in what is degrading." Thus prepared, we take control again of our reactions and behavior.
The Stoics cast themselves into the darkest and most desperate of conditions but then realize that they can and will endure. With premeditation, the Stoic is prepared and has the mental vigor necessary to take the blow on the chin and say, "Yep, l can deal with this."
Catastrophizing as a method of mental inoculation
Seneca wrote: "In times of peace, the soldier carries out maneuvers." This is also true of premeditation, which acts as the war room or training ground. The agonizing cut of the unexpected is blunted by preparedness. We can prepare the mind for whatever trials may come, in just the same way we can prepare the body for some endurance activity. The world can throw nothing as bad as that which our minds have already imagined.
Stoicism teaches us to embrace our worrying mind but to embrace it as a kind of inoculation. With a frown over breakfast, try to spend five minutes of your day deliberately catastrophizing. Get your anti-anxiety battle plan ready and then face the world.
Jonny Thomson teaches philosophy in Oxford. He runs a popular Instagram account called Mini Philosophy (@philosophyminis). His first book is Mini Philosophy: A Small Book of Big Ideas.
A study on charity finds that reminding people how nice it feels to give yields better results than appealing to altruism.
Personal Growth
A study finds asking for donations by appealing to the donor's self-interest may result in more money than appealing to their better nature.
Those who received an appeal to self-interest were both more likely to give and gave more than those in the control group.
The effect was most pronounced for those who hadn't given before.
Even the best charities with the longest records of doing great fundraising work have to spend some time making sure that the next donation checks will keep coming in. One way to do this is by showing potential donors all the good things the charity did over the previous year. But there may be a better way.
A new study by researchers in the United States and Australia suggests that appealing to the benefits people will receive themselves after a donation nudges them to donate more money than appealing to the greater good.
How to get people to give away free money
The postcards that were sent to different study subjects. The one on the left highlighted benefits to the self, while the one on the right highlighted benefits to others.List et al. / Nature Human Behaviour
The study, published in Nature Human Behaviour, utilized the Pick.Click.Give program in Alaska. This program allows Alaska residents who qualify for dividends from the Alaska Permanent Fund, a yearly payment ranging from $800 to $2000 in recent years, to donate a portion of it to various in-state non-profit organizations.
The researchers randomly assigned households to either a control group or to receive a postcard in the mail encouraging them to donate a portion of their dividend to charity. That postcard could come in one of two forms, either highlighting the benefits to others or the benefits to themselves.
Those who got the postcard touting self-benefits were 6.6 percent more likely to give than those in the control group and gave 23 percent more on average. Those getting the benefits-to-others postcard were slightly more likely to give than those receiving no postcard, but their donations were no larger.
Additionally, the researchers were able to break the subject list down into a "warm list" of those who had given at least once before in the last two years and a "cold list" of those who had not. Those on the warm list, who were already giving, saw only minor increases in their likelihood to donate after getting a postcard in the mail compared to those on the cold list.
Additionally, the researchers found that warm-list subjects who received the self-interest postcard gave 11 percent more than warm-list subjects in the control group. Amazingly, among cold-list subjects, those who received a self-interest postcard gave 39 percent more.
These are substantial improvements. At the end of the study, the authors point out, "If we had sent the benefits to self message to all households in the state, aggregate contributions would have increased by nearly US$600,000."
To put this into perspective, in 2017 the total donations to the program were roughly $2,700,000.
Is altruism dead?
Are all actions inherently self-interested? Thankfully, no. The study focuses entirely on effective ways to increase charitable donations above levels that currently exist. It doesn't deny that some people are giving out of pure altruism, but rather that an appeal based on self-interest is effective. Plenty of people were giving before this study took place who didn't need a postcard as encouragement. It is also possible that some people donated part of their dividend check to a charity that does not work with Pick.Click.Give and were uncounted here.
It is also important to note that Pick.Click.Give does not provide services but instead gives money to a wide variety of organizations that do. Those organizations operate in fields from animal rescue to job training to public broadcasting. The authors note that it is possible that a more specific appeal to the benefits others will receive from a donation might prove more effective than the generic and all-inclusive "Make Alaska Better For Everyone" appeal that they used.
In an ideal world, charity is its own reward. In ours, it might help to remind somebody how warm and fuzzy they'll feel after donating to your cause.
Surprising Science
The 'Monkeydactyl' was a flying reptile that evolved highly specialized adaptations in the Mesozoic Era.
Scroll down to load more…