Distilled Geography: Europe's Alcohol Belts
Where we are determines who we are - and what we drink
Frank Jacobs
From a young age, Frank was fascinated by maps and atlases, and the stories they contained. Finding his birthplace on the map in the endpapers of Tolkien's Lord of the Rings only increased his interest in the mystery and message of maps.
While pursuing a career in journalism, Frank started a blog called Strange Maps, as a repository for the weird and wonderful cartography he found hidden in books, posing as everyday objects and (of course) floating around the Internet.
"Each map tells a story, but the stories told by your standard atlas for school or reference are limited and literal: they show only the most practical side of the world, its geography and its political divisions. Strange Maps aims to collect and comment on maps that do everything but that - maps that show the world from a different angle".
A remit that wide allows for a steady, varied diet of maps: Frank has been writing about strange maps since 2006, published a book on the subject in 2009 and joined Big Think in 2010. Readers send in new material daily, and he keeps bumping in to cartography that is delightfully obscure, amazingly beautiful, shockingly partisan, and more.
23 July, 2010
It matters where we are, for it helps determine who we are. Or, as the quote often attributed to Napoleon states: Geography is destiny. That destiny extends to drink, as demonstrated by this map. Where we are determines to a statistically significant degree what kind of alcohol we prefer. Or is it the other way around: the kind of alcohol preferred is determined by the place where it is produced?
---
This map shows Europe dominated by three so-called 'alcohol belts', the northernmost one for distilled spirits, a middle one for beer and the southernmost one for wine. Each one's existence and extension is determined by a mix of culture and agriculture.
The Wine Belt covers the southern parts of Europe, where wine has historically been an important industry and an everyday commodity: the whole of Portugal, Spain, Italy, Montenegro, Greece, Macedonia, Bulgaria, Hungary, Moldova and Georgia; all but the northwestern zone of France; and significant parts of Switzerland, the Czech Republic, Slovakia, Croatia, Serbia, and Romania.
Either through effects of climate change or renewed viticultural enthusiasm, grapes and wine-making have in recent years been introduced in areas to the north of the traditional Wine Belt, in southern Britain and the Low Countries, creating an overlap between Wine and Beer Belts. That overlap is often ancient rather than recent; the introduction not rarely is a reintroduction. And indeed, southwestern Germany, for example, has an ancient and unbroken tradition of wine-making.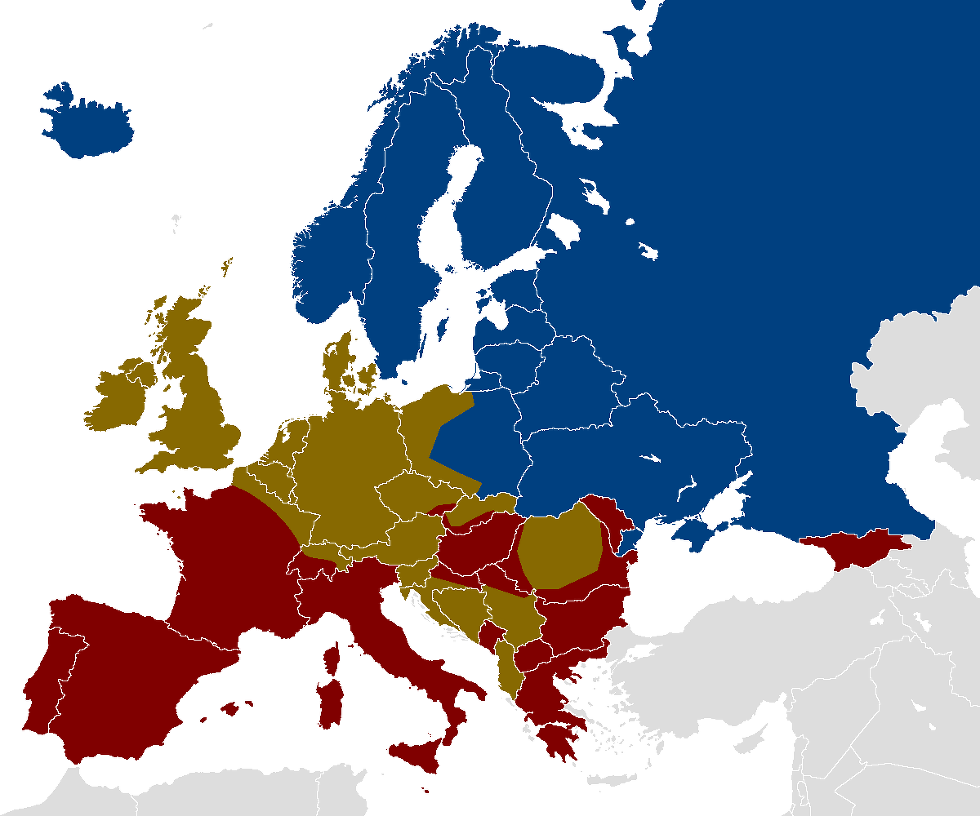 The Beer Belt comprises areas where beer has been the alcoholic beverage of choice since times immemorial: Ireland and the UK, the Low Countries, Denmark, Germany, Austria, Slovenia, Bosnia and Albania; most of the Czech Republic, Slovakia, Croatia, Serbia and Romania; and significant, western parts of Poland. Beer production requires the cultivation of cereals, so this is a climatic-agricultural precondition for the Beer Belt.
An interesting co-explanation for the prevalence of beer in southern parts of this belt is the relatively weak cultural influence of the Roman Empire on these places. The Wine Belt indeed conforms to a large extent with the territory formerly occupied by Rome, with notable exceptions in areas with large Slavic or Germanic migration (the Balkans, southwestern Germany, northern France respectively), where beer predominates (although often overlapping with wine).
The Vodka Belt occupies what's left of Europe, to the east and north: Scandinavia (except Denmark), Russia, the Baltics, Belarus, Ukraine and central and eastern Poland. There is a climatological imperative to the Vodka Belt: freezing temperatures make grape cultivation impossible (except in southernmost Russia and some areas of Ukraine). So there's almost no overlap possible between the Vodka and Wine Belts. For cultural reasons, however, the Vodka Belt has been losing ground to the Beer Belt. Scandinavians tend to drink more beer than before (although possibly this doesn't mean they drink less wodka). Maybe this is due to the perception of beer correlating more with 'core European' behaviour (as it is the preferred alcoholic beverage of Britain, Germany and other influential and centrally positioned countries). That might explain the emergence in Poland, some years ago, of a Beer-Lovers' Party (which actually won seats in the Polish Parliament in the early 1990s). Beer has since surpassed wodka as the most consumed type of alcohol in Poland.
Many thanks for this map (found here) to Leszek Jan Lipinski, who is Polish, studies in Denmark and currently resides in Liechtenstein, and therefore can "confirm from everyday practice that the theory [of alcohol belts] seems quite relevant, not in terms of concrete consumption numbers (Poles currently have 4th highest beer consumption per capita), but in terms of cultural reverence, drinking patterns, festivities and role of pubs in the culture," even though this map might not be entirely accurate: "[The] Balkan area division is highly disputable and Western Poland does not have the beer culture inherited from the Germans."
Another version of Europe's alcohol belts (cf.inf.) is found here; more detailed, but, gathering from anecdotal knowledge, also not entirely accurate.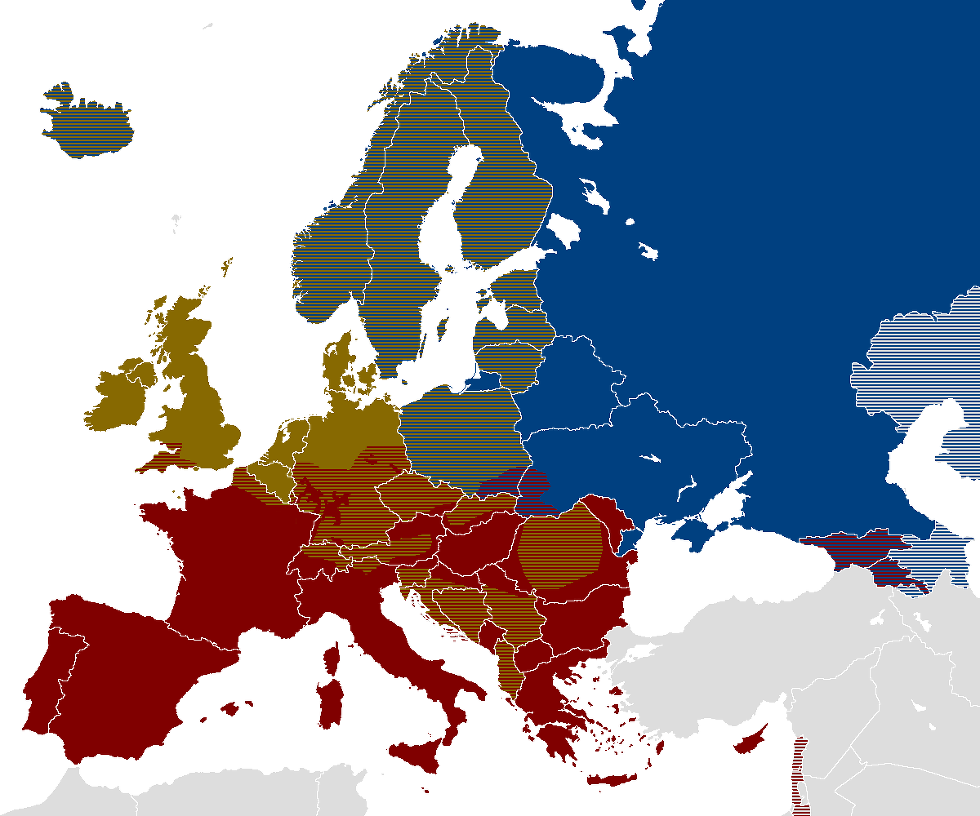 These maps bring to mind Terry Pratchett's witty remark that Geography is just physics slowed down, with a couple of trees stuck in it. And grapes, grain and potatoes.
Strange Maps #442 
Got a strange map? Let me know at strangemaps@gmail.com.
Science and the squishiness of the human mind. The joys of wearing whatever the hell you want, and so much more.
Think Again Podcasts
Why can't we have a human-sized cat tree?
What would happen if you got a spoonful of a neutron star?
Why do we insist on dividing our wonderfully complex selves into boring little boxes
Progressive America would be half as big, but twice as populated as its conservative twin.
Image: Dicken Schrader
Strange Maps
America's two political tribes have consolidated into 'red' and 'blue' nations, with seemingly irreconcilable differences.
Perhaps the best way to stop the infighting is to go for a divorce and give the two nations a country each
Based on the UN's partition plan for Israel/Palestine, this proposal provides territorial contiguity and sea access to both 'red' and 'blue' America
A guide to making difficult conversations possible—and peaceful—in an increasingly polarized nation.
Big think's weekly newsletter.
Get smarter faster from the comfort of your inbox.
See our newsletter privacy policy
here
Most Popular
Most Recent
Big think's weekly newsletter.
Get smarter faster from the comfort of your inbox.
See our newsletter privacy policy
here
© Copyright 2007-2018 & BIG THINK, BIG THINK EDGE,
SMARTER FASTER trademarks owned by The Big Think, Inc. All rights reserved.