172 - A Texan's Map of the United States
23 July, 2010
---
At 678.051 km² (261.797 sq. mi), Texas is the largest of the 48 contiguous states. With a population of over 23 million, it's also the second most populous, after California. And there's more that sets Texas apart:
almost unique among US states, it was an independent republic for almost a decade before it joined the Union in 1845. (Tiny Vermont also was independent for more than a decade, and California too, if only for a mere month). Texas grade school students also daily pledge allegiance to the state flag, the recitation being: "Honor the Texas flag; I pledge allegiance to thee, Texas; One state under God; One and indivisible." The first word spoken from the Moon on July 20, 1969 was "Houston". The King Ranch in Texas is bigger than the entire state of Rhode Island. The dome of Texas' state capitol in Austin is 7 ft. higher than the one in Washington DC.
No wonder the state tourism slogan is: "It's like a whole other country". Or that people from the Lone Star State like to state that "Everything's bigger in Texas." But apparently not big enough, according to this postcard map. A supersized Texas expands to fill out the central part of the US, leaving the other states diminished in size with rather disparaging alternate names:
Washington: Wash Tin Oregon: All Gone California: uninhabitable Idaho: Hi Ho Utah: You Saw Nevada: Never Add Arizona: Arid Zone New Mexico: New Mix (Hiccup) Montana: Mount Annie Colorado: Color Radio Wyoming: Why Home In North Dakota: North Colder South Dakota: The Cold (South) Nebraska: Knee Grass Kansas: Can This Oklahoma: Okay? Minnesota: Mint Soda Iowa : Out-A-Way Missouri: Misery Wisconsin: Wise Cousin Illinois: Ill Noise Michigan: Miss Again Indiana: Indian Annie Arkansas : Arch Insult Ohio: Old High Kentucky: Canned Turkey Tennessee: Ten Seeds Louisiana: Lousy Annie Mississippi: Miss-Is-Yippi Alabama: All Mammy North Carolina: North Carol's Line South Carolina: South Carol's Line The New England states (plus NY, NJ and PA – and a big part of Maritime Canada): "Damned Yankee" Land West Virginia: West Gin Maryland: Snafu Georgia: Judgy Florida: Swamp Land
The Great Lakes are 'Few Puddles'. I've no idea what year this postcard map is from, but by the looks of it, it's somewhere in the nineteen fifties.
The postcard was found here at www.cardcow.com.
Update 16 Feb. 2013: The crisper version below (though missing Brownsville, TX) kindly provided by Henry Churchyard.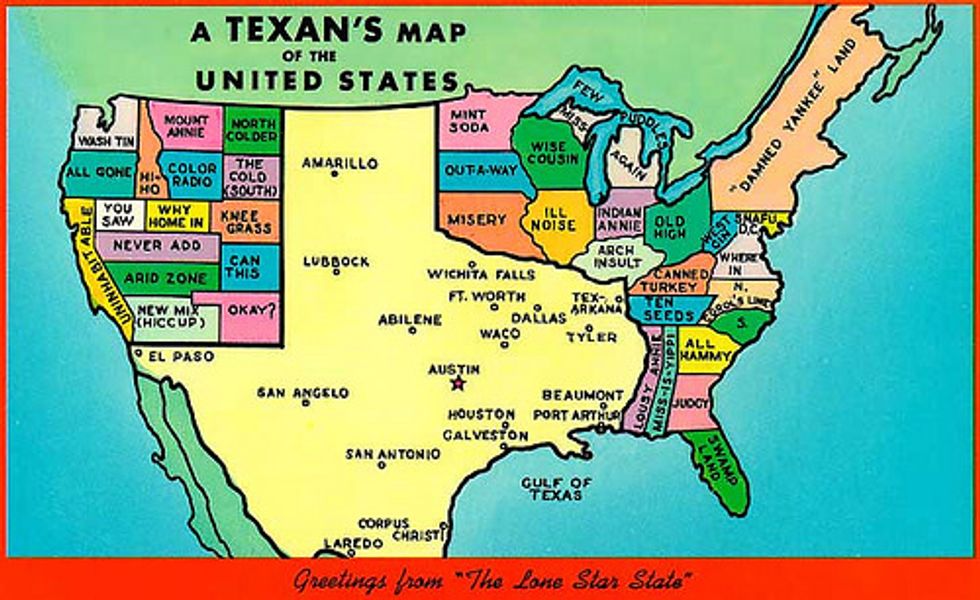 To create wiser adults, add empathy to the school curriculum.
Sponsored by Charles Koch Foundation
Stories are at the heart of learning, writes Cleary Vaughan-Lee, Executive Director for the Global Oneness Project. They have always challenged us to think beyond ourselves, expanding our experience and revealing deep truths.
Vaughan-Lee explains 6 ways that storytelling can foster empathy and deliver powerful learning experiences.
Global Oneness Project is a free library of stories—containing short documentaries, photo essays, and essays—that each contain a companion lesson plan and learning activities for students so they can expand their experience of the world.
This is what the world will look like, 250 million years from now
On Pangaea Proxima, Lagos will be north of New York, and Cape Town close to Mexico City
Surprising Science
To us humans, the shape and location of oceans and continents seems fixed. But that's only because our lives are so short.
The future of education and work will rely on teaching students deeper problem-solving skills.
Future of Learning
Asking kids 'What do you want to be when you grow up?' is a question that used to make sense, says Jaime Casap. But it not longer does; the nature of automation and artificial intelligence means future jobs are likely to shift and reform many times over.
Instead, educators should foster a culture of problem solving. Ask children: What problem do you want to solve? And what talents or passions do you have that can be the avenues by which you solve it?
"[T]he future of education starts on Monday and then Tuesday and then Wednesday and it's constant and consistent and it's always growing, always improving, and if we create that culture I think that would bring us a long way," Casap says.
These Jurassic predators resorted to cannibalism when hit with hard times, according to a deliciously rare discovery.
Stephanie K. Drumheller et.al
Surprising Science
Rare fossil evidence of dinosaur cannibalism among the Allosaurus has been discovered.
Scientists analyzed dinosaur bones found in the Mygatt-Moore Quarry in western Colorado, paying special attention to bite marks that were present on 2,368 of the bones.
It's likely that the predatory carnivore only ate their already-dead peers during times when resources were scarce.
Personal Growth
As a doctor, I am reminded every day of the fragility of the human body, how closely mortality lurks just around the corner.
Scroll down to load more…