172 - A Texan's Map of the United States
23 July, 2010
---
At 678.051 km² (261.797 sq. mi), Texas is the largest of the 48 contiguous states. With a population of over 23 million, it's also the second most populous, after California. And there's more that sets Texas apart:
almost unique among US states, it was an independent republic for almost a decade before it joined the Union in 1845. (Tiny Vermont also was independent for more than a decade, and California too, if only for a mere month). Texas grade school students also daily pledge allegiance to the state flag, the recitation being: "Honor the Texas flag; I pledge allegiance to thee, Texas; One state under God; One and indivisible." The first word spoken from the Moon on July 20, 1969 was "Houston". The King Ranch in Texas is bigger than the entire state of Rhode Island. The dome of Texas' state capitol in Austin is 7 ft. higher than the one in Washington DC.
No wonder the state tourism slogan is: "It's like a whole other country". Or that people from the Lone Star State like to state that "Everything's bigger in Texas." But apparently not big enough, according to this postcard map. A supersized Texas expands to fill out the central part of the US, leaving the other states diminished in size with rather disparaging alternate names:
Washington: Wash Tin Oregon: All Gone California: uninhabitable Idaho: Hi Ho Utah: You Saw Nevada: Never Add Arizona: Arid Zone New Mexico: New Mix (Hiccup) Montana: Mount Annie Colorado: Color Radio Wyoming: Why Home In North Dakota: North Colder South Dakota: The Cold (South) Nebraska: Knee Grass Kansas: Can This Oklahoma: Okay? Minnesota: Mint Soda Iowa : Out-A-Way Missouri: Misery Wisconsin: Wise Cousin Illinois: Ill Noise Michigan: Miss Again Indiana: Indian Annie Arkansas : Arch Insult Ohio: Old High Kentucky: Canned Turkey Tennessee: Ten Seeds Louisiana: Lousy Annie Mississippi: Miss-Is-Yippi Alabama: All Mammy North Carolina: North Carol's Line South Carolina: South Carol's Line The New England states (plus NY, NJ and PA – and a big part of Maritime Canada): "Damned Yankee" Land West Virginia: West Gin Maryland: Snafu Georgia: Judgy Florida: Swamp Land
The Great Lakes are 'Few Puddles'. I've no idea what year this postcard map is from, but by the looks of it, it's somewhere in the nineteen fifties.
The postcard was found here at www.cardcow.com.
Update 16 Feb. 2013: The crisper version below (though missing Brownsville, TX) kindly provided by Henry Churchyard.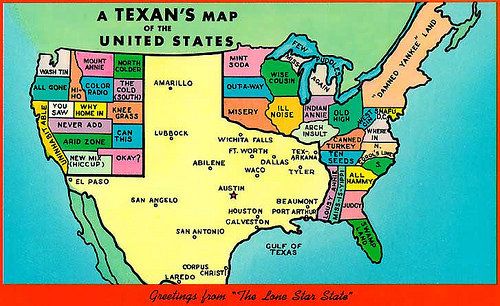 What can 3D printing do for medicine? The "sky is the limit," says Northwell Health researcher Dr. Todd Goldstein.
Northwell Health
Sponsored by Northwell Health
Medical professionals are currently using 3D printers to create prosthetics and patient-specific organ models that doctors can use to prepare for surgery.
Eventually, scientists hope to print patient-specific organs that can be transplanted safely into the human body.
Northwell Health, New York State's largest health care provider, is pioneering 3D printing in medicine in three key ways.
As Game of Thrones ends, a revealing resolution to its perplexing geography.
Strange Maps
The fantasy world of Game of Thrones was inspired by real places and events.
But the map of Westeros is a good example of the perplexing relation between fantasy and reality.
Like Britain, it has a Wall in the North, but the map only really clicks into place if you add Ireland.
Torn between absolutism on the left and the right, classical liberalism—with its core values of compassion and incremental progress whereby the once-radical becomes the mainstream—is in need of a good defense. And Adam Gopnik is its lawyer.
Think Again Podcasts
Liberalism as "radical pragmatism"
Intersectionality and civic discourse
How "a thousand small sanities" tackled drunk driving, normalized gay marriage, and could control gun violence
Big think's weekly newsletter.
Get smarter faster from the comfort of your inbox.
See our newsletter privacy policy
here
Most Popular
Most Recent
Big think's weekly newsletter.
Get smarter faster from the comfort of your inbox.
See our newsletter privacy policy
here
© Copyright 2007-2019 & BIG THINK, BIG THINK EDGE,
SMARTER FASTER trademarks owned by The Big Think, Inc. All rights reserved.