172 - A Texan's Map of the United States
23 July, 2010
---
At 678.051 km² (261.797 sq. mi), Texas is the largest of the 48 contiguous states. With a population of over 23 million, it's also the second most populous, after California. And there's more that sets Texas apart:
almost unique among US states, it was an independent republic for almost a decade before it joined the Union in 1845. (Tiny Vermont also was independent for more than a decade, and California too, if only for a mere month). Texas grade school students also daily pledge allegiance to the state flag, the recitation being: "Honor the Texas flag; I pledge allegiance to thee, Texas; One state under God; One and indivisible." The first word spoken from the Moon on July 20, 1969 was "Houston". The King Ranch in Texas is bigger than the entire state of Rhode Island. The dome of Texas' state capitol in Austin is 7 ft. higher than the one in Washington DC.
No wonder the state tourism slogan is: "It's like a whole other country". Or that people from the Lone Star State like to state that "Everything's bigger in Texas." But apparently not big enough, according to this postcard map. A supersized Texas expands to fill out the central part of the US, leaving the other states diminished in size with rather disparaging alternate names:
Washington: Wash Tin Oregon: All Gone California: uninhabitable Idaho: Hi Ho Utah: You Saw Nevada: Never Add Arizona: Arid Zone New Mexico: New Mix (Hiccup) Montana: Mount Annie Colorado: Color Radio Wyoming: Why Home In North Dakota: North Colder South Dakota: The Cold (South) Nebraska: Knee Grass Kansas: Can This Oklahoma: Okay? Minnesota: Mint Soda Iowa : Out-A-Way Missouri: Misery Wisconsin: Wise Cousin Illinois: Ill Noise Michigan: Miss Again Indiana: Indian Annie Arkansas : Arch Insult Ohio: Old High Kentucky: Canned Turkey Tennessee: Ten Seeds Louisiana: Lousy Annie Mississippi: Miss-Is-Yippi Alabama: All Mammy North Carolina: North Carol's Line South Carolina: South Carol's Line The New England states (plus NY, NJ and PA – and a big part of Maritime Canada): "Damned Yankee" Land West Virginia: West Gin Maryland: Snafu Georgia: Judgy Florida: Swamp Land
The Great Lakes are 'Few Puddles'. I've no idea what year this postcard map is from, but by the looks of it, it's somewhere in the nineteen fifties.
The postcard was found here at www.cardcow.com.
Update 16 Feb. 2013: The crisper version below (though missing Brownsville, TX) kindly provided by Henry Churchyard.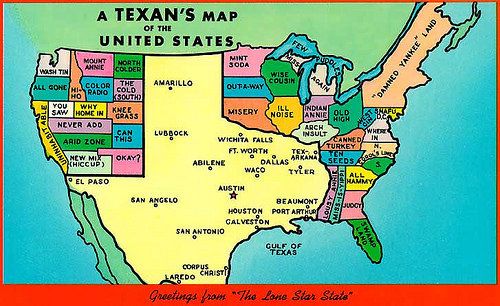 As religious diversity increases in the United States, we must learn to channel religious identity into interfaith cooperation.
Sponsored by Charles Koch Foundation
Religious diversity is the norm in American life, and that diversity is only increasing, says Eboo Patel.
Using the most painful moment of his life as a lesson, Eboo Patel explains why it's crucial to be positive and proactive about engaging religious identity towards interfaith cooperation.
The opinions expressed in this video do not necessarily reflect the views of the Charles Koch Foundation, which encourages the expression of diverse viewpoints within a culture of civil discourse and mutual respect.
Two Apollo 11 astronauts question NASA's planetary safety procedures.
Credit: Bettmann, Getty Images.
Surprising Science
Buzz Aldrin and Michael Collins revealed that there were deficiencies in NASA's safety procedures following the Apollo 11 mission.
Moon landing astronauts were quarantined for 21 days.
Earth could be contaminated with lunar bacteria.
Here's why you might eat greenhouse gases in the future.
Technology & Innovation
The company's protein powder, "Solein," is similar in form and taste to wheat flour.
Based on a concept developed by NASA, the product has wide potential as a carbon-neutral source of protein.
The man-made "meat" industry just got even more interesting.
When it comes to sniffing out whether a source is credible or not, even journalists can sometimes take the wrong approach.
Sponsored by Charles Koch Foundation
We all think that we're competent consumers of news media, but the research shows that even journalists struggle with identifying fact from fiction.
When judging whether a piece of media is true or not, most of us focus too much on the source itself. Knowledge has a context, and it's important to look at that context when trying to validate a source.
The opinions expressed in this video do not necessarily reflect the views of the Charles Koch Foundation, which encourages the expression of diverse viewpoints within a culture of civil discourse and mutual respect.