172 - A Texan's Map of the United States
Frank Jacobs
From a young age, Frank was fascinated by maps and atlases, and the stories they contained. Finding his birthplace on the map in the endpapers of Tolkien's Lord of the Rings only increased his interest in the mystery and message of maps.
While pursuing a career in journalism, Frank started a blog called Strange Maps, as a repository for the weird and wonderful cartography he found hidden in books, posing as everyday objects and (of course) floating around the Internet.
"Each map tells a story, but the stories told by your standard atlas for school or reference are limited and literal: they show only the most practical side of the world, its geography and its political divisions. Strange Maps aims to collect and comment on maps that do everything but that - maps that show the world from a different angle".
A remit that wide allows for a steady, varied diet of maps: Frank has been writing about strange maps since 2006, published a book on the subject in 2009 and joined Big Think in 2010. Readers send in new material daily, and he keeps bumping in to cartography that is delightfully obscure, amazingly beautiful, shockingly partisan, and more.
23 July, 2010
---
At 678.051 km² (261.797 sq. mi), Texas is the largest of the 48 contiguous states. With a population of over 23 million, it's also the second most populous, after California. And there's more that sets Texas apart:
almost unique among US states, it was an independent republic for almost a decade before it joined the Union in 1845. (Tiny Vermont also was independent for more than a decade, and California too, if only for a mere month). Texas grade school students also daily pledge allegiance to the state flag, the recitation being: "Honor the Texas flag; I pledge allegiance to thee, Texas; One state under God; One and indivisible." The first word spoken from the Moon on July 20, 1969 was "Houston". The King Ranch in Texas is bigger than the entire state of Rhode Island. The dome of Texas' state capitol in Austin is 7 ft. higher than the one in Washington DC.
No wonder the state tourism slogan is: "It's like a whole other country". Or that people from the Lone Star State like to state that "Everything's bigger in Texas." But apparently not big enough, according to this postcard map. A supersized Texas expands to fill out the central part of the US, leaving the other states diminished in size with rather disparaging alternate names:
Washington: Wash Tin Oregon: All Gone California: uninhabitable Idaho: Hi Ho Utah: You Saw Nevada: Never Add Arizona: Arid Zone New Mexico: New Mix (Hiccup) Montana: Mount Annie Colorado: Color Radio Wyoming: Why Home In North Dakota: North Colder South Dakota: The Cold (South) Nebraska: Knee Grass Kansas: Can This Oklahoma: Okay? Minnesota: Mint Soda Iowa : Out-A-Way Missouri: Misery Wisconsin: Wise Cousin Illinois: Ill Noise Michigan: Miss Again Indiana: Indian Annie Arkansas : Arch Insult Ohio: Old High Kentucky: Canned Turkey Tennessee: Ten Seeds Louisiana: Lousy Annie Mississippi: Miss-Is-Yippi Alabama: All Mammy North Carolina: North Carol's Line South Carolina: South Carol's Line The New England states (plus NY, NJ and PA – and a big part of Maritime Canada): "Damned Yankee" Land West Virginia: West Gin Maryland: Snafu Georgia: Judgy Florida: Swamp Land
The Great Lakes are 'Few Puddles'. I've no idea what year this postcard map is from, but by the looks of it, it's somewhere in the nineteen fifties.
The postcard was found here at www.cardcow.com.
Update 16 Feb. 2013: The crisper version below (though missing Brownsville, TX) kindly provided by Henry Churchyard.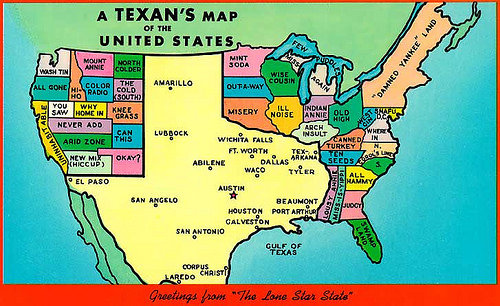 Here's the science of black holes, from supermassive monsters to ones the size of ping-pong balls.
Videos
There's more than one way to make a black hole, says NASA's Michelle Thaller. They're not always formed from dead stars. For example, there are teeny tiny black holes all around us, the result of high-energy cosmic rays slamming into our atmosphere with enough force to cram matter together so densely that no light can escape.
CERN is trying to create artificial black holes right now, but don't worry, it's not dangerous. Scientists there are attempting to smash two particles together with such intensity that it creates a black hole that would live for just a millionth of a second.
Thaller uses a brilliant analogy involving a rubber sheet, a marble, and an elephant to explain why different black holes have varying densities. Watch and learn!
Bonus fact: If the Earth became a black hole, it would be crushed to the size of a ping-pong ball.
Military recruits are supposed to be assessed to see whether they're fit for service. What happens when they're not?
Politics & Current Affairs
During the Vietnam War, Robert McNamara began a program called Project 100,000.
The program brought over 300,000 men to Vietnam who failed to meet minimum criteria for military service, both physically and mentally.
Project 100,000 recruits were killed in disproportionate numbers and fared worse after their military service than their civilian peers, making the program one of the biggest—and possibly cruelest—mistakes of the Vietnam War.
In a breakthrough for nuclear fusion research, scientists at China's Experimental Advanced Superconducting Tokamak (EAST) reactor have produced temperatures necessary for nuclear fusion on Earth.
Credit: EAST Team
Surprising Science
The EAST reactor was able to heat hydrogen to temperatures exceeding 100 million degrees Celsius.
Nuclear fusion could someday provide the planet with a virtually limitless supply of clean energy.
Still, scientists have many other obstacles to pass before fusion technology becomes a viable energy source.
Big think's weekly newsletter.
Get smarter faster from the comfort of your inbox.
See our newsletter privacy policy
here
Most Popular
Most Recent
Big think's weekly newsletter.
Get smarter faster from the comfort of your inbox.
See our newsletter privacy policy
here
© Copyright 2007-2018 & BIG THINK, BIG THINK EDGE,
SMARTER FASTER trademarks owned by The Big Think, Inc. All rights reserved.