16 - Europe fits in Brazil
23 July, 2010
At 8.511.965 km², Brazil is the 5th largest country on earth, the larger ones being Russia, Canada, the US and China (in that order). The country conjures up mostly images of leasurely beach life, or crime-ridden slums. However, Brazil is slowly emerging as an industrial giant and might soon have an economic punch matching its surface (almost half of South America) and population (exceeding 188 million).
---
Although Brazil covers an area equal to 88% of the US and therefore is almost as large, its vastness holds less sway over the imagination of non-Americans. An interesting way of visualising its size is presented with this map: all of non-Russian Europe fits into Brazil…
The date for this map is given as 1957?, but it most probably is older: the Polish-German border is the one from 1918 to 1939.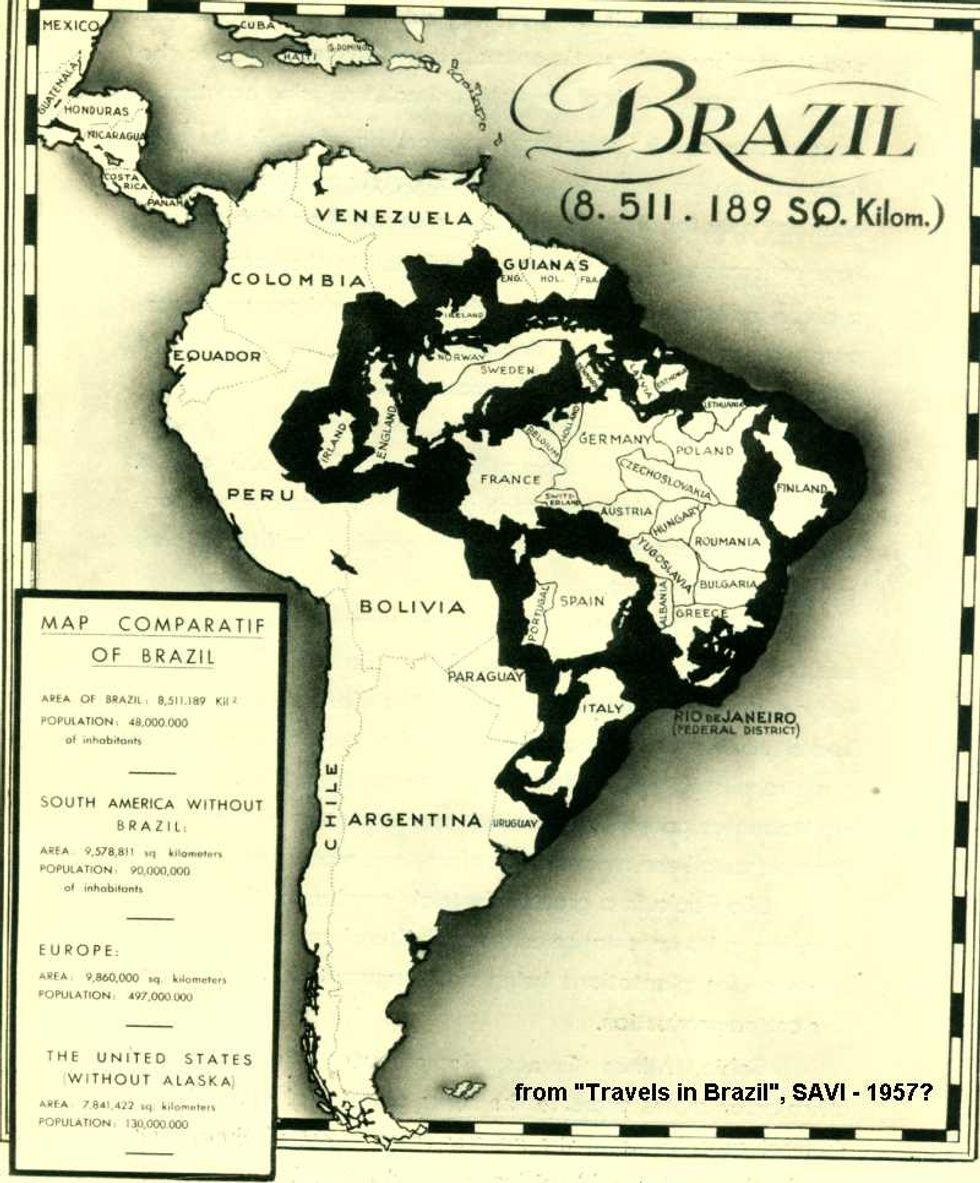 To create wiser adults, add empathy to the school curriculum.
Sponsored by Charles Koch Foundation
Stories are at the heart of learning, writes Cleary Vaughan-Lee, Executive Director for the Global Oneness Project. They have always challenged us to think beyond ourselves, expanding our experience and revealing deep truths.
Vaughan-Lee explains 6 ways that storytelling can foster empathy and deliver powerful learning experiences.
Global Oneness Project is a free library of stories—containing short documentaries, photo essays, and essays—that each contain a companion lesson plan and learning activities for students so they can expand their experience of the world.
Philosophers like to present their works as if everything before it was wrong. Sometimes, they even say they have ended the need for more philosophy. So, what happens when somebody realizes they were mistaken?
The inequalities impact everything from education to health.
ANGELA WEISS/AFP via Getty Images
Politics & Current Affairs
America is experiencing some of its most widespread civil unrest in years following the death of George Floyd.
Astrophysicist Michelle Thaller talks ISS and why NICER is so important.
Videos
Being outside of Earth's atmosphere while also being able to look down on the planet is both a challenge and a unique benefit for astronauts conducting important and innovative experiments aboard the International Space Station.
NASA astrophysicist Michelle Thaller explains why one such project, known as NICER (Neutron star Interior Composition Explorer), is "one of the most amazing discoveries of the last year."
Researchers used x-ray light data from NICER to map the surface of neutrons (the spinning remnants of dead stars 10-50 times the mass of our sun). Thaller explains how this data can be used to create a clock more accurate than any on Earth, as well as a GPS device that can be used anywhere in the galaxy.
Mind & Brain
Just before I turned 60, I discovered that sharing my story by drawing could be an effective way to both alleviate my symptoms and combat that stigma.
Scroll down to load more…