Big ideas.
Once a week.
Subscribe to our weekly newsletter.
Why You're Probably Related to Nefertiti, Confucius, and Socrates
How far back in time would you need to travel to find a common human ancestor of people living today? The answer is surprisingly recent.
06 December, 2017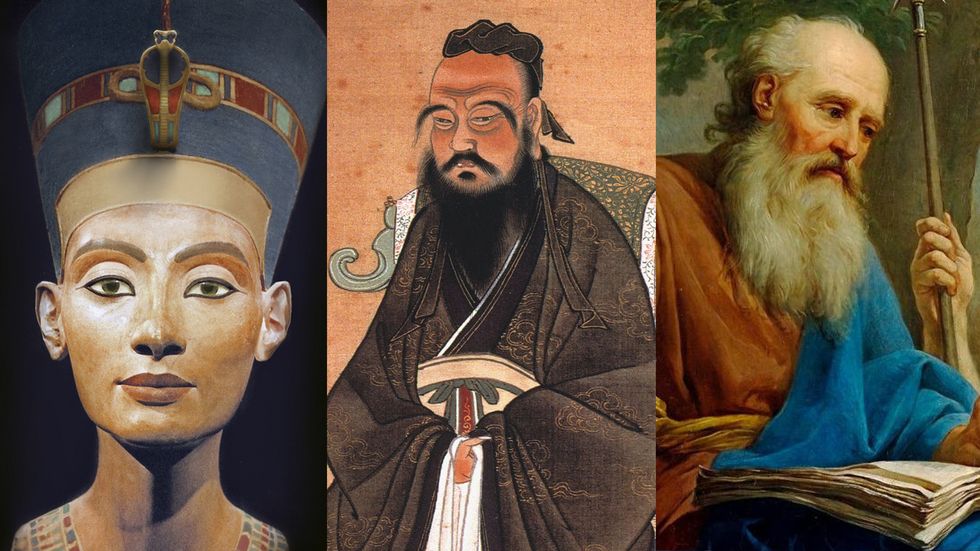 Meet your great-great-great-great-somethings: Nefertiti, Confucius, and Socrates
---
The theory of evolution holds that all living things have common ancestors. But just how far back do humans need to go to find a common ancestor of their own: a person to whom all living people are related?
The answer, for people of European descent at least, is surprisingly recent: 600 years. The common ancestor for every single person alive on the planet today, no matter where, lived approximately 3,600 years ago. That means Confucius, Nefertiti, Socrates, and any figure from ancient history that had children, is in some way your ancestor.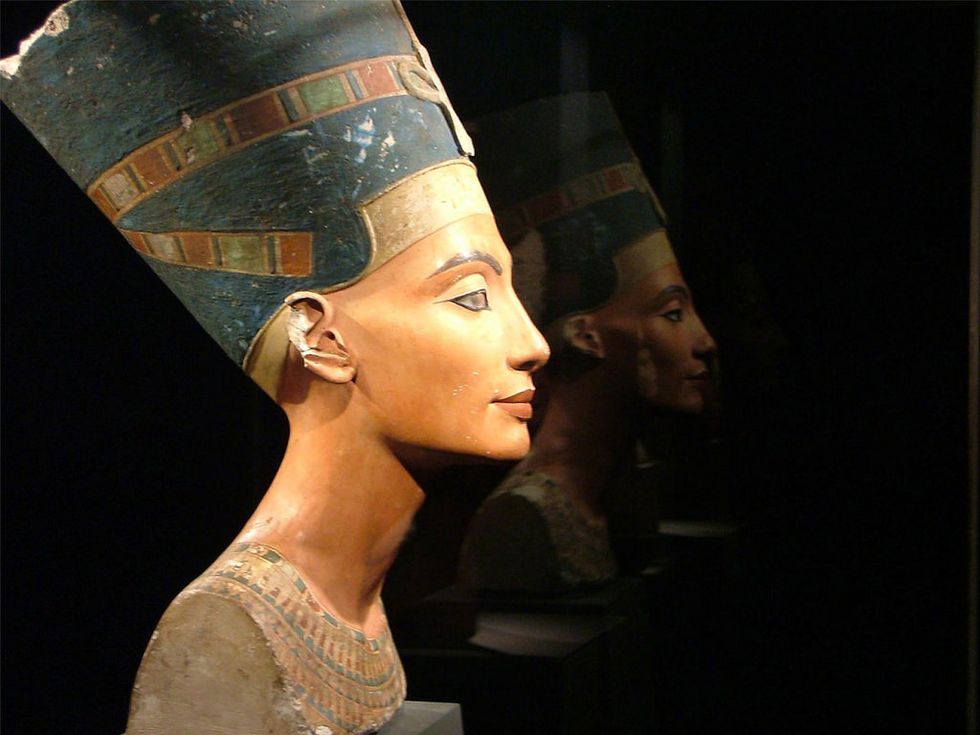 This comes to light through a new book by Adam Rutherford titled A Brief History of Everyone Who Ever Lived, which explores efforts within mathematics and science to describe human ancestry on a grand scale.
"We are all special, which also means that none of us is," writes Rutherford in the book. "This is merely a numbers game. You have two parents, four grandparents, eight great-grandparents, and so on. Each generation back the number of ancestors you have doubles. But this ancestral expansion is not borne back ceaselessly into the past. If it were, your family tree when Charlemagne was Le Grand Fromage would harbor around 137,438,953,472 individuals on it—more people than were alive then, now, or in total."
So how do we make sense of this numerical discrepancy? It helps to view our family lineage as an entangled web instead of a neat "family tree."
"You can be, and in fact are, descended from the same individual many times over," Rutherford writes. "Your great-great-great-great-great-grandmother might hold that position in your family tree twice, or many times, as her lines of descent branch out from her, but collapse onto you. The further back through time we go, the more these lines will coalesce on fewer individuals."
The startling discovery that all Europeans might share a common ancestor who walked the Earth just 600 years ago was first proposed in 1999 by a Yale statistician named Joseph Chang. In his paper "Recent Common Ancestors of All Present-Day Individuals," Chang used complex mathematical concepts—like Poisson distributions and Markov chains—to show how webbed pedigrees can overlap to produce common ancestors. 
So if all living Europeans have a common ancestor who lived around the year 1400, what happens when you look further back into the past? 
Chang's calculations suggest that about one fifth of Europeans who lived a millennium ago have no living ancestors today. This seems to be because their ancestral line died off along the way. Conversely, as Rutherford writes, the implication is that everyone else alive a millennium ago is related to Europeans alive today. 
"One way to think of it is to accept that everyone of European descent should have billions of ancestors at a time in the tenth century, but there weren't billions of people around then, so try to cram them into the number of people that actually were. The math that falls out of that apparent impasse is that all of the billions of lines of ancestry have coalesced into not just a small number of people, but effectively literally everyone who was alive at that time."
Chang's complex mathematical paper concludes with a passage that's rather poetic for a numbers guy:
"Our findings suggest a remarkable proposition: no matter the languages we speak or the color of our skin, we share ancestors who planted rice on the banks of the Yangtze, who first domesticated horses on the steppes of the Ukraine, who hunted giant sloths in the forests of North and South America, and who labored to build the Great Pyramid of Khufu."
Still, mapping out an exact pedigree for an individual is exceedingly difficult. For instance, the "family trees" that Ancestry.com provides its users only go back up to 10 generations—sometimes less if users want more reliable results. Often someone's luck with tracing their family lineage comes down to whether or not they can find documents that detail the lives of their ancestors. At a certain point, the act of tracing family lineage becomes purely theoretical, as Mark Humphrys, a computer scientist at Dublin City University, told Steve Olson in an article for The Atlantic:
"You can ask whether everyone in the Western world is descended from Charlemagne, and the answer is yes, we're all descended from Charlemagne. But can you prove it? That's the game of genealogy."
Inventions with revolutionary potential made by a mysterious aerospace engineer for the U.S. Navy come to light.
Credit: Getty Images
Surprising Science
U.S. Navy holds patents for enigmatic inventions by aerospace engineer Dr. Salvatore Pais.
Pais came up with technology that can "engineer" reality, devising an ultrafast craft, a fusion reactor, and more.
While mostly theoretical at this point, the inventions could transform energy, space, and military sectors.
The U.S. Navy controls patents for some futuristic and outlandish technologies, some of which, dubbed "the UFO patents," came to life recently. Of particular note are inventions by the somewhat mysterious Dr. Salvatore Cezar Pais, whose tech claims to be able to "engineer reality." His slate of highly-ambitious, borderline sci-fi designs meant for use by the U.S. government range from gravitational wave generators and compact fusion reactors to next-gen hybrid aerospace-underwater crafts with revolutionary propulsion systems, and beyond.
Of course, the existence of patents does not mean these technologies have actually been created, but there is evidence that some demonstrations of operability have been successfully carried out. As investigated and reported by The War Zone, a possible reason why some of the patents may have been taken on by the Navy is that the Chinese military may also be developing similar advanced gadgets.
Among Dr. Pais's patents are designs, approved in 2018, for an aerospace-underwater craft of incredible speed and maneuverability. This cone-shaped vehicle can potentially fly just as well anywhere it may be, whether air, water or space, without leaving any heat signatures. It can achieve this by creating a quantum vacuum around itself with a very dense polarized energy field. This vacuum would allow it to repel any molecule the craft comes in contact with, no matter the medium. Manipulating "quantum field fluctuations in the local vacuum energy state," would help reduce the craft's inertia. The polarized vacuum would dramatically decrease any elemental resistance and lead to "extreme speeds," claims the paper.
Not only that, if the vacuum-creating technology can be engineered, we'd also be able to "engineer the fabric of our reality at the most fundamental level," states the patent. This would lead to major advancements in aerospace propulsion and generating power. Not to mention other reality-changing outcomes that come to mind.
Among Pais's other patents are inventions that stem from similar thinking, outlining pieces of technology necessary to make his creations come to fruition. His paper presented in 2019, titled "Room Temperature Superconducting System for Use on a Hybrid Aerospace Undersea Craft," proposes a system that can achieve superconductivity at room temperatures. This would become "a highly disruptive technology, capable of a total paradigm change in Science and Technology," conveys Pais.
High frequency gravitational wave generator.
Credit: Dr. Salvatore Pais
Another invention devised by Pais is an electromagnetic field generator that could generate "an impenetrable defensive shield to sea and land as well as space-based military and civilian assets." This shield could protect from threats like anti-ship ballistic missiles, cruise missiles that evade radar, coronal mass ejections, military satellites, and even asteroids.
Dr. Pais's ideas center around the phenomenon he dubbed "The Pais Effect". He referred to it in his writings as the "controlled motion of electrically charged matter (from solid to plasma) via accelerated spin and/or accelerated vibration under rapid (yet smooth) acceleration-deceleration-acceleration transients." In less jargon-heavy terms, Pais claims to have figured out how to spin electromagnetic fields in order to contain a fusion reaction – an accomplishment that would lead to a tremendous change in power consumption and an abundance of energy.
According to his bio in a recently published paper on a new Plasma Compression Fusion Device, which could transform energy production, Dr. Pais is a mechanical and aerospace engineer working at the Naval Air Warfare Center Aircraft Division (NAWCAD), which is headquartered in Patuxent River, Maryland. Holding a Ph.D. from Case Western Reserve University in Cleveland, Ohio, Pais was a NASA Research Fellow and worked with Northrop Grumman Aerospace Systems. His current Department of Defense work involves his "advanced knowledge of theory, analysis, and modern experimental and computational methods in aerodynamics, along with an understanding of air-vehicle and missile design, especially in the domain of hypersonic power plant and vehicle design." He also has expert knowledge of electrooptics, emerging quantum technologies (laser power generation in particular), high-energy electromagnetic field generation, and the "breakthrough field of room temperature superconductivity, as related to advanced field propulsion."
Suffice it to say, with such a list of research credentials that would make Nikola Tesla proud, Dr. Pais seems well-positioned to carry out groundbreaking work.
A craft using an inertial mass reduction device.
Credit: Salvatore Pais
The patents won't necessarily lead to these technologies ever seeing the light of day. The research has its share of detractors and nonbelievers among other scientists, who think the amount of energy required for the fields described by Pais and his ideas on electromagnetic propulsions are well beyond the scope of current tech and are nearly impossible. Yet investigators at The War Zone found comments from Navy officials that indicate the inventions are being looked at seriously enough, and some tests are taking place.
If you'd like to read through Pais's patents yourself, check them out here.
Laser Augmented Turbojet Propulsion System
Credit: Dr. Salvatore Pais
Our love-hate relationship with browser tabs drives all of us crazy. There is a solution.
Technology & Innovation
A new study suggests that tabs can cause people to be flustered as they try to keep track of every website.
The reason is that tabs are unable to properly organize information.
The researchers are plugging a browser extension that aims to fix the problem.
A lot of ideas that people had about the internet in the 1990s have fallen by the wayside as technology and our usage patterns evolved. Long gone are things like GeoCities, BowieNet, and the belief that letting anybody post whatever they are thinking whenever they want is a fundamentally good idea with no societal repercussions.
While these ideas have been abandoned and the tools that made them possible often replaced by new and improved ones, not every outdated part of our internet experience is gone. A new study by a team at Carnegie Mellon makes the case that the use of tabs in a web browser is one of these outdated concepts that we would do well to get rid of.
How many tabs do you have open right now?
We didn't always have tabs. Introduced in the early 2000s, tabs are now included on all major web browsers, and most users have had access to them for a little over a decade. They've been pretty much the same since they came out, despite the ever changing nature of the internet. So, in this new study, researchers interviewed and surveyed 113 people on their use of — and feelings toward — the ubiquitous tabs.
Most people use tabs for the short-term storage of information, particularly if it's information that is needed again soon. Some keep tabs that they know they'll never get around to reading. Others used them as a sort of external memory bank. One participant described this action to the researchers:
"It's like a manifestation of everything that's on my mind right now. Or the things that should be on my mind right now... So right now, in this browser window, I have a web project that I'm working on. I don't have time to work on it right now, but I know I need to work on it. So it's sitting there reminding me that I need to work on it."
You suffer from tab overload

Unfortunately, trying to use tabs this way can cause a number of problems. A quarter of the interview subjects reported having caused a computer or browser to crash because they had too many tabs open. Others reported feeling flustered by having so many tabs open — a situation called "tab overload" — or feeling ashamed that they appeared disorganized by having so many tabs up at once. More than half of participants reported having problems like this at least two or three times a week.
However, people can become emotionally invested in the tabs. One participant explained, "[E]ven when I'm not using those tabs, I don't want to close them. Maybe it's because it took efforts [sic] to open those tabs and organize them in that way."
So, we have a tool that inefficiently saves web pages that we might visit again while simultaneously reducing our productivity, increasing our anxiety, and crashing our machines. And yet we feel oddly attached to them.
Either the system is crazy or we are.
Skeema: The anti-tab revolution

The researchers concluded that at least part of the problem is caused by tabs not being an ideal way of organizing the work we now do online. They propose a new model that better compartmentalizes tabs by task and subtask, reflects users' mental models, and helps manage the users' attention on what is important right now rather than what might be important later.
To that end, the team also created Skeema, an extension for Google Chrome, that treats tabs as tasks and offers a variety of ways to organize them. Users of an early version reported having fewer tabs and windows open at one time and were better able to manage the information they contained.
Tabs were an improvement over having multiple windows open at the same time, but they may have outlived their usefulness. While it might take a paradigm shift to fully replace the concept, the study suggests that taking a different approach to tabs might be worth trying.
And now, excuse me, while I close some of the 87 tabs I currently have open.
Seek pleasure and avoid pain. Why make it more complicated?
Personal Growth
The Epicureans were some of the world's first materialists and argued that there is neither God, nor gods, nor spirits, but only atoms and the physical world.
They believed that life was about finding pleasure and avoiding pain and that both were achieved by minimizing our desires for things.
The Epicurean Four Step Remedy is advice on how we can face the world, achieve happiness, and not worry as much as we do.
Self-help books are consistently on the best-seller lists across the world. We can't seem to get enough of happiness advice, wellness gurus, and life coaches. But, as the Book of Ecclesiastes says, there is nothing new under the sun. The Ancient Greeks were into the self-help business millennia before the likes of Dale Carnegie and Mark Manson.
Four schools of ancient Greek philosophy
From the 3rd century BCE until the birth of Jesus, Greek philosophy was locked into an ideological war. Four rival schools emerged, each proclaiming loudly that they — alone — had the secret to a happy and fulfilled life. These schools were: Stoicism, Cynicism, Skepticism, and Epicureanism. Each had their advocates and even had a kind of PR battle to get people to sign up to their side. They were trying to sell happiness.
Epicurus's guide to living is noticeably different from a lot of modern self-help books in just how little day-to-day advice it gives.
Many of us are familiar with Stoicism, a topic I covered recently, because it forms the foundation of cognitive behavioral therapy. Skepticism and Cynicism have become watered down or warped variations of their original forms. (I will cover these in future articles.) Today, we focus on the most underappreciated of these schools, the Epicureans. In their philosophy, we can find a surprisingly modern and easy-to-follow "Four Part Remedy" to life.
Epicureans: The first atheists
The Epicureans were some of history's first materialists. They believed that the world was made up only of atoms (and void), and that everything is simply a particular composition of these atoms. There were no gods, spirits, or souls (or, at most, they're irrelevant to the world as we encounter it). They thought that there was no afterlife or immortality to be had, either. Death is just a relocation of atoms. This atheism and materialism was what the Christian Church would later come to despise, and after centuries of being villainized by priests, popes, and church doctrine, the Epicureans fell out of fashion.
In the atomistic, worldly philosophy of the Epicureans, all there is to life is to get as much pleasure as you can and avoid pain. This isn't to become some rampant hedonist, staggering from opium dens to brothels, but concerns the higher pleasures of the mind.
Epicurus, himself, believed that pleasure was defined as the satisfying of a desire, such as when we drink a glass of water when we're really thirsty. But, he also argued that desires themselves were painful since they, by definition, meant longing and anguish. Thirst is a desire, and we don't like being thirsty. True contentment, then, could not come from creating and indulging pointless wants but must instead come from minimizing desire altogether. What would be the point of setting ourselves new targets? These are just new desires that we must make efforts to satisfy. Thus, minimizing pain meant minimizing desires, and the bare minimum desires were those required to live.
The Four Part Remedy
Credit: LOUISA GOULIAMAKI via Getty Images
Given that Epicureans were determined to maximize pleasure and minimize pain, they developed a series of rituals and routines designed to help. One of the best known (not least because we've lost so much written by the Epicureans) was the so-called "Four Part Remedy." These were four principles they believed we ought to accept so that we might find solace and be rid of existential and spiritual pain:

1. Don't fear God. Remember, everything is just atoms. You won't go to hell, and you won't go to heaven. The "afterlife" will be nothingness, in just the same way as when you had no awareness whatsoever of the dinosaurs or Cleopatra. There was simply nothing before you existed, and death is a great expanse of the same timeless, painless void.
2. Don't worry about death. This is a natural corollary of Step 1. With no body, there is no pain. In death, we lose all of our desires and, along with them, suffering and discontent. It's striking how similar in tone this sounds to a lot of Eastern, especially Buddhist, philosophy at the time.
3. What is good is easy to get. Pleasure comes in satisfying desires, specifically the basic, biological desires required to keep us alive. Anything more complicated than this, or harder to achieve, just creates pain. There's water to be drunk, food to be eaten, and beds to sleep in. That's all you need.
4. What is terrible is easy to endure. Even if it is difficult to satisfy the basic necessities, remember that pain is short-lived. We're rarely hungry for long, and sicknesses most often will be cured easily enough (and this was written 2300 years before antibiotics). All other pains often can be mitigated by pleasures to be had. If basic biological necessities can't be met, then you die — but we already established there is nothing to fear from death.
Practical Epicureanism
Epicurus's guide to living is noticeably different from a lot of modern self-help books in just how little day-to-day advice it gives. It doesn't tell us "the five things you need to do before breakfast" or "visit these ten places, and you'll never be sad again." Just like it's rival school of Stoicism, Epicureanism is all about a psychological shift of some kind.
Namely, that psychological shift is about recognizing that life doesn't need to be as complicated as we make it. At the end of the day, we're just animals with basic needs. We have the tools necessary to satisfy our desires, but when we don't, we have huge reservoirs of strength and resilience capable of enduring it all. Failing that, we still have nothing to fear because there is nothing to fear about death. When we're alive, death is nowhere near; when we're dead, we won't care.
Practical, modern, and straightforward, Epicurus offers a valuable insight to life. It's existential comfort for the materialists and atheists. It's happiness in four lines.
Jonny Thomson teaches philosophy in Oxford. He runs a popular Instagram account called Mini Philosophy (@philosophyminis). His first book is Mini Philosophy: A Small Book of Big Ideas.
Scroll down to load more…