These are the fascinating (and scary) statistics of student loan debt in America
Student loan debt is exploding in the U.S. That's at least how New York Governor Andrew Cuomo characterized it while recently unveiling a set of measures to alleviate the burdens of debt in New York.
29 December, 2017
Flickr user DonkeyHote, Creative Commons
---
Student loan debt is exploding in the U.S. That's at least how New York Governor Andrew Cuomo characterized it while recently unveiling a set of measures to alleviate the burdens of debt for New Yorkers. Other states – Washington, California, Connecticut, Maine – have recently attempted or adopted similar legislation. And overall, the nationwide data suggest Cuomo's description might not be hyperbolic.
In total, there are about 44 million Americans who owe $1.4 trillion in student debt, and more than a quarter of students who left college in 2010 and 2011 have defaulted on their loans – up from 19 percent in 2005 and 2006. 
How can data help us better understand student indebtedness, and the kinds of students most likely to default?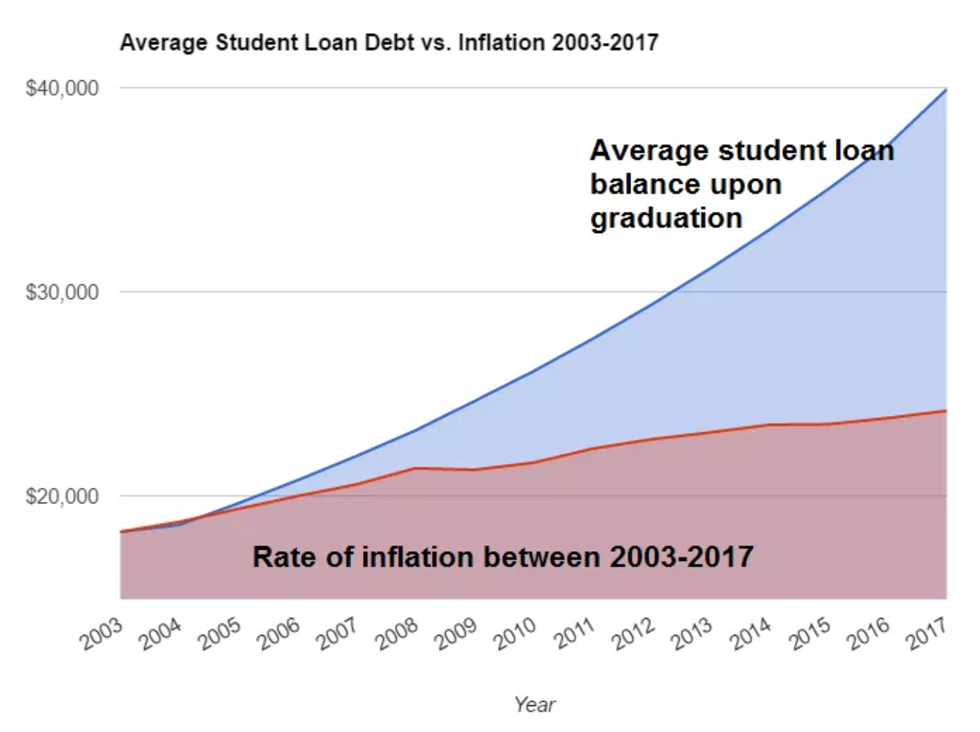 The New York Fed's Liberty Street Economics blog recently published an extensive analysis that outlines some of the determining factors behind student loan default. Using a data set that matched New York Fed Consumer Credit Panel (CCP), based on Equifax data, to National Student Clearinghouse (NSC) education data, researchers Wilbert van der Klaauw, Michelle Jiang, Nicole Gorton, and Rajashri Chakrabarti formed a representative sample of young Amercian adults that they used to track default rates and education attainment over time. Their sample is limited to students born between 1980 and 1986, and who took out loans to finance their education.
Some of their findings weren't exactly surprising, such as that students were more likely than their peers to default if they:
Dropped out of school
Attended a non-selective college
Came from a disadvantaged background
Still, the exhaustive analysis provides an insight into subtler factors that contribute to student defaults.
The chart below shows that default rates were highest among students who attended for-profit schools. However, students who attended community college defaulted at similar rates.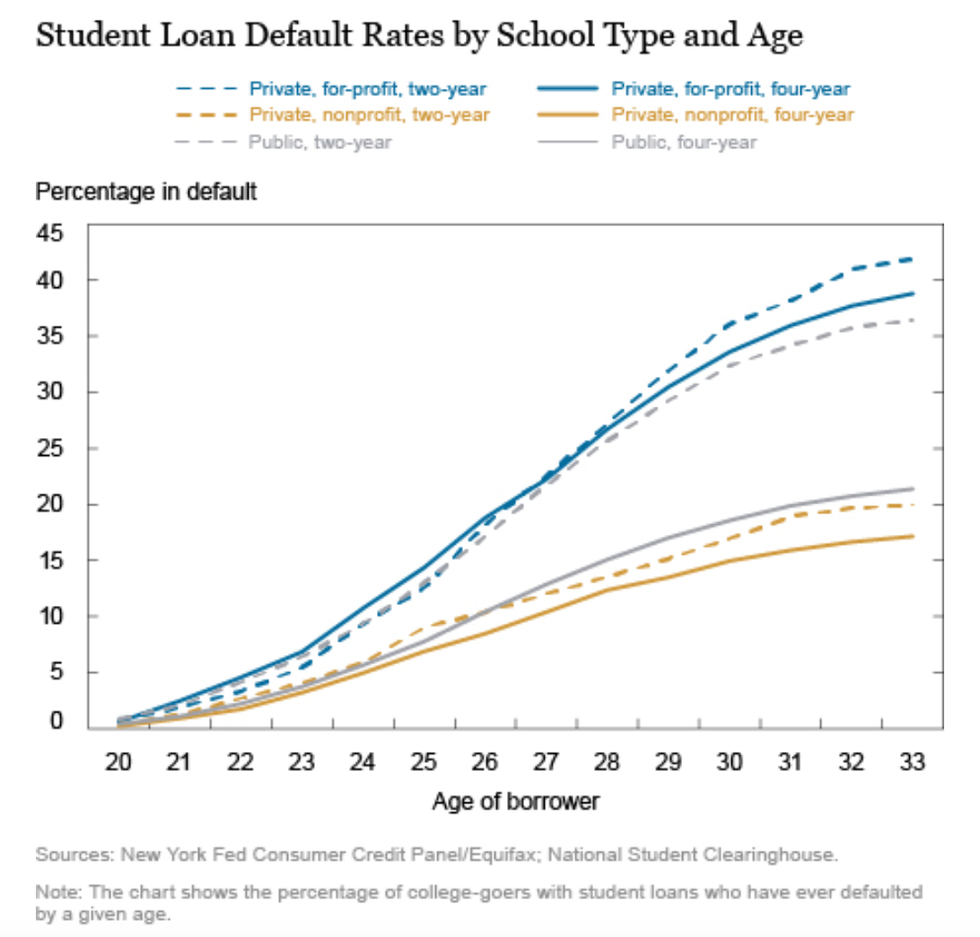 The analysis also showed that students who graduated with a bachelor's degree had the lowest default rate.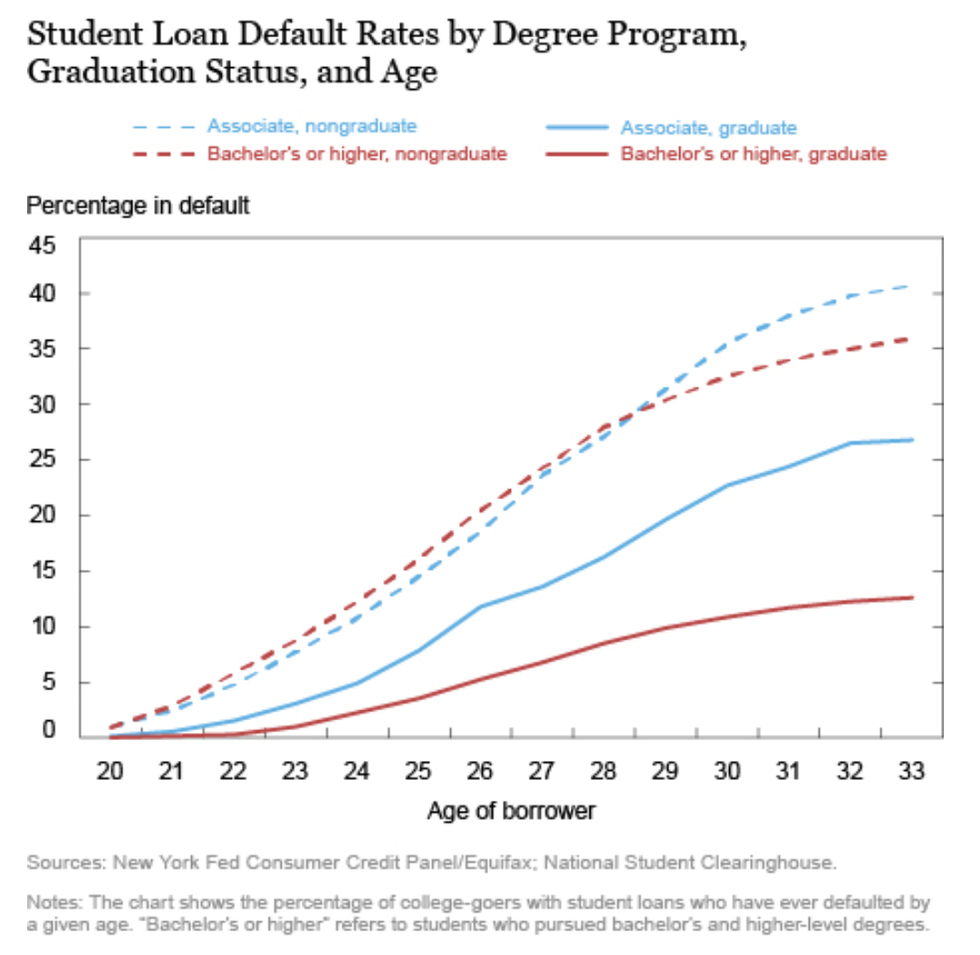 For another analysis, the researchers separated the students in their sample by major into four broad groups: Arts/Humanities, Business, STEM, and Vocational, which included majors like aviation, cosmetology, and welding.
Students who majored in the arts showed significantly higher default rates, but researchers noted that:
"major matters much more among students at nonselective colleges: the gap in default rates between the best performing major and worst performing major is much smaller (3 percentage points by age thirty-three) among students at selective colleges than among students at nonselective colleges (8 percentage points by age thirty‑three)."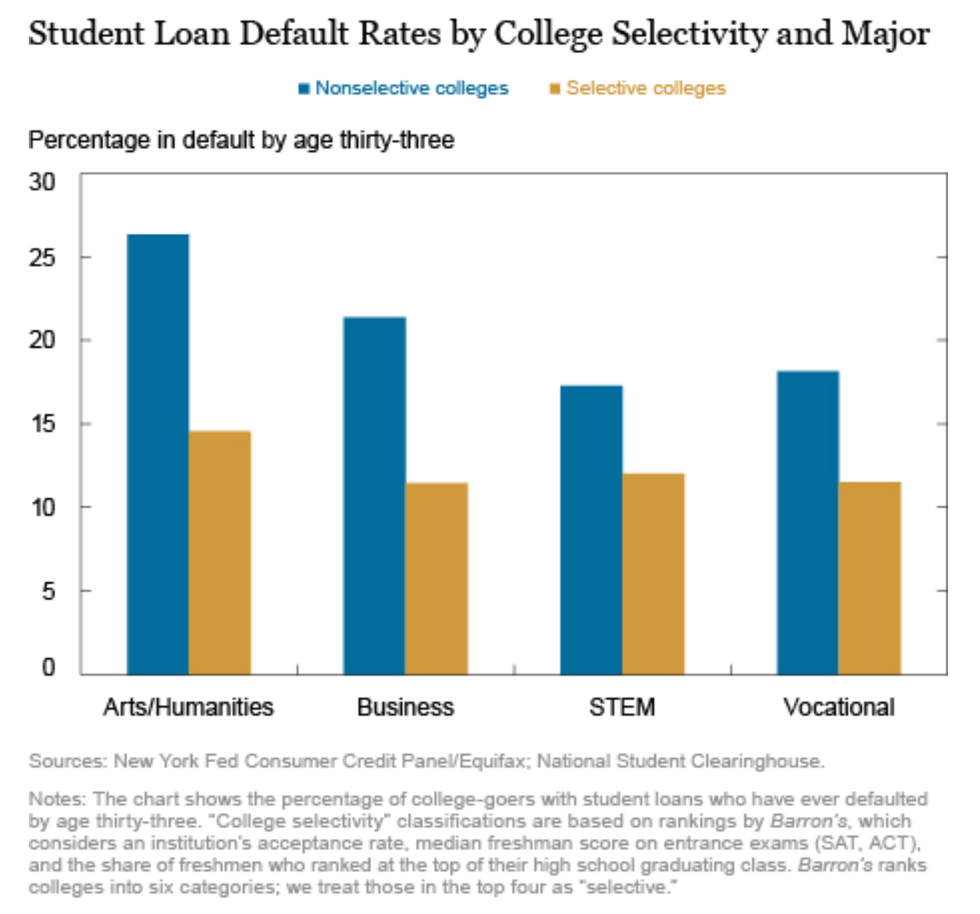 Finally, the researchers divided their sample into two groups based on the average income of the household in which they grew up, as determined by zip code. They found that students from less advantaged backgrounds showed higher default rates.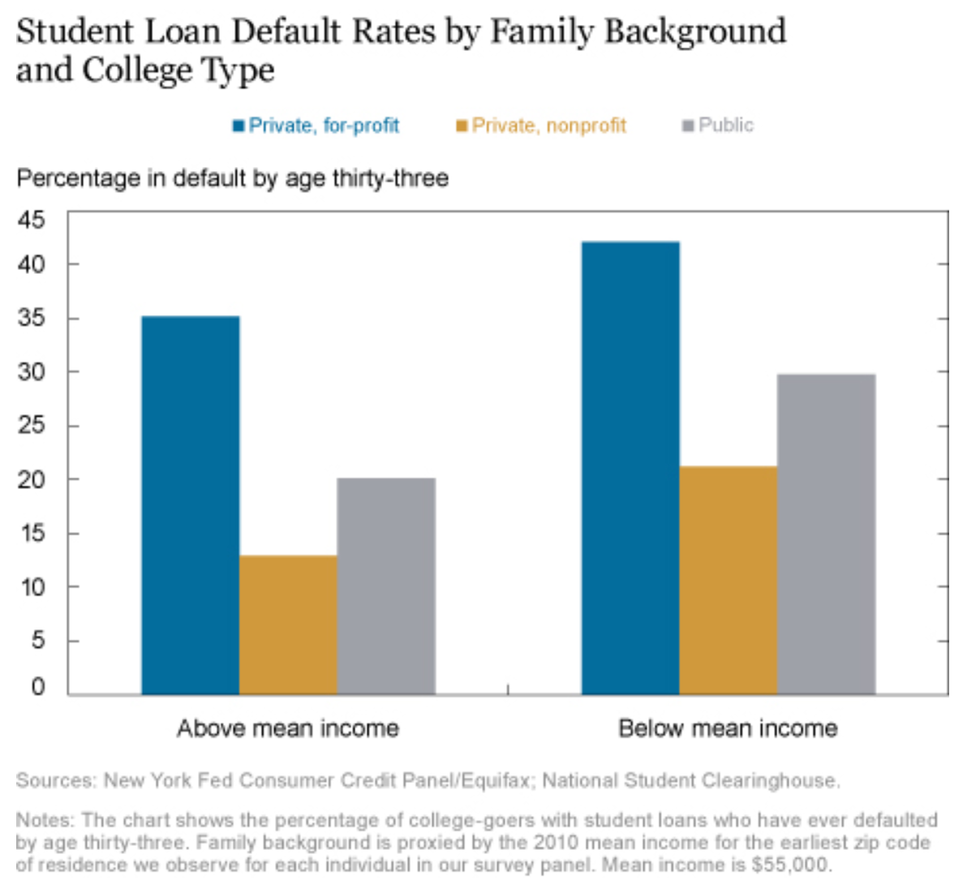 Ultimately, attending a four-year, for-profit college correlated most strongly with default, followed by dropping out of college. Summing up their analysis, the researchers wrote:
"This represents preliminary evidence that later life outcomes—for example, the ability to buy a home and maintain a strong credit score—may vary widely among student loan holders based on their educational choices and backgrounds."
Is paying for a college degree still worth it? It of course depends on which op-ed you want to read. But most of the data suggest that Americans with bachelor's degrees get hired more often than their peers.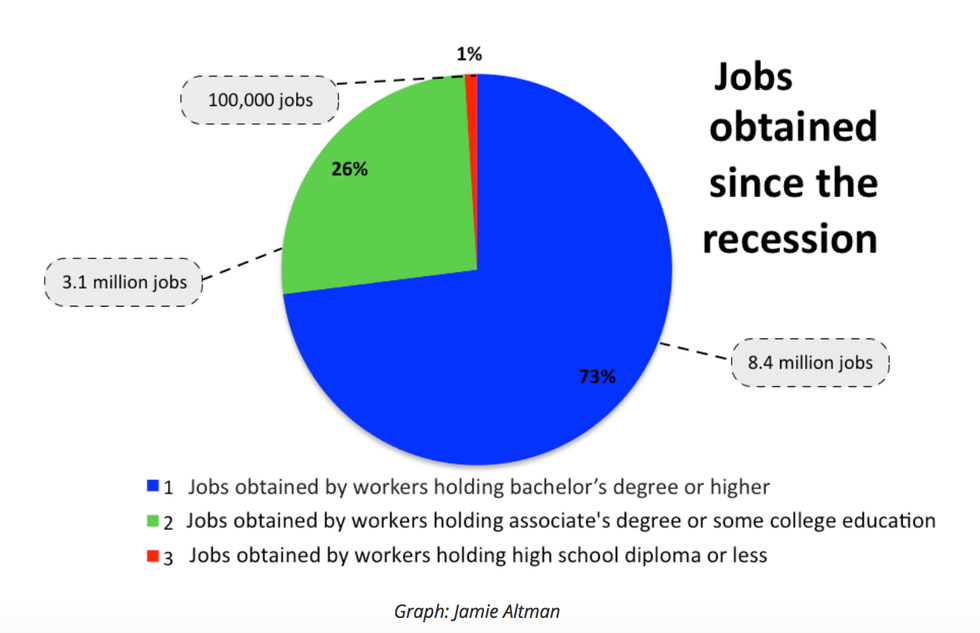 teachers-and-students
The pandemic reminds us that our higher education system, with all its flaws, remains a key part of our strategic reserve.
Sponsored by Charles Koch Foundation
America's higher education system is under great scrutiny as it adapts to a remote-learning world. These criticisms will only make higher ed more innovative.
While there are flaws in the system and great challenges ahead, higher education has adapted quickly to allow students to continue learning. John Katzman, CEO of online learning organization Noodle Partners, believes this is cause for optimism not negativity.
Universities are pillars of scientific research on the COVID-19 frontlines, they bring facts in times of uncertainty and fake news, and, in a bad economy, education is a personal floatation device.
Meteorologists propose a stunning new explanation for the mysterious events in the Bermuda Triangle.
Surprising Science
One of life's great mysteries, the Bermuda Triangle might have finally found an explanation. This strange region, that lies in the North Atlantic Ocean between Bermuda, Miami and San Juan, Puerto Rico, has been the presumed cause of dozens and dozens of mind-boggling disappearances of ships and planes.
An MIT system uses wireless signals to measure in-home appliance usage to better understand health tendencies.
John Moore/Getty Images
Technology & Innovation
For many of us, our microwaves and dishwashers aren't the first thing that come to mind when trying to glean health information, beyond that we should (maybe) lay off the Hot Pockets and empty the dishes in a timely way.
Online dating has evolved, but at what cost?
Technology & Innovation
Some dating apps allow individuals to interact and form romantic/sexual connections before meeting face to face with the ability to "swipe" on the screen to either accept or reject another user's profile. Popular swipe-based apps include Tinder, Bumble, and OkCupid.
Research by Western Sydney University and the University of Sydney has linked the experience of swipe-based dating apps to higher rates of psychological distress and/or depression.
Not all time spent on these apps is damaging, however. Up to 40 percent of current users say they previously entered a serious relationship with someone they met through one of these apps.
Scroll down to load more…