These are the fascinating (and scary) statistics of student loan debt in America
Student loan debt is exploding in the U.S. That's at least how New York Governor Andrew Cuomo characterized it while recently unveiling a set of measures to alleviate the burdens of debt in New York.
29 December, 2017
---
Student loan debt is exploding in the U.S. That's at least how New York Governor Andrew Cuomo characterized it while recently unveiling a set of measures to alleviate the burdens of debt for New Yorkers. Other states – Washington, California, Connecticut, Maine – have recently attempted or adopted similar legislation. And overall, the nationwide data suggest Cuomo's description might not be hyperbolic.
In total, there are about 44 million Americans who owe $1.4 trillion in student debt, and more than a quarter of students who left college in 2010 and 2011 have defaulted on their loans – up from 19 percent in 2005 and 2006. 
How can data help us better understand student indebtedness, and the kinds of students most likely to default?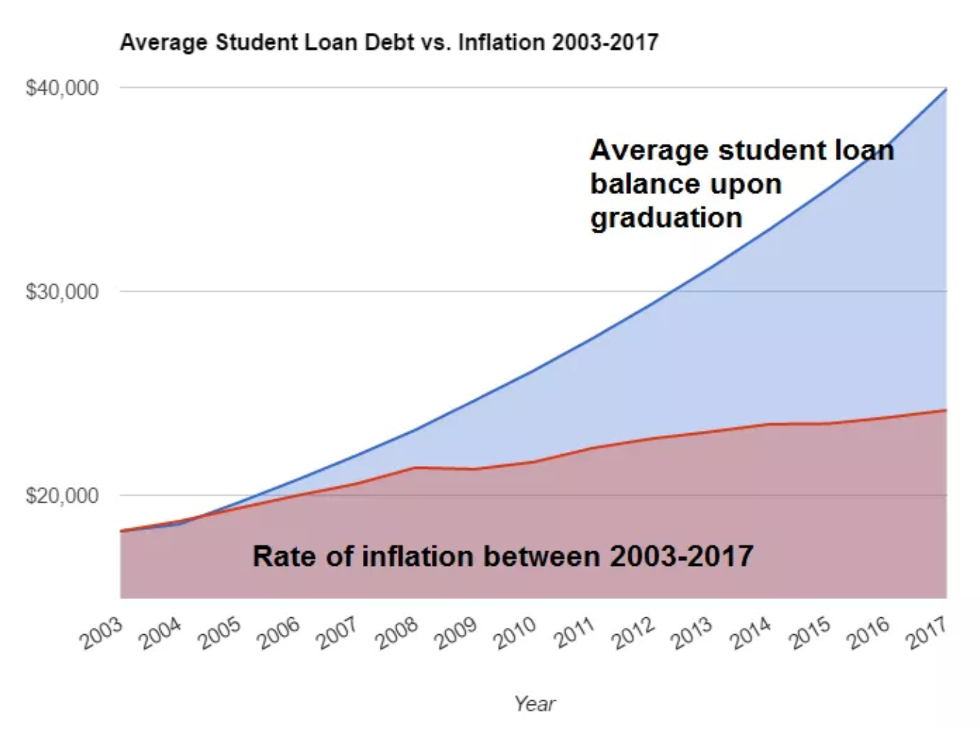 The New York Fed's Liberty Street Economics blog recently published an extensive analysis that outlines some of the determining factors behind student loan default. Using a data set that matched New York Fed Consumer Credit Panel (CCP), based on Equifax data, to National Student Clearinghouse (NSC) education data, researchers Wilbert van der Klaauw, Michelle Jiang, Nicole Gorton, and Rajashri Chakrabarti formed a representative sample of young Amercian adults that they used to track default rates and education attainment over time. Their sample is limited to students born between 1980 and 1986, and who took out loans to finance their education.
Some of their findings weren't exactly surprising, such as that students were more likely than their peers to default if they:
Dropped out of school
Attended a non-selective college
Came from a disadvantaged background
Still, the exhaustive analysis provides an insight into subtler factors that contribute to student defaults.
The chart below shows that default rates were highest among students who attended for-profit schools. However, students who attended community college defaulted at similar rates.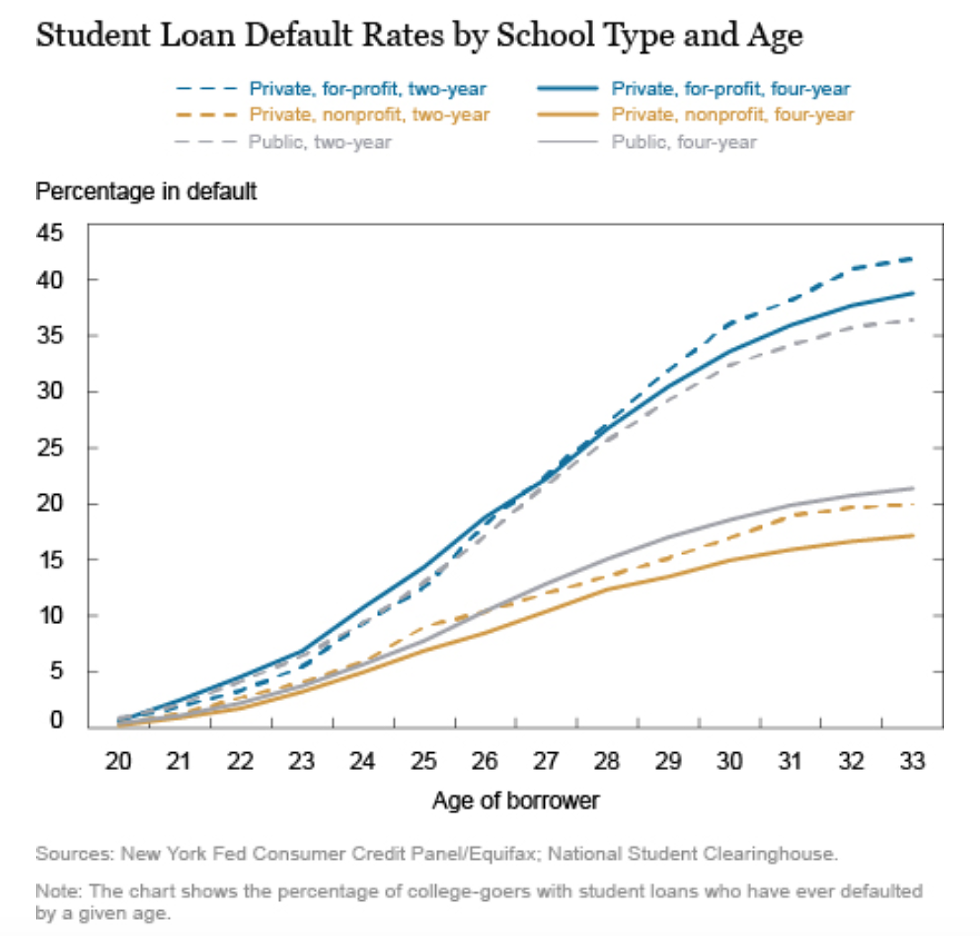 The analysis also showed that students who graduated with a bachelor's degree had the lowest default rate.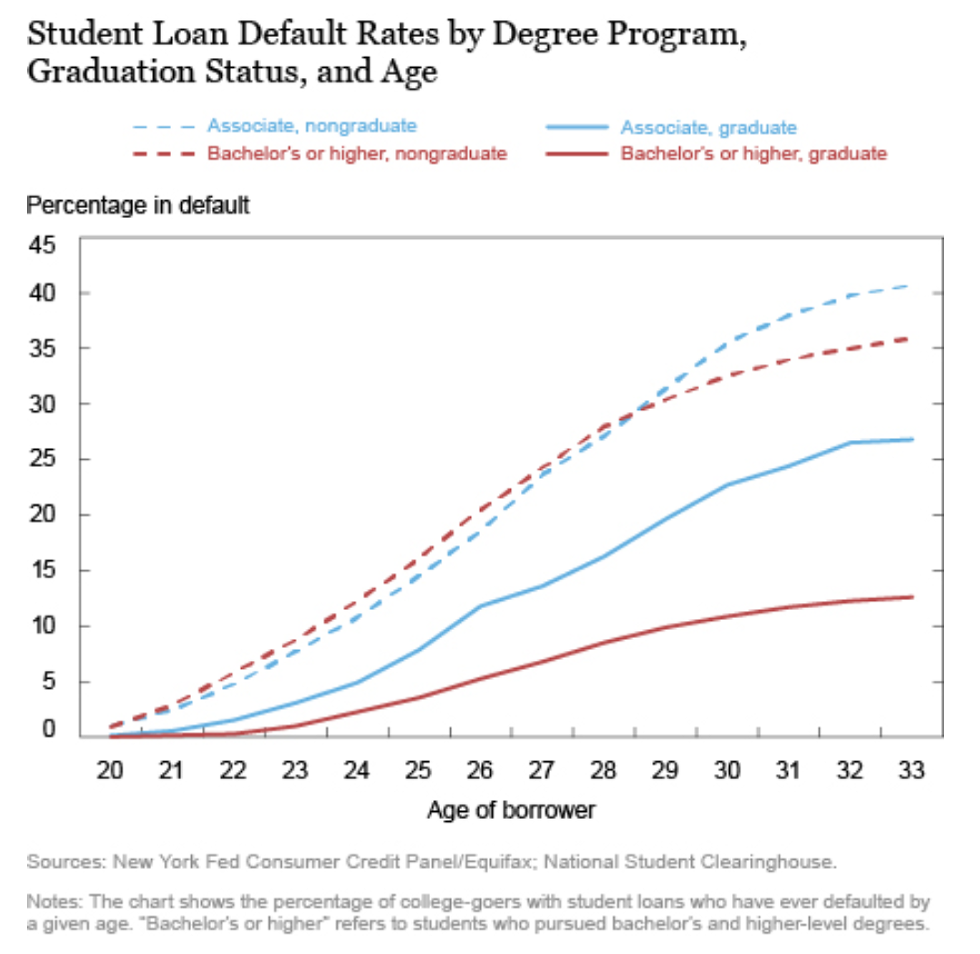 For another analysis, the researchers separated the students in their sample by major into four broad groups: Arts/Humanities, Business, STEM, and Vocational, which included majors like aviation, cosmetology, and welding.
Students who majored in the arts showed significantly higher default rates, but researchers noted that:
"major matters much more among students at nonselective colleges: the gap in default rates between the best performing major and worst performing major is much smaller (3 percentage points by age thirty-three) among students at selective colleges than among students at nonselective colleges (8 percentage points by age thirty‑three)."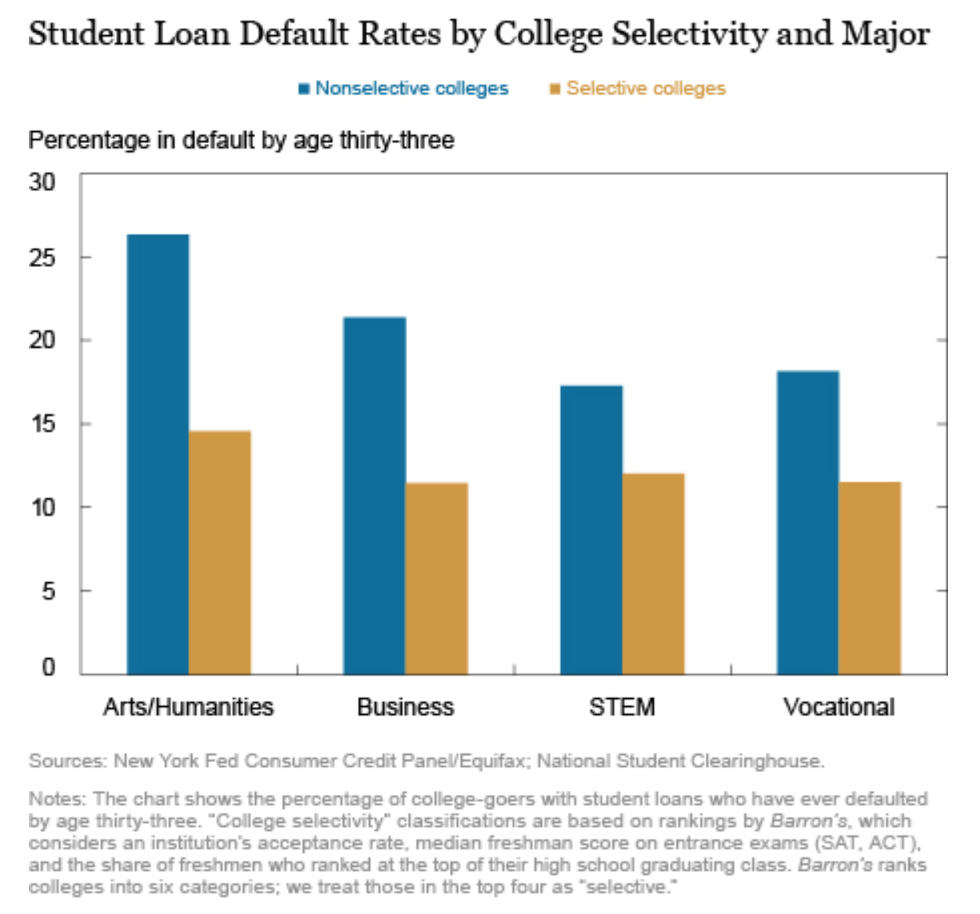 Finally, the researchers divided their sample into two groups based on the average income of the household in which they grew up, as determined by zip code. They found that students from less advantaged backgrounds showed higher default rates.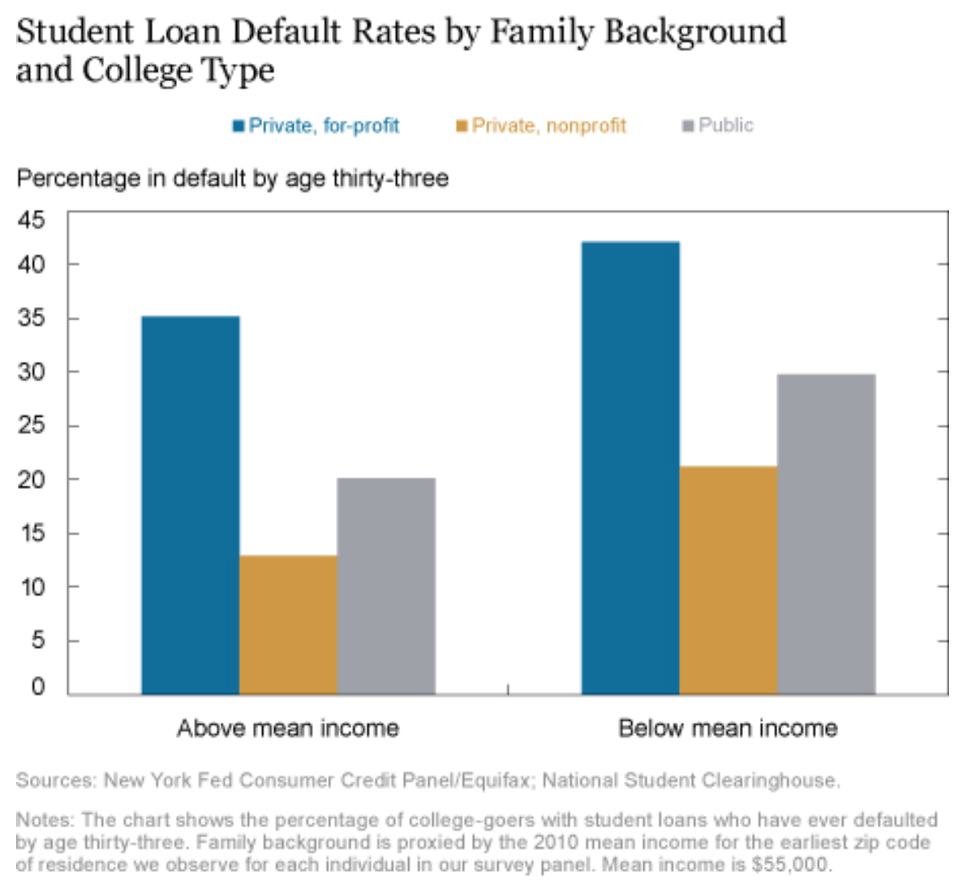 Ultimately, attending a four-year, for-profit college correlated most strongly with default, followed by dropping out of college. Summing up their analysis, the researchers wrote:
"This represents preliminary evidence that later life outcomes—for example, the ability to buy a home and maintain a strong credit score—may vary widely among student loan holders based on their educational choices and backgrounds."
Is paying for a college degree still worth it? It of course depends on which op-ed you want to read. But most of the data suggest that Americans with bachelor's degrees get hired more often than their peers.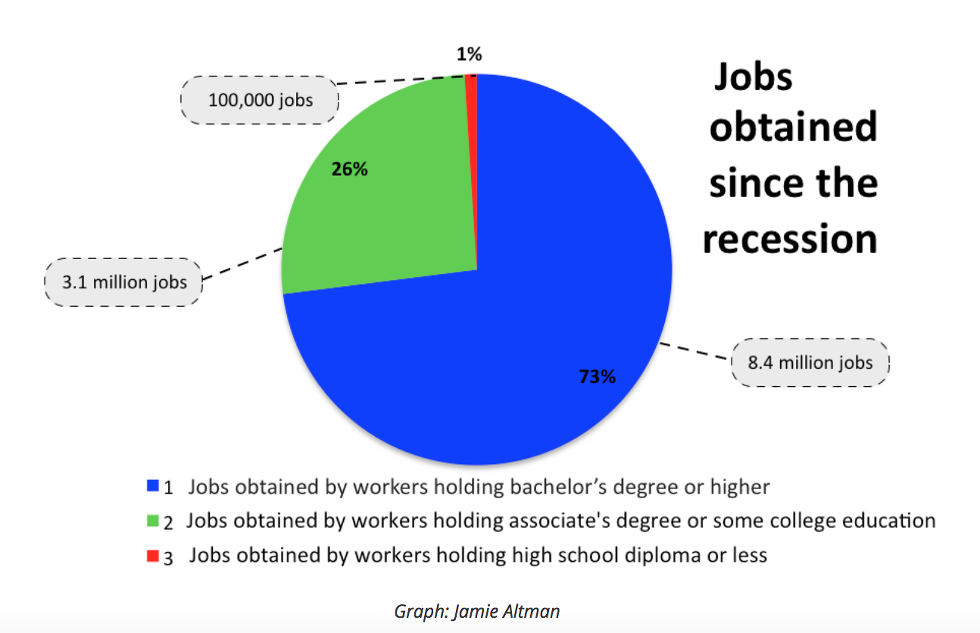 teachers-and-students
NASA astronomer Michelle Thaller is coming back to Big Think to answer YOUR questions! Here's all you need to know to submit your science-related inquiries.
Videos
Big Think's amazing audience has responded so well to our videos from NASA astronomer and Assistant Director for Science Communication Michelle Thaller that we couldn't wait to bring her back for more!

And this time, she's ready to tackle any questions you're willing to throw at her, like, "How big is the Universe?", "Am I really made of stars?" or, "How long until Elon Musk starts a colony on Mars?"
All you have to do is submit your questions to the form below, and we'll use them for an upcoming Q+A session with Michelle. You know what to do, Big Thinkers!
Lumina Foundation is partnering with Big Think to unearth the next large-scale, rapid innovation in post-high school education. Enter the competition here!
Why are soda and ice cream each linked to violence? This article delivers the final word on what people mean by "correlation does not imply causation."
popular
Ice cream consumption is actually linked to shark attacks.
But the relationship is correlative, not causal.
It's pretty stunning how media outlets skip over this important detail.
That's one way to reduce the national debt.
Change.org
Politics & Current Affairs
The tongue-in-cheek petition, whose stated aim is to reduce the national debt, has been signed more than 8,600 times as of Tuesday.
Selling Montana, the fourth largest state in the country, would constitute the largest land deal since the Louisiana Purchase.
The national debt is often a source of concern for individuals, but the chances of the U.S. defaulting on its debts are relatively low — in part because the bulk of the national debt is owned by the American public.
The plan to stop megacorps from owning superintelligence is already underway.
Videos
A.I. technology is often developed within the proprietary silos of big tech companies. What if there was an open, decentralized hub for A.I. developers to share their creations? Enter SingularityNET.
The many A.I.s in the network could compete with each other to provide services for users but they could also cooperate, giving way to an emergent-level mind: artificial general intelligence.
SingularityNET is powered by blockchain technology, meaning whatever 'digital organism' emerges will not be owned or controlled by any one person, company or government.
Big think's weekly newsletter.
Get smarter faster from the comfort of your inbox.
See our newsletter privacy policy
here
Most Popular
Most Recent
Big think's weekly newsletter.
Get smarter faster from the comfort of your inbox.
See our newsletter privacy policy
here
© Copyright 2007-2018 & BIG THINK, BIG THINK EDGE,
SMARTER FASTER trademarks owned by The Big Think, Inc. All rights reserved.