These are the fascinating (and scary) statistics of student loan debt in America
Student loan debt is exploding in the U.S. That's at least how New York Governor Andrew Cuomo characterized it while recently unveiling a set of measures to alleviate the burdens of debt in New York.
29 December, 2017
---
Student loan debt is exploding in the U.S. That's at least how New York Governor Andrew Cuomo characterized it while recently unveiling a set of measures to alleviate the burdens of debt for New Yorkers. Other states – Washington, California, Connecticut, Maine – have recently attempted or adopted similar legislation. And overall, the nationwide data suggest Cuomo's description might not be hyperbolic.
In total, there are about 44 million Americans who owe $1.4 trillion in student debt, and more than a quarter of students who left college in 2010 and 2011 have defaulted on their loans – up from 19 percent in 2005 and 2006. 
How can data help us better understand student indebtedness, and the kinds of students most likely to default?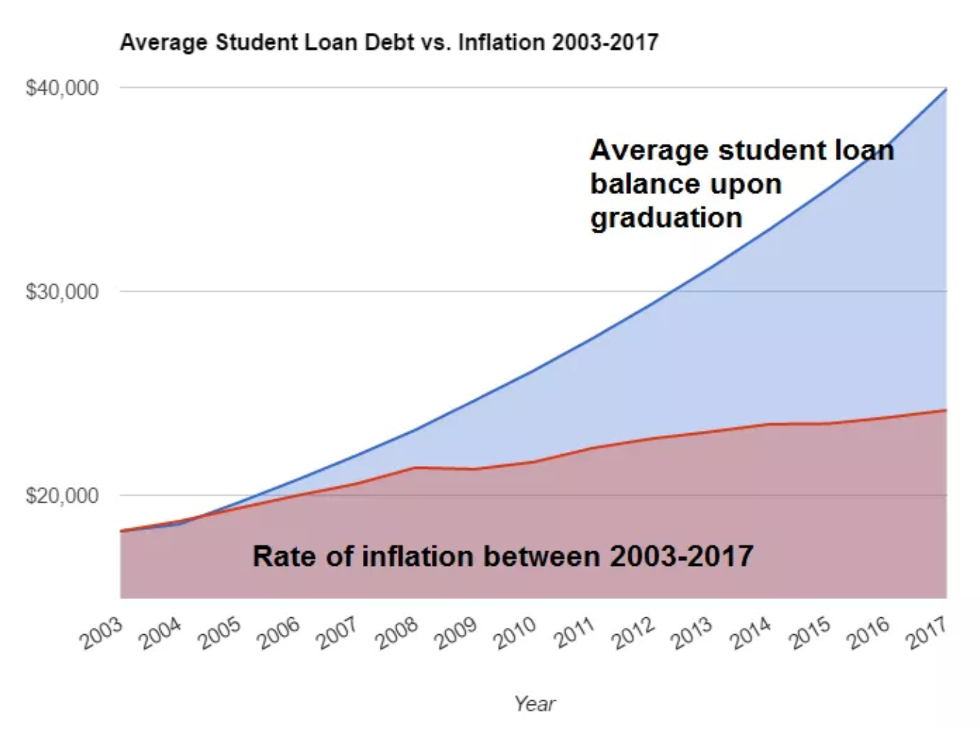 The New York Fed's Liberty Street Economics blog recently published an extensive analysis that outlines some of the determining factors behind student loan default. Using a data set that matched New York Fed Consumer Credit Panel (CCP), based on Equifax data, to National Student Clearinghouse (NSC) education data, researchers Wilbert van der Klaauw, Michelle Jiang, Nicole Gorton, and Rajashri Chakrabarti formed a representative sample of young Amercian adults that they used to track default rates and education attainment over time. Their sample is limited to students born between 1980 and 1986, and who took out loans to finance their education.
Some of their findings weren't exactly surprising, such as that students were more likely than their peers to default if they:
Dropped out of school
Attended a non-selective college
Came from a disadvantaged background
Still, the exhaustive analysis provides an insight into subtler factors that contribute to student defaults.
The chart below shows that default rates were highest among students who attended for-profit schools. However, students who attended community college defaulted at similar rates.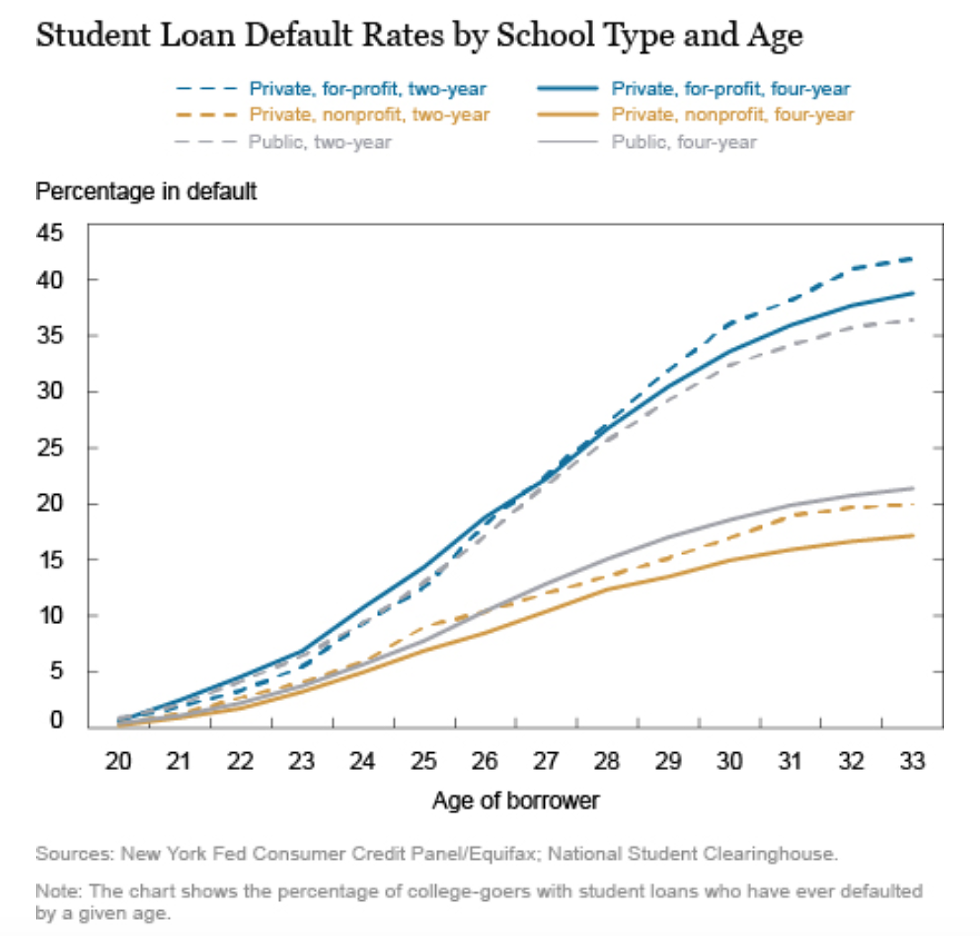 The analysis also showed that students who graduated with a bachelor's degree had the lowest default rate.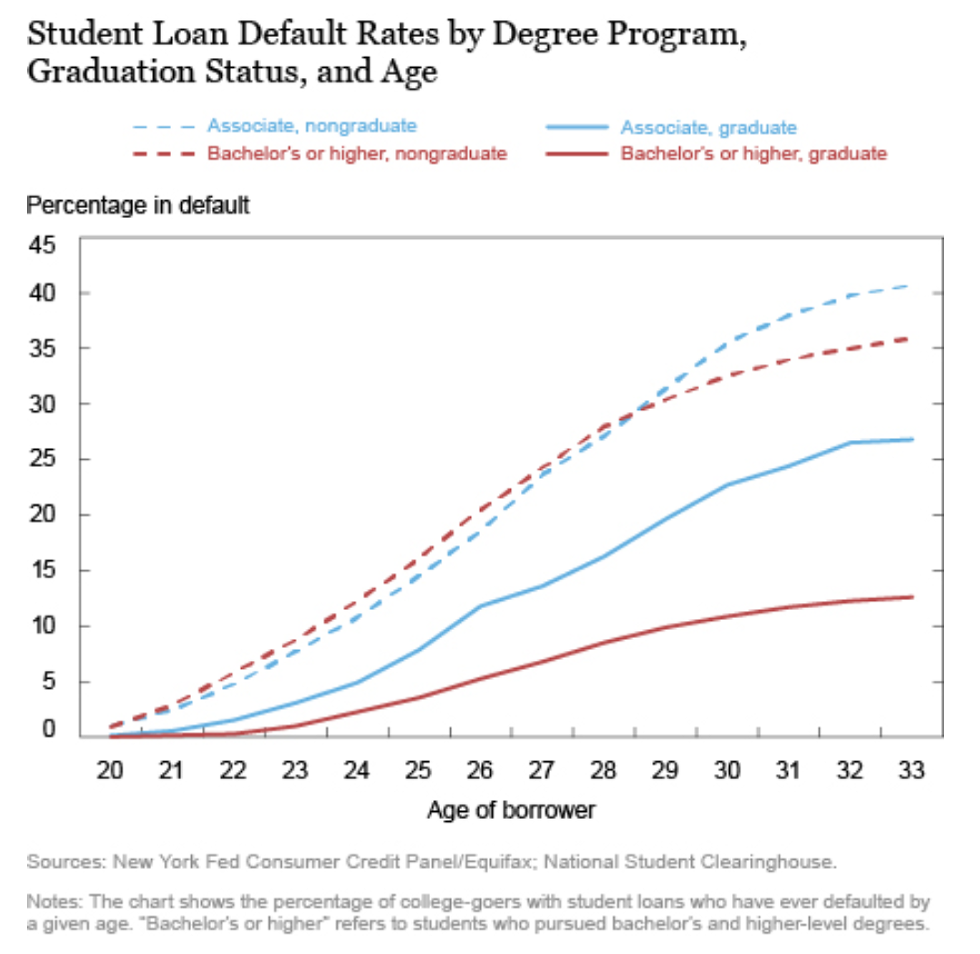 For another analysis, the researchers separated the students in their sample by major into four broad groups: Arts/Humanities, Business, STEM, and Vocational, which included majors like aviation, cosmetology, and welding.
Students who majored in the arts showed significantly higher default rates, but researchers noted that:
"major matters much more among students at nonselective colleges: the gap in default rates between the best performing major and worst performing major is much smaller (3 percentage points by age thirty-three) among students at selective colleges than among students at nonselective colleges (8 percentage points by age thirty‑three)."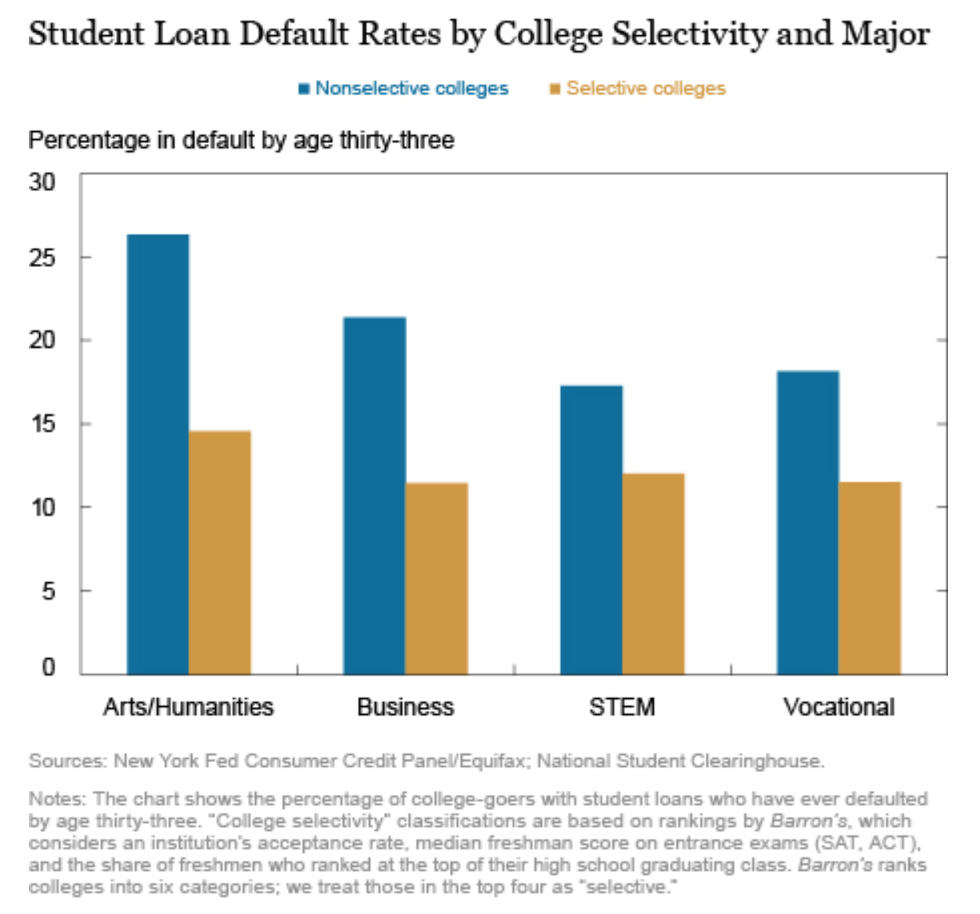 Finally, the researchers divided their sample into two groups based on the average income of the household in which they grew up, as determined by zip code. They found that students from less advantaged backgrounds showed higher default rates.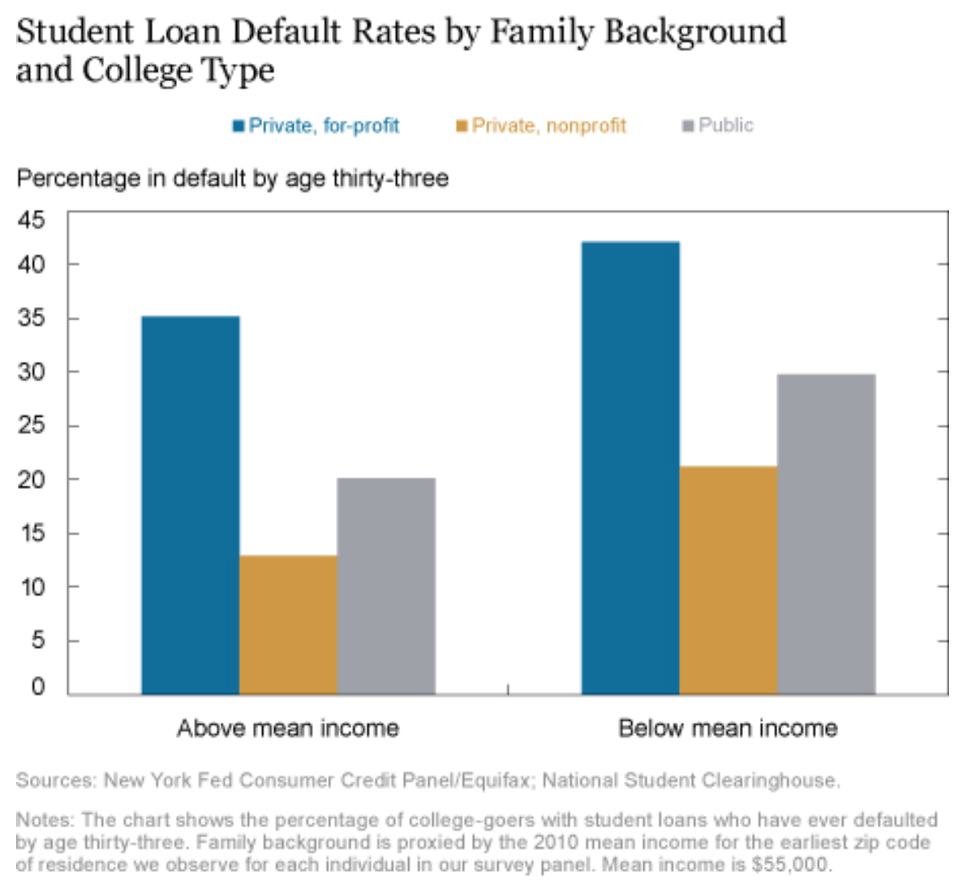 Ultimately, attending a four-year, for-profit college correlated most strongly with default, followed by dropping out of college. Summing up their analysis, the researchers wrote:
"This represents preliminary evidence that later life outcomes—for example, the ability to buy a home and maintain a strong credit score—may vary widely among student loan holders based on their educational choices and backgrounds."
Is paying for a college degree still worth it? It of course depends on which op-ed you want to read. But most of the data suggest that Americans with bachelor's degrees get hired more often than their peers.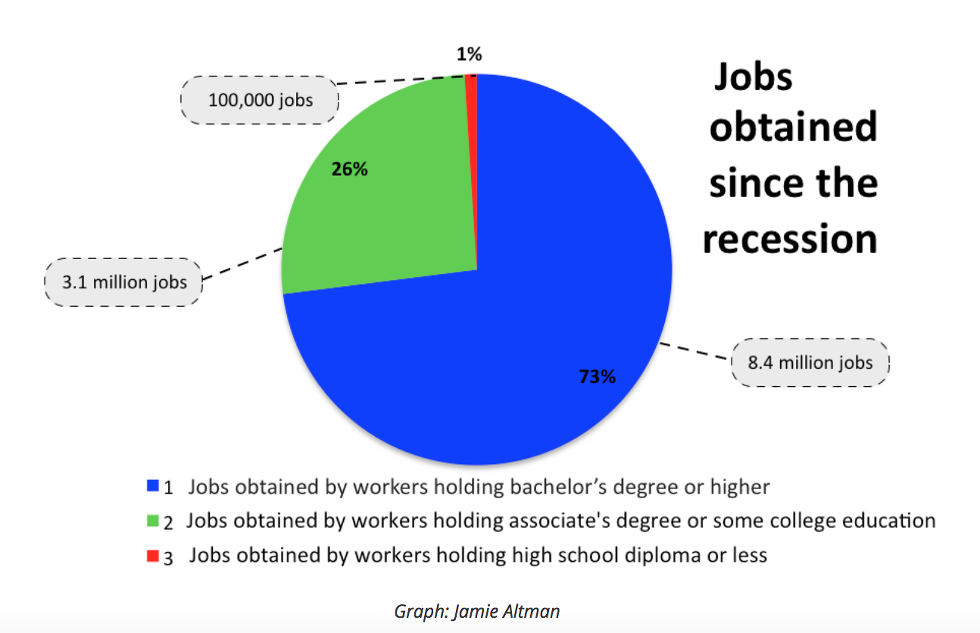 Related Articles
It turns out the human scalp has an olfactory receptor that seems to play a crucial role in regulating hair follicle growth and death.
Surprising Science
Scientists treated scalp tissue with a chemical that mimics the odor of sandalwood.
This chemical bound to an olfactory receptor in the scalp and stimulated hair growth.
The treatment could soon be available to the public.
The best self-directed learners use these seven habits to improve their knowledge and skills in any subject.
(Photo by Peter Cade/Getty Images)
Personal Growth
Bill Gates, Mark Zuckerberg, and Ellen DeGeneres all dropped out of college, yet they became leaders in their fields. Their secret? Self-directed learning.
Self-directed learning can help people expand their knowledge, gain new skills, and improve upon their liberal education.
Following habits like Benjamin Franklin's five-hour rule, the 80/20 rule, and SMART goals can help self-directed learners succeed in their pursuits.
It happens every few years. Not just in Greece, but also parts of the United States.
Photo credit: Giannis Giannakopoulos
Surprising Science
Aitoliko, in Western Greece is the town these images are from.
Tetragnatha is the genus — known as "stretch spiders" because of their elongated bodies.
They can run faster on water than on land. Don't panic, though: they will be gone in days.
Big think's weekly newsletter.
Get smarter faster from the comfort of your inbox.
See our newsletter privacy policy
here
Most Popular
Most Recent
Big think's weekly newsletter.
Get smarter faster from the comfort of your inbox.
See our newsletter privacy policy
here
© Copyright 2007-2018 & BIG THINK, BIG THINK EDGE,
SMARTER FASTER trademarks owned by The Big Think, Inc. All rights reserved.