What does it mean that John McCain is 'lying in state' in the U.S. Capitol?
Senator John Sidney McCain III, who died Saturday, Aug. 25, 2018 at the age of 81, is lying in state in the Rotunda of the United States Capitol.
31 August, 2018
---
Senator John Sidney McCain III, who died Saturday, Aug. 25, 2018 at the age of 81, is lying in state in the Rotunda of the United States Capitol.
"Though the highest office eluded him, he attained what is far more enduring: the abiding affection of his fellow citizens, and an example down the generations," said the House speaker, Paul Ryan, in a speech.
Vice President Mike Pence also spoke at the ceremony, which some described as awkward given his allegiance to President Donald Trump, with whom McCain had very public disagreements. Also not invited to the ceremonies was McCain's former presidential running mate Sarah Palin.
"As the president said yesterday, we respect his service to the country," Pence said. "We gather here today to honor an American patriot who served a cause greater than himself … We will ever remember that John McCain served his country, and John McCain served his country honorably."
In what amounts to getting the last word in their high-profile feud, McCain openly requested that Trump not attend any of his funeral or memorial services, but did ask former presidents George W. Bush and Barack Obama to deliver speeches at his funeral, which is scheduled on Saturday.
"I think it's fair to say that they have a very different view of this country and what this country means, here and abroad," Mark Salter, a long-time friend of McCain, told The Independent. "His overall message was: 'It doesn't have to be this shitty.'"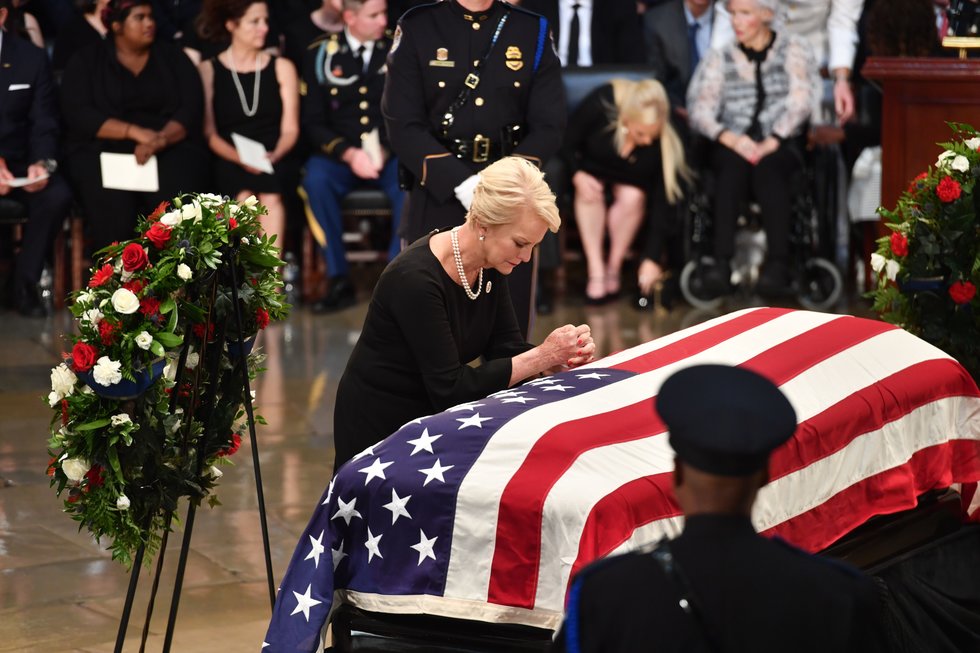 Cindy McCain, wife of John McCain, prays at the casket of her husband as he lies in state at the US Capitol Rotunda in Washington, DC, on August 31, 2018. (Photo by Nicholas Kamm / AFP) (Photo credit should read NICHOLAS KAMM/AFP/Getty Images)
Lying in state
Lying in state is a tradition in which the body of a deceased government official is placed inside the Capitol or a government building where family, colleagues and, after a ceremony, the public can pay respects. McCain is the 31st person to receive the rare honor.
The first was three-time presidential candidate Henry Clay, who was known as "The Great Compromiser" for his willingness to work with political opponents, a quality for which McCain is also being celebrated.
Others who have laid in state include presidents such as Abraham Lincoln, Dwight Eisenhower and John F. Kennedy, and also other officials like FBI Director J. Edgar Hoover and The Unknown Soldier for the Vietnam War.
In order to receive the honor, Congress must propose and approve a resolution, or simply have leadership agree to it. Permission from the survivors' of the deceased official is also required.
Lying in state is different from being lain in honor, which is reserved distinguished American civilians, or being lain in repose, an honor given to Supreme Court justices that takes place in the Great Hall of the United States Supreme Court Building.
Here's a full list of Americans who have lain in state:
Henry Clay
Abraham Lincoln
Thaddeus Stevens
Charles Sumner
James Abram Garfield
John Alexander Logan
William McKinley
Pierre Charles L'Enfant
George Dewey
Unknown Soldier of World War I
Warren Gamaliel Harding
William Howard Taft
John Joseph Pershing
Robert Alphonso Taft
3 Unknown Soldiers of World War II and the Korean War
John Fitzgerald Kennedy
Douglas MacArthur
Herbert Clark Hoover
Dwight David Eisenhower
Everett McKinley Dirksen
J. Edgar Hoover
Lyndon Baines Johnson
Hubert Horatio Humphrey
Unknown Soldier of the Vietnam Era
Claude Denson Pepper
Ronald Wilson Reagan
Gerald R. Ford, Jr.
Daniel K. Inouye
John McCain
Pfizer's partnerships strengthen their ability to deliver vaccines in developing countries.
Susan Silbermann, Global President of Pfizer Vaccines, looks on as a health care worker administers a vaccine in Rwanda. Photo: Courtesy of Pfizer.
Sponsored
Community healthcare workers face many challenges in their work, including often traveling far distances to see their clients
Pfizer is helping to drive the UN's sustainable development goals through partnerships.
Pfizer partnered with AMP and the World Health Organization to develop a training program for healthcare workers.
The controversy around the Torah codes gets a new life.
Michael Drosnin
Surprising Science
Mathematicians claim to see a predictive pattern in the ancient Torah texts.
The code is revealed by a method found with special computer software.
Some events described by reading the code took place after the code was written.
Be glad your name isn't attached to any of these bad ideas.
Chip Somodevilla/Getty Images
Technology & Innovation
Some inventions can be celebrated during their time, but are proven to be devastating in the long run.
The inventions doesn't have to be physical. Complex mathematical creations that create money for Wall Street can do as much damage, in theory, as a gas that destroys the ozone layer.
Inventors can even see their creations be used for purposes far different than they had intended.

Orangutans join humans and bees in a very exclusive club
Surprising Science
Orangutan mothers wait to sound a danger alarm to avoid tipping off predators to their location
It took a couple of researchers crawling around the Sumatran jungle to discover the phenomenon
This ability may come from a common ancestor
Big think's weekly newsletter.
Get smarter faster from the comfort of your inbox.
See our newsletter privacy policy
here
Most Popular
Most Recent
Big think's weekly newsletter.
Get smarter faster from the comfort of your inbox.
See our newsletter privacy policy
here
© Copyright 2007-2018 & BIG THINK, BIG THINK EDGE,
SMARTER FASTER trademarks owned by The Big Think, Inc. All rights reserved.