Is the new 'right-to-try' law libertarian quackery or lifesaving hope?
President Donald Trump signed a 'right-to-try' bill on Wednesday, but some think the new law will do more harm than good.
31 May, 2018
---
President Donald Trump signed a bill on Wednesday that makes it easier for terminally ill patients to access treatments that have yet to receive FDA approval.
Dubbed "right to try," the law allows terminally ill patients and their doctors to work directly with drug manufacturers to access drug treatments that "have passed Phase 1 of the Food and Drug Administration's approval process" but have not passed the remaining two phases, or a reviewal process.
"Thousands of terminally ill Americans will finally have hope, and the fighting chance, and I think it's going to better than a chance, that they will be cured, they will be helped, and be able to be with their families for a long time, or maybe just for a longer time," Trump said Wednesday at the White House, surrounded by terminally ill patients and their families, adding that they'll finally have "the right to try."
Right-to-try legislation has already passed in some 38 states, but passing it on a federal removes legal roadblocks that made it difficult for patients and drug manufacturers to transact across state lines.
Supporters of the bill have noted the lengthy FDA approval process requires time that dying patients simply don't have. Others argue that shutting out the FDA is dangerous.
"FDA oversight of access to experimental treatments exists for a reason — it protects patients from potential snake oil salesmen or from experimental treatments that might do more harm than good," said Rep. Frank Pallone Jr. (D-N.J.), ranking member of the House Energy and Commerce Committee.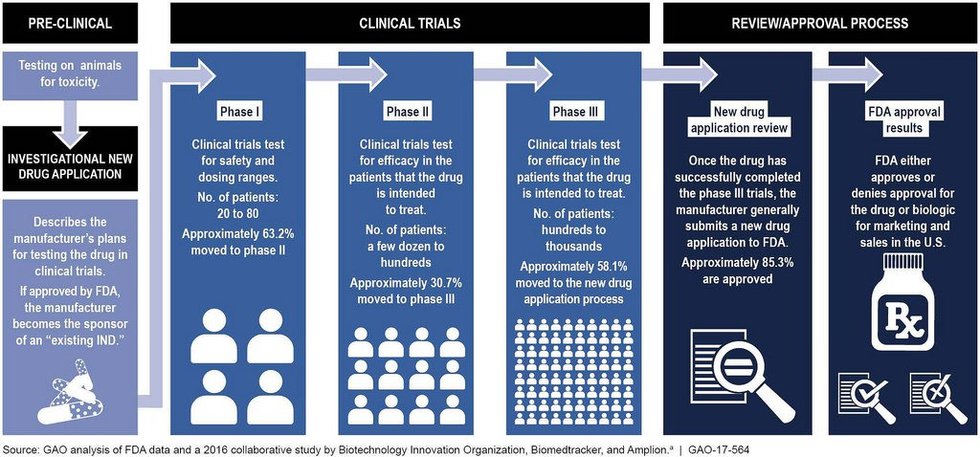 A letter drafted and signed by more than 300 medical professionals notes that there's already "compassionate use" laws that allow physicians to submit Emergency Investigational New Drug applications to the FDA on behalf of patients to access drug treatments that have yet to be approved. Right-to-try supporters have argued that it can take up to 100 hours for physicians to fill out these applications, but the FDA says it's streamlined the process down to 45 minutes.
The letter, which was sent to the House Committee on Energy and Commerce in February, points out that the FDA approves 99.7 percent of these applications.
"Because the FDA is not the obstacle to patient access to investigational drugs and plays a vital role in ensuring proper patient safeguards are in place, we implore the Committee to not pass legislation that would remove the FDA from the initial authorization process for accessing an investigational therapy outside of a clinical trial," the letter reads.
Most drugs that begin FDA screening never get approved, as Sarah Karlin-Smith wrote for Politico:
"The vast majority of experimental drugs ultimately fail: FDA estimates that for every 100 drugs that enter the first phase of human testing, only five to seven will eventually get approval. The other 95 percent either didn't work, or had risks that outweighed their benefits, and any patients who took them on an 'experimental' basis would have suffered pointlessly."
On a deeper level, right-to-try can be seen as another battle in the war to roll back government regulation. The legislation Trump signed Wednesday was first drafted by the Goldwater Institute, a libertarian think tank that's also successfully pushed, in several states, legislation that allows drug makers to promote so-called "off-label" uses on medicine.
It seems clear that the Goldwater Institute wants to minimize the FDA's regulatory power in a broad sense, in such a way that patients, not just the terminally ill, could someday start asking why they can't have immediate access to any drug treatment they wish to try.
"The ultimate aim is a kind of libertarian paradise of deregulation," Daniel Carpenter, a professor of government at Harvard and author of a book on the FDA's history, told The Nation.
The Goldwater Institute and its supporters, according to Carpenter, are trying to reframe the conversation on drug regulation to one about rights rather than safety. That's a legal metaphor that's "deeply resonant" in American politics, he said, adding that passing the bill would amount to ideology trumping science.
Dr. Scott Gottlieb, the commissioner of the FDA, had expressed concern over right-to-try legislation, but wrote on Twitter earlier this month that he stands "ready to implement it in a way that achieves Congress' intent to promote access and protect patients; and build on #FDA's longstanding commitment to these important goals #RTT."
Related Articles
The exploding popularity of the keto diet puts a less used veggie into the spotlight.
Purple cauliflower. (Photo: Shutterstock)
Surprising Science
The cauliflower is a vegetable of choice if you're on the keto diet.
The plant is low in carbs and can replace potatoes, rice and pasta.
It can be eaten both raw and cooked for different benefits.
Some say the proliferation of sex robots could lead to less demand for prostitution, but not all agree.
Will the proliferation of sex robots be a net good or bad for society? (Photo: Shutterstock)
Sex & Relationships
A Toronto-based sex robot brothel plans to open another location in Houston.
Some critics argue that the proliferation of sex robots would lead to increases in prostitution and sex trafficking.
Others say that such technology could help some people find a degree of much-needed companionship.
There are currently no laws against opening a sex robot brothel in Houston, though recently announced plans to open one inspired some residents to say there should be.
The owner of Kinky S Dolls, a Toronto-based company where $120 gets customers 80 minutes alone with a robotic sex doll that moves and talks, plans to open another location in the Houston area. It would be the first sex robot brothel in the U.S.
On advice from counsel, owner Yuval Gavriel doesn't call his business a 'sex robot brothel' but rather a kind of try-it-before-you-buy-it shop for realistic sex dolls, which he sells for $2,000 to $5,000.
"I consulted with a lawyer and the lawyer said, 'Listen, there are no rules to it, but if you are smart you don't go out and say you are operating a brothel,'" Gavriel told the Washington Examiner. "He went through all the laws and all of the regulations and currently there are no regulations for this kind of service. The States is a bigger market, and a healthier market, and God bless Trump."
A sex doll sold by Kinky S Dolls for about $3,500.

Sex dolls and toys may be legal in the U.S., but some believe that establishing what's essentially a robot sex brothel would cross a line. In response to Gavriel's plans, Elijah Rising, a Christian organization in Houston that combats sex trafficking, published a petition titled 'Keep Robot Brothels Out Of Houston'.
"As a nonprofit whose mission is to end sex trafficking we have seen the progression as sex buyers go from pornography to strip clubs to purchasing sex—robot brothels will ultimately harm men, their understanding of healthy sexuality, and increase the demand for the prostitution and sexual exploitation of women and children," reads the petition, which currently has nearly 6,000 signatures.
Elijah Rising's argument is based on a paper written by Kathleen Richardson, a professor of ethics and culture of robots at De Montfort University.
"I propose that extending relations of prostitution into machines is neither ethical, nor is it safe," Richardson argues in the paper. "If anything the development of sex robots will further reinforce relations of power that do not recognise both parties as human subjects. Only the buyer of sex is recognised as a subject, the seller of sex (and by virtue the sex-robot) is merely a thing to have sex with."
How would sex robots affect rates of prostitution?
One argument, to which Gavriel subscribes, says that increased availability of sex robots would lower the demand for human prostitutes. It's an idea tangentially related to the longstanding body of research that shows countries tend to see decreases in sexual assaults and rape after they legalize porn.
In his bestselling book Love and Sex with Robots, A.I. researcher David Levy explores the future of human relationships with robots and suggests that sex robots could lower prostitution or even someday render it obsolete.
But that's "highly speculative philosophy," according to Richardson.
"The reality is that it will just become a new niche market within the pornography industry and within the prostitution trade," she said in an interview with Feminist Current. "If people buy into the idea that you can have these dolls as part of your sexual fetish, it will become another burden that actual living human beings will have to undergo in the commercial sex trade."
A sex doll sold by Kinky S Dolls.

Richardson elaborated on this idea in her paper.
"...studies have found that the introduction of new technology supports and contributes to the expansion of the sex industry," she wrote. "Prostitution and pornography production also rises with the growth of the internet. In 1990, 5.6 percent of men reported paying for sex in their lifetime, by 2000, this had increased to 8.8 percent."
However, those rates aren't necessarily causally linked.
Richardson also wrote that if sex toys, such as RealDolls and blow-up dolls, actually led to lower prostitution demand then we would have already seen decreases, but "no such correlation is found."
Still, that last point might soon become invalid as a sort of apples-to-oranges comparison if technology can produce artificially intelligent and lifelike sex robots unlike anything the industry has seen before.
An illusion of companionship
Image: Film4, from the 2015 film 'Ex Machina'
Critics argue that the proliferation of sex robots would serve to reinforce the objectification of women in men's minds, and also reduce the ability for some men to empathize, a necessary component of healthy social interaction.
Houstonian Andrea Paul voiced a simpler objection to the brothel:
"There's kids around here and it's a family-oriented neighborhood and I live right here and to have that here is just gross."
Gross, sure. But to Matt McMullen, creator of the RealDoll, the future of sex robots looks a bit more uplifting.
"My goal, in a very simple way, is to make people happy," McMullen told CNET. "There are a lot of people out there, for one reason or another, who have difficulty forming traditional relationships with other people. It's really all about giving those people some level of companionship—or the illusion of companionship."
Are university safe spaces killing intellectual growth?
Videos
Why you should want your ideological opposites on campus
Universities must be safe—but they cannot be censored
Don't be afraid of being offended. Be afraid of never changing your mind.
Big think's weekly newsletter.
Get smarter faster from the comfort of your inbox.
See our newsletter privacy policy
here
Most Popular
Most Recent
Big think's weekly newsletter.
Get smarter faster from the comfort of your inbox.
See our newsletter privacy policy
here
© Copyright 2007-2018 & BIG THINK, BIG THINK EDGE,
SMARTER FASTER trademarks owned by The Big Think, Inc. All rights reserved.