Big ideas.
Once a week.
Subscribe to our weekly newsletter.
Trump admin scraps NASA program that tracks global greenhouse gases
The Trump administration is quietly bringing an end to NASA's Carbon Monitoring System, which builds high-resolution maps of the world's carbon flow.
15 May, 2018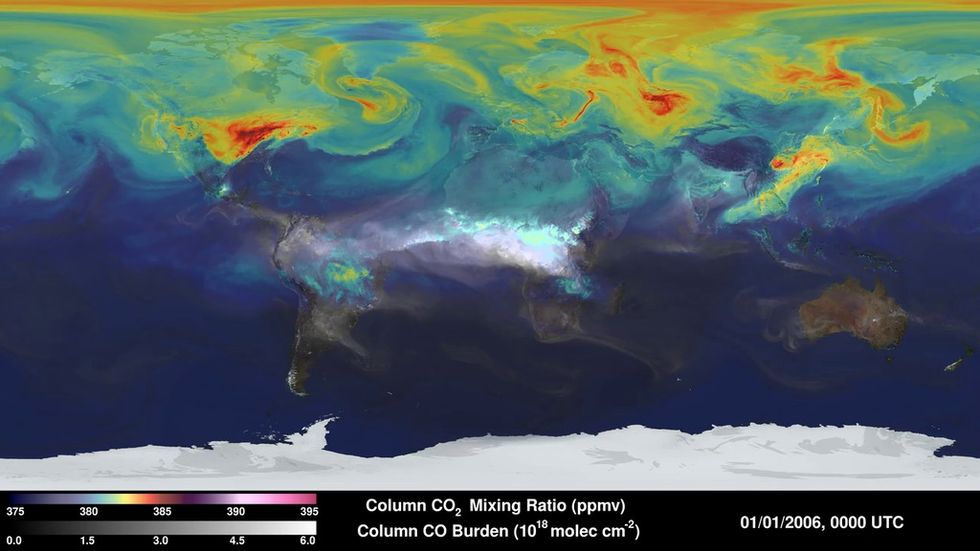 Image of the Carbon Monitoring System via NASA
---
NASA's Carbon Monitoring System (CMS) has for years helped scientists track the global flow of carbon dioxide by piecing together disparate sets of observations into high-resolution models. In addition to furthering our understanding of Earth's climate, these models illustrate which policies aimed at reducing greenhouse gases are actually effective.
Now, the Trump administration is quietly bringing the $10-million-a-year CMS program to an end.
NASA spokesperson Steve Cole told Science that the program, which will continue until its existing grants run out, was the victim of "budget constraints and higher priorities within the science budget."
Some experts say scrapping the CMS will put the U.S. at a disadvantage.
"In the long term, dismantling the Carbon Monitoring System will adversely affect our ability to track flows of carbon through our land, oceans, and atmosphere," climate scientist Rachel Licker told the BBC. "Being able to better track carbon is critical to evaluating efforts and policies aimed at limiting global warming and its impacts."
The move comes at an inopportune time for climate scientists.
In April, the average concentration of carbon dioxide in the atmosphere reached the highest level the world has seen in 800,000 years, according to the Mauna Loa Observatory in Hawaii. To put the rate of progression in perspective: CO2 concentrations were around 280 parts per million in 1880, while last month they exceeded an average of 410 parts per million—an increase of 46 percent.
Not all of NASA's climate-related projects are coming to an end, as Steve Cole, a spokesman for the agency, told the BBC:
"The winding down of this specific research program does not curb NASA's ability or commitment to monitoring carbon and its effects on our changing planet... In fact, Gedi, a new ecosystem carbon-monitoring instrument, is set to launch to the International Space Station this summer."
Atmospheric CO2 set a new record last month: 410PPM pic.twitter.com/eZCakkHnEP

— Climate Central (@ClimateCentral) May 4, 2018
This is the first successful DNA sequencing on ancient Egyptian mummies, ever.
Getty Images
Surprising Science
Egyptologists, writers, scholars, and others, have argued the race of the ancient Egyptians since at least the 1970's. Some today believe they were Sub-Saharan Africans. We can see this interpretation portrayed in Michael Jackson's 1991 music video for "Remember the Time" from his "Dangerous" album. The video, a 10-minute mini-film, includes performances by Eddie Murphy and Magic Johnson.
Reactionaries, meanwhile, say that there's never been any significant black civilizations—an utter falsehood, of course. There were several in fact, highly advanced African empires and kingdoms throughout history. Curiously, some extreme Right groups have even used blood group data to proclaim a Nordic origin to King Tutankhamun and his brethren.
The problem, it was thought, is that mummy DNA couldn't be sequenced. But a group of international researchers, using unique methods, have overcome the barriers to do just that. They found that the ancient Egyptians were most closely related to the peoples of the Near East, particularly from the Levant. This is the Eastern Mediterranean which today includes the countries of Turkey, Iraq, Israel, Jordan, Syria, and Lebanon. The mummies used were from the New Kingdom and a later period, (a period later than the Middle Kingdom) when Egypt was under Roman rule.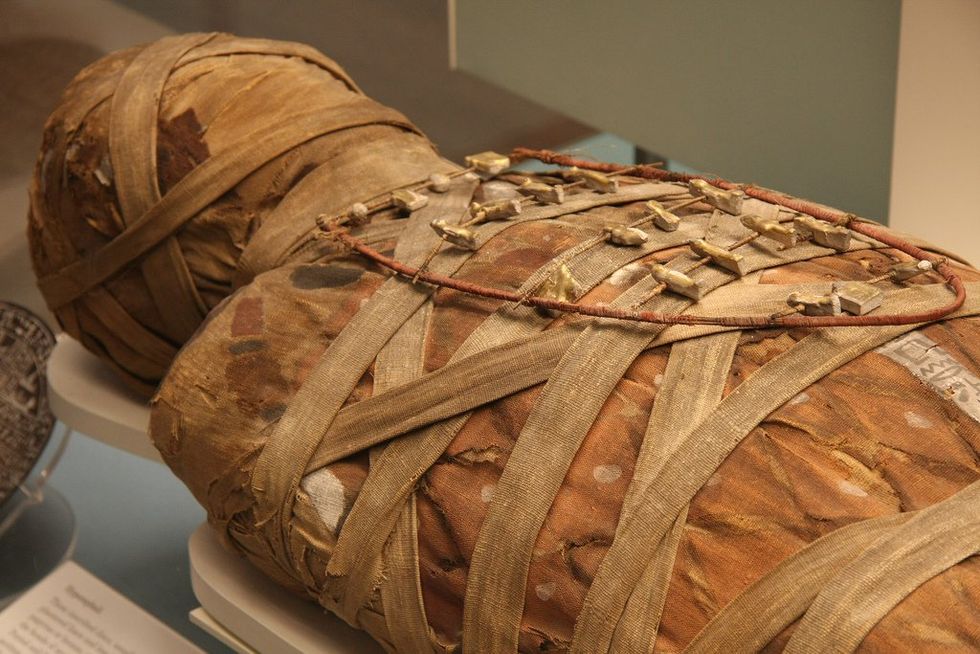 Egyptian mummy. British Museum. Flikr.
Modern Egyptians share 8% of their genome with central Africans, far more than ancient ones, according to the study, published in the journal Nature Communications. The influx of Sub-Saharan genes only occurred within the last 1,500 years. This could be attributed to the trans-Saharan slave trade or just from regular, long distance trade between the two regions. Improved mobility on the Nile during this period increased trade with the interior, researchers claim.
Egypt over the span of antiquity was conquered many times including by Alexander the Great, by the Greeks, Romans, Arabs, and more. Researchers wanted to know if these constant waves of invaders caused any major genetic changes in the populace over time. Group leader Wolfgang Haak at the Max Planck Institute in Germany said, "The genetics of the Abusir el-Meleq community did not undergo any major shifts during the 1,300 year timespan we studied, suggesting that the population remained genetically relatively unaffected by foreign conquest and rule."
The study was led by archeogeneticist Johannes Krause, also of the Max Planck Institute. Historically, there's been a problem finding intact DNA from ancient Egyptian mummies. "The hot Egyptian climate, the high humidity levels in many tombs and some of the chemicals used in mummification techniques, contribute to DNA degradation and are thought to make the long-term survival of DNA in Egyptian mummies unlikely," Dr. Krause said.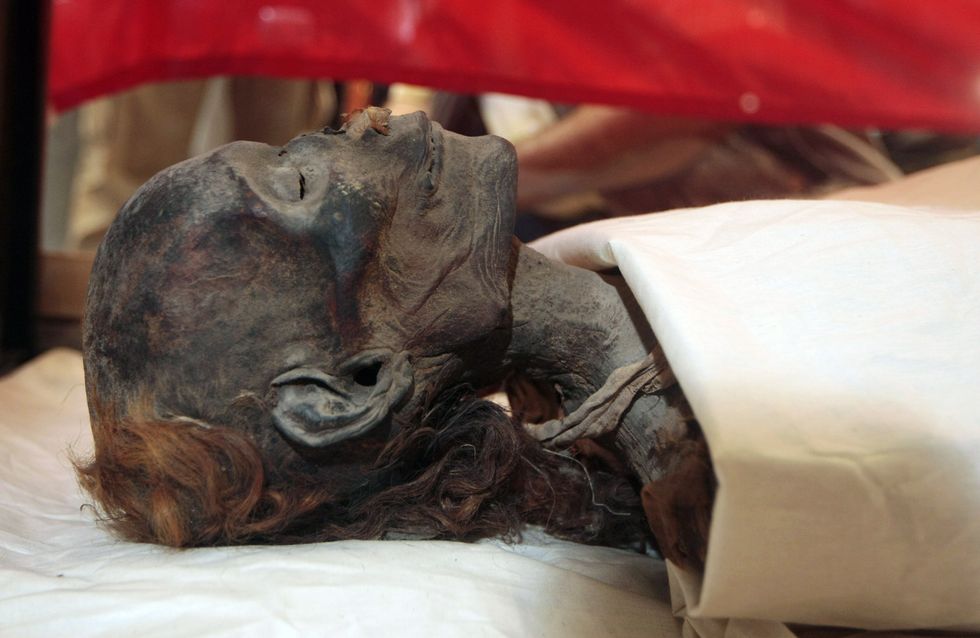 The mummified remains of Queen Hatshepsut wet-nurse Sitre-In. Egyptian Museum, Cairo. 2007. Getty Images.
It was also thought that, even if genetic material were recovered, it may not be reliable. Despite this, Krause and colleagues have been able to introduce robust DNA sequencing and verification techniques, and completed the first successful genomic testing on ancient Egyptian mummies.
Each came from Abusir el-Meleq, an archaeological site situated along the Nile, 70 miles (115 km) south of Cairo. This necropolis there houses mummies which display aspects revealing a dedication to the cult of Osiris, the green-skinned god of the afterlife.
First, the mitochondrial genomes from 90 of mummies were taken. From these, Krause and colleagues found that they could get the entire genomes from just three of the mummies in all. For this study, scientists took teeth, bone, and soft tissue samples. The teeth and bones offered the most DNA. They were protected by the soft tissue which has been preserved through the embalming process.
Researchers took these samples back to a lab in Germany. They began by sterilizing the room. Then they put the samples under UV radiation for an hour to sterilize them. From there, they were able to perform DNA sequencing.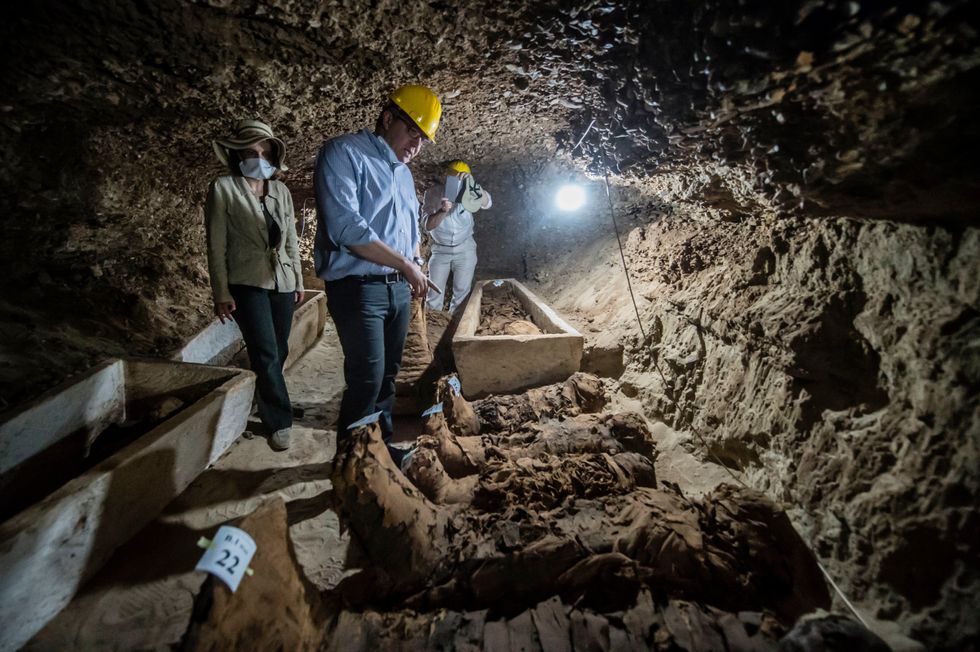 An Egyptian necropolis. Getty Images.
Scientists also gathered data on Egyptian history and archaeological data of northern Africa, to give their discoveries some context. They wanted to know what changes had occurred over time. To find out, they compared the mummies' genomes to that of 100 modern Egyptians and 125 Ethiopians. "For 1,300 years, we see complete genetic continuity," Krause said.
The oldest mummy sequenced was from the New Kingdom, 1,388 BCE, when Egypt was at the height of its power and glory. The youngest was from 426 CE, when the country was ruled from Rome. The ability to acquire genomic data on ancient Egyptians is a dramatic achievement, which opens up new avenues of research.
One limitation according to their report, "all our genetic data were obtained from a single site in Middle Egypt and may not be representative for all of ancient Egypt." In southern Egypt they say, the genetic makeup of the people may have been different, being closer to the interior of the continent.
Researchers in future want to determine exactly when Sub-Saharan African genes seeped into the Egyptian genome and why. They'll also want to know where ancient Egyptians themselves came from. To do so, they'll have to identify older DNA from, as Krause said, "Back further in time, in prehistory."
Using high-throughput DNA sequencing and cutting-edge authentication techniques, researchers proved they could retrieve reliable DNA from mummies, despite the unforgiving climate and damaging embalming techniques.
Further testing will likely contribute much knowledge to our understanding of the ancient Egyptians and perhaps even those from other places as well, helping to fill in the gaps in humanity's collective memory.
To learn about the latest Egyptian archaeological find, click here:
A new study used functional near-infrared spectroscopy (fNIRS) to measure brain activity as inexperienced and experienced soccer players took penalty kicks.
Mind & Brain
The new study is the first to use in-the-field imaging technology to measure brain activity as people delivered penalty kicks.
Participants were asked to kick a total of 15 penalty shots under three different scenarios, each designed to be increasingly stressful.
Kickers who missed shots showed higher activity in brain areas that were irrelevant to kicking a soccer ball, suggesting they were overthinking.
In a 2019 soccer match, Swansea City was down 1-0 against West Brom late in the first half. A penalty was called against West Brom. Swansea midfielder Bersant Celina was preparing to deliver a penalty kick. He scuttled up to the ball, but his foot only made partial contact, lobbing it weakly to the right.
Was it a simple mistake? Maybe. But there might be deeper explanations for why professional athletes choke under high-pressure situations.
A new study published in Frontiers in Computer Science used functional near-infrared spectroscopy (fNIRS) to analyze the brain activity of inexperienced and experienced soccer players as they missed penalty shots. Although past research has explored why soccer players miss penalty shots, the recent study is the first to do so using in-the-field fNIRS measurement.
The results showed that kickers who choked were activating parts of their brain associated with long-term thinking, self-instruction, and self-reflection. The chokers, in other words, were overthinking it.
The psychology of penalty kicks
Penalty shots offer an interesting case study of how mental pressure affects physical performance. After all, there's a lot at stake, not only because the kick can sometimes render a win or loss, but also because there are sometimes millions of people anxiously watching, some of whom might have a financial interest in the outcome.
That pressure is no joke. For example, research on Men's World Cup penalty shoot-outs has shown that when the score is tied and a goal means an immediate win, players score 92 percent of kicks. But when teams are facing elimination in a shootout, and the kick determines an immediate tie or loss, players only score 60 percent of the time.
"How can it be that football players with a near perfect control over the ball (they can very precisely kick a ball over more than 50 meters) fail to score a penalty kick from only 11 meters?" study co-author Max Slutter, of the University of Twente in the Netherlands, said in a press release.
"Obviously, huge psychological pressure plays a role, but why does this pressure cause a missed penalty? We tried to answer this by measuring the brain activity of football players during the physical execution of a penalty kick."
In the new study, the researchers aimed to answer two key questions about choking under pressure among both experienced and inexperienced players: (1) What is the difference in brain activity between success (scoring) and failure (missing) when taking a penalty kick? (2) What brain activity is associated with performing under pressure during a penalty kick situation?
To find out, the researchers asked ten experienced soccer players and twelve inexperienced players to participate in a penalty-kicking task. The task was divided into three rounds, each of which was designed to be increasingly stressful:
Round 1 had no goalkeeper and was labeled as a practice round.
Round 2 had a friendly goalkeeper who wasn't allowed to distract the kicker.
Round 3 had a competitive goalkeeper who was allowed to distract the kicker, and kickers were also competing for a prize.
Participants kicked five shots in each round. They wore a fNIRS-equipped headset during the task that measured activity in various parts of the brain.
All participants performed worse in the second and third rounds and reported experiencing the most pressure in the third round. Inexperienced players performed worse than experienced players, which might suggest that they were less able to deal with the mental stress.
The locations in which experienced and inexperienced players kicked the ball in each round. Red dots represent missed penalties and green dots represent scored penalties.Slutter et al., Frontiers in Computer Science, 2021.
The neuroscience of choke artists

So, what types of brain activity were associated with missed shots?
The most noticeable result was that kickers missed more shots when they showed higher activity in their prefrontal cortex (PFC), an area of the brain associated with long-term planning. This was especially true among participants who reported higher levels of anxiety. More specifically, experienced soccer players who missed shots showed high activity in the left temporal cortex, which is related to self-instruction and self-reflection.
"By activating the left temporal cortex more, experienced players neglect their automated skills and start to overthink the situation," the researchers wrote. "This increase can be seen as a distracting factor."
Also, when players of all experience levels felt anxious and missed shots, they showed less activity in the motor cortex, which is the brain area most directly associated with kicking a penalty shot.
Don't overthink it
The results suggest that mental pressure can activate parts of the brain that are irrelevant to the task at hand. In general, expert athletes show more efficient brain activity — that is, more activity in relevant areas, and less activity in irrelevant areas — and therefore experience fewer distractions. This is likely one reason why they were more successful at penalties than inexperienced players in high-stress situations.
This principle is described by neural efficiency theory, and it applies not only to athletes but experts in any field. As you gain mastery over something, you can rely more on automatic brain processes rather than deliberate thinking, which can lead to distractions. The authors of the study concluded that their results provide supporting evidence for neural efficiency theory.
Still, as long our experts are human, it seems that high-pressure situations can turn anyone into a choke artist.
What's the difference between brainwashing and rehabilitation?
Mind & Brain
The book and movie, A Clockwork Orange, powerfully asks us to consider the murky lines between rehabilitation, brainwashing, and dehumanization.
There are a variety of ways, from hormonal treatment to surgical lobotomies, to force a person to be more law abiding, calm, or moral.
Is a world with less free will but also with less suffering one in which we would want to live?
Alex is a criminal. A violent and sadistic criminal. So, we decide to do something about it. We're going to "rehabilitate" him.
Using a new and exciting "Ludovico" technique, we'll change his brain chemistry to make him an upstanding, moral citizen. Alex will be forced to watch violent movies as his body is pumped with nausea-inducing drugs. After a while, he'll come to associate violence with this horrible sickness. And, after a course of Ludovico, Alex can happily return to society, never again doing an immoral or illegal act. He'll no longer be a danger to himself or anyone else.
This is the story of A Clockwork Orange by Anthony Burgess, and it raises important questions about the nature of moral decisions, free will, and the limits of rehabilitation.
Today's Clockwork Orange
This might seem like unbelievable science fiction, but it might be truer — and nearer — than we think. In 2010, Dr. Molly Crockett did a series of experiments on moral decision-making and serotonin levels. Her results showed that people with more serotonin were less aggressive or confrontational and much more easy-going and forgiving. When we're full of serotonin, we let insults pass, are more empathetic, and are less willing to do harm.
As Fydor Dostoyevsky wrote in The Brothers Karamazov, if the "entrance fee" for having free will is the horrendous suffering we see all around us, then "I hasten to return my ticket."
The idea that biology affects moral decisions is obvious. Most of us are more likely to be short-tempered and spiteful if we're tired or hungry, for instance. Conversely, we have the patience of a saint if we just have received some good news, had half a bottle of wine, or had sex.
If our decision-making can be manipulated or determined by our biology, should we not try various interventions to prevent the criminally inclined from harming others?
Drastic interventions
What is the point of prison? This is itself no easy question, and it's one with a rich philosophical debate. Surely one of the biggest reasons is to protect society by preventing criminals from reoffending. This might be achievable by manipulating a felon's serotonin levels, but why not go even further?
Today, we know enough about the brain to have identified a very particular part of the prefrontal cortex responsible for aggressive behavior. We know that certain abnormalities in the amygdala can result in anti-social behavior and rule breaking. If the purpose of the penal system is to rehabilitate, then why not "edit" these parts of the brain in some way? This could be done in a variety of ways.
Credit: Otis Historical Archives National Museum of Health and Medicine via Flickr / Wikipedia
Electroconvulsive therapy (ECT) is a surprisingly common practice in much of the developed world. Its supporters say that it can help relieve major mental health issues such as depression or bipolar disorder as well as alleviate certain types of seizures. Historically, and controversially, it has been used to "treat" homosexuality and was used to threaten those misbehaving in hospitals in the 1950s (as notoriously depicted in One Flew Over the Cuckoo's Nest). Of course, these early and crude efforts at ECT were damaging, immoral, and often left patients barely able to function as humans. Today, neuroscience and ECT are much more sophisticated. If we could easily "treat" those with aggressive or anti-social behavior, then why not?

Ideally, we might use techniques such as ECT or hormonal supplementation, but failing that, why not go even further? Why not perform a lobotomy? If the purpose of the penal system is to change the felon for the better, we should surely use all the tools at our disposal. With one fairly straightforward surgery to the prefrontal cortex, we could turn a violent, murderous criminal into a docile and law-abiding citizen. Should we do it?
Is free will worth it?
As Burgess, who penned A Clockwork Orange, wrote, "Is a man who chooses to be bad perhaps in some way better than a man who has the good imposed upon him?"
Intuitively, many say yes. Moral decisions must, in some way, be our own. Even if we know that our brains determine our actions, it's still me who controls my brain, no one else. Forcing someone to be good, by molding or changing their brain, is not creating a moral citizen. It's creating a law-abiding automaton. And robots are not humans.
And yet, it begs the question: is "free choice" worth all the evil in the world?
If my being brainwashed or "rehabilitated" means children won't die malnourished or the Holocaust would never happen, then so be it. If lobotomizing or neuro-editing a serial killer will prevent them from killing again, is that not a sacrifice worth making? There's no obvious reason why we should value free will above morality or the right to life. A world without murder and evil — even if it meant a world without free choices for some — might not be such a bad place.
As Fyodor Dostoyevsky wrote in The Brothers Karamazov, if the "entrance fee" for having free will is the horrendous suffering we see all around us, then "I hasten to return my ticket." Free will's not worth it.
Do you think the Ludovico technique from A Clockwork Orange is a great idea? Should we turn people into moral citizens and shape their brains to choose only what is good? Or is free choice more important than all the evil in the world?
Jonny Thomson teaches philosophy in Oxford. He runs a popular Instagram account called Mini Philosophy (@philosophyminis). His first book is Mini Philosophy: A Small Book of Big Ideas.
Surprising Science
A simple trick allowed marine biologists to prove a long-held suspicion.
Scroll down to load more…