Pope Francis is facing calls to resign after accusations he covered up sexual abuse
A former Vatican ambassador has accused Pope Francis and other church leaders of wittingly covering up sexual abuse, an unprecedented accusation that highlights escalating tensions within the Catholic Church.
28 August, 2018
Pope Francis arrives to meet dignitaries at Dublin Castle on August 25, 2018. (Photo by Jeff J Mitchell/Getty Images)
---
A former Vatican ambassador has accused Pope Francis and other church leaders of wittingly covering up sexual abuse, an unprecedented accusation that highlights escalating tensions within the Catholic Church.
The accusations are outlined in a 7,000-word letter penned by Archbishop Carlo Maria Viganò, who once served as the Vatican's chief diplomat in the U.S.
Viganò said he informed the pope in June 2013 of sex crimes committed by Cardinal Theodore McCarrick, a former Archbishop of Washington, D.C. However, Viganò claims that Francis "continued to cover for him" and ultimately made him his "trusted advisor." Viganò wrote that Pope Benedict XVI had imposed sanctions on McCarrick after learning of the abuses, but Francis later reversed those orders.
Viganò called for the pope to resign.
"In this extremely dramatic moment for the universal Church, he must acknowledge his mistakes and, in keeping with the proclaimed principle of zero tolerance, Pope Francis must be the first to set a good example for cardinals and bishops who covered up McCarrick's abuses and resign along with all of them," he writes.
Viganò is right in saying the Catholic Church is currently undergoing an extraordinarily dramatic moment, whether or not these new allegations against the pope are true.
It represents one of the first major cracks in the growing rift between two broad factions within the Catholic Church: conservative traditionalists and liberal progressives. The church's conservative faction largely resents the pope's progressive posturing on issues like homosexuality, same-sex marriage and divorce. Francis, after all, is the pope who famously said "Who am I to judge?" when asked how he'd act as confessor to a gay person.
Some of these conservative Catholics believe the 'Francis Revolution' is eroding the moral pillars of church doctrine, and that the church is being attacked "at her very foundation," as Cardinal Raymond Burke, who's been a vocal critic of the pope, recently told the Thinking with the Church podcast.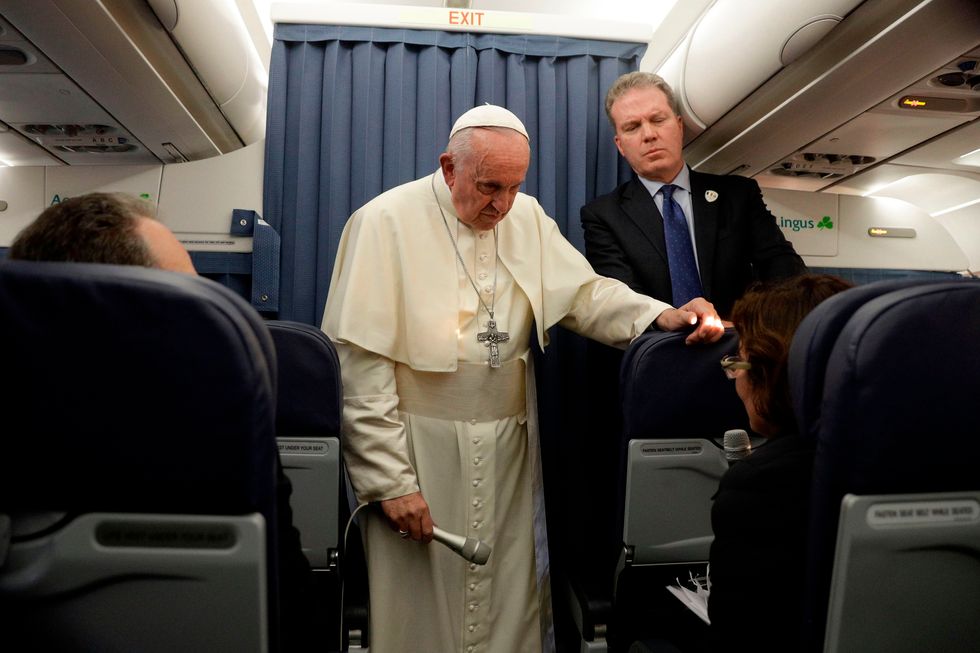 Pope Francis (C), flanked by Head of the Vatican press office, Greg Burke (Rear R), addresses a reporter during a press conference in flight while returning from Ireland to The Vatican. (Photo: GREGORIO BORGIA/AFP/Getty Images)
The Viganò letter speaks for many conservative Catholics, just as Viganò did in his career as an archbishop who openly championed conservative causes. In 2015, Viganò, whom The Associated Press described as a "conservative whose hardline anti-gay views are well known," arranged for the pope to meet Kim Davis, the Kentucky county clerk who refused to issue marriage licenses to same-sex couples.
Massimo Faggioli, a professor of theology and religious studies at Villanova University, framed Vigano's position in the church like this in an interview with Slate:
"I think Viganò represents the part of the right wing of the church that sees the LGBT issue as the defining issue of this millennium, or this century, and this pontificate. They think that anything can and should be done to stop Pope Francis from ushering in a more welcoming church for LGBT people. So in this there is a convergence between Viganò, who has always been obsessed with the gay lobby and gay conspiracy, and the American Catholic right."
But Viganò's anti-gay stances go beyond issues of marriage or doctrine—he believes that secret "homosexual networks" within the church's ranks are the root cause of the child sexual abuse problem in the Catholic Church.
Viganò wrote in his letter:
"The homosexual networks present in the Church must be eradicated, as Janet Smith, Professor of Moral Theology at the Sacred Heart Major Seminary in Detroit, recently wrote. "The problem of clergy abuse," she wrote, "cannot be resolved simply by the resignation of some bishops, and even less so by bureaucratic directives. The deeper problem lies in homosexual networks within the clergy which must be eradicated." These homosexual networks, which are now widespread in many dioceses, seminaries, religious orders, etc., act under the concealment of secrecy and lies with the power of octopus tentacles, and strangle innocent victims and priestly vocations, and are strangling the entire Church."
To bolster his claim that homosexuality leads to child abuse, Viganò cited a report showing that 80 percent of child sexual abuses cases in the church had been committed against young males by male priests. His argument—and that of many other anti-gay conservative Catholics—essentially says that gay priests enter the church to gain access to adolescent males and abuse their positions of power for sexual gratification.
However, nothing in the scientific literature shows a causal link between homosexuality and child abuse, and the fact that boys tend to be abused more often than girls is likely due to the fact that males have traditionally occupied more positions within the Catholic Church—girls haven't even been allowed to be altar servers until recently.
The precise forces that cause and sustain the church's abuse problems aren't clear, but researchers have suggested a variety of likely contributors, namely restrictive celibacy laws, a culture of blackmail and secrecy, the asymmetrical power relationship between clergy and parishioners, and the training and sexual development of priests.
The Viganò letter comes during a tumultuous time for the Catholic Church. Earlier this month, a grand jury in Pennsylvania issued a report revealing that priests in the state had abused some 1,000 victims over the past 70 years, and that church officials had systematically covered up abuse. As the pope faces international pressure to address patterns of sexual abuse, Viganò might have felt it an opportune time to unleash the potentially damning accusations.
"We are a step away from schism," said Michael Sean Winters, a columnist for the National Catholic Reporter. "I think there is a perception among the pope's critics that there is vulnerability here — on the part of the pope and in the Vatican generally."

Still, some note that Viganò, who was removed from his post in 2016 by Francis amid controversies concerning his anti-gay stances and entanglement in the country's same-sex marriage debate, has unsuccessfully attempted to smear church leaders in the past with accusations that turned out to be unfounded.
Faggioli told Slate that in 2011 Viganò "was working in the institution that oversaw the governance of the Vatican city-state, and when he was told he was not going to become the president of the institution, and therefore not a cardinal, and be sent away from the Vatican, he became disgruntled and angry at the second in command, Cardinal Bertone, the right hand of Pope Benedict, and made other accusations against people working in the office he was in, and said they were guilty of conflicts of interests and so on. There was an investigation, and they found nothing that was credible."
Francis has yet to respond directly to the accusations but said the letter "speaks for itself."
To create wiser adults, add empathy to the school curriculum.
Sponsored by Charles Koch Foundation
Stories are at the heart of learning, writes Cleary Vaughan-Lee, Executive Director for the Global Oneness Project. They have always challenged us to think beyond ourselves, expanding our experience and revealing deep truths.
Vaughan-Lee explains 6 ways that storytelling can foster empathy and deliver powerful learning experiences.
Global Oneness Project is a free library of stories—containing short documentaries, photo essays, and essays—that each contain a companion lesson plan and learning activities for students so they can expand their experience of the world.
This is what the world will look like, 250 million years from now
On Pangaea Proxima, Lagos will be north of New York, and Cape Town close to Mexico City
Surprising Science
To us humans, the shape and location of oceans and continents seems fixed. But that's only because our lives are so short.
The future of education and work will rely on teaching students deeper problem-solving skills.
Future of Learning
Asking kids 'What do you want to be when you grow up?' is a question that used to make sense, says Jaime Casap. But it not longer does; the nature of automation and artificial intelligence means future jobs are likely to shift and reform many times over.
Instead, educators should foster a culture of problem solving. Ask children: What problem do you want to solve? And what talents or passions do you have that can be the avenues by which you solve it?
"[T]he future of education starts on Monday and then Tuesday and then Wednesday and it's constant and consistent and it's always growing, always improving, and if we create that culture I think that would bring us a long way," Casap says.
These Jurassic predators resorted to cannibalism when hit with hard times, according to a deliciously rare discovery.
Stephanie K. Drumheller et.al
Surprising Science
Rare fossil evidence of dinosaur cannibalism among the Allosaurus has been discovered.
Scientists analyzed dinosaur bones found in the Mygatt-Moore Quarry in western Colorado, paying special attention to bite marks that were present on 2,368 of the bones.
It's likely that the predatory carnivore only ate their already-dead peers during times when resources were scarce.
Personal Growth
As a doctor, I am reminded every day of the fragility of the human body, how closely mortality lurks just around the corner.
Scroll down to load more…