Study: Pasta isn't bad for you after all
An analysis of 32 randomized control studies showed that pasta, as part of a low-glycemic diet, didn't contribute to weight gain in participants.
10 May, 2018
The Mediterranean diet is widely considered one of the world's healthiest, thought to be the key reason why there are so many centenarians in places like the Italian village of Acciaroli. However, pasta, a staple of the Mediterranean diet, has been vilified in recent years thanks to low-carb diets like paleo and keto.
---
A new study suggests that's not quite justified, and that pasta can be part of a healthy diet that actually helps people lose weight.
Researchers at St. Michael's Hospital in Toronto, Canada examined 32 previous randomized control studies in which about 2,500 participants ate pasta as part of a low-glycemic index (GI) diet—in other words, they ate foods that increase blood sugar levels relatively slowly.
The results from those studies showed that eating pasta as part of that balanced diet didn't contribute to weight gain or increased fat levels. In fact, the average participant lost a little more than a pound over the course of the studies.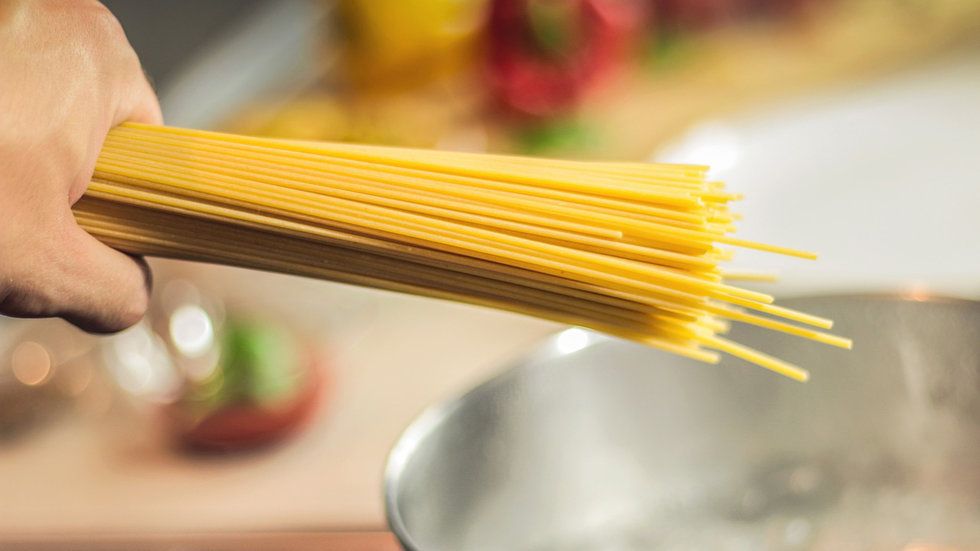 A clenched-fist-size portion of pasta usually amounts to one serving. (Image: Pixabay)
"In the context of weight, maintaining a healthy, balanced diet, in this case, a low-glycemic-index diet, (eating pasta) won't sabotage or undo your goals and may even help you achieve them in terms of your weight," lead study author John Sievenpiper told MSN.
That might seem strange, considering pasta is a processed food and a refined carbohydrate. But the processing that pasta undergoes actually leaves its starch less digestible—and more slowly absorbed by the body—than other processed foods. This causes you to feel full for longer, and hopefully helps you to stave off cravings for junk foods between meals.
"These results are important given the negative messages with which the public has been inundated regarding carbohydrates, messages which appear to be influencing their food choices, as evidenced by recent reductions in carbohydrate intake, especially in pasta intake," the authors wrote.
"So contrary to concerns, perhaps pasta can be part of a healthy diet such as a low GI diet," Sievenpiper said in a statement.
A low GI diet could also include most fruits and vegetables, beans, and nuts, while white bread, bagels, and cakes are all examples of high GI foods with sugars that are quickly absorbed and digested by the body.
Nichola Ludlam-Raine, a dietitian and spokesperson for the British Dietetic Association, told Newsweek that carbs aren't the devil—it just comes down to how you incorporate them into your diet.
"The reason why carbohydrates have a bad rep is that we tend to eat too much of them and then smother them in fat and sugar, i.e. extra calories. For example big bowls of cheesy pasta and sugary cereal. So it isn't carbohydrates per se that cause weight gain, it's the portion size in which we eat them and what we add to them that counts."
So instead of eating pasta smothered in red sauce and red meat, delicious as it may be, you could cook up an Italian favorite like spaghetti aglio e olio, which is pasta with olive oil, garlic, salt, parmesan cheese, and maybe a bit of parsley and red pepper.  
"It's not the amount of fats or carbs in your diet that matters, it's down to the overall quality and taking both into account matters," Ludlam-Raine said.
Don't underestimate the power of play when it comes to problem-solving.
Videos
As we get older, the work we consistently do builds "rivers of thinking." These give us a rich knowledge of a certain kind of area.
The problem with this, however, is that as those patterns get deeper, we get locked into them. When this happens it becomes a challenge to think differently — to break from the past and generate new ideas.
How do we get out of this rut? One way is to bring play and game mechanics into workshops. When we approach problem-solving from a perspective of fun, we lose our fear of failure, allowing us to think boldly and overcome built patterns.
Controversial map names CEOs of 100 companies producing 71 percent of the world's greenhouse gas emissions.
Image: Jordan Engel, reused via Decolonial Media License 0.1
Strange Maps
Just 100 companies produce 71 percent of the world's greenhouse gases.
This map lists their names and locations, and their CEOs.
The climate crisis may be too complex for these 100 people to solve, but naming and shaming them is a good start.
The surprising results come from a new GLAAD survey.
Culture & Religion
The survey found that 18- to 34-year-old non-LGBTQ Americans reported feeling less comfortable around LGBTQ people in a variety of hypothetical situations.
The attitudes of older non-LGBTQ Americans have remained basically constant over the past few years.
Overall, about 80 percent of Americans support equal rights for LGBTQ people.
Big think's weekly newsletter.
Get smarter faster from the comfort of your inbox.
See our newsletter privacy policy
here
Most Popular
Most Recent
Big think's weekly newsletter.
Get smarter faster from the comfort of your inbox.
See our newsletter privacy policy
here
© Copyright 2007-2019 & BIG THINK, BIG THINK EDGE,
SMARTER FASTER trademarks owned by The Big Think, Inc. All rights reserved.