New study on women who watched 'The X-Files' backs up 'Scully Effect'
What is the Scully Effect? It's no coincidence that female fans of 'The X-Files' are inspired to choose careers in STEM fields.
20 April, 2018
---
Gillian Anderson and David Duchovny never expected "The X-Files" to be a hit when it first aired in 1993. But what was perhaps more surprising to Anderson was the impact her character Dana Scully—a sharp, skeptical medical doctor turned FBI agent—would have on female fans of the show.
It's known as the "Scully Effect," and it describes how many women have cited the character as inspiration for their decision to enter careers in science, medicine, or law enforcement.
"We got a lot of letters all the time, and I was told quite frequently by girls who were going into the medical world or the science world or the FBI world or other worlds that I reigned, that they were pursuing those pursuits because of the character of Scully," Anderson told a crowd at the 2013 San Diego Comic-Con International. "And I said, 'Yay!'"
Now, a new report brings some data to back up the claim.
The Geena Davis Institute on Gender in Media, a nonprofit research organization and advocacy group, and 21st Century Fox conducted an online survey that asked 2,021 women to rate how the character Dana Scully influenced their career choices and attitudes. The survey respondents were all female, all ages 25 or older (so they would have had a chance to enter the workforce, and have seen the show), and comprised an overrepresentation of women in STEM fields and fans of the show.
The results showed:
About one-third (29%) of respondents were aged 25 to 39, while the remainder (71%) were aged 40 or older.
Roughly half (49%) of the sample studied a STEM field in college, or currently works in STEM.
Two-thirds of respondents (68%) had seen at least one episode of The X-Files, which speaks to the show's wide reach
Nearly two-thirds (63%) of women who are familiar with Dana Scully say she increased their belief in the importance of STEM
Among women who are familiar with Scully's character, half (50%) say Scully increased their interest in STEM.
Among women who are familiar with Scully's character, 91% say she is a role model for girls and women
Among women who are familiar with Scully's character, 63% say Scully increased their confidence that they could excel in a male-dominated profession.
Nearly two-thirds (63%) of women that work in STEM say Dana Scully served as their role model
Anderson and other female writers described the Scully Effect in a video after the report was released.
The report also included a word cloud featuring the most frequently cited words respondents used to describe Sully.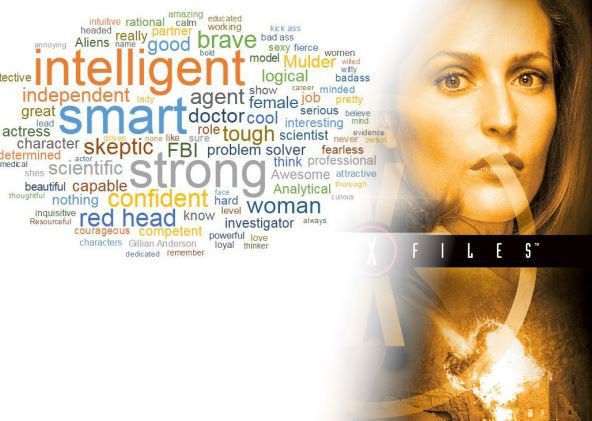 Madeline Di Nonno, CEO of the Geena Davis Institute on Gender in Media, talked about the power of representation in media."Characters' images and storylines in media shape our everyday lives in very profound ways. In the case of 'The Scully Effect,' it shows that when, in media, we have non-traditional roles for women and girls it helps them envision these pathways for themselves," she said in a statement. 

"When you look back at the 1990s, Scully was a woman who had not yet been depicted in TV, and as a result of that influenced generations of women and girls to go into the field to science. We hope that sends a message to storytellers to tell these stories because it does have a really positive impact on our society."
Lumina Foundation is partnering with Big Think to unearth the next large-scale, rapid innovation in post-high school education. Enter the competition here!
Musican. Actor. Fashion Icon. Internet Visionary?
Technology & Innovation
David Bowie was well known as a rock star, but somehow his other interests and accomplishments remain obscure.
In this 1999 interview, he explains why he knows the internet is more than just a tool and why it was destined to change the world.
He launched his own internet service provider in 1998, BowieNet. It ceased operations in 2006.
Moans, groans, and gripes release stress hormones in the brain.
popular
Could you give up complaining for a whole month? That's the crux of this interesting piece by Jessica Hullinger over at Fast Company. Hullinger explores the reasons why humans are so predisposed to griping and why, despite these predispositions, we should all try to complain less. As for no complaining for a month, that was the goal for people enrolled in the Complaint Restraint project.
Participants sought to go the entirety of February without so much as a moan, groan, or bellyache.
Good science is sometimes trumped by the craving for a "big splash."
Videos
Scientists strive to earn credit from their peers, for grants from federal agencies, and so a lot of the decisions that they make are strategic in nature. They're encouraged to publish exciting new findings that demonstrate some new phenomenon that we have never seen before.
This professional pressure can affect their decision-making — to get acclaim they may actually make science worse. That is, a scientist might commit fraud if he thinks he can get away with it or a scientist might rush a result out of the door even though it hasn't been completely verified in order to beat the competition.
On top of the acclaim of their peers, scientists — with the increasing popularity of science journalism — are starting to be rewarded for doing things that the public is interested in. The good side of this is that the research is more likely to have a public impact, rather than be esoteric. The bad side? To make a "big splash" a scientist may push a study or article that doesn't exemplify good science.
Big think's weekly newsletter.
Get smarter faster from the comfort of your inbox.
See our newsletter privacy policy
here
Most Popular
Most Recent
Big think's weekly newsletter.
Get smarter faster from the comfort of your inbox.
See our newsletter privacy policy
here
© Copyright 2007-2018 & BIG THINK, BIG THINK EDGE,
SMARTER FASTER trademarks owned by The Big Think, Inc. All rights reserved.