New study on women who watched 'The X-Files' backs up 'Scully Effect'
What is the Scully Effect? It's no coincidence that female fans of 'The X-Files' are inspired to choose careers in STEM fields.
20 April, 2018
---
Gillian Anderson and David Duchovny never expected "The X-Files" to be a hit when it first aired in 1993. But what was perhaps more surprising to Anderson was the impact her character Dana Scully—a sharp, skeptical medical doctor turned FBI agent—would have on female fans of the show.
It's known as the "Scully Effect," and it describes how many women have cited the character as inspiration for their decision to enter careers in science, medicine, or law enforcement.
"We got a lot of letters all the time, and I was told quite frequently by girls who were going into the medical world or the science world or the FBI world or other worlds that I reigned, that they were pursuing those pursuits because of the character of Scully," Anderson told a crowd at the 2013 San Diego Comic-Con International. "And I said, 'Yay!'"
Now, a new report brings some data to back up the claim.
The Geena Davis Institute on Gender in Media, a nonprofit research organization and advocacy group, and 21st Century Fox conducted an online survey that asked 2,021 women to rate how the character Dana Scully influenced their career choices and attitudes. The survey respondents were all female, all ages 25 or older (so they would have had a chance to enter the workforce, and have seen the show), and comprised an overrepresentation of women in STEM fields and fans of the show.
The results showed:
About one-third (29%) of respondents were aged 25 to 39, while the remainder (71%) were aged 40 or older.
Roughly half (49%) of the sample studied a STEM field in college, or currently works in STEM.
Two-thirds of respondents (68%) had seen at least one episode of The X-Files, which speaks to the show's wide reach
Nearly two-thirds (63%) of women who are familiar with Dana Scully say she increased their belief in the importance of STEM
Among women who are familiar with Scully's character, half (50%) say Scully increased their interest in STEM.
Among women who are familiar with Scully's character, 91% say she is a role model for girls and women
Among women who are familiar with Scully's character, 63% say Scully increased their confidence that they could excel in a male-dominated profession.
Nearly two-thirds (63%) of women that work in STEM say Dana Scully served as their role model
Anderson and other female writers described the Scully Effect in a video after the report was released.
The report also included a word cloud featuring the most frequently cited words respondents used to describe Sully.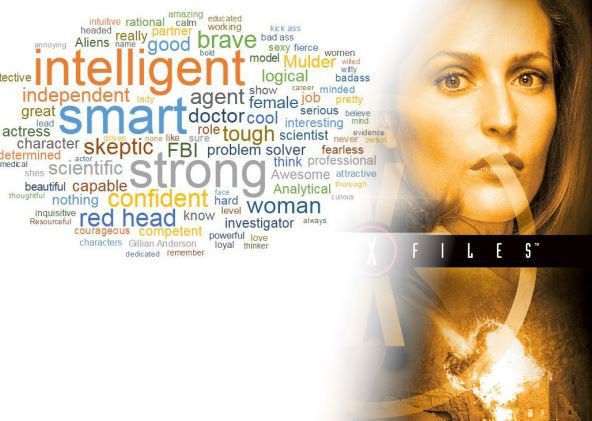 Madeline Di Nonno, CEO of the Geena Davis Institute on Gender in Media, talked about the power of representation in media."Characters' images and storylines in media shape our everyday lives in very profound ways. In the case of 'The Scully Effect,' it shows that when, in media, we have non-traditional roles for women and girls it helps them envision these pathways for themselves," she said in a statement. 

"When you look back at the 1990s, Scully was a woman who had not yet been depicted in TV, and as a result of that influenced generations of women and girls to go into the field to science. We hope that sends a message to storytellers to tell these stories because it does have a really positive impact on our society."
Related Articles
These modern-day hermits can sometimes spend decades without ever leaving their apartments.
700,000 Japanese people are thought to be hikikomori, modern-day hermits who never leave their apartments (BEHROUZ MEHRI/AFP/Getty Images).
Mind & Brain
A hikikomori is a type of person in Japan who locks themselves away in their bedrooms, sometimes for years.
This is a relatively new phenomenon in Japan, likely due to rigid social customs and high expectations for academic and business success.
Many believe hikikomori to be a result of how Japan interprets and handles mental health issues.
How a cataclysm worse than what killed the dinosaurs destroyed 90 percent of all life on Earth.
Credit: Ron Miller
Surprising Science
While the demise of the dinosaurs gets more attention as far as mass extinctions go, an even more disastrous event called "the Great Dying" or the "End-Permian Extinction" happened on Earth prior to that. Now scientists discovered how this cataclysm, which took place about 250 million years ago, managed to kill off more than 90 percent of all life on the planet.
A new study discovers the "liking gap" — the difference between how we view others we're meeting for the first time, and the way we think they're seeing us.
New acquaintances probably like you more than you think. (Photo by Simone Joyner/Getty Images)
Surprising Science
We tend to be defensive socially. When we meet new people, we're often concerned with how we're coming off. Our anxiety causes us to be so concerned with the impression we're creating that we fail to notice that the same is true of the other person as well. A new study led by Erica J. Boothby, published on September 5 in Psychological Science, reveals how people tend to like us more in first encounters than we'd ever suspect.
Big think's weekly newsletter.
Get smarter faster from the comfort of your inbox.
See our newsletter privacy policy
here
Most Popular
Most Recent
Big think's weekly newsletter.
Get smarter faster from the comfort of your inbox.
See our newsletter privacy policy
here
© Copyright 2007-2018 & BIG THINK, BIG THINK EDGE,
SMARTER FASTER trademarks owned by The Big Think, Inc. All rights reserved.