Scientists Discover The "Master Controller" Neuron of Good and Bad Habits
The discovery of a neuron in the brain that acts as the "master controller" of habits could someday change the way we treat addiction and compulsive behaviors.
25 September, 2017
---
Scientists at Duke University have identified a neuron that acts as the "master controller" of habits. The findings, published in the journal eLife, could someday change the ways addiction and compulsive behavior are treated.
The "master controller" of habit appears to be a rare cell called the fast-spiking interneuron (FSI), which shows boosted activity during habit formation and, interestingly, seems to shut down habit behaviors when suppressed by drugs. 
FSIs, which belong to a class of neuron that relays messages between other neurons, are found in a region deep within the brain called the striatum. Here, FSIs make up only 1 percent of cells, but they have long branch-like tendrils that allow them to connect with 95 percent of the other neurons associated with habitual behavior.
"This cell is a relatively rare cell but one that is very heavily connected to the main neurons that relay the outgoing message for this brain region," said Nicole Calakos, an associate professor of neurology and neurobiology at the Duke University Medical Center, to Duke News. "We find that this cell is a master controller of habitual behavior, and it appears to do this by re-orchestrating the message sent by the outgoing neurons."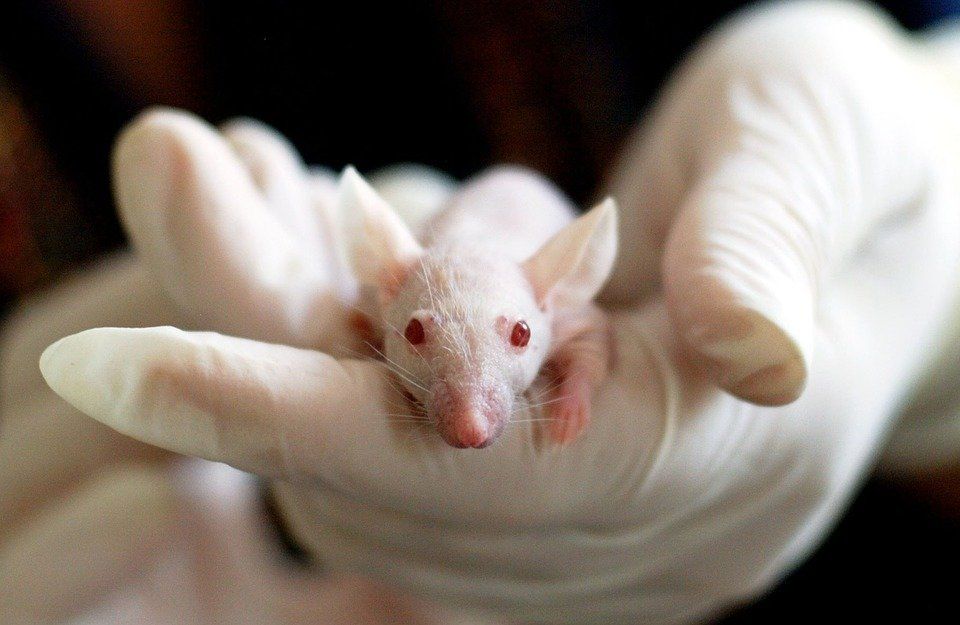 It's been known that habit formation can effectively rewire the brain, but exactly which neurons cause and control this process has been unclear. The team behind the new study wanted to change that.
"We were trying to put these pieces of the puzzle into a mechanism," Calakos said.
In 2016, the Duke University researchers published their first insights into habit and its effects on the brain. They found that habit formation in mice resulted in long-lasting changes in the striatum, which has two sets of neural pathways: a "go" pathway that triggers action, and a "stop" pathway that inhibits it.
The results showed habit formation made both of these pathways stronger, and also caused the "go" pathway to fire before the "stop" pathway.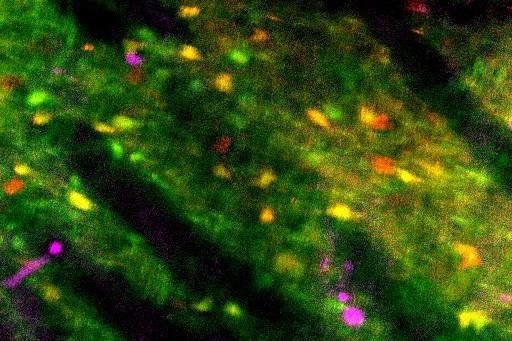 A magnified view of the striatum of a mouse brain, fast-spiking interneuron in purple. Credit: Justin O'Hare, Duke University
Still, they weren't quite sure which neurons were effectively running the show in the striatum. To find out, the researchers, led by graduate student Justin O'Hare, first observed that FSIs become more excitable when a habit is formed. Then they administered a drug to habituated mice that suppresses the firing of FSIs. The results? The "stop" and "go" pathways in the striatum reverted to "pre-habit" patterns, and their habit behaviors vanished.
"Some harmful behaviors like compulsion and addiction in humans might involve corruption of the normally adaptive habit-learning mechanisms." Calakos said. "Understanding the neurological mechanisms underlying our habits may inspire new ways to treat these conditions."
"I firmly believe that to develop new therapies to help people, we need to understand how the brain normally works, and then compare it to what the 'broken' brain looks like." 
Research in plant neurobiology shows that plants have senses, intelligence and emotions.
Getty Images
Surprising Science
The field of plant neurobiology studies the complex behavior of plants.
Plants were found to have 15-20 senses, including many like humans.
Some argue that plants may have awareness and intelligence, while detractors persist.
E-cigarettes may be safer than traditional cigarettes, but they come with their own risks.
Surprising Science
A new study used an MRI machine to examine how vaping e-cigarettes affects users' cardiovascular systems immediately after inhalation.
The results showed that vaping causes impaired circulation, stiffer arteries and less oxygen in their blood.
The new study adds to a growing body of research showing that e-cigarettes – while likely safer than traditional cigarettes – are far from harmless.
Since the idea of locality is dead, space itself may not be an aloof vacuum: Something welds things together, even at great distances.

Videos
Realists believe that there is an exactly understandable way the world is — one that describes processes independent of our intervention. Anti-realists, however, believe realism is too ambitious — too hard. They believe we pragmatically describe our interactions with nature — not truths that are independent of us.
In nature, properties of Particle B may be depend on what we choose to measure or manipulate with Particle A, even at great distances.
In quantum mechanics, there is no explanation for this. "It just comes out that way," says Smolin. Realists struggle with this because it would imply certain things can travel faster than light, which still seems improbable.