Scientists Discover The "Master Controller" Neuron of Good and Bad Habits
The discovery of a neuron in the brain that acts as the "master controller" of habits could someday change the way we treat addiction and compulsive behaviors.
25 September, 2017
---
Scientists at Duke University have identified a neuron that acts as the "master controller" of habits. The findings, published in the journal eLife, could someday change the ways addiction and compulsive behavior are treated.
The "master controller" of habit appears to be a rare cell called the fast-spiking interneuron (FSI), which shows boosted activity during habit formation and, interestingly, seems to shut down habit behaviors when suppressed by drugs. 
FSIs, which belong to a class of neuron that relays messages between other neurons, are found in a region deep within the brain called the striatum. Here, FSIs make up only 1 percent of cells, but they have long branch-like tendrils that allow them to connect with 95 percent of the other neurons associated with habitual behavior.
"This cell is a relatively rare cell but one that is very heavily connected to the main neurons that relay the outgoing message for this brain region," said Nicole Calakos, an associate professor of neurology and neurobiology at the Duke University Medical Center, to Duke News. "We find that this cell is a master controller of habitual behavior, and it appears to do this by re-orchestrating the message sent by the outgoing neurons."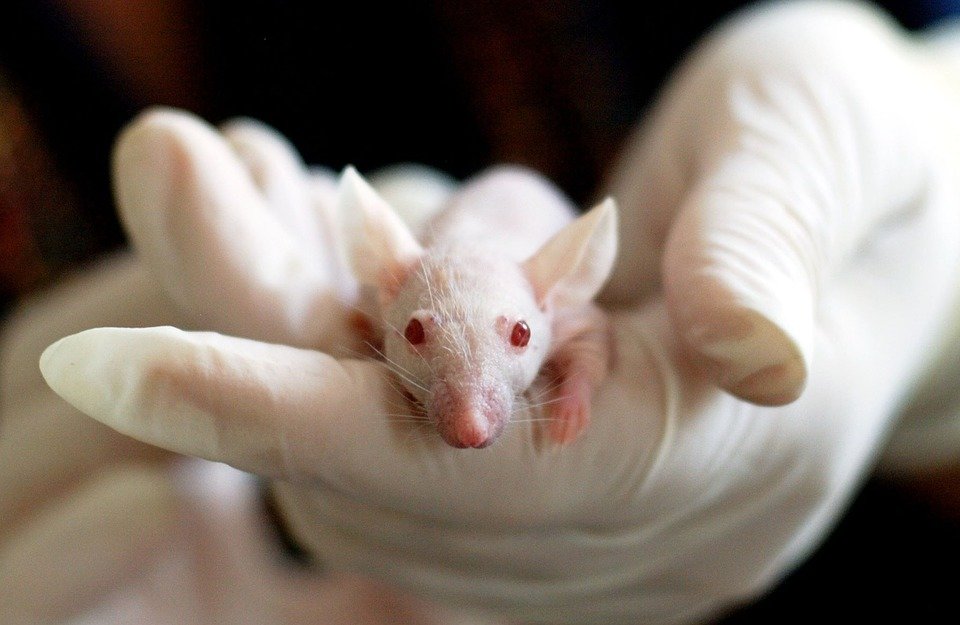 It's been known that habit formation can effectively rewire the brain, but exactly which neurons cause and control this process has been unclear. The team behind the new study wanted to change that.
"We were trying to put these pieces of the puzzle into a mechanism," Calakos said.
In 2016, the Duke University researchers published their first insights into habit and its effects on the brain. They found that habit formation in mice resulted in long-lasting changes in the striatum, which has two sets of neural pathways: a "go" pathway that triggers action, and a "stop" pathway that inhibits it.
The results showed habit formation made both of these pathways stronger, and also caused the "go" pathway to fire before the "stop" pathway.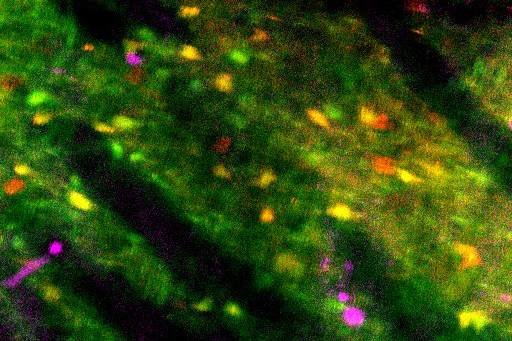 A magnified view of the striatum of a mouse brain, fast-spiking interneuron in purple. Credit: Justin O'Hare, Duke University
Still, they weren't quite sure which neurons were effectively running the show in the striatum. To find out, the researchers, led by graduate student Justin O'Hare, first observed that FSIs become more excitable when a habit is formed. Then they administered a drug to habituated mice that suppresses the firing of FSIs. The results? The "stop" and "go" pathways in the striatum reverted to "pre-habit" patterns, and their habit behaviors vanished.
"Some harmful behaviors like compulsion and addiction in humans might involve corruption of the normally adaptive habit-learning mechanisms." Calakos said. "Understanding the neurological mechanisms underlying our habits may inspire new ways to treat these conditions."
"I firmly believe that to develop new therapies to help people, we need to understand how the brain normally works, and then compare it to what the 'broken' brain looks like." 
A federal judge ruled that the Trump administration likely violated the reporter's Fifth Amendment rights when it stripped his press credentials earlier this month.
WASHINGTON, DC - NOVEMBER 16: CNN chief White House correspondent Jim Acosta (R) returns to the White House with CNN Washington bureau chief Sam Feist after Federal judge Timothy J. Kelly ordered the White House to reinstate his press pass November 16, 2018 in Washington, DC. CNN has filed a lawsuit against the White House after Acosta's press pass was revoked after a dispute involving a news conference last week. (Photo by Alex Wong/Getty Images)
Politics & Current Affairs
Acosta will be allowed to return to the White House on Friday.
The judge described the ruling as narrow, and didn't rule one way or the other on violations of the First Amendment.
The case is still open, and the administration may choose to appeal the ruling.
Progressive America would be half as big, but twice as populated as its conservative twin.
Image: Dicken Schrader
Strange Maps
America's two political tribes have consolidated into 'red' and 'blue' nations, with seemingly irreconcilable differences.
Perhaps the best way to stop the infighting is to go for a divorce and give the two nations a country each
Based on the UN's partition plan for Israel/Palestine, this proposal provides territorial contiguity and sea access to both 'red' and 'blue' America
New research identifies an unexpected source for some of earth's water.
Surprising Science
A lot of Earth's water is asteroidal in origin, but some of it may come from dissolved solar nebula gas.
Our planet hides majority of its water inside: two oceans in the mantle and 4–5 in the core.
New reason to suspect that water is abundant throughout the universe.
Big think's weekly newsletter.
Get smarter faster from the comfort of your inbox.
See our newsletter privacy policy
here
Most Popular
Most Recent
Big think's weekly newsletter.
Get smarter faster from the comfort of your inbox.
See our newsletter privacy policy
here
© Copyright 2007-2018 & BIG THINK, BIG THINK EDGE,
SMARTER FASTER trademarks owned by The Big Think, Inc. All rights reserved.