Scientists Discover The "Master Controller" Neuron of Good and Bad Habits
The discovery of a neuron in the brain that acts as the "master controller" of habits could someday change the way we treat addiction and compulsive behaviors.
25 September, 2017
---
Scientists at Duke University have identified a neuron that acts as the "master controller" of habits. The findings, published in the journal eLife, could someday change the ways addiction and compulsive behavior are treated.
The "master controller" of habit appears to be a rare cell called the fast-spiking interneuron (FSI), which shows boosted activity during habit formation and, interestingly, seems to shut down habit behaviors when suppressed by drugs. 
FSIs, which belong to a class of neuron that relays messages between other neurons, are found in a region deep within the brain called the striatum. Here, FSIs make up only 1 percent of cells, but they have long branch-like tendrils that allow them to connect with 95 percent of the other neurons associated with habitual behavior.
"This cell is a relatively rare cell but one that is very heavily connected to the main neurons that relay the outgoing message for this brain region," said Nicole Calakos, an associate professor of neurology and neurobiology at the Duke University Medical Center, to Duke News. "We find that this cell is a master controller of habitual behavior, and it appears to do this by re-orchestrating the message sent by the outgoing neurons."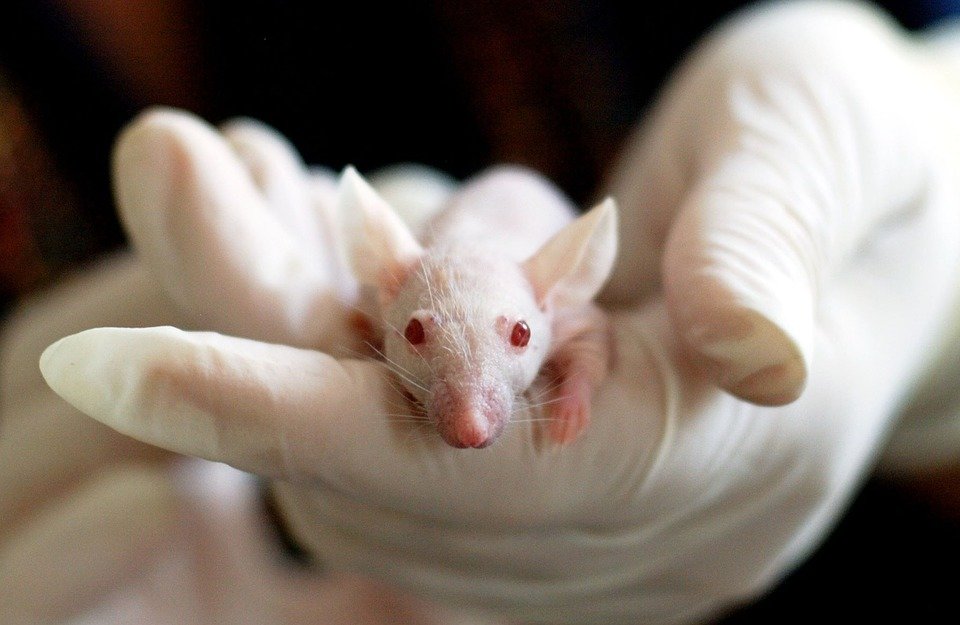 It's been known that habit formation can effectively rewire the brain, but exactly which neurons cause and control this process has been unclear. The team behind the new study wanted to change that.
"We were trying to put these pieces of the puzzle into a mechanism," Calakos said.
In 2016, the Duke University researchers published their first insights into habit and its effects on the brain. They found that habit formation in mice resulted in long-lasting changes in the striatum, which has two sets of neural pathways: a "go" pathway that triggers action, and a "stop" pathway that inhibits it.
The results showed habit formation made both of these pathways stronger, and also caused the "go" pathway to fire before the "stop" pathway.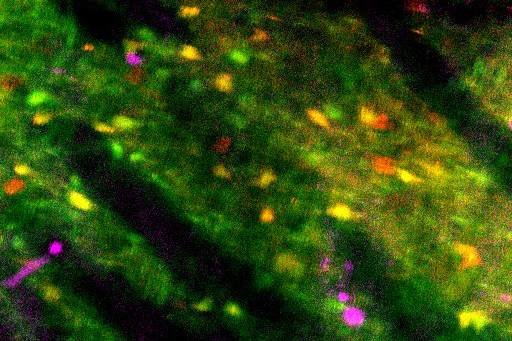 A magnified view of the striatum of a mouse brain, fast-spiking interneuron in purple. Credit: Justin O'Hare, Duke University
Still, they weren't quite sure which neurons were effectively running the show in the striatum. To find out, the researchers, led by graduate student Justin O'Hare, first observed that FSIs become more excitable when a habit is formed. Then they administered a drug to habituated mice that suppresses the firing of FSIs. The results? The "stop" and "go" pathways in the striatum reverted to "pre-habit" patterns, and their habit behaviors vanished.
"Some harmful behaviors like compulsion and addiction in humans might involve corruption of the normally adaptive habit-learning mechanisms." Calakos said. "Understanding the neurological mechanisms underlying our habits may inspire new ways to treat these conditions."
"I firmly believe that to develop new therapies to help people, we need to understand how the brain normally works, and then compare it to what the 'broken' brain looks like." 
NASA astronomer Michelle Thaller is coming back to Big Think to answer YOUR questions! Here's all you need to know to submit your science-related inquiries.
Videos
Big Think's amazing audience has responded so well to our videos from NASA astronomer and Assistant Director for Science Communication Michelle Thaller that we couldn't wait to bring her back for more!

And this time, she's ready to tackle any questions you're willing to throw at her, like, "How big is the Universe?", "Am I really made of stars?" or, "How long until Elon Musk starts a colony on Mars?"
All you have to do is submit your questions to the form below, and we'll use them for an upcoming Q+A session with Michelle. You know what to do, Big Thinkers!
Lumina Foundation is partnering with Big Think to unearth the next large-scale, rapid innovation in post-high school education. Enter the competition here!
A parlor-trick mystery explained at last.
Slepkov, et al
Surprising Science
Two grape halves heated in a microwave produce light-emitting ionized gas, or plasma.
The grapes collect and trap microwaves whose energy eventually bursts outward.
The discovery could lead to passive microwave antennas.
Why do people buy into stories that are clearly lies? Hannah Arendt can help us understand.
(Photo: JACK GUEZ/AFP/Getty Images)
Politics & Current Affairs
People who don't believe facts or news that disagree with their worldviews can be impossible to deal with, and boy there are a lot of them lately.
Hannah Arendt tells us this isn't all new; it happened before around 1936.
It isn't easy to convince a person who has given up on facts that they really should face reality again, but it can be done.
The plan to stop megacorps from owning superintelligence is already underway.
Videos
A.I. technology is often developed within the proprietary silos of big tech companies. What if there was an open, decentralized hub for A.I. developers to share their creations? Enter SingularityNET.
The many A.I.s in the network could compete with each other to provide services for users but they could also cooperate, giving way to an emergent-level mind: artificial general intelligence.
SingularityNET is powered by blockchain technology, meaning whatever 'digital organism' emerges will not be owned or controlled by any one person, company or government.
Big think's weekly newsletter.
Get smarter faster from the comfort of your inbox.
See our newsletter privacy policy
here
Most Popular
Most Recent
Big think's weekly newsletter.
Get smarter faster from the comfort of your inbox.
See our newsletter privacy policy
here
© Copyright 2007-2018 & BIG THINK, BIG THINK EDGE,
SMARTER FASTER trademarks owned by The Big Think, Inc. All rights reserved.