Scientists are trying revive woolly mammoth DNA to fight climate change
Scientists are investigating whether it's possible to give modern elephants an ancient boost by reviving woolly mammoth DNA—all to curb climate change.
17 May, 2018
---
Scientists are investigating whether it's possible to give modern elephants an ancient boost by reviving woolly mammoth DNA—all to curb climate change.
The ideal outcome for the scientists would be to genetically engineer elephants that are very similar to Asian elephants of today, but with the added ability to withstand colder temperatures, like the woolly mammoths that died out some 4,000 years ago. Doing so would give the endangered elephants, of which there are an estimated 35,000 to 40,000 on the planet, a greater chance of survival.
It could also help mitigate the effects of climate change. That's because there's a huge amount of carbon—1,400 gigatons—trapped in the permafrost located in the northern regions of the planet, and rising temperatures could melt the permafrost, resulting in the rapid release of carbon into the atmosphere.
Perhaps surprisingly, woolly mammoths were quite good at keeping the ground cool.
"The elephants that lived in the past — and elephants possibly in the future — knocked down trees and allowed the cold air to hit the ground and keep the cold in the winter, and they helped the grass grow and reflect the sunlight in the summer," George Church, a Harvard and MIT geneticist who is heading the Harvard Woolly Mammoth Revival team, told Live Science at the 2018 Liberty Science Center Genius Gala. "Those two [factors] combined could result in a huge cooling of the soil and a rich ecosystem."
Without woolly mammoths, trees grow tall and a fluffy blanket of snow actually warms the permafrost.
"Fluffy snow is like a down blanket keeping the warm summer soil away from the -40 degree winter winds," Church told Live Science.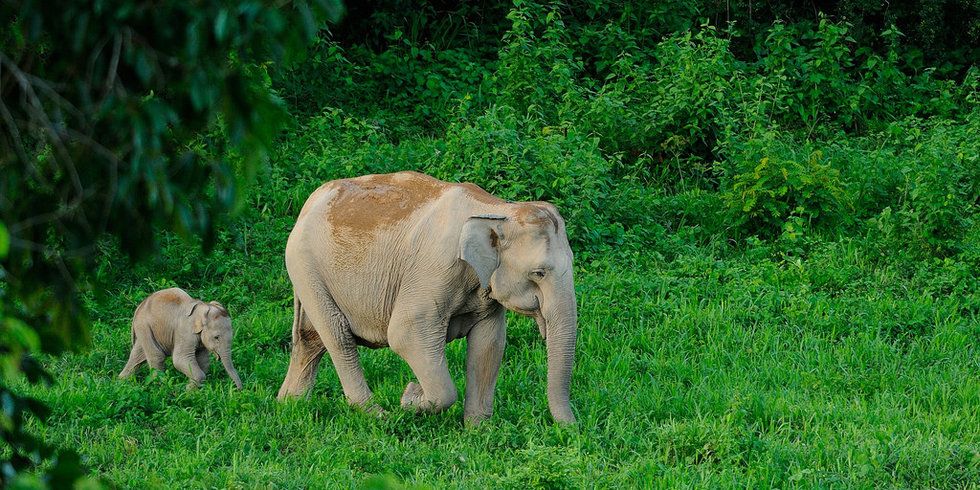 Asian elephants. Image: tontantravel
Today's Asian elephants wouldn't be able to survive in the "mammoth steppe," a massive swath of cold, dry land that stretched across northern parts of globe where mammoths used to roam. But if scientists can successfully use gene-editing systems like CRISPR to introduce woolly mammoth genes to elephants, that might change.
"It could just be 44 genes [that] might be sufficient to make them adapted again to the cold," Church told Live Science.
Due to ethical concerns, scientists would need to develop the elephant-mammoth hybrid in the lab instead of implanting embryos in live elephants. It would be a long and gradual process. First, scientists would need to develop hybrid cells, then specialized tissues, and, if successful, they'd eventually attempt to grow a modified elephant in an artificial womb.
In the meantime, the world's permafrost will continue to melt at a relatively rapid pace. An annual report released by the National Oceanic and Atmospheric Administration in December 2017 showed that northern regions of the planet are warming twice as fast as the rest of the world.
"What happens in the Arctic doesn't stay in the Arctic; it affects the rest of the planet," said acting NOAA chief Timothy Gallaudet. "The Arctic has huge influence on the world at large."
What can 3D printing do for medicine? The "sky is the limit," says Northwell Health researcher Dr. Todd Goldstein.
Northwell Health
Sponsored by Northwell Health
Medical professionals are currently using 3D printers to create prosthetics and patient-specific organ models that doctors can use to prepare for surgery.
Eventually, scientists hope to print patient-specific organs that can be transplanted safely into the human body.
Northwell Health, New York State's largest health care provider, is pioneering 3D printing in medicine in three key ways.
Mega-rich entrepreneurs are taking us where no human being has gone before.
Videos
During the first golden era of space exploration, we went to the moon. Then we sort of dropped the ball for 50 years.
The problem is space travel is very expensive, especially the way governments do space travel.
Because it costs $10,000 to put a pound of anything into orbit around the planet, we need to have an infusion of public and private funds. That's where billionaires such as Elon Musk and Jeff Bezos come into the picture. With their help, we have new energies, new strategies, and new plans to go back into outer space.
If you don't want to know anything about your death, consider this your spoiler warning.
Culture & Religion
For centuries cultures have personified death to give this terrifying mystery a familiar face.
Modern science has demystified death by divulging its biological processes, yet many questions remain.
Studying death is not meant to be a morbid reminder of a cruel fate, but a way to improve the lives of the living.
Cook's commencement speech at Tulane University urges students to take action.
Getty Images
Technology & Innovation
Apple CEO Tim Cook gave a commencement speech at Tulane University on May 18th.
Cook cautioned the graduates to not get caught up in echo chambers and algorithms.
He acknowledged the failures of his generation.
Big think's weekly newsletter.
Get smarter faster from the comfort of your inbox.
See our newsletter privacy policy
here
Most Popular
Most Recent
Big think's weekly newsletter.
Get smarter faster from the comfort of your inbox.
See our newsletter privacy policy
here
© Copyright 2007-2019 & BIG THINK, BIG THINK EDGE,
SMARTER FASTER trademarks owned by The Big Think, Inc. All rights reserved.