Poll shows 66% of Brits couldn't care less about royal wedding
Millions will watch on Saturday as Prince Harry marries retired American actress Meghan Markle, but a new poll suggests most Brits aren't interested in the affair.
15 May, 2018
---
The upcoming royal wedding on Saturday is generating countless headlines and millions are expected to watch it live. But a new poll suggests most Brits couldn't care less.
A YouGov poll, commissioned by anti-monarchist group Republic, shows that 66 percent of Brits aren't interested in the event, and 60 percent plan to have a regular weekend as Prince Harry marries retired American actress Meghan Markle at St George's Chapel in Windsor Castle, a spectacle that's expected to be covered by 5,000 media staff and attended by about 100,000 people.
The polls also shows that 57 percent of Brits think the royal couple, not taxpayers, should pay for security and police to work the event. The government has already provided a $4.8 million grant for police overtime alone, and costs will surely exceed that, considering about $32 million went to security at Prince William and Kate Middleton's wedding in 2011, according to CBS News.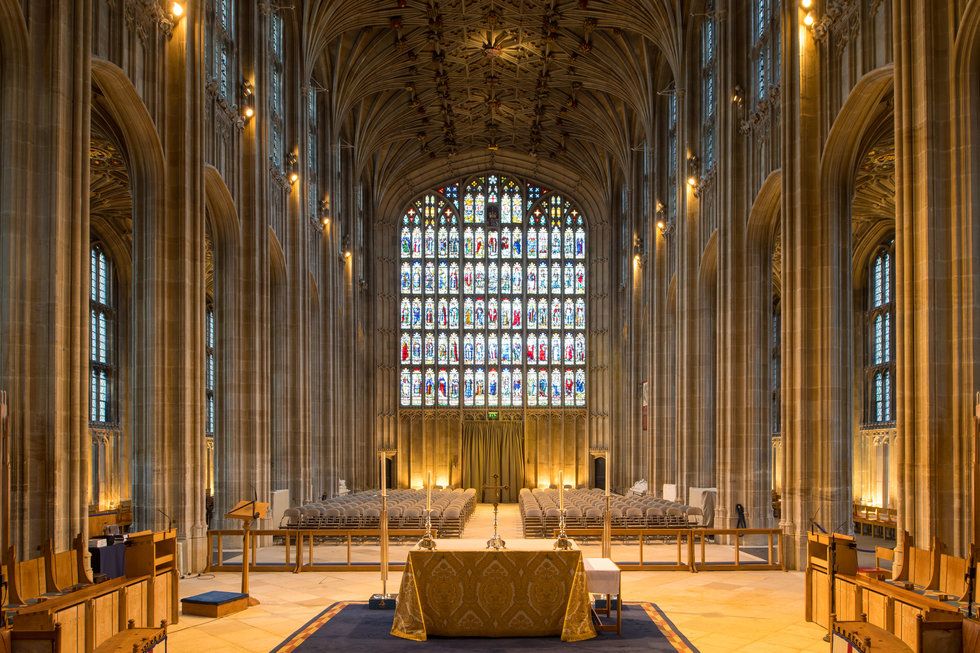 St George's Chapel. (Photo credit should read DOMINIC LIPINSKI/AFP/Getty Images)
Compared to the 2011 royal wedding, Brits are planning relatively few celebrations for Saturday. The Independent reports that many areas are expected to see a sharp drop in street parties compared to 2011, judging by the number of road closure applications city officials have received so far.
Still, an opinion poll published last week shows most Brits support the monarchy continuing, though pride for the royal family seems to be stronger among older people. Royal support also depends on personality. About half of the respondents to the YouGov poll said they'd prefer someone other than Prince Charles to succeed the queen, while 37 percent were fans of the prince.
"This YouGov poll shows a very clear picture of a nation disinterested and apathetic about the royal family," Graham Smith, chief executive of Republic, said. "We're not a nation of republicans yet—but we've stopped being a nation of royalists."
In addition to the public picking up a chunk of the wedding tab, the royal family still enjoys some other questionable, centuries-old luxuries.
"A monarchy is profoundly anti-democratic, both in definition and accountability," wrote Jacob Shamsian at INSIDER. "The royal family and their major estates—the Duchy of Lancaster and the Duchy of Cornwall—aren't required to pay any taxes even though they obviously benefit from public funds. If they pay taxes voluntarily, they aren't audited. They're also beyond the reach of freedom of information laws."
What can 3D printing do for medicine? The "sky is the limit," says Northwell Health researcher Dr. Todd Goldstein.
Northwell Health
Sponsored by Northwell Health
Medical professionals are currently using 3D printers to create prosthetics and patient-specific organ models that doctors can use to prepare for surgery.
Eventually, scientists hope to print patient-specific organs that can be transplanted safely into the human body.
Northwell Health, New York State's largest health care provider, is pioneering 3D printing in medicine in three key ways.
Neuroscience is working to conquer some of the human body's cruelest conditions: Paralysis, brain disease, and schizophrenia.
Videos
Neuroscience and engineering are uniting in mind-blowing ways that will drastically improve the quality of life for people with conditions like epilepsy, paralysis or schizophrenia.
Researchers have developed a brain-computer interface the size of a baby aspirin that can restore mobility to people with paralysis or amputated limbs. It rewires neural messages from the brain's motor cortex to a robotic arm, or reroutes it to the person's own muscles.
Deep brain stimulation is another wonder of neuroscience that can effectively manage brain conditions like epilepsy, Parkinson's, and may one day mitigate schizophrenia so people can live normal, independent lives.
As Game of Thrones ends, a revealing resolution to its perplexing geography.
Strange Maps
The fantasy world of Game of Thrones was inspired by real places and events.
But the map of Westeros is a good example of the perplexing relation between fantasy and reality.
Like Britain, it has a Wall in the North, but the map only really clicks into place if you add Ireland.
A recent study gives new meaning to the saying "fake it 'til you make it."
Pixabay
Surprising Science
The study involves four experiments that measured individuals' socioeconomic status, overconfidence and actual performance.
Results consistently showed that high-class people tend to overestimate their abilities.
However, this overconfidence was misinterpreted as genuine competence in one study, suggesting overestimating your abilities can have social advantages.
Big think's weekly newsletter.
Get smarter faster from the comfort of your inbox.
See our newsletter privacy policy
here
Most Popular
Most Recent
Big think's weekly newsletter.
Get smarter faster from the comfort of your inbox.
See our newsletter privacy policy
here
© Copyright 2007-2019 & BIG THINK, BIG THINK EDGE,
SMARTER FASTER trademarks owned by The Big Think, Inc. All rights reserved.
//This will actually fire event. Should be called after consent was verifed