Wider-faced politicians are seen as more corrupt
New research offers a tip for politicians who don't want to be seen as corrupt: don't get a big head.
13 September, 2018
New research offers a tip for politicians who don't want to be seen as corrupt: don't get a big head.
A new study showed people photos of politicians and asked them to rate how corruptible each seemed.
The results were published this week in Psychological Science by researchers at Caltech.
---
The volunteers were able to guess with significant accuracy which politicians were corrupt and which weren't. The common denominator between the politicians who seemed guilty? A wide face, a trait that past research has linked to aggressive behavior in men.
In the first part of the study, 100 volunteers were shown photos of 72 politicians, all caucasian males. All images were cropped and rendered black and white. The volunteers rated each politician for how corruptible, dishonest, selfish, trustworthy, and generous they seemed.
The volunteers were able to predict the corrupt politicians about 70% of the time just from looking at the photos.
In the second part of the study, volunteers evaluated photos of 80 politicians, half corrupt and half clean, who had been elected to state and local positions in California. The researchers excluded responses from participants who recognized officials, though there was only one participant who recognized a politician by their face.
Like the first study, the participants correctly identified the corrupt politicians about 70% of the time.
A third part of the study asked participants to evaluate the first set of 72 politicians for traits like corruptibility, aggressiveness, masculinity, competence, and ambitiousness. The volunteers were only able to predict with regular accuracy corruptibility-related traits in this section of the study.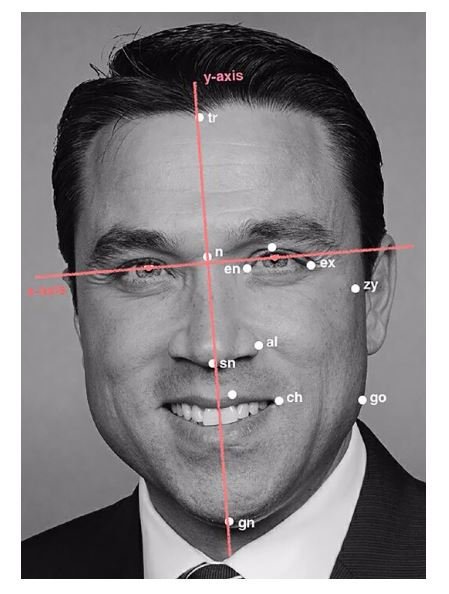 In the last sections of the study, the researchers tried to identify why certain politicians seemed more corrupt than others by measuring and categorizing their facial characteristics, including cheekbone size, distance between the eyes, nose length, and face width. After comparing the prior responses to the facial structure data, the results showed that politicians with wider faces were more likely to be considered corrupt.
To be sure, the researchers compiled 150 photos of politicians and created two digitally manipulated versions of each: one with a narrower face, one with a wider face. The 450 real and digitally altered photos were then shown in random order to 100 volunteers, only one of whom reported realizing the face width of some politicians had been manipulated. That volunteer was excluded.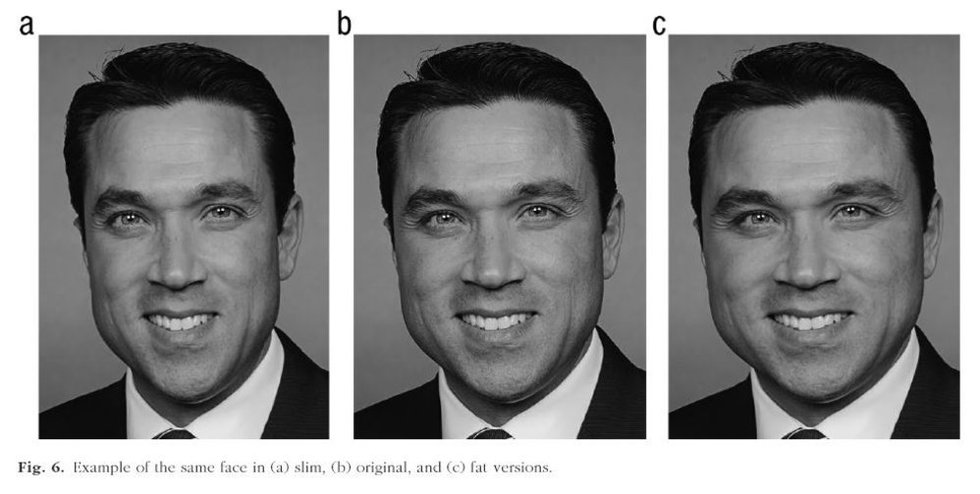 "As hypothesized, individual-level data showed that face width had a significant effect on inferences of corruptibility; specifically, a participant perceived an official as more corruptible when his face was fat relative to when his face was slim," the researchers wrote.
Still, it's unclear exactly how face width interacts with corruptibility. The researchers wrote that "people who look corruptible might be more likely to be approached by others with the intent to corrupt them, which in turn results in the mutual behaviors required for corruption to occur." Study co-author Chujun Lin also noted that some of the politicians listed as "clean" might actually have been corrupt—they just never got caught.
"It might be difficult to understand why you can look at others' faces and tell something about them," Chujun Lin told a Caltech blog. "But there is no doubt that people form first impressions from faces all the time. For example, on dating sites, people often reject potential matches based on pictures without reading the profile."
NASA astronomer Michelle Thaller is coming back to Big Think to answer YOUR questions! Here's all you need to know to submit your science-related inquiries.
Videos
Big Think's amazing audience has responded so well to our videos from NASA astronomer and Assistant Director for Science Communication Michelle Thaller that we couldn't wait to bring her back for more!

And this time, she's ready to tackle any questions you're willing to throw at her, like, "How big is the Universe?", "Am I really made of stars?" or, "How long until Elon Musk starts a colony on Mars?"
All you have to do is submit your questions to the form below, and we'll use them for an upcoming Q+A session with Michelle. You know what to do, Big Thinkers!
Lumina Foundation is partnering with Big Think to unearth the next large-scale, rapid innovation in post-high school education. Enter the competition here!
If you have a strong imagination, this won't help you with academic study.
Mind & Brain
Imagination is sometimes claimed to be a uniquely human ability, and it has long intrigued psychologists. "Nevertheless, our understanding of the benefits and risks that individual differences in imagination hold for psychological outcomes is currently limited," note two researchers who have created a new psychometric test – the Imaginative Behaviour Engagement Scale (IBES) – for measuring how much imagination a person has, and then used it to investigate whether, as some earlier work hinted, having a stronger imagination might aid learning and creativity.
Maslow's highest level on the hierarchy of needs.
Shutterstock/Big Think
Personal Growth
Self-transcendence is the final and oft forgotten peak of Maslow's pyramid.
Before transcending yourself, however, you need to be self-actualized.
The foundation of self-transcended people is caring for others and higher ideals.
An emphasis on personal responsibility might explain why conservatives tend to be in better physical health than liberals.
Pixabay
Personal Growth
A growing body of research suggests there's some relationship between our measurable personality traits and our political beliefs.
A recent study examined the relationship between political beliefs, personal responsibility and overall health.
The results suggest that an emphasis on responsibility might explain health differences between liberals and conservatives.
Big think's weekly newsletter.
Get smarter faster from the comfort of your inbox.
See our newsletter privacy policy
here
Most Popular
Most Recent
Big think's weekly newsletter.
Get smarter faster from the comfort of your inbox.
See our newsletter privacy policy
here
© Copyright 2007-2018 & BIG THINK, BIG THINK EDGE,
SMARTER FASTER trademarks owned by The Big Think, Inc. All rights reserved.