Miners in Australia discover gold rocks worth over $10 million
A mining company in Australia has unearthed what could be some of the largest gold specimens ever discovered.
11 September, 2018
---
A mining company in Australia has unearthed what could be some of the largest gold specimens ever discovered.
The gold was discovered on quartz rocks in Western Australia's Beta Hunt mine by workers with Royal Nickel Corp. (RNC), a Toronto-based mining company. The largest of the rocks weighed over 200 pounds and was encrusted with more than 2,300 ounces of gold, a value of $2.7 million.
In total, the company unearthed more than 9,000 ounces of gold, worth $10.66 million, over four days from a relatively small site, located some 1,600 feet below the surface.
"To give people context . . . out of about your living room, we pulled out [$10.66 million] worth of gold," RNC CEO Mark Selby told CBC's As It Happens.
It's a remarkable discovery, considering you often have to use a magnifying glass to see most of the gold unearthed in mines.
"You might go your whole life and you'll never see anything like it," geologist Zaf Thanos told ABC Australia. "It's definitely a once-in-a-lifetime discovery."
Henry Dole, the miner who discovered the gold deposit, said he had hit the 'mother lode'.
"I've been an airleg miner for 16 years," Dole also told ABC Australia. "Never in my life have I ever seen anything like this...There was chunks of gold in the face, on the ground, truly unique I reckon."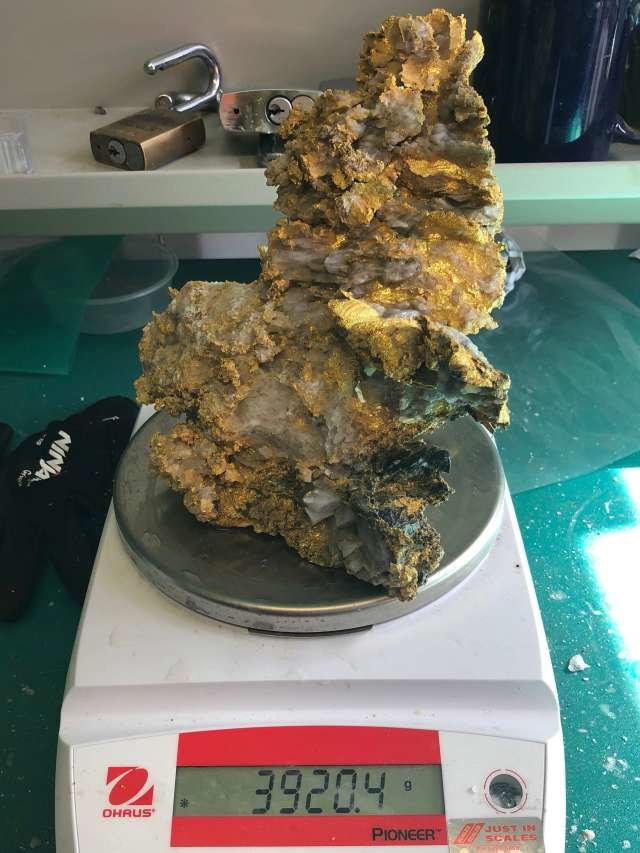 Photo: Image: Royal Nickel Corp.
Since the discovery at Beta Hunt, which has been mined primarily for nickel, RNC has hired armed guards to transport the gold to a secured vault. The company plans to sell the largest of the gold-encrusted rocks at auction.
"They'll probably sell it as a museum piece and they'll make a fair bit of money," Trevor Turnbull, a mining analyst with Scotia Capital, told the Financial Post, noting that the rocks are unique for their massive size.
As it happens, the discovery comes as RNC is in the final stages of selling the 45-year-old Beta Hunt mine.
"When we started the sale process it wasn't because we don't like the asset," Selby told ABC News. "We always believed that it had the potential to become a multi-hundred-thousand ounce mine, we just weren't able to raise capital required to do the exploration drilling."
RNC believes there could be more gold that's yet to be discovered.
"We hope there's a very big iceberg underneath that tip," Selby told As It Happens.
The largest "true gold nugget" ever discovered weighed slightly more than 2,300 ounces, according to the World Gold Council. However, that nugget was pure gold, while the gold-encrusted stones discovered by RNC were in large part quartz.
Why is gold valuable?
Gold is valued primarily for its scarcity, unique properties and historical significance.
Gold has long been considered the world's most precious metal, sought by everyone from ancient Egyptians, who used to pan the treasure from the Nile River, to the 300,000 prospectors who flocked to America's West Coast during the California Gold Rush in the mid-19th century.
Physically, gold makes for a good currency because it doesn't rust and can be crafted into coins and other forms thanks to its ductile and malleable nature.
Gold is also valued for its beauty. As the only metal of its color, gold has been used by various civilizations to complement a variety of ceremonial, religious and aesthetic functions, such as to make the death mask of King Tutankhamun or to make gold chains worn by nobility in the Sumerian city of Ur in 2,500 BCE.
But the feature that ties the assets of gold together is its scarcity.
"It is estimated that the whole gold of the planet equals a total of 168,180 tonnes or 5,407,112,558 ounces," writes the Science Engineering and Sustainability blog. "To visualize this volume, let's imagine a single solid gold cube with edges of about 19 meters. This is about three meters shorter than the length of a tennis court."
Lumina Foundation is partnering with Big Think to unearth the next large-scale, rapid innovation in post-high school education. Enter the competition here!
Good science is sometimes trumped by the craving for a "big splash."
Videos
Scientists strive to earn credit from their peers, for grants from federal agencies, and so a lot of the decisions that they make are strategic in nature. They're encouraged to publish exciting new findings that demonstrate some new phenomenon that we have never seen before.
This professional pressure can affect their decision-making — to get acclaim they may actually make science worse. That is, a scientist might commit fraud if he thinks he can get away with it or a scientist might rush a result out of the door even though it hasn't been completely verified in order to beat the competition.
On top of the acclaim of their peers, scientists — with the increasing popularity of science journalism — are starting to be rewarded for doing things that the public is interested in. The good side of this is that the research is more likely to have a public impact, rather than be esoteric. The bad side? To make a "big splash" a scientist may push a study or article that doesn't exemplify good science.
Moans, groans, and gripes release stress hormones in the brain.
popular
Could you give up complaining for a whole month? That's the crux of this interesting piece by Jessica Hullinger over at Fast Company. Hullinger explores the reasons why humans are so predisposed to griping and why, despite these predispositions, we should all try to complain less. As for no complaining for a month, that was the goal for people enrolled in the Complaint Restraint project.
Participants sought to go the entirety of February without so much as a moan, groan, or bellyache.
Two space agencies plan missions to deflect an asteroid.
ESA's Hera mission above asteroid 65803 Didymos. Credit: ESA/ScienceOffice.org
Surprising Science
NASA and the European Space Agency (ESA) are working together on missions to a binary asteroid system.
The DART and Hera missions will attempt to deflect and study the asteroid Didymoon.
A planetary defense system is important in preventing large-scale catastrophes.
Big think's weekly newsletter.
Get smarter faster from the comfort of your inbox.
See our newsletter privacy policy
here
Most Popular
Most Recent
Big think's weekly newsletter.
Get smarter faster from the comfort of your inbox.
See our newsletter privacy policy
here
© Copyright 2007-2018 & BIG THINK, BIG THINK EDGE,
SMARTER FASTER trademarks owned by The Big Think, Inc. All rights reserved.