Omarosa's Situation Room tapes spark security alarms, fury from Trump
Omarosa Manigault Newman, a former senior aide to President Donald Trump, says she's recorded multiple secret audio tapes at the White House, including one of her firing by Chief of Staff John Kelly.
13 August, 2018
Omarosa Manigault Newman, former senior aide to President Donald Trump. (Photo: SAUL LOEB/AFP/Getty Images)
---
Omarosa Manigault Newman, a former senior aide to President Donald Trump, says she's recorded multiple secret audio tapes at the White House, including one of her firing by Chief of Staff John Kelly.
Manigault Newman, who's currently promoting her tell-all book about her tenure for the Trump administration, played that recording Sunday during an interview on NBC News's 'Meet the Press.' In the interview, she said Kelly leveled a not-so-subtle threat during the firing: leave quietly and your reputation can stay intact.
"If we make this a friendly departure...you can look at your time here in the White House as a year of service to the nation and then you can go on without any type of difficulty in the future relative to your reputation," Kelly can be heard saying in a conversation reported to have taken place in the Situation Room.
Manigault Newman said she made the recordings out of self-preservation.
"You have to have your own back, because otherwise you'll look back and see 17 knives in your back," she said.
The tapes might help Manigault Newman sell her book and restore part of her reputation, which she feels was unjustly damaged by false news stories surrounding her firing. But more importantly, the secret tapes constitute serious breaches of ethics and security in what's supposed to be one of the most secure locations in the country.
The Situation Room is classified as a Sensitive Compartmented Information Facility, or SCIF. These are supposed to be secure areas where officials with security clearances can discuss sensitive information without fear of spying or surveillance. The Office of the Director of National Intelligence has guidelines on how these areas should be restricted, including directives on what windows should made out of, soundproofing technology and security personnel.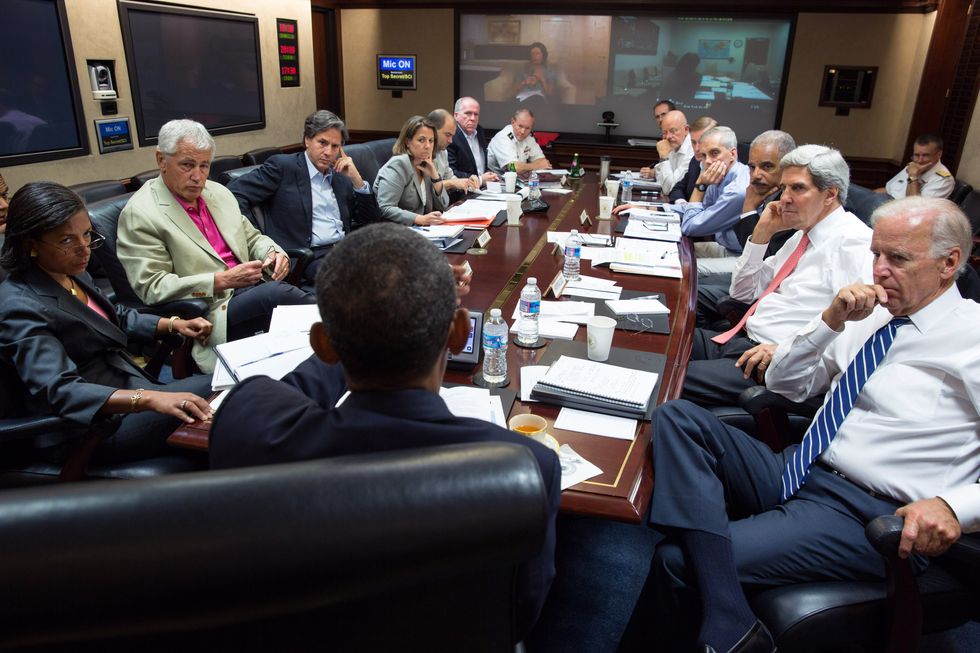 Former President Barack Obama and other officials meet in the Situation Room. (Photo by Pete Souza/White House via Getty Images)
According to Ned Price, former spokesperson for the National Security Council, the Situation Room "is the inner sanctum within an already-secure facility where the most sensitive of the most sensitive information is discussed. It's where negotiations with Iran were hashed out. It's where contingency plans for nuclear launches have been developed. The fact that she was recording a conversation in there really raises alarm bells in the minds of people who have worked in that room. ... It's a system based on honor and integrity, and there's a sign outside that says, 'Place your phones here.'"
Despite these restrictions, it's likely Manigault Newman didn't commit a crime because the conversation wasn't classified and she didn't hold any kind of security clearance. Still, the recordings probably amount to many violations of rules and regulations.
In a statement, White House press secretary Sarah Huckabee Sanders said that "the very idea a staff member would sneak a recording device into the White House Situation Room shows a blatant disregard for our national security—and then to brag about it on national television further proves the lack of character and integrity of this disgruntled former White House employee."
The Washington Post reported that Manigault Newman had declined, shortly after her firing, an offer to take a $15,000-a-month job with the Trump campaign. Manigault Newman, who's African American, would have been responsible for "speaking appearances," "fundraising appearances" and "diversity outreach." Attached to the offer was an agreement that she not make disparaging comments about the president.
"They were not offering a real job," she told NBC. "They told me I could work from home, if I wanted to work. They didn't care if I showed up."
Manigault Newman said Trump was a "racist, misogynist and bigot," which she said she realized only toward the end of her tenure. 
''I was complicit with this White House deceiving this nation,'' she said. ''I had a blind spot where it came to Donald Trump.''
Following her appearance on NBC's 'Meet the Press', Trump issued a series of tweets denigrating his former aide, with whom he's had a tumultuous relationship that extends back to their days spent filming 'The Apprentice' together.
"Wacky Omarosa, who got fired 3 times on the Apprentice, now got fired for the last time," Trump tweeted on Monday morning. "She never made it, never will. She begged me for a job, tears in her eyes, I said Ok. People in the White House hated her. She was vicious, but not smart. I would rarely see her but heard...."
The president continued: "...really bad things. Nasty to people & would constantly miss meetings & work. When Gen. Kelly came on board he told me she was a loser & nothing but problems. I told him to try working it out, if possible, because she only said GREAT things about me - until she got fired!"
Manigault Newman is reported to have more tapes, including at least one of the president speaking, though it's unclear if or when she'll release the remainder.
Who is to blame for the U.S.'s dismal college graduation rate? "Radical" educator Dennis Littky has a hunch.
Sponsored by Charles Koch Foundation
COVID-19 has magnified the challenges that underserved communities face with regard to higher education, such as widening social inequality and sky-high tuition.
At College Unbound, where I am president, we get to know students individually to understand what motivates them, so they can build a curriculum based on goals they want to achieve.
My teaching mantra: Everything is permitted during COVID-19. Everything is permitted during COVID-19. Everything is permitted during COVID-19.
Meteorologists propose a stunning new explanation for the mysterious events in the Bermuda Triangle.
Surprising Science
One of life's great mysteries, the Bermuda Triangle might have finally found an explanation. This strange region, that lies in the North Atlantic Ocean between Bermuda, Miami and San Juan, Puerto Rico, has been the presumed cause of dozens and dozens of mind-boggling disappearances of ships and planes.
Did you know that shifting to a positive perspective on aging can add 7.5 years to your life? Or that there is a provable U-curve of happiness that shows people get happier after age 50?
Sweden tops the ranking for the third year in a row.
AXEL SCHMIDT/DDP/AFP via Getty Images
Technology & Innovation
What does COVID-19 mean for the energy transition? While lockdowns have caused a temporary fall in CO2 emissions, the pandemic risks derailing recent progress in addressing the world's energy challenges.
Culture & Religion
Neo's superhuman powers were only inside of The Matrix. The outside world offered a different reality.
Scroll down to load more…