'No one should be doing the ketogenic diet,' says top U.S. cardiologist
Ketosis is known to work wonders in terms of short-term weight loss. But what about the diet's effects over the long term?
05 September, 2018
---
The ketogenic diet is one of the latest dietary fads to sweep the U.S., promising rapid weight loss, enhanced brain function and sustained energy throughout the day.
These effects are achieved by replacing high-carb foods with fatty, protein-rich foods that will eventually put the body in ketosis: a natural metabolic state in which the body burns fat for fuel instead of carbohydrates.
Ketosis is known to work wonders for short-term weight loss. But what about the diet's effects over the long term?
---
According to Dr. Kim Williams, former president of the American College of Cardiology, no one should adopt the ketogenic diet over the long term—unless weight loss is more important than lifespan.
"I like the idea, the basic concept: you change your dietary habits and you change something," Williams told Plant Based News. "Unfortunately, the science of it is wrong. If all you wanted was short-term weight loss—and short-term could be a year or two—if that's all you're looking for, great."
Williams' argument is based on a 2013 systematic review of 17 studies that found low-carbohydrate diets to be associated with an increased chance of death, with particularly increased risks to cardiovascular health.
"So I was talking about that and making sure everyone was hearing about that, and then there was one the Journal of the American Heart Association published a few years later that isolated the people who had had a heart attack in the past, the cardiology population that we're seeing, and they were doing a ketogenic diet," Williams told Plant Based News. "It was a 53 percent increase in mortality. No one should be doing this."
The authors of the 2013 systematic review offered similar advice:
"Given the facts that low-carbohydrate diets are likely unsafe and that calorie restriction has been demonstrated to be effective in weight loss regardless of nutritional composition, it would be prudent not to recommend low-carbohydrate diets for the time being. Further detailed studies to evaluate the effect of protein source are urgently needed."
The ketogenic diet can pose long-term health risks because "low-carbohydrate diets tend to result in reduced intake of fiber and fruits, and increased intake of protein from animal sources, cholesterol and saturated fat, all of which are risk factors for mortality" and cardiovascular disease, wrote the authors of the review.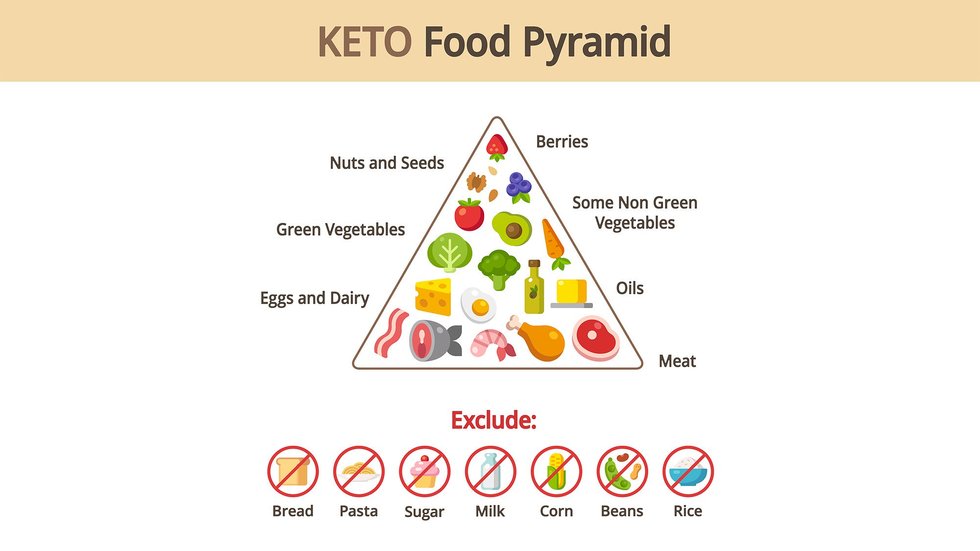 What foods can you and can't you eat on the keto diet?
It's worth noting that the review focused on low-carbohydrate diets, which are not always ketogenic. To be sure, there are balanced ways to adopt the ketogenic diet, and it can beneficial to some. In addition to its proven weight-loss effects that can be especially helpful for obese people, the diet is also a proven treatment for children with epilepsy. That's because the state of ketosis produces a natural chemical called decanoic acid, which can reduce seizures.
But if you're looking for a safe diet that you can rely on over the long term, you might follow the advice given by Dr. Marcelo Campos in an article posted on the Harvard Health Blog:
"Instead of engaging in the next popular diet that would last only a few weeks to months (for most people that includes a ketogenic diet), try to embrace change that is sustainable over the long term. A balanced, unprocessed diet, rich in very colorful fruits and vegetables, lean meats, fish, whole grains, nuts, seeds, olive oil, and lots of water seems to have the best evidence for a long, healthier, vibrant life."
Pfizer's partnerships strengthen their ability to deliver vaccines in developing countries.
Susan Silbermann, Global President of Pfizer Vaccines, looks on as a health care worker administers a vaccine in Rwanda. Photo: Courtesy of Pfizer.
Sponsored
Community healthcare workers face many challenges in their work, including often traveling far distances to see their clients
Pfizer is helping to drive the UN's sustainable development goals through partnerships.
Pfizer partnered with AMP and the World Health Organization to develop a training program for healthcare workers.
Orangutans join humans and bees in a very exclusive club
Surprising Science
Orangutan mothers wait to sound a danger alarm to avoid tipping off predators to their location
It took a couple of researchers crawling around the Sumatran jungle to discover the phenomenon
This ability may come from a common ancestor
The definition of a kilogram will now be fixed to Planck's constant, a fundamental part of quantum physics.
Surprising Science
The new definition of a kilogram is based on a physical constant in quantum physics.
Unlike the current definition of a kilogram, this measurement will never change.
Scientists also voted to update the definitions of several other measurements in physics.
Journaling can help you materialize your ambitions.
Videos
Organizing your thoughts can help you plan and achieve goals that might otherwise seen unobtainable.
The Bullet Journal method, in particular, can reduce clutter in your life by helping you visualize your future.
One way to view your journal might be less of a narrative and more of a timeline of decisions.
Big think's weekly newsletter.
Get smarter faster from the comfort of your inbox.
See our newsletter privacy policy
here
Most Popular
Most Recent
Big think's weekly newsletter.
Get smarter faster from the comfort of your inbox.
See our newsletter privacy policy
here
© Copyright 2007-2018 & BIG THINK, BIG THINK EDGE,
SMARTER FASTER trademarks owned by The Big Think, Inc. All rights reserved.