Big ideas.
Once a week.
Subscribe to our weekly newsletter.
There's a "magic ratio" for how often happy couples argue
Dr. Gottman, a psychologist who studies relationships, explains the 5:1 rule.
13 April, 2017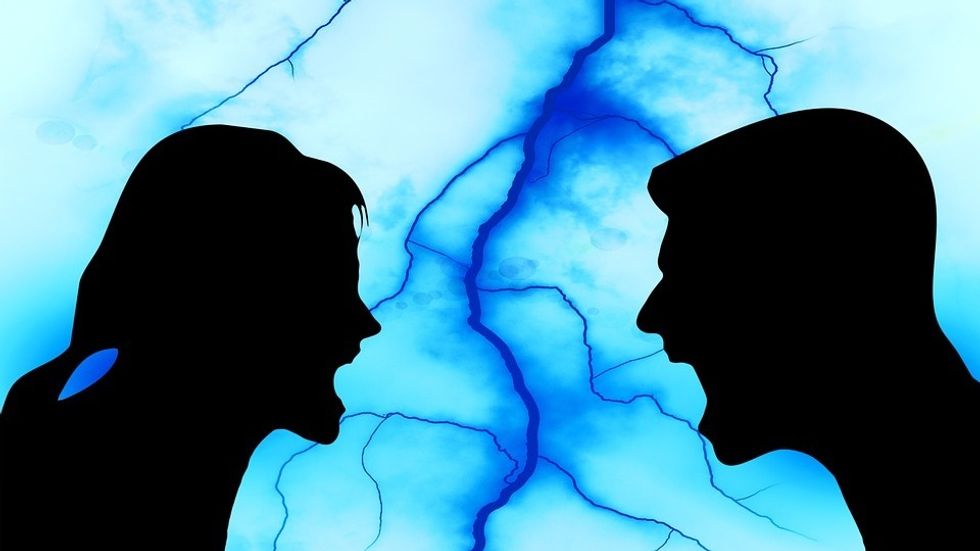 A couple argues – Photo: geralt via pixabay
Everyone knows couples break up when they fight too much. But what if they don't fight enough?
---
Dr. John M. Gottman, a psychologist who's studied marital stability and relationships for decades, is known for finding that the "magic ratio" of positive and negative interactions in successful relationships is about 5 to 1. That is, couples who stay together tend to compensate for every negative interaction with five times as many positive ones. Gottman calls this his balance theory of relationships.
So, too much fighting leads to breakups. That's obvious. But what's interesting about the theory is it implies that one sign of a doomed relationship could be not enough negativity. An article on one of Gottman's websites elaborates this idea.
This balance theory implies the unusual point of view that negativity is important in healthy relationships. Negativity plays many prosocial functions — for example, culling out interaction patterns that don't work, renewing courtship over time, etc. Thus, couple therapy should not declare war on negativity. On the contrary, we submit the idea that a relationship without negative affect would be lifeless and boring.
The idea is that because people and environments are always changing, partners must provide one another with enough corrective feedback so they can be "on the same page."
Of course, it's not just about the quantity of fighting in a relationship. The style is also important. Gottman and his colleagues found that couples who remained stoic during conflicts actually tended to fare worse than couples that were more "volatile".
Another negative, dysfunctional pattern that emerged from our longitudinal research was both the absence of escalated negative affect during conflict, and also the absence of any positive affect during conflict. There was a marked lack of affection, shared humor, question-asking, active interest, excitement, joy, support, and empathy.
Conversely, volatile couples who get into lots of heated fights aren't necessarily doomed to split up. These couples exert a healthy amount of influence on one another, both positively and negatively. But as long as their interactions favor the positive, they tend to enjoy relatively stable relationships over the long term.

The 5:1 ratio also seems to ring true in the business world. Past research has examined the ways in which successful business leadership teams deliver criticism. The results showed that the most successful teams made an average of 5.6 positive comments per every negative one, while the average ratio among the lowest performing teams was just 0.36 to 1.

Jack Zenger and Joseph Folkman interpreted the results in the Harvard Business Review
"So, while a little negative feedback apparently goes a long way, it is an essential part of the mix. Why is that? First, because of its ability to grab someone's attention. Think of it as a whack on the side of the head. Second, certainly, negative feedback guards against complacency and groupthink."
Folkman and Zenger went on to add one final point that could apply to any area of life: Negative feedback can prevent you from driving off a cliff.
For a realistic look at what it takes to stay in love, here's Dr. Helen Fisher:
A new paper reveals that the Voyager 1 spacecraft detected a constant hum coming from outside our Solar System.
Credit: NASA / JPL - Caltech.
Surprising Science
Voyager 1, humankind's most distant space probe, detected an unusual "hum" in the data from interstellar space.
The noise is likely produced by interstellar gas.
Further investigation may reveal the hum's exact origins.
Voyager 1, humanity's most faraway spacecraft, has detected an unusual "hum" coming from outside our solar system. Fourteen billion miles away from Earth, the Voyager's instruments picked up a droning sound that may be caused by plasma (ionized gas) in the vast emptiness of interstellar space. Launched in 1977, the Voyager 1 space probe — along with its twin Voyager 2 — has been traveling farther and farther into space for over 44 years. It has now breached the edge of our solar system, exiting the heliosphere, the bubble-like region of space influenced by the sun. Now, the spacecraft is moving through the "interstellar medium," where it recorded the peculiar sound.
Stella Koch Ocker, a doctoral student in astronomy at Cornell University, discovered the sound in the data from the Voyager's Plasma Wave System (PWS), which measures electron density. Ocker called the drone coming from plasma shock waves "very faint and monotone," likely due to the narrow bandwidth of its frequency.
While they think the persistent background hum may be coming from interstellar gas, the researchers don't yet know what exactly is causing it. It might be produced by "thermally excited plasma oscillations and quasi-thermal noise."
The new paper from Ocker and her colleagues at Cornell University and the University of Iowa, published in Nature Astronomy, also proposes that this is not the last we'll hear of the strange noise. The scientists write that "the emission's persistence suggests that Voyager 1 may be able to continue tracking the interstellar plasma density in the absence of shock-generated plasma oscillation events."
Voyager Captures Sounds of Interstellar Space www.youtube.com
The researchers think the droning sound may hold clues to how interstellar space and the heliopause, which can be thought of as the solar's system border, may be affecting each other. When it first entered interstellar space, the PWS instrument reported disturbances in the gas caused by the sun. But in between such eruptions is where the researchers spotted the steady signature made by the near-vacuum.

Senior author James Cordes, a professor of astronomy at Cornell, compared the interstellar medium to "a quiet or gentle rain," adding that "in the case of a solar outburst, it's like detecting a lightning burst in a thunderstorm and then it's back to a gentle rain."
More data from Voyager over the next few years may hold crucial information to the origins of the hum. The findings are already remarkable considering the space probe is functioning on technology from the mid-1970s. The craft has about 70 kilobytes of computer memory. It also carries a Golden Record created by a committee chaired by the late Carl Sagan, who taught at Cornell University. The 12-inch gold-plated copper disk record is essentially a time capsule, meant to tell the story of Earthlings to extraterrestrials. It contains sounds and images that showcase the diversity of Earth's life and culture.
China has reached a new record for nuclear fusion at 120 million degrees Celsius.
Technology & Innovation
This article was originally published on our sister site, Freethink.
China wants to build a mini-star on Earth and house it in a reactor. Many teams across the globe have this same bold goal --- which would create unlimited clean energy via nuclear fusion.
But according to Chinese state media, New Atlas reports, the team at the Experimental Advanced Superconducting Tokamak (EAST) has set a new world record: temperatures of 120 million degrees Celsius for 101 seconds.
Yeah, that's hot. So what? Nuclear fusion reactions require an insane amount of heat and pressure --- a temperature environment similar to the sun, which is approximately 150 million degrees C.
If scientists can essentially build a sun on Earth, they can create endless energy by mimicking how the sun does it.
If scientists can essentially build a sun on Earth, they can create endless energy by mimicking how the sun does it. In nuclear fusion, the extreme heat and pressure create a plasma. Then, within that plasma, two or more hydrogen nuclei crash together, merge into a heavier atom, and release a ton of energy in the process.
Nuclear fusion milestones: The team at EAST built a giant metal torus (similar in shape to a giant donut) with a series of magnetic coils. The coils hold hot plasma where the reactions occur. They've reached many milestones along the way.
According to New Atlas, in 2016, the scientists at EAST could heat hydrogen plasma to roughly 50 million degrees C for 102 seconds. Two years later, they reached 100 million degrees for 10 seconds.
The temperatures are impressive, but the short reaction times, and lack of pressure are another obstacle. Fusion is simple for the sun, because stars are massive and gravity provides even pressure all over the surface. The pressure squeezes hydrogen gas in the sun's core so immensely that several nuclei combine to form one atom, releasing energy.
But on Earth, we have to supply all of the pressure to keep the reaction going, and it has to be perfectly even. It's hard to do this for any length of time, and it uses a ton of energy. So the reactions usually fizzle out in minutes or seconds.
Still, the latest record of 120 million degrees and 101 seconds is one more step toward sustaining longer and hotter reactions.
Why does this matter? No one denies that humankind needs a clean, unlimited source of energy.
We all recognize that oil and gas are limited resources. But even wind and solar power --- renewable energies --- are fundamentally limited. They are dependent upon a breezy day or a cloudless sky, which we can't always count on.
Nuclear fusion is clean, safe, and environmentally sustainable --- its fuel is a nearly limitless resource since it is simply hydrogen (which can be easily made from water).
With each new milestone, we are creeping closer and closer to a breakthrough for unlimited, clean energy.
The symbol for love is the heart, but the brain may be more accurate.
Videos
How love makes us feel can only be defined on an individual basis, but what it does to the body, specifically the brain, is now less abstract thanks to science.
One of the problems with early-stage attraction, according to anthropologist Helen Fisher, is that it activates parts of the brain that are linked to drive, craving, obsession, and motivation, while other regions that deal with decision-making shut down.
Dr. Fisher, professor Ted Fischer, and psychiatrist Gail Saltz explain the different types of love, explore the neuroscience of love and attraction, and share tips for sustaining relationships that are healthy and mutually beneficial.
Sex & Relationships
A new study suggests that reports of the impending infertility of the human male are greatly exaggerated.
Scroll down to load more…