Could Facebook's new 'Dating' service really destroy Tinder?
Facebook CEO Mark Zuckerberg just announced plans to add a dating feature to Facebook, a move that threatens established companies in the online dating industry.
02 May, 2018
---
Facebook is taking its mission of "bringing the world closer together" to the next level by adding a dating feature to its main mobile app.
"There are 200 million people on Facebook who list themselves as single, so clearly there's something to do here," CEO Mark Zuckerberg said in his keynote address at Facebook's annual F8 conference on Tuesday.
"This is going to be for building real, long-term relationships—not just hookups," Zuckerberg said in an apparent swipe at Tinder.
Here's how the service will work:

Simply called 'Dating', the opt-in feature will be part of Facebook's main app, but will operate separately from users' normal profiles, and will be invisible to friends. Dating will allow users to create a profile that lists a first name alongside a few photos and personal details, like occupation or city of residence.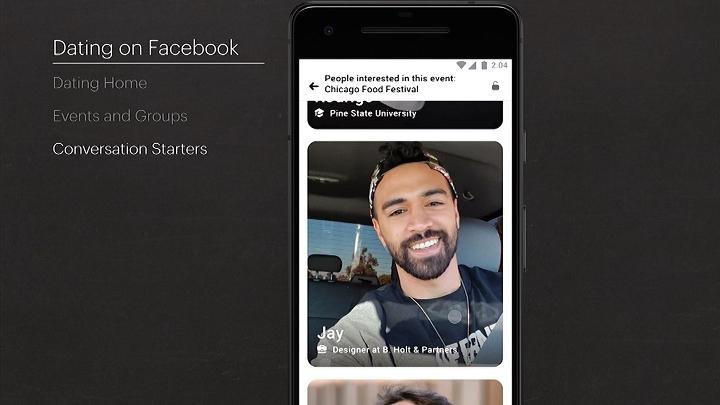 Facebook will use an algorithm to show users potential matches based on things like "dating preferences, things in common, and mutual friends." Dating will also have its own messaging program, one that won't allow users to send photos or links.
Perhaps most unique about Dating is its "unlocking" feature, which allows users to make their profiles visible to members and attendees of groups and events. "Unlocking" could allow you to see potential matches who plan on attending the same concert as you, for example.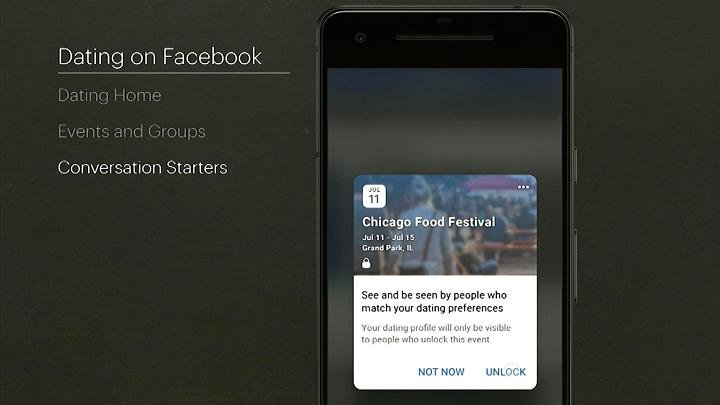 Facebook's move could pose a threat to the titans of the online dating industry, particularly Match Group, which owns Tinder and OkCupid—shares of Match Group have sunk more than 20 percent in the days following the announcement.
"We're flattered that Facebook is coming into our space—and sees the global opportunity that we do—as Tinder continues to skyrocket. We're surprised at the timing given the amount of personal and sensitive data that comes with this territory," Mandy Ginsberg, CEO of Match Group, said in a statement. "Regardless, we're going to continue to delight our users through product innovation and relentless focus on relationship success. We understand this category better than anyone. Facebook's entry will only be invigorating to all of us."
Facebook hasn't confirmed whether it will charge for the service. Apps like Tinder and Bumble are free to use, though both offer a paid premium version for about $10 per month. Other dating apps and sites can cost anywhere from $10 to $60 per month. Altogether, the dating industry is worth about $3 billion.
It's unclear whether the new feature will be able to compete with the more established services, however Facebook does have the clear advantage of starting with the world's most developed social network infrastructure. The social media giant has 2.2 billion monthly users and—in case you haven't heard the news—plenty of data on them.
It's worth noting that apps like Tinder and Bumble actually rely on this infrastructure, such as when they allow users to register instantly using a Facebook profile, or when the apps show users' mutual friends. Now, they'll likely find themselves competing with the very platform that, arguably, sustains their existence.
Another advantage is familiarity. Facebook could have within its user base a huge untapped market of single people who don't use online dating services but might consider Dating because they already know how to use Facebook and the feature is just a click away. This could be a big draw for older Facebook users in particular.
"There are millions of singles in this demographic who want to meet someone but have reservations about using dating apps," New York City-based dating coach Meredith Golden told MarketWatch. "If they've already been using Facebook and feel comfortable with the format, this will be an easy transition for someone re-entering the dating market."
The news comes in the wake of Facebook's Cambridge Analytica scandal, which revealed that a firm had harvested the personal data of at least 87 million Facebook users. Zuckerberg mentioned privacy during his address.
"I know a lot of you are going to have questions about this. We have designed this with privacy and safety in mind from the beginning. Your friends aren't going to see your profile, and you're only going to be suggested to people who are not your friends."
Facebook plans to start testing Dating later this year.
Here's the science of black holes, from supermassive monsters to ones the size of ping-pong balls.
Videos
There's more than one way to make a black hole, says NASA's Michelle Thaller. They're not always formed from dead stars. For example, there are teeny tiny black holes all around us, the result of high-energy cosmic rays slamming into our atmosphere with enough force to cram matter together so densely that no light can escape.
CERN is trying to create artificial black holes right now, but don't worry, it's not dangerous. Scientists there are attempting to smash two particles together with such intensity that it creates a black hole that would live for just a millionth of a second.
Thaller uses a brilliant analogy involving a rubber sheet, a marble, and an elephant to explain why different black holes have varying densities. Watch and learn!
Bonus fact: If the Earth became a black hole, it would be crushed to the size of a ping-pong ball.
Military recruits are supposed to be assessed to see whether they're fit for service. What happens when they're not?
Politics & Current Affairs
During the Vietnam War, Robert McNamara began a program called Project 100,000.
The program brought over 300,000 men to Vietnam who failed to meet minimum criteria for military service, both physically and mentally.
Project 100,000 recruits were killed in disproportionate numbers and fared worse after their military service than their civilian peers, making the program one of the biggest—and possibly cruelest—mistakes of the Vietnam War.
In a breakthrough for nuclear fusion research, scientists at China's Experimental Advanced Superconducting Tokamak (EAST) reactor have produced temperatures necessary for nuclear fusion on Earth.
Credit: EAST Team
Surprising Science
The EAST reactor was able to heat hydrogen to temperatures exceeding 100 million degrees Celsius.
Nuclear fusion could someday provide the planet with a virtually limitless supply of clean energy.
Still, scientists have many other obstacles to pass before fusion technology becomes a viable energy source.
Big think's weekly newsletter.
Get smarter faster from the comfort of your inbox.
See our newsletter privacy policy
here
Most Popular
Most Recent
Big think's weekly newsletter.
Get smarter faster from the comfort of your inbox.
See our newsletter privacy policy
here
© Copyright 2007-2018 & BIG THINK, BIG THINK EDGE,
SMARTER FASTER trademarks owned by The Big Think, Inc. All rights reserved.