Exposure to Competitive Games Speeds up Children's Ability to Lie, Study Suggests
A recent study shows that children just 3 years of age learn how to deceive others for personal gain when exposed to competitive games.
13 August, 2017
Most children have the cognitive abilities needed for lying by the time they're 3 1/2 years old. However, a recent study published in the journal Developmental Science shows that kids even younger than that can quickly and spontaneously learn to lie when they're exposed to competitive games.
---
For the study, researchers had 3-year-olds play a zero-sum game with a researcher 10 times over 10 days. The game was a form of hide and seek, with the child acting as hider and researcher acting as seeker. While the researcher covered her eyes, the child hid a treat under one of two cups. The researcher would then uncover her eyes and ask the child which cup the treat was under. If the child answered correctly, the researcher would lift the cup and take the treat for herself. But if the child lied, he would get to keep the treat for himself.
During the first sessions, almost none of the children attempted to deceive the researchers. But over the course of the study, the children began to realize that lying would result in personal gain. 
"Not all children figured out how to deceive at the same rate," said study author Gail Heyman. "At one extreme, some figured it out on the first day; at the other extreme, some were consistently losing the game even at the end of the 10 days."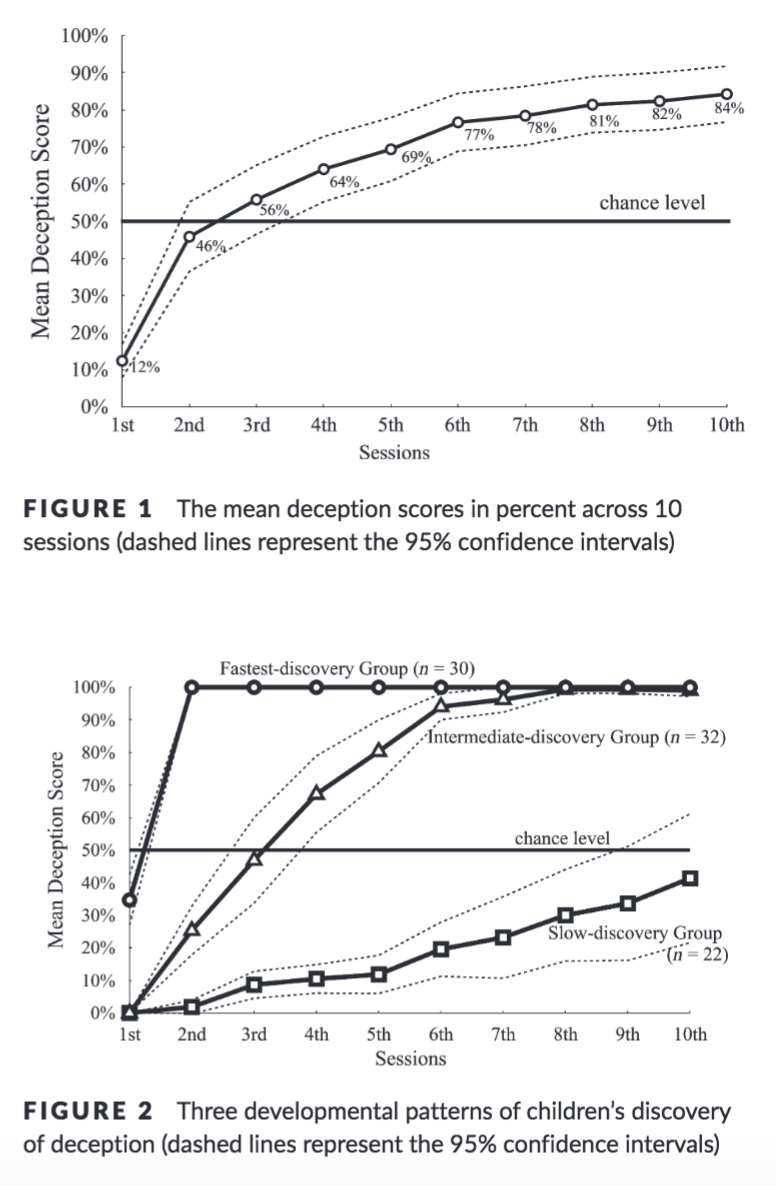 The researchers found a relationship between the children's cognitive abilities and their ability to lie.
"One of these skills – what psychologists call theory of mind is the ability to understand that others don't necessarily know what you know," said Heyman. "This skill is needed because when children lie they intentionally communicate information that differs from what they themselves believe. Another one of these skills, cognitive control, allows people to stop themselves from blurting out the truth when they try to lie. The children who figured out how to deceive the most quickly had the highest levels of both of these skills."
Competitive games, it seems, can not only help children discover the power of deceit at a remarkably young age, they can actually help children formulate the concept of deceit itself. The researchers note that learning to employ simple lies is just the beginning of a child's relationship with the concept of deceit – one that grows more sophisticated with time.
How children interpret the morality of lying
A 2016 study examined the ways in which children interpret the morality of various types of deception – white lies, false confessions. The results showed that younger children tend to classify all types of lying as bad, while children ages 10 through 12 saw lying as a morally complicated act.
"The older they are, the more interested children are in the consequences of these actions," said study coauthor Shanna Mary Williams. "They are also more able to start looking at the intentions behind the speech."
Swipe right to make the connections that could change your career.
Getty Images
Sponsored
Swipe right. Match. Meet over coffee or set up a call.
No, we aren't talking about Tinder. Introducing Shapr, a free app that helps people with synergistic professional goals and skill sets easily meet and collaborate.
It's up to us humans to re-humanize our world. An economy that prioritizes growth and profits over humanity has led to digital platforms that "strip the topsoil" of human behavior, whole industries, and the planet, giving less and less back. And only we can save us.
Think Again Podcasts
It's an all-hands-on-deck moment in the arc of civilization.
Everyone has a choice: Do you want to try to earn enough money to insulate yourself from the world you're creating— or do you want to make the world a place you don't have to insulate yourself from?
Eight-dimensional octonions may hold the clues to solve fundamental mysteries.
Surprising Science
Physicists discover complex numbers called octonions that work in 8 dimensions.
The numbers have been found linked to fundamental forces of reality.
Understanding octonions can lead to a new model of physics.
Upload your mind? Here's a reality check on the Singularity.
Videos
Though computer engineers claim to know what human consciousness is, many neuroscientists say that we're nowhere close to understanding what it is, or its source.
Scientists are currently trying to upload human minds to silicon chips, or re-create consciousness with algorithms, but this may be hubristic because we still know so little about what it means to be human.
Is transhumanism a journey forward or an escape from reality?
Big think's weekly newsletter.
Get smarter faster from the comfort of your inbox.
See our newsletter privacy policy
here
Most Popular
Most Recent
Big think's weekly newsletter.
Get smarter faster from the comfort of your inbox.
See our newsletter privacy policy
here
© Copyright 2007-2018 & BIG THINK, BIG THINK EDGE,
SMARTER FASTER trademarks owned by The Big Think, Inc. All rights reserved.