Flat-Earthers destroy Big Bang science, reveal 'Pac-Man' theory at U.K. convention
The Flat Earth community revealed some of its newest theories and breakthroughs at its first convention in Birmingham, England last weekend.
01 May, 2018
---
The flat Earth community revealed some of its latest theories and breakthroughs at its first U.K. convention last weekend.
Over three days, about 200 people, among them IT professionals and an educational worker, met at an upscale Birmingham hotel to share the latest flat Earth theories, buy merchandise (think "Flat Power" T-shirts), and enjoy the company of fellow believers.
"People are waking up," said event organizer Gary John, adding that the community has been experiencing an "explosion of interest."
That seems true. The average number of online searches for 'flat Earth' has increased by a factor of 10 since 2014, according to Google Trends. Those searches yield a variety of theories about the true shape of the Earth. Some say the flat Earth is surrounded by a giant ice wall. Some argue Earth is a disc that's protected by an invisible dome called the firmament.
Darren Nesbit, a speaker at the convention, believes Earth is diamond-shaped and supported by pillars, with the North and South poles in opposite corners.
"I'm not saying this is definitely what is going on, but I think it is a plausible model," he said.
Nesbit also proposed an explanation for how planets move in the sky above the flat Earth.
"One logical possibility for those who are truly free thinkers is that space-time wraps around and we get a Pac-Man effect," he told the convention, suggesting that planets in the sky teleport from one side of the Earth to the other once they reach the horizon, like Pac-Man characters do when they move off the left side of the screen and then appear instantly on the right.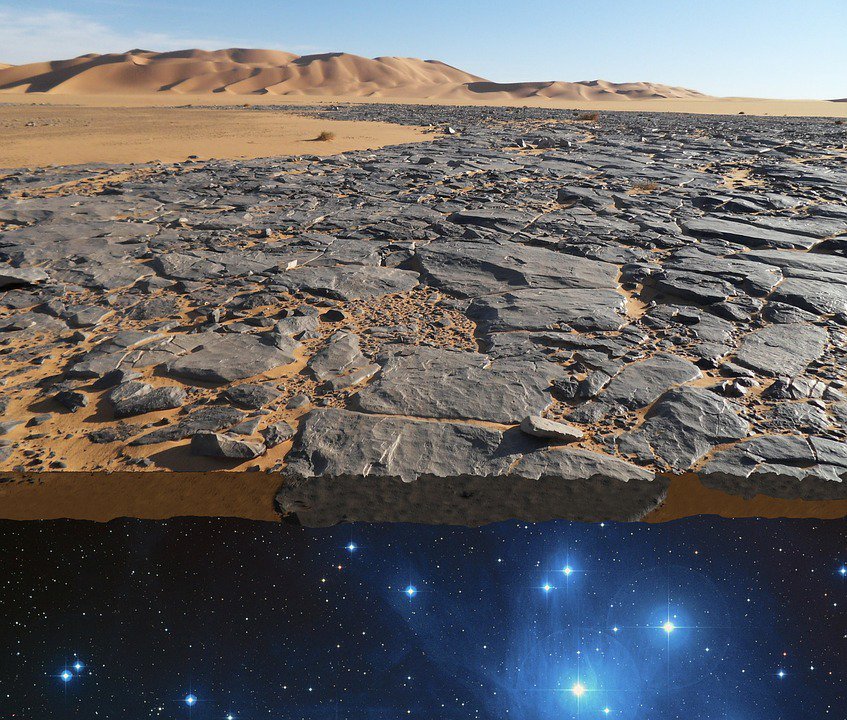 Image: Creative commons.
The convention's boldest claim came from David Marsh, a manager at the NHS Supply Chain head office in Alfreton, Derbyshire.
"My research destroys Big Bang cosmology," Marsh said. "It supports the idea that gravity doesn't exist and the only true force in nature is electromagnetism."
Marsh claimed that a year-long experiment he conducted in his back garden using a smartphone app and a camera had disproved gravity and the accepted laws of planetary motion.
Each flat Earth theory may differ, but all agree: the globe-heads are getting duped big time by NASA.
Case in point: Attendees at last weekend's convention "broke out into loud laughter and jeering as convention speakers played NASA videos and speeches by world leaders," according to The Sydney Morning Herald.
Distrust for government and mainstream institutions is ubiquitous in the flat Earth community. For Sean Connors, a speaker at the conference and an employee at a school for children with special needs, that distrust began with the build-up to the Iraq War.
"I believed [former prime minister] Tony Blair when he told me there were weapons of mass destruction in Iraq," he said. "When I realized that the government had misled me—that was a turning point."
Psychologists have a few explanations for why people choose to believe in conspiracy theories. One explanation says people can't accept that truly horrendous events, like 9/11 or the 2017 Las Vegas shootings, can happen at any random moment, so they turn to conspiracy theories to make sense out of the chaos.
Another explanation—one that seems especially at play in the flat Earth community—says that believing in conspiracy theories satisfies a rather narcissistic need to feel unique. A 2017 study on the subject found:
"Conspiracy theories are likely to appeal more to people who have a chronic need to feel different to others, or who are led to feel that uniqueness is an important trait. In each case, we argue that conspiracy theories place people in possession of unconventional and scarce information that allows them to feel unique compared to others."
To be sure, it's also possible the attendees of last weekend's convention simply wanted to meet up at a nice hotel, talk about Big Bang-destroying Pac-Man stuff, and enjoy the company of like-minded people.
"We're not saying we have all the answers," said Gary John, the event organizer. "But everyone here is united by the knowledge that the Earth is not a globe."
Malcolm Gladwell teaches "Get over yourself and get to work" for Big Think Edge.
Big Think Edge
Learn to recognize failure and know the big difference between panicking and choking.

At Big Think Edge, Malcolm Gladwell teaches how to check your inner critic and get clear on what failure is.

Subscribe to Big Think Edge before we launch on March 30 to get 20% off monthly and annual memberships.
Can sensitive coral reefs survive another human generation?
Videos
Coral reefs may not be able to survive another human decade because of the environmental stress we have placed on them, says author David Wallace-Wells. He posits that without meaningful changes to policies, the trend of them dying out, even in light of recent advances, will continue.
The World Wildlife Fund says that 60 percent of all vertebrate mammals have died since just 1970. On top of this, recent studies suggest that insect populations may have fallen by as much as 75 percent over the last few decades.
If it were not for our oceans, the planet would probably be already several degrees warmer than it is today due to the emissions we've expelled into the atmosphere.
They didn't know it, but the rituals of Iron Age Scandinavians turned their iron into steel.
Shutterstock
Culture & Religion
Iron Age Scandinavians only had access to poor quality iron, which put them at a tactical disadvantage against their neighbors.
To strengthen their swords, smiths used the bones of their dead ancestors and animals, hoping to transfer the spirit into their blades.
They couldn't have known that in so doing, they actually were forging a rudimentary form of steel.
Michael Dowling, Northwell Health's CEO, believes we're entering the age of smart medicine.
Sponsored by Northwell Health
The United States health care system has much room for improvement, and big tech may be laying the foundation for those improvements.
Technological progress in medicine is coming from two fronts: medical technology and information technology.
As information technology develops, patients will become active participants in their health care, and value-based care may become a reality.
Big think's weekly newsletter.
Get smarter faster from the comfort of your inbox.
See our newsletter privacy policy
here
Most Popular
Most Recent
Big think's weekly newsletter.
Get smarter faster from the comfort of your inbox.
See our newsletter privacy policy
here
© Copyright 2007-2018 & BIG THINK, BIG THINK EDGE,
SMARTER FASTER trademarks owned by The Big Think, Inc. All rights reserved.