Federal lab declassifies 250+ never-before-seen nuclear test videos from Cold War era
The Lawrence Livermore National Laboratory has been working for years to preserve the estimated 10,000 videos of nuclear bomb tests made by the U.S. government during the Cold War.
09 July, 2018
---
The U.S. military detonated more than 200 atomic bombs during the Cold War era as part of nuclear weapons testing. Each detonation was carefully recorded by multiple cameras filming at 2,400 frames per second. In 1962, that footage effectively became some of the only data available to scientists studying nuclear weapons after the U.S. agreed to stop all above-ground nuclear testing.
But over the years those films were scattered across the country in various classified archives.
Recently, a team at the Lawrence Livermore National Laboratory (LLNL), a federal research facility, released about 250 declassified videos of U.S. nuclear tests as part of a long-term project to restore and digitize the footage, which might have been lost to time had it not been for the preservation effort.
"The goals are to preserve the films' content before it's lost forever, and provide better data to the post-testing-era scientists who use computer codes to help certify that the aging U.S. nuclear deterrent remains safe, secure and effective," reads a press release published on the LLNL website.
The U.S. is estimated to have created about 10,000 nuclear test films from 1945 to 1962, which was when the Partial Test Ban Treaty stopped above-ground nuclear testing. So far, the LLNL has located about 6,500 of those films, scanned some 4,200, reanalyzed 400 to 500, and declassified about 750.
In past decades, scientists had to manually analyze nuclear testing footage. It was a long and often inaccurate process.
"When you go to validate your computer codes, you want to use the best data possible," LLNL nuclear weapons physicist Greg Spriggs said. "We were finding that some of these answers were off by 20, maybe 30, percent. That's a big number for doing code validation. One of the payoffs of this project is that we're now getting very consistent answers. We've also discovered new things about these detonations that have never been seen before. New correlations are now being used by the nuclear forensics community, for example."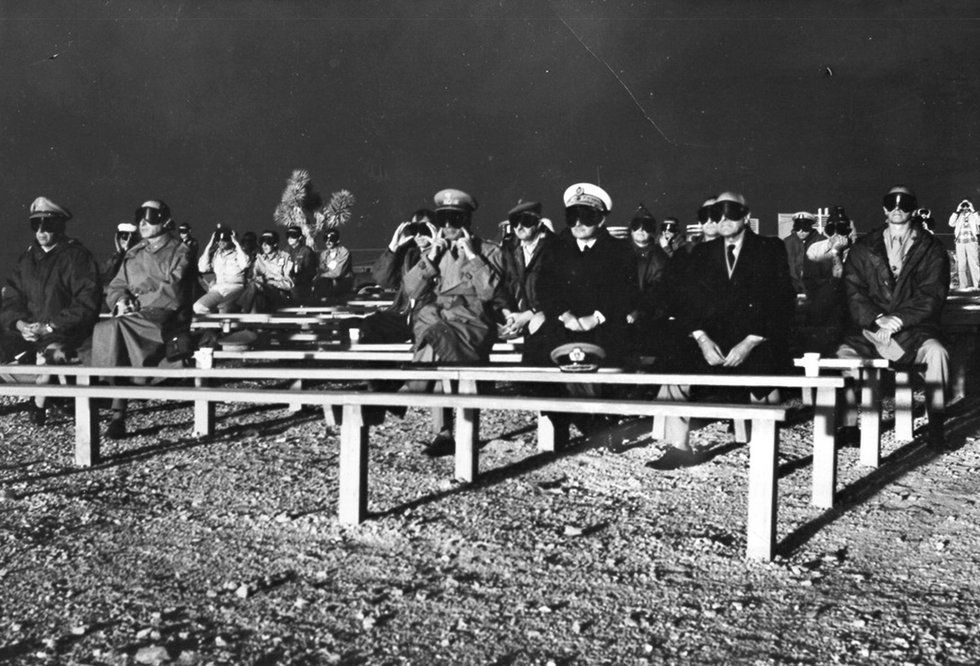 National Nuclear Security Administration / Nevada Site Office
Here's a quick look at some of the declassified videos.
Operation Hardtack I — Nutmeg
The NUTMEG detonation took place in 1958 on the surface of the Bikini Atoll at the Pacific Proving Grounds, a name the U.S. government gave to a series of sites in the Marshall Islands near Micronesia. A total of 35 nuclear weapons would be detonated nearby that year as part of Operation Hardtack I.
Operation Redwing — Zuni
Detonated on May 27, 1956, Zuni was the first-ever test of a three-stage thermonuclear weapon. It was later developed into the Mk-41 bomb, the most powerful weapon ever deployed by the U.S. military.
Operation Sunbeam — Johnnie Boy
In 1962, the U.S. military detonated Johnnie Boy, a portable atomic bomb, at the Nevada National Security Site about 65 miles northwest of Las Vegas. Now, thousands of tourists sign up each year to visit what the L.A. Times described as a "radioactive ghost town."
Spriggs said he hopes the project supports nuclear deterrence around the world.
"It's just unbelievable how much energy's released," Spriggs said. "We hope that we would never have to use a nuclear weapon ever again. I think that if we capture the history of this and show what the force of these weapons are and how much devastation they can wreak, then maybe people will be reluctant to use them."
What can 3D printing do for medicine? The "sky is the limit," says Northwell Health researcher Dr. Todd Goldstein.
Northwell Health
Sponsored by Northwell Health
Medical professionals are currently using 3D printers to create prosthetics and patient-specific organ models that doctors can use to prepare for surgery.
Eventually, scientists hope to print patient-specific organs that can be transplanted safely into the human body.
Northwell Health, New York State's largest health care provider, is pioneering 3D printing in medicine in three key ways.
Neuroscience is working to conquer some of the human body's cruelest conditions: Paralysis, brain disease, and schizophrenia.
Videos
Neuroscience and engineering are uniting in mind-blowing ways that will drastically improve the quality of life for people with conditions like epilepsy, paralysis or schizophrenia.
Researchers have developed a brain-computer interface the size of a baby aspirin that can restore mobility to people with paralysis or amputated limbs. It rewires neural messages from the brain's motor cortex to a robotic arm, or reroutes it to the person's own muscles.
Deep brain stimulation is another wonder of neuroscience that can effectively manage brain conditions like epilepsy, Parkinson's, and may one day mitigate schizophrenia so people can live normal, independent lives.
As Game of Thrones ends, a revealing resolution to its perplexing geography.
Strange Maps
The fantasy world of Game of Thrones was inspired by real places and events.
But the map of Westeros is a good example of the perplexing relation between fantasy and reality.
Like Britain, it has a Wall in the North, but the map only really clicks into place if you add Ireland.
A recent study gives new meaning to the saying "fake it 'til you make it."
Pixabay
Surprising Science
The study involves four experiments that measured individuals' socioeconomic status, overconfidence and actual performance.
Results consistently showed that high-class people tend to overestimate their abilities.
However, this overconfidence was misinterpreted as genuine competence in one study, suggesting overestimating your abilities can have social advantages.
Big think's weekly newsletter.
Get smarter faster from the comfort of your inbox.
See our newsletter privacy policy
here
Most Popular
Most Recent
Big think's weekly newsletter.
Get smarter faster from the comfort of your inbox.
See our newsletter privacy policy
here
© Copyright 2007-2019 & BIG THINK, BIG THINK EDGE,
SMARTER FASTER trademarks owned by The Big Think, Inc. All rights reserved.
//This will actually fire event. Should be called after consent was verifed