Category 6 hurricanes? Future storms will be increasingly violent
A new computer model suggests that the 21st century will have more frequent hurricanes of staggering force.
12 September, 2018
A new computer model provides unprecedentedly detailed forecasts of tropical storms.
Projections show a major increase in hurricanes of Category 3 and above by the end of the 21st century.
One primary driver of the planet's increasingly extreme hurricanes is warming oceans.
---
The 21st century is not only projected to see more hurricanes, but also ones so extreme that scientists might need to create a new category to classify them.
A new computer model, created at the National Oceanic and Atmospheric Administration's (NOAA's) Geophysical Fluid Dynamics Laboratory, can provide unprecedentedly detailed forecasts of tropical storms in both past and future environments by simulating interactions between meteorological forces, like the atmosphere and oceans.
Recently, a team led by NOAA researcher Kieran Bhatia used the technology to glimpse the future and see how a warming climate might affect tropical storms across the globe. The sight was unsettling.
For 2016 to 2035, the projections showed an 11% increase in hurricanes of categories 3, 4, and 5, compared to the late 20th century. That increase jumped to 20% by the end of the 21st century.
Alarmingly, the intensity of some storms is projected to be off the charts.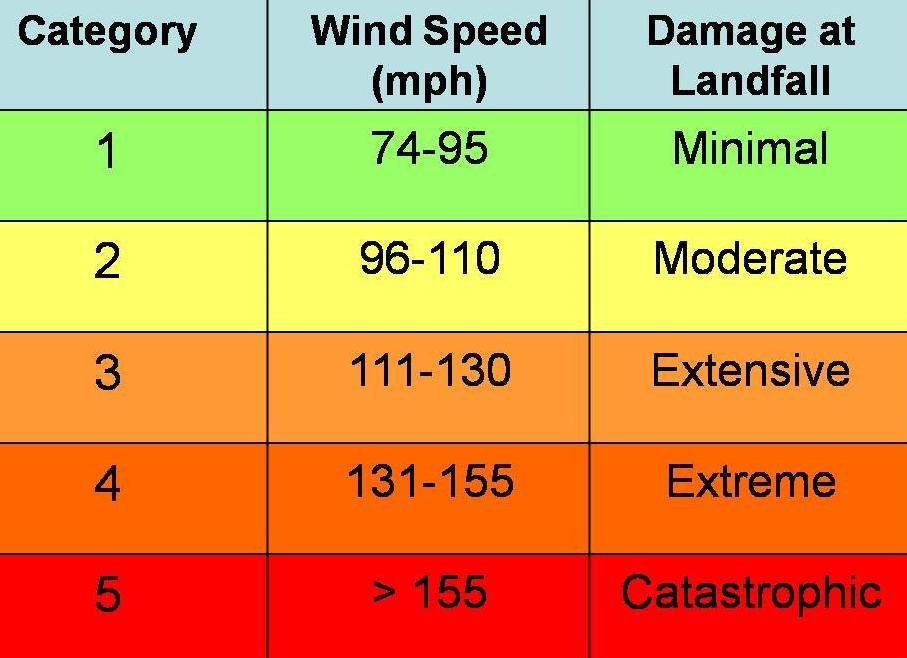 Scientists currently use the Saffir-Simpson scale to measure the intensity of tropical storms and tropical depressions (essentially, a mini-storm). A storm registers on the lowest end of the scale when its winds reach 74 miles per hour. The most severe category, 5, begins at 157 mph and is left open-ended.
The new projections forecast some storms with maximum sustained winds of more than 190 mph. Only 9 such storms were observed in the 20th century. But for 2016 to 2035, the projections produced 32 of these extreme storms and 72 for 2081 to 2100.
Some scientists argue that adding a new category to the Saffir-Simpson scale will help the public grasp the changes climate change is bringing to the planet.
"Scientifically, [six] would be a better description of the strength of 200-mph storms, and it would also better communicate the well-established finding now that climate change is making the strongest storms even stronger," said climatologist Michael Mann, director of the Earth System Science Center at Penn State University, at a conference earlier this year.
"Since the scale is now used as much in a scientific context as it is a damage assessment context, it makes sense to introduce a category six to describe the unprecedented strength 200-mph storms we've seen over the past few years both globally and here in the southern hemisphere."
One primary driver of the planet's increasingly extreme hurricanes is warming oceans.
Watch out, America! #HurricaneFlorence is so enormous, we could only capture her with a super wide-angle lens from the @Space_Station, 400 km directly above the eye. Get prepared on the East Coast, this is a no-kidding nightmare coming for you. #Horizons pic.twitter.com/ovZozsncfh
— Alexander Gerst (@Astro_Alex) September 12, 2018
Lumina Foundation is partnering with Big Think to unearth the next large-scale, rapid innovation in post-high school education. Enter the competition here!
Creativity can bring about unchecked harm, but it's up to us how we wield it.
Mind & Brain
Suppose you forgot it was your partner's birthday, but you know that they would appreciate the smallest of gestures, say a bouquet. It's late at night and no florists are open. The cemetery on your way home has recently had a funeral, and you walk across the site and pick up a good-looking bouquet of roses from someone's grave. You then head home, and the flowers are happily received by your partner.
Would you say that you hurt anyone?
Some evidence attributes a certain neurological phenomenon to a near death experience.
Credit: Petr Kratochvil. PublicDomainPictures.net.
Surprising Science
Time of death is considered when a person has gone into cardiac arrest. This is the cessation of the electrical impulse that drive the heartbeat. As a result, the heart locks up. The moment the heart stops is considered time of death. But does death overtake our mind immediately afterward or does it slowly creep in?
Musican. Actor. Fashion Icon. Internet Visionary?
Technology & Innovation
David Bowie was well known as a rock star, but somehow his other interests and accomplishments remain obscure.
In this 1999 interview, he explains why he knows the internet is more than just a tool and why it was destined to change the world.
He launched his own internet service provider in 1998, BowieNet. It ceased operations in 2006.
Big think's weekly newsletter.
Get smarter faster from the comfort of your inbox.
See our newsletter privacy policy
here
Most Popular
Most Recent
Big think's weekly newsletter.
Get smarter faster from the comfort of your inbox.
See our newsletter privacy policy
here
© Copyright 2007-2018 & BIG THINK, BIG THINK EDGE,
SMARTER FASTER trademarks owned by The Big Think, Inc. All rights reserved.