Apple unveils 3 new iPhones and the Apple Watch Series 4
Apple unveiled the new Apple Watch Series 4 and three new iPhones during their keynote event on Wednesday, and they are chock-full of goodies.
12 September, 2018
---
Apple unveiled the Apple Watch Series 4 and three new iPhones at its annual keynote event on Wednesday.
Apple CEO Tim Cook kicked off the event, which comes a year after the introduction of iPhone X, by touting how the company is approaching its 2 billionth connected iOS device, and then handed off the presentation to other executives who introduced new products, which include features like heart-monitoring technology approved by the Food and Drug Administration and the new A12 Bionic chip, "the smartest, most powerful chip in a smartphone," according to Phil Schiller, Apple's senior vice president of worldwide marketing.
New iPhones
Apple is introducing three new iPhones: the XS ($999), XS Max ($1,099), and XR ($749).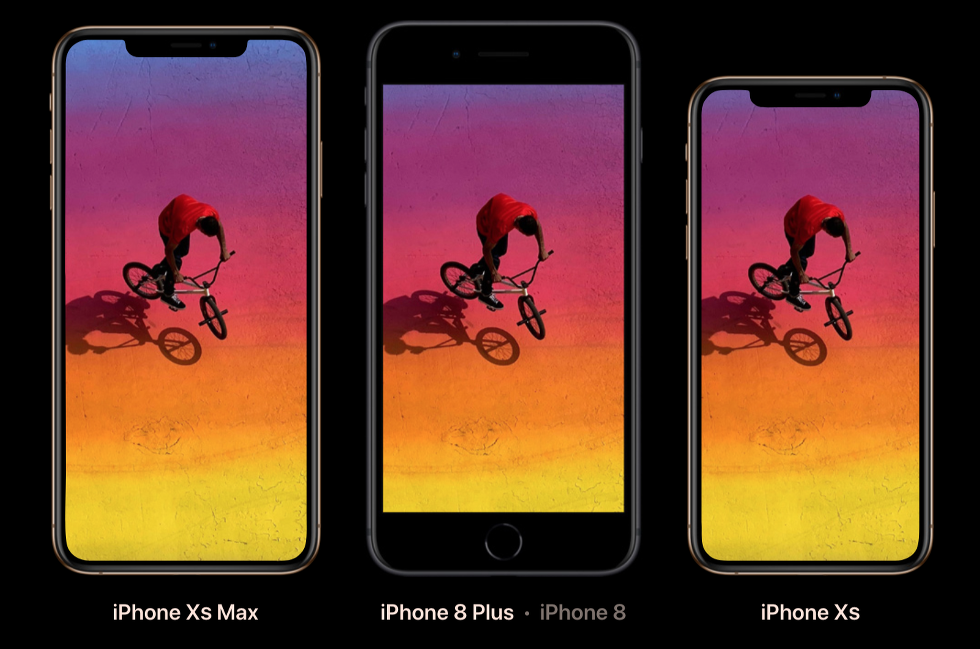 The XS and XS Max, which will be available for pre-order on September 14, share the following specs:
Display: OLED HDR 'Super Retina' display features 5.8-inch diagonal (458 ppi), and the XS Max features a 6.5-inch diagonal (458 ppi), which is the biggest iPhone display available
Body: Thinner, rounded corners, curved design
Colors: Gold, silver, and gray
Camera: 12 megapixel dual camera with wide-angle and telephoto lenses
Computational photography: Users can change the depth of field of photos after they're taken
Processor: A12 Bionic chip is said to execute "5 trillion operations per second" and launches apps 30% faster than older models
Storage options: 64 GB, 128 GB, and 512 GB (prices start at 64 GB)
IP68 water-resistance rating (resistant down to 2 meters for up to 30 minutes in liquid)
Battery life: iPhone XS is expected to last 30 minutes longer than older models
Pressure-sensitive screen
Improved and wider stereo sound
Protected by the "most durable glass ever in a smartphone"
Features "the most secure facial authentication ever in a smartphone"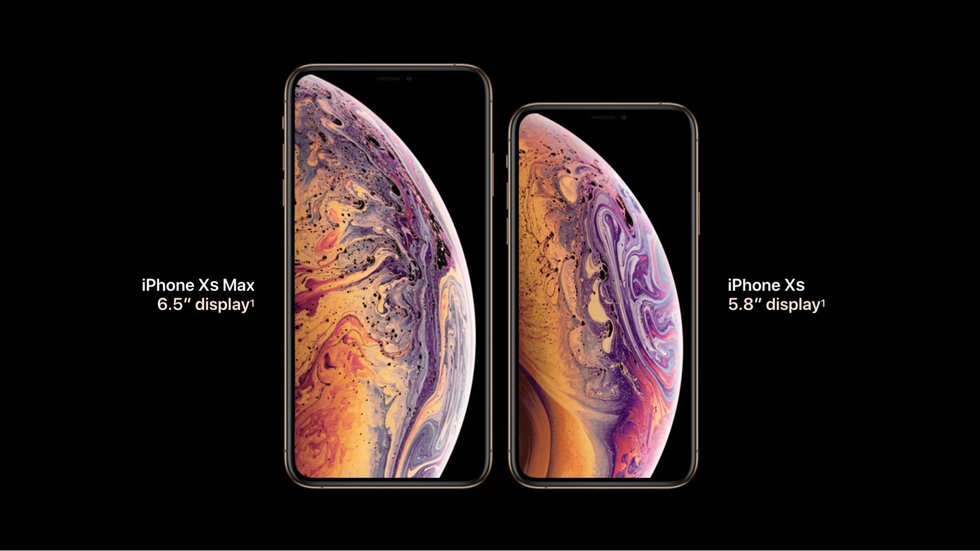 Upgraded hardware in the new iPhones also enables improved video game experiences, including a new mobile iteration of The Elder Scrolls  saga dubbed Blades...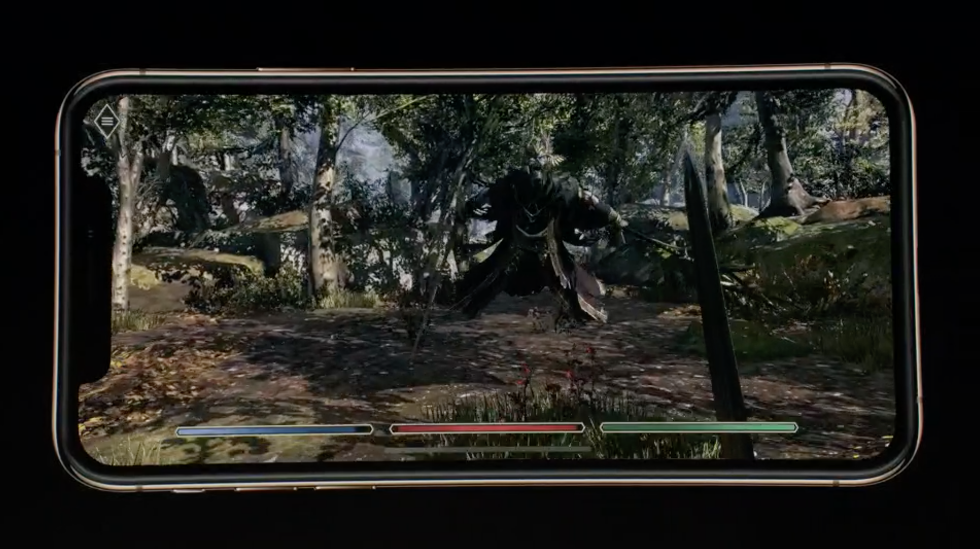 ... and augmented reality versions of older games like Galaga.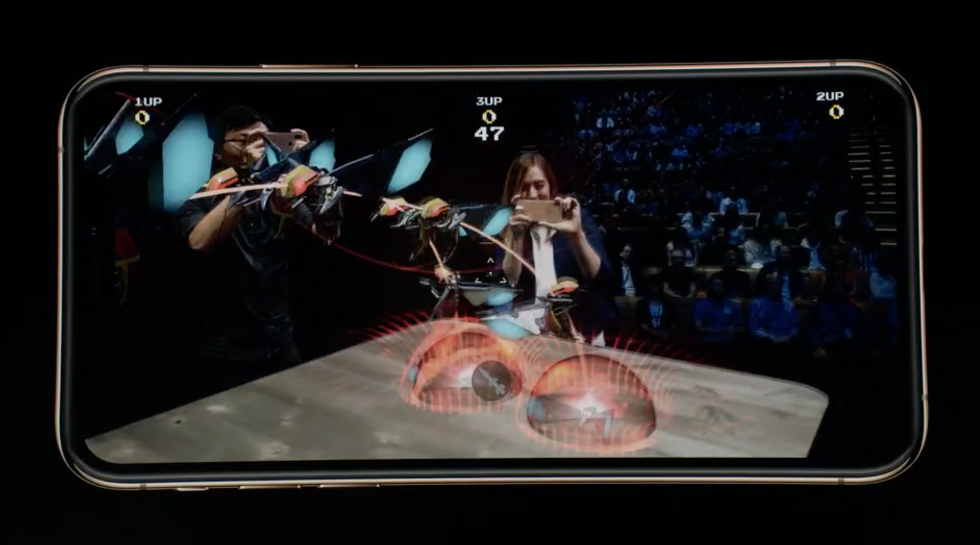 Apple Watch Series 4
Boasting that the Apple Watch is the world's "number one watch, period," the company is branding its latest iteration of the smart watch as an "intelligent guardian for your health." That's primarily because the watch features electrical heart sensors that allow you to take an electrocardiogram (or ECG) that can check for signs of heart disease and other conditions.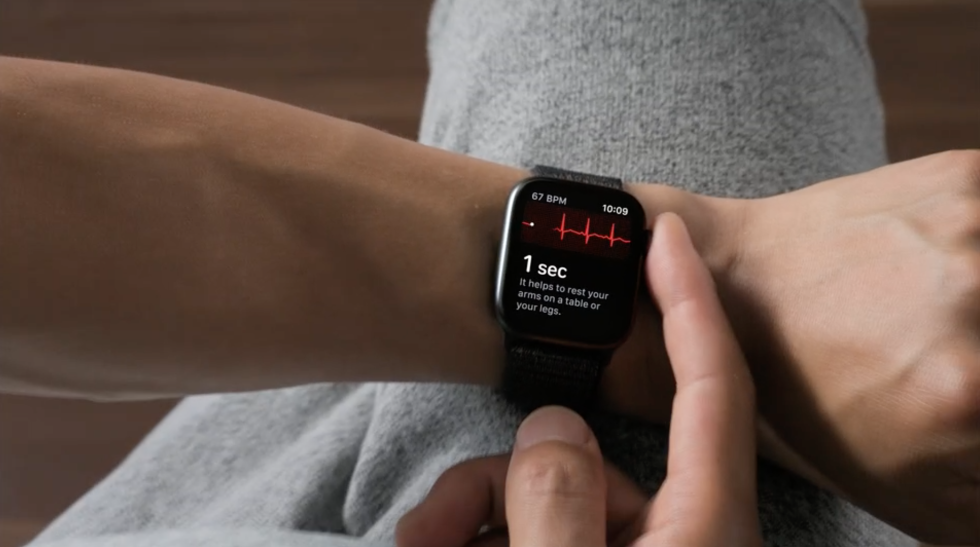 "This is the first ECG product offered over the counter, directly to consumers," said Jeff Williams, Apple's chief operating officer. "Now, you can take an ECG anytime, anywhere, right from your wrist. You just open your app and put your finger on the digital crown."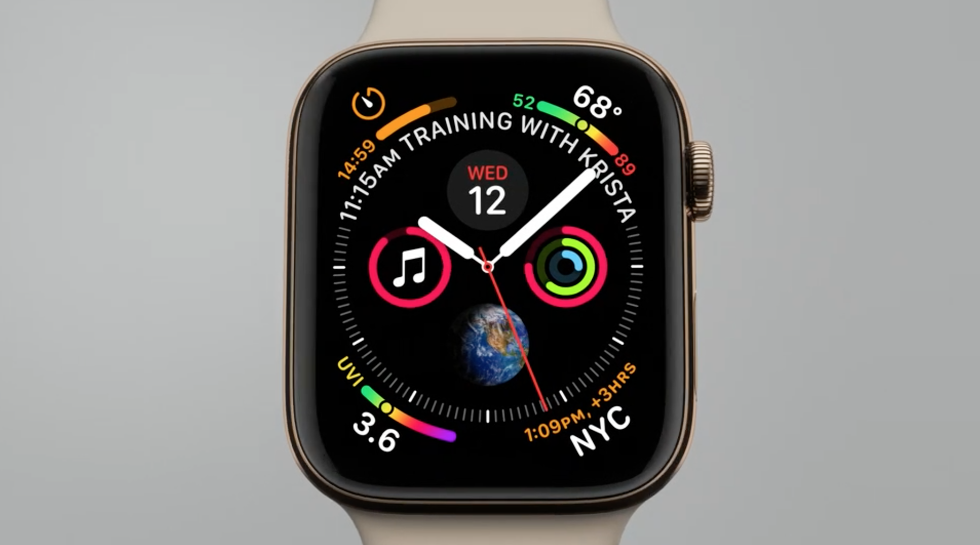 Dr. Ivor J. Benjamin, president of the American Heart Association, called the heart-monitoring feature "game-changing" at the event. The heart-monitoring feature can also detect signs of atrial fibrillation, a type of irregular heartbeat that increases the risk of stroke and other heart-related conditions.
The new Apple Watch can also detect when a person trips, slips, or falls and is able to automatically call emergency services if a user is unresponsive following such an accident.
Other features of the Apple Watch Series 4 include the following:
Display: 30% larger screen that stretches to the face's edges
Body: Thinner
Speed: 64-bit dual-core processor is expected to give twice as fast performance as previous watches
Digital crown: Newly equipped with haptic feedback
Colors: Silver, gold, and space gray
Speakers: Redesigned to be 50% louder
Battery life: Same 18-hour lifespan as Series 3
Improved cellular reception
Prices: GPS $399, cellular $499
Availability: Order 9/14, available 9/21
Related Articles
Ready your Schrödinger's Cat Jokes.
Quantum entanglement. Conceptual artwork of a pair of entangled quantum particles or events (left and right) interacting at a distance. Quantum entanglement is one of the consequences of quantum theory. Two particles will appear to be linked across space and time, with changes to one of the particles (such as an observation or measurement) affecting the other one. This instantaneous effect appears to be independent of both space and time, meaning that, in the quantum realm, effect may precede cause.
Technology & Innovation
For a time, quantum computing was more theory than fact.
That's starting to change.
New quantum computer designs look like they might be scalable.
Quantum computing has existed in theory since the 1980's. It's slowly making its way into fact, the latest of which can be seen in a paper published in Nature called, "Deterministic teleportation of a quantum gate between two logical qubits."

To ensure that we're all familiar with a few basic terms: in electronics, a 'logic gate' is something that takes in one or more than one binary inputs and produces a single binary output. To put it in reductive terms: if you produce information that goes into a chip in your computer as a '0,' the logic gate is what sends it out the other side as a '1.'

A quantum gate means that the '1' in question here can — roughly speaking — go back through the gate and become a '0' once again. But that's not quite the whole of it.
A qubit is a single unit of quantum information. To continue with our simple analogy: you don't have to think about computers producing a string of information that is either a zero or a one. A quantum computer can do both, simultaneously. But that can only happen if you build a functional quantum gate.

That's why the results of the study from the folks at The Yale Quantum Institute saying that they were able to create a quantum gate with a "process fidelity" of 79% is so striking. It could very well spell the beginning of the pathway towards realistic quantum computing.
The team went about doing this through using a superconducting microwave cavity to create a data qubit — that is, they used a device that operates a bit like a organ pipe or a music box but for microwave frequencies. They paired that data qubit with a transmon — that is, a superconducting qubit that isn't as sensitive to quantum noise as it otherwise could be, which is a good thing, because noise can destroy information stored in a quantum state. The two are then connected through a process called a 'quantum bus.'
That process translates into a quantum property being able to be sent from one location to the other without any interaction between the two through something called a teleported CNOT gate, which is the 'official' name for a quantum gate. Single qubits made the leap from one side of the gate to the other with a high degree of accuracy.
Above: encoded qubits and 'CNOT Truth table,' i.e., the read-out.
The team then entangled these bits of information as a way of further proving that they were literally transporting the qubit from one place to somewhere else. They then analyzed the space between the quantum points to determine that something that doesn't follow the classical definition of physics occurred.

They conclude by noting that "... the teleported gate … uses relatively modest elements, all of which are part of the standard toolbox for quantum computation in general. Therefore ... progress to improve any of the elements will directly increase gate performance."
In other words: they did something simple and did it well. And that the only forward here is up. And down. At the same time.
These modern-day hermits can sometimes spend decades without ever leaving their apartments.
700,000 Japanese people are thought to be hikikomori, modern-day hermits who never leave their apartments (BEHROUZ MEHRI/AFP/Getty Images).
Mind & Brain
A hikikomori is a type of person in Japan who locks themselves away in their bedrooms, sometimes for years.
This is a relatively new phenomenon in Japan, likely due to rigid social customs and high expectations for academic and business success.
Many believe hikikomori to be a result of how Japan interprets and handles mental health issues.
How a cataclysm worse than what killed the dinosaurs destroyed 90 percent of all life on Earth.
Credit: Ron Miller
Surprising Science
While the demise of the dinosaurs gets more attention as far as mass extinctions go, an even more disastrous event called "the Great Dying" or the "End-Permian Extinction" happened on Earth prior to that. Now scientists discovered how this cataclysm, which took place about 250 million years ago, managed to kill off more than 90 percent of all life on the planet.
Big think's weekly newsletter.
Get smarter faster from the comfort of your inbox.
See our newsletter privacy policy
here
Most Popular
Most Recent
Big think's weekly newsletter.
Get smarter faster from the comfort of your inbox.
See our newsletter privacy policy
here
© Copyright 2007-2018 & BIG THINK, BIG THINK EDGE,
SMARTER FASTER trademarks owned by The Big Think, Inc. All rights reserved.