America's national anxiety score rose 5 points in the last year
The survey asked respondents to rate their anxiety levels in five areas: safety, health, finances, relationships and politics.
08 May, 2018
---
A common thread runs through all groups in modern America: anxiety.
According to a new survey from the American Psychiatric Association (APA), Americans are feeling, in general, more anxious than they were in 2017. The survey asked 1,004 adults from around the country to rate their anxiety in five areas: safety, health, finances, relationships, and politics. Results showed:
39% feel more anxious now compared to last year.
~68% feel extremely or somewhat anxious about their health, keeping their family safe, and paying bills on time.
56% feel extremely or somewhat anxious about the impact of politics on their daily lives.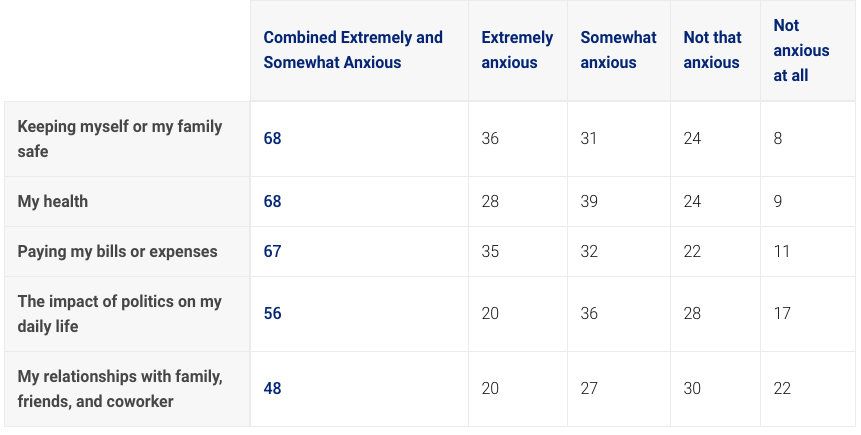 Source: APA 2018 poll.
The national anxiety score
It all amounted to a five-point increase in the country's "national anxiety score," which is scored from 0-100, and rose from 46 in 2017 to 51 in 2018. All groups in the survey reported year-over-year increases in anxiety, but not equally across race, gender, or age. Results showed:
Millennials feel the most anxious, though baby boomers reported the highest increase in anxiety
Women reported a higher increase in anxiety than men; among adults younger than 50, 38% of men and 57% of women feel more anxious now compared to last year.
The above gender-split is also true among people older than 50 but older people, in general, reported lower increases in anxiety: 

24% of men and 39% of women.

People of color feel more anxious than Caucasians by 11 points.
The survey also asked about attitudes on the issues of mental health, prescription drug abuse, and gun violence.
Opioid crisis
31% 

know someone who is or has been addicted to opioids or prescription painkillers.

9% 

have taken an opioid or prescription painkiller without a prescription.

19% said it

'd 

be "extremely easy" for someone in their community to access a large amount of opioids or prescription painkillers without needing them for a medical purpose.
"Our poll findings show that Americans are increasingly aware of the problem of opioid addiction and increasingly believe people can recover," said APA CEO and medical director Saul Levin, M.D., M.P.A. "The crisis has become personal to many and they want to see treatment available for those affected. We are ready to work with the Administration and Congress to curb this national epidemic."
Mental health
86% strongly or somewhat agree mental health impacts physical health.
81% strongly or somewhat agree to the statement: "

I know how to access mental health care if I need it."

33% think Congress considers mental health "somewhat less of a priority."
Gun violence
~86% (~

76% percent of Republicans and ~96% of Democrats) 

strongly or somewhat agree gun violence is a public health threat, and Congress should do more to address it.
50% report easy access to assault weapons and lack of access to mental health services as equally to blame for recent mass shootings.
76% support increasing the abilities of the CDC to conduct research on gun violence.
The APA suggested a few ways Americans can alleviate anxiety. 
"This poll shows U.S. adults are increasingly anxious particularly about health, safety and finances. That increased stress and anxiety can significantly impact many aspects of people's lives, including their mental health, and it can affect families," said APA President Anita Everett, M.D. "It highlights the need to help reduce the effects of stress with regular exercise, relaxation, healthy eating and time with friends and family."
What can 3D printing do for medicine? The "sky is the limit," says Northwell Health researcher Dr. Todd Goldstein.
Northwell Health
Sponsored by Northwell Health
Medical professionals are currently using 3D printers to create prosthetics and patient-specific organ models that doctors can use to prepare for surgery.
Eventually, scientists hope to print patient-specific organs that can be transplanted safely into the human body.
Northwell Health, New York State's largest health care provider, is pioneering 3D printing in medicine in three key ways.
An ordained Lama in a Tibetan Buddhist lineage, Lama Rod grew up a queer, black male within the black Christian church in the American south. Navigating all of these intersecting, evolving identities has led him to a life's work based on compassion for self and others.
Think Again Podcasts
"What I'm interested in is deep, systematic change. What I understand now is that real change doesn't happen until change on the inside begins to happen."
"Masculinity is not inherently toxic. Patriarchy is toxic. We have to let that energy go so we can stop forcing other people to do emotional labor for us."
We were gaining three IQ points per decade for many, many years. Now, that's going backward. Could this explain some of our choices lately?
The Flynn effect appears to be in retrograde. (Credit: Shutterstock/Big Think)
popular
There's a new study out of Norway that indicates our—well, technically, their—IQs are shrinking, to the tune of about seven IQ points per generation.
Here's why generalists triumph over specialists in the new era of innovation.
Videos
Since the explosion of the knowledge economy in the 1990s, generalist inventors have been making larger and more important contributions than specialists.
One theory is that the rise of rapid communication technologies allowed the information created by specialists to be rapidly disseminated, meaning generalists can combine information across disciplines to invent something new.
Here, David Epstein explains how Nintendo's Game Boy was a case of "lateral thinking with withered technology." He also relays the findings of a fascinating study that found the common factor of success among comic book authors.
Big think's weekly newsletter.
Get smarter faster from the comfort of your inbox.
See our newsletter privacy policy
here
Most Popular
Most Recent
Big think's weekly newsletter.
Get smarter faster from the comfort of your inbox.
See our newsletter privacy policy
here
© Copyright 2007-2019 & BIG THINK, BIG THINK EDGE,
SMARTER FASTER trademarks owned by The Big Think, Inc. All rights reserved.