15,000 scientists issue environmental 'warning' to humanity
Thousands of scientists from 184 countries have endorsed an open letter that outlines some of the Earth's most pressing environmental problems.
13 November, 2017
---
More than 15,000 scientists from 184 countries have issued a warning: Mankind must take immediate action to reverse the effects of climate change, deforestation and species extinction before it's too late.
The warning, issued by the Alliance of World Scientists and published in the journal Bioscience, comes on the 25th anniversary of a similar warning from the Union of Concerned Scientists that was titled "World Scientists' Warning to Humanity". The new letter, however, has 10 times as many scientists endorsing it.
"On the 25th anniversary of their call, we look back at their warning and evaluate the human response by exploring available time-series data," the paper reads. "Especially troubling is the current trajectory of potentially catastrophic climate change due to rising GHGs from burning fossil fuels (Hansen et al. 2013), deforestation (Keenan et al. 2015), and agricultural production—particularly from farming ruminants for meat consumption (Ripple et al. 2014). Moreover, we have unleashed a mass extinction event, the sixth in roughly 540 million years, wherein many current life forms could be annihilated or at least committed to extinction by the end of this century."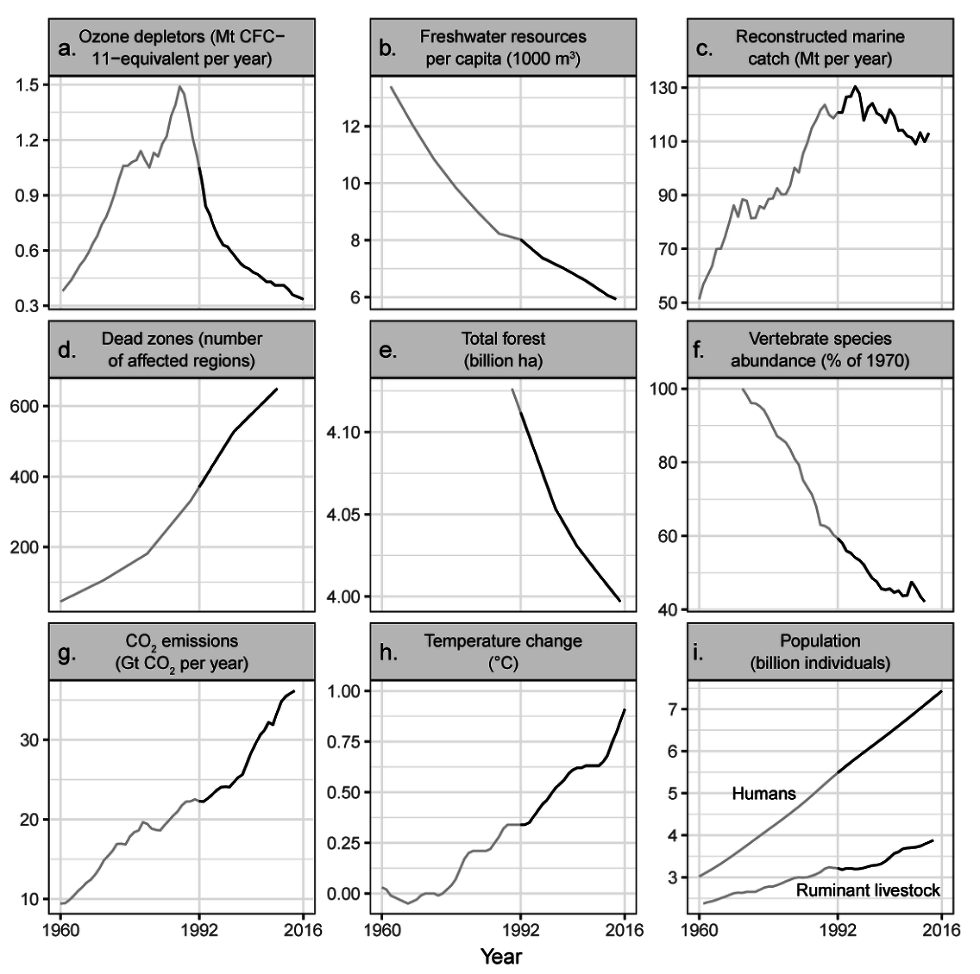 The paper outlines some of the world's most pressing environmental concerns, most of which have only worsened since 1992. They're summarized here:
A decline in freshwater availability – Per capita fresh water availability is less than half of the level of the 1960s. It is likely that climate change will have an overwhelming impact on the freshwater availability through alteration of the hydrologic cycle and water availability.
Unsustainable marine fisheries – In 1992, the total marine catch was at or above the maximum sustainable yield and fisheries were on the verge of collapse. Global catch rates have decreased, though fishing efforts are increasing.
Ocean dead zones – Coastal dead zones which are mainly caused by fertilizer runoff and fossil-fuel use, are killing large swaths of marine life. Dead zones with hypoxic, oxygen-depleted waters, are a significant stressor on marine systems and identified locations have dramatically increased since the 1960s, with more than 600 systems affected by 2010.
Forest losses – The world's forests are crucial for conserving carbon, biodiversity, and freshwater. Between 1990 and 2015, total forest area decreased from 4,128 to 3,999 million ha, a net loss of 129 million ha which is approximately the size of South Africa.
Dwindling biodiversity – The world's biodiversity is vanishing at an alarming rate and populations of vertebrate species are rapidly collapsing (World Wildlife Fund 2016). Collectively, global fish, amphibians, reptiles, birds, and mammals declined by 58% between 1970 and 2012.
Climate change – Global fossil-fuel carbon dioxide emissions have increased sharply since 1960. Relative to the 1951-1980 average, global average annual surface temperature, in parallel to CO2 emissions, has also rapidly risen as shown by 5-year mean temperature anomaly. The 10 warmest years in the 136-year record have occurred since 1998.
Population growth – Since 1992, the human population has increased by approximately 2 billion individuals, a 35% change. The world human population is unlikely to stop growing this century and there is a high likelihood that the world population will grow from 7.2 billon people now to between 9.6 and 12.3 billon by 2100.
It wasn't all awful news, however.
Now for some good news!
The Ozone Hole this year has been the smallest since 1988!https://t.co/8S7dDYW1c7
— Erik Solheim (@ErikSolheim) November 3, 2017
As religious diversity increases in the United States, we must learn to channel religious identity into interfaith cooperation.
Sponsored by Charles Koch Foundation
Religious diversity is the norm in American life, and that diversity is only increasing, says Eboo Patel.
Using the most painful moment of his life as a lesson, Eboo Patel explains why it's crucial to be positive and proactive about engaging religious identity towards interfaith cooperation.
The opinions expressed in this video do not necessarily reflect the views of the Charles Koch Foundation, which encourages the expression of diverse viewpoints within a culture of civil discourse and mutual respect.
Ask very silly questions to spur very serious innovation.
Videos
To get really innovative solutions to complex problems, you need to abandon logic, says Dan Seewald.
Asking provocative and ridiculous 'what if?' questions pushes us down lateral paths of thinking versus the vertical or logical path. The latter approach is practical but it doesn't break new ground.
Breaking with tradition through lateral thinking allows us to solve really serious problems, from climate change to political turmoil. Or, as Dan Seewald explains, it could just help you solve all your laundry headaches.
If you don't want to know anything about your death, consider this your spoiler warning.
Culture & Religion
For centuries cultures have personified death to give this terrifying mystery a familiar face.
Modern science has demystified death by divulging its biological processes, yet many questions remain.
Studying death is not meant to be a morbid reminder of a cruel fate, but a way to improve the lives of the living.
When it comes to sniffing out whether a source is credible or not, even journalists can sometimes take the wrong approach.
Sponsored by Charles Koch Foundation
We all think that we're competent consumers of news media, but the research shows that even journalists struggle with identifying fact from fiction.
When judging whether a piece of media is true or not, most of us focus too much on the source itself. Knowledge has a context, and it's important to look at that context when trying to validate a source.
The opinions expressed in this video do not necessarily reflect the views of the Charles Koch Foundation, which encourages the expression of diverse viewpoints within a culture of civil discourse and mutual respect.