Do You Deserve To Have A Job That You Love?
09 March, 2012
These days it's hard enough to get any job at all. If it is part of a good life to have a job that you love then the current situation of unemployment, which is already life-threatening to many people, is all the worse. 
---
There is a lot that needs explanation here: is it part of a good life to have a job that you love? What kind of "part"? If it is a necessary part, then a good life is impossible without it. It may, alternatively, be sufficient for a good life: with a job that you love you have all that you need for a good life. What would qualify a person to "deserve" a job that she loves? What does it really mean to "love" your job?
Let's start with the last question first. When a person says, "I love my job" it seems fair to assume some of the following: she looks forward to going to work most of the time, she enjoys the core tasks involved in doing her job, she does the secondary tasks with relative equanimity, at "peak" moments she may "lose herself" in the artful execution of what she does best, she likes her coworkers and identifies with them, she likes the new people, places, or ideas that she encounters through her work, she takes pride in what she accomplishes as an individual or as part of a collective effort. 
In some cases, a person might say that she loves her job only at moments of competitive achievement: when she is recognized as the winner, the best, a superstar, a success. In these cases, a person might love her job overall as the context in which she can strive for success, even though she doesn't like it so much when she is not winning. She loves the game. 
Much of what a person might love about her job, and indeed much of what seems good about having a job that you love, is also available outside of the professional sphere of life. Parenting, political activism, church, synagogue, mosque, temple or other such participation, playing games, all offer opportunities for relationships, activities, feelings, and accomplishments similar to those that I have listed above. 
I will need to make-up a phrase here. Let's describe as a "life-project" a long-term endeavor that has core and secondary tasks that a person enjoys (or endures with equanimity) and also provides opportunities for "peak" moments. It attaches a person to a community that she likes and identifies with, and it brings enjoyable new encounters of various kinds. It is, furthermore, an endeavor that a person takes pride in. 
I think that having a relatively defined life-project is a necessary, though not sufficient, condition for a good life. But a person's life-project may or may not correlate with a job. So, having a job that you love is not, in my view, necessary for a good life. Most importantly, because I think that every person deserves the opportunity to pursue a good life, I also think that every person deserves a life that is not so encumbered by the demands of mere survival that it is impossible to pursue any life-project at all.  
(These are big moral claims, I know. There is not space or time for me to defend them here. I will just note that I have in mind something not unrelated to "Life, Liberty, and the pursuit of Happiness" – it was once suggested that governments are instituted precisely in order to secure such "unalienable rights.") 
Of course, there are all manner of caveats and exceptions. And there are far better and more elaborate versions of this idea on any good philosophy bookshelf. The point, here, is this: a person's life-projects will not necessarily correlate with her job and this is a tolerable circumstance as long as her job does not block the pursuit of any life-project at all. 
In the United States, we ostensibly protect (and even facilitate) people's life-projects with labor standards, religious accommodations, the public provision of education, public support for the arts, and in many other ways. But we don't do any of it very well. In fact, we fail miserably to assure that huge numbers of people have the basics to pursue any reasonable life-project. 
I want to note two factors that may exacerbate this situation. First, we seem to allow most of the jobs that are not likely to correlate with anyone's life-project – we call these jobs "menial" – to be so low-paying and lacking in essential benefits as to make opportunities for the pursuit of life-projects outside of work nearly impossible. This is utterly backwards. 
The pretense, I suspect, is that these are "transitional jobs" and if the employee works hard enough he will move up to a higher position or a better job eventually. What is probably more likely is that a person in a job like this eventually takes a second job like this and maybe a third, as many as are necessary to get by. Having two or three such jobs only further forecloses opportunities to develop and pursue a life-project. This pretense should be exposed and condemned.
Second, there is a set of people who do seem to love their jobs, who "love the game" in the way that I described above, whose tumultuous winning and losing has negatively impacted the life-project opportunities of many others. This is, perhaps, a way to understand our recent financial crisis: people striving to be winners, to make the big money and consume with it conspicuously, playing a high stakes game with financial products that are tied to other people's money – people who are not in on the game and may not be able to survive a loss. 
On this understanding, the devastation produced by the financial crisis may warn: "loving the game" is a way of "having a job that you love" that we might actually want to discourage in some cases.
Malcolm Gladwell teaches "Get over yourself and get to work" for Big Think Edge.
Big Think Edge
Learn to recognize failure and know the big difference between panicking and choking.

At Big Think Edge, Malcolm Gladwell teaches how to check your inner critic and get clear on what failure is.

Subscribe to Big Think Edge before we launch on March 30 to get 20% off monthly and annual memberships.
It's one of the most consistent patterns in the unviverse. What causes it?
Videos
Spinning discs are everywhere – just look at our solar system, the rings of Saturn, and all the spiral galaxies in the universe.
Spinning discs are the result of two things: The force of gravity and a phenomenon in physics called the conservation of angular momentum.
Gravity brings matter together; the closer the matter gets, the more it accelerates – much like an ice skater who spins faster and faster the closer their arms get to their body. Then, this spinning cloud collapses due to up and down and diagonal collisions that cancel each other out until the only motion they have in common is the spin – and voila: A flat disc.
It turns out, that tattoo ink can travel throughout your body and settle in lymph nodes.
17th August 1973: An American tattoo artist working on a client's shoulder. (Photo by F. Roy Kemp/BIPs/Getty Images)
popular
In the slightly macabre experiment to find out where tattoo ink travels to in the body, French and German researchers recently used synchrotron X-ray fluorescence in four "inked" human cadavers — as well as one without. The results of their 2017 study? Some of the tattoo ink apparently settled in lymph nodes.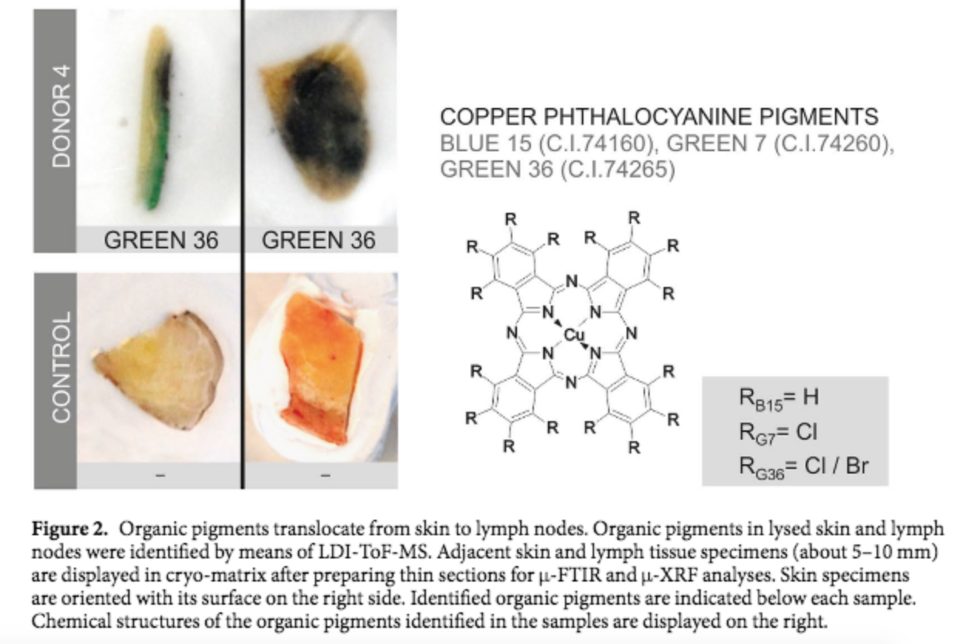 Image from the study.
As the authors explain in the study — they hail from Ludwig Maximilian University of Munich, the European Synchrotron Radiation Facility, and the German Federal Institute for Risk Assessment — it would have been unethical to test this on live animals since those creatures would not be able to give permission to be tattooed.
Because of the prevalence of tattoos these days, the researchers wanted to find out if the ink could be harmful in some way.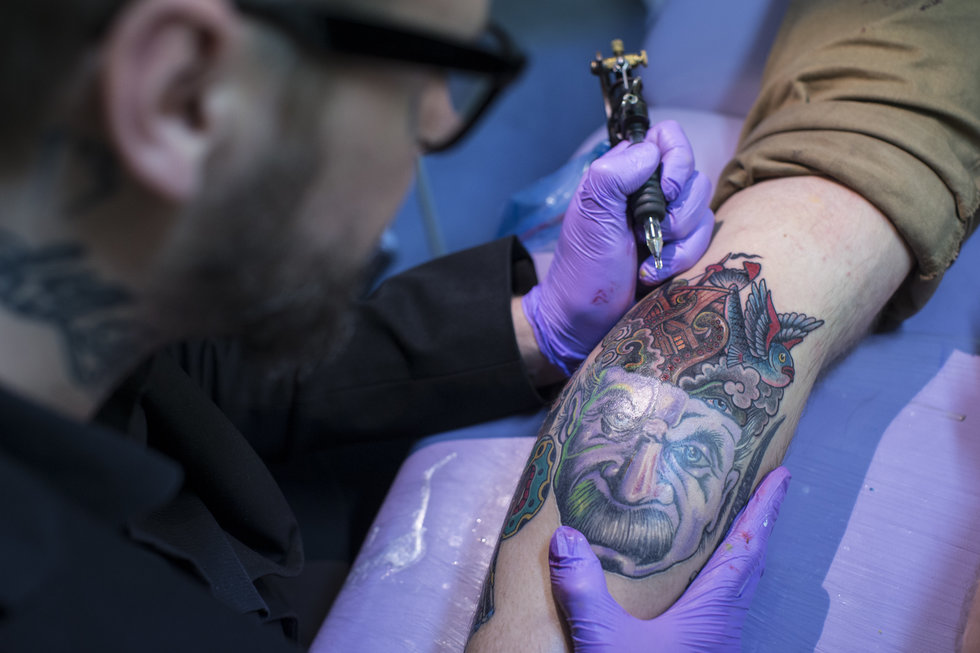 "The increasing prevalence of tattoos provoked safety concerns with respect to particle distribution and effects inside the human body," they write.
It works like this: Since lymph nodes filter lymph, which is the fluid that carries white blood cells throughout the body in an effort to fight infections that are encountered, that is where some of the ink particles collect.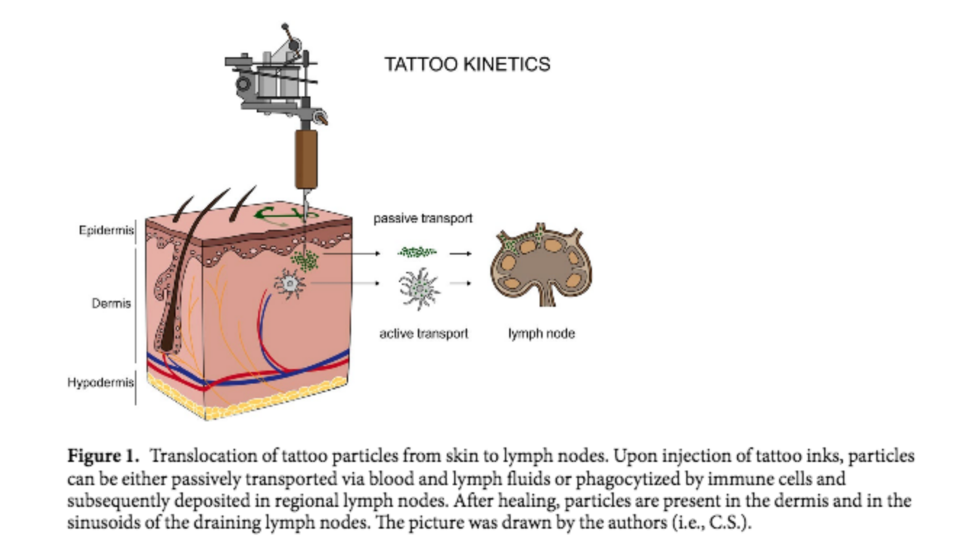 Image by authors of the study.
Titanium dioxide appears to be the thing that travels. It's a white tattoo ink pigment that's mixed with other colors all the time to control shades.
The study's authors will keep working on this in the meantime.
"In future experiments we will also look into the pigment and heavy metal burden of other, more distant internal organs and tissues in order to track any possible bio-distribution of tattoo ink ingredients throughout the body. The outcome of these investigations not only will be helpful in the assessment of the health risks associated with tattooing but also in the judgment of other exposures such as, e.g., the entrance of TiO2 nanoparticles present in cosmetics at the site of damaged skin."
Do you have a magnetic compass in your head?
Big think's weekly newsletter.
Get smarter faster from the comfort of your inbox.
See our newsletter privacy policy
here
Most Popular
Most Recent
Big think's weekly newsletter.
Get smarter faster from the comfort of your inbox.
See our newsletter privacy policy
here
© Copyright 2007-2018 & BIG THINK, BIG THINK EDGE,
SMARTER FASTER trademarks owned by The Big Think, Inc. All rights reserved.