Starts With A Bang —
The launch of NASA's James Webb Space Telescope was the perfect gift for 2022
For many, it was just a successful launch like any other. But for scientists around the globe, it was a victory few dared to imagine.
Key Takeaways
NASA's James Webb Space Telescope successfully launched into space on December 25, 2021.
As a successor to the Hubble Space Telescope, the James Webb telescope is designed to conduct an array of scientific experiments, such as using its sophisticated infrared imaging technology to look farther back in time than its predecessor.
Although the mission still has hurdles to overcome, its first stages are proving successful and it is possible that the telescope will remain operational for more than a decade.
On Christmas day, 2021, NASA's James Webb Space Telescope successfully launched into space.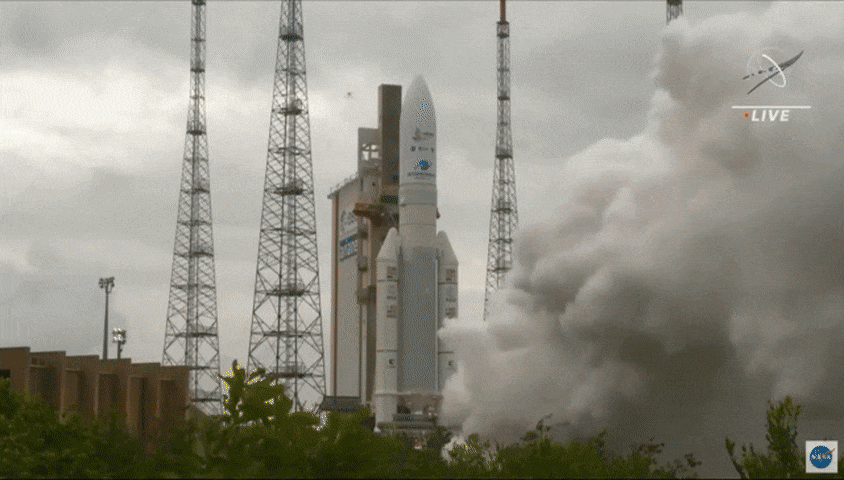 Decades of work by thousands of scientists, engineers, and technicians all boiled down to one moment.
The Ariane 5 rocket — James Webb's launch vehicle — would fully determine the mission's fate.
The fuel aboard Webb, required for science operations, also performs course corrections.
Webb must stably reach its final orbit, 1.5 million km from Earth, before data-taking begins.
A poor launch, like this one from 2018, could've been catastrophic.
We all watched from around the globe, knowing that the launch was critical for a long science lifetime with Webb.
Nominally rated for a 5.5-year mission, scientists worldwide hoped a pristine launch would conserve Webb's hydrazine fuel.
In the best-case scenario, Webb would retain enough for 10+ years of science operations.
As the launch commenced, the rocket performed flawlessly, tracing its designed trajectory perfectly at every moment.
After the second rocket stage completed its burn, it successfully released Webb, right on target.
Floating away in the sunlight, Webb's solar array triumphantly deployed, powering the observatory.
Subsequent burns have put Webb on target for "significantly more than a 10-year science lifetime," providing an auspicious beginning to 2022.
Mostly Mute Monday tells an astronomical story in images, visuals, and no more than 200 words. Talk less; smile more.