Starts With A Bang —
How JWST's first science images will blow us all away
On July 12, 2022, NASA will release the first science images taken with the James Webb Space Telescope. Here's what to hope for.
Key Takeaways
With its unique mirror, sunshield, and set of instruments, NASA's James Webb Space Telescope (JWST) is our greatest infrared telescope in history.
Much of the Universe has been exquisitely observed in many wavelengths of light, but JWST will show us obscured details that have never been revealed before.
Some of the best targets to showcase its unique capabilities are within the Eagle Nebula, such as the Pillars of Creation. Here's what to expect.
In astronomy, we study the Universe by gathering light.
Using visible light alone, however, is incredibly restrictive.
Spanning only the wavelengths from 400-700 nanometers, optical astronomy overlooks most features.
But multiwavelength astronomy can reveal otherwise unseen details.
In particular, dusty, star-forming regions house spectacular phenomena just waiting to be uncovered.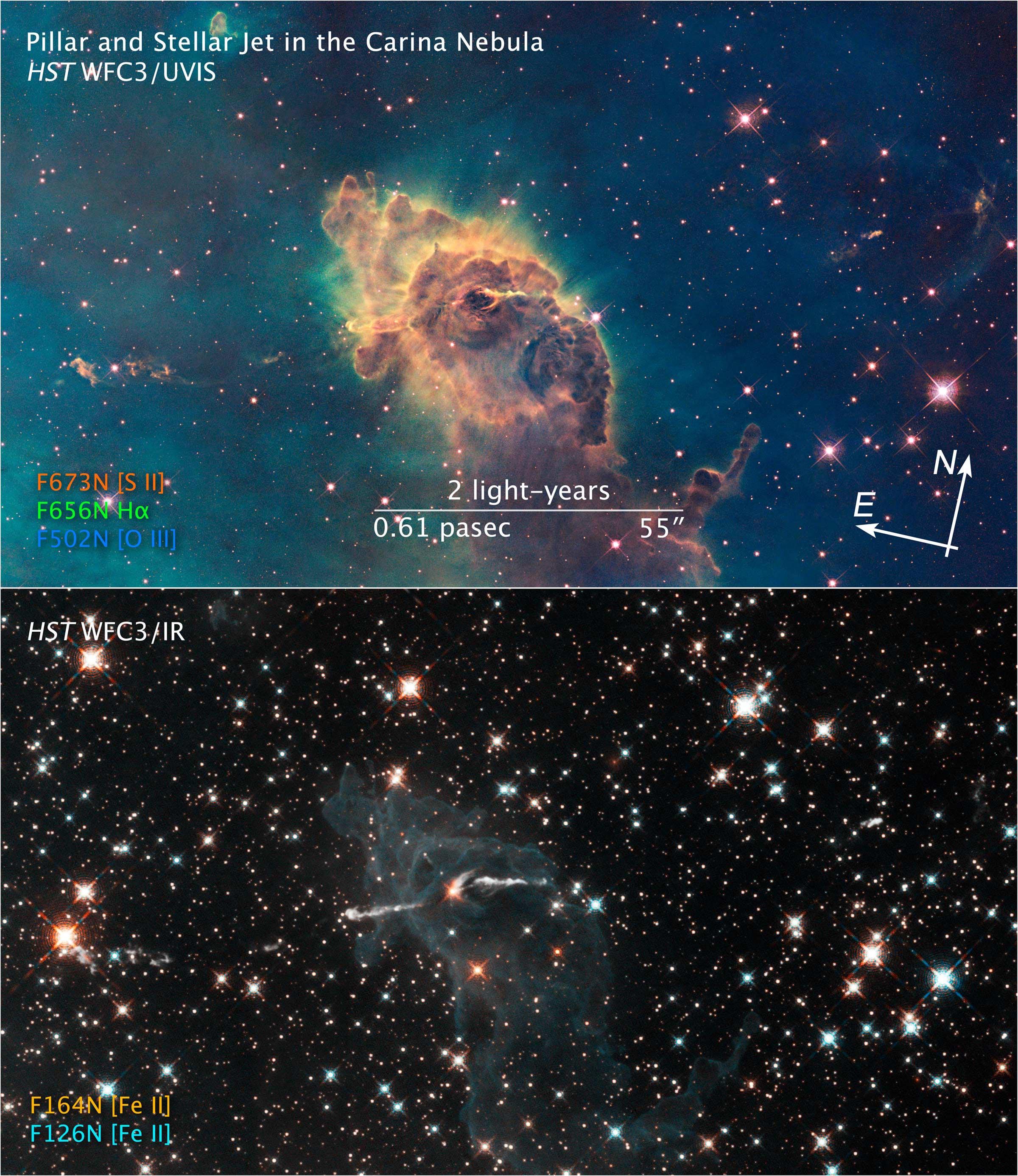 One of Hubble's most iconic targets is the Pillars of Creation.
Located within the Eagle Nebula, a great cosmic race concludes there, some 7000 light-years away.
Visible light showcases neutral matter, absorbing and reflecting the light from surrounding stars.
Inside, new stars actively form, evaporating the pillars from the inside.
Outside, external stellar radiation boils the neutral matter away.
The race is to form new stars, inside, before the gas disappears entirely.
Hubble's dual images, separated by 20 years, show this structure evolving.
But other wavelengths of light reveal what's happening beneath the dust.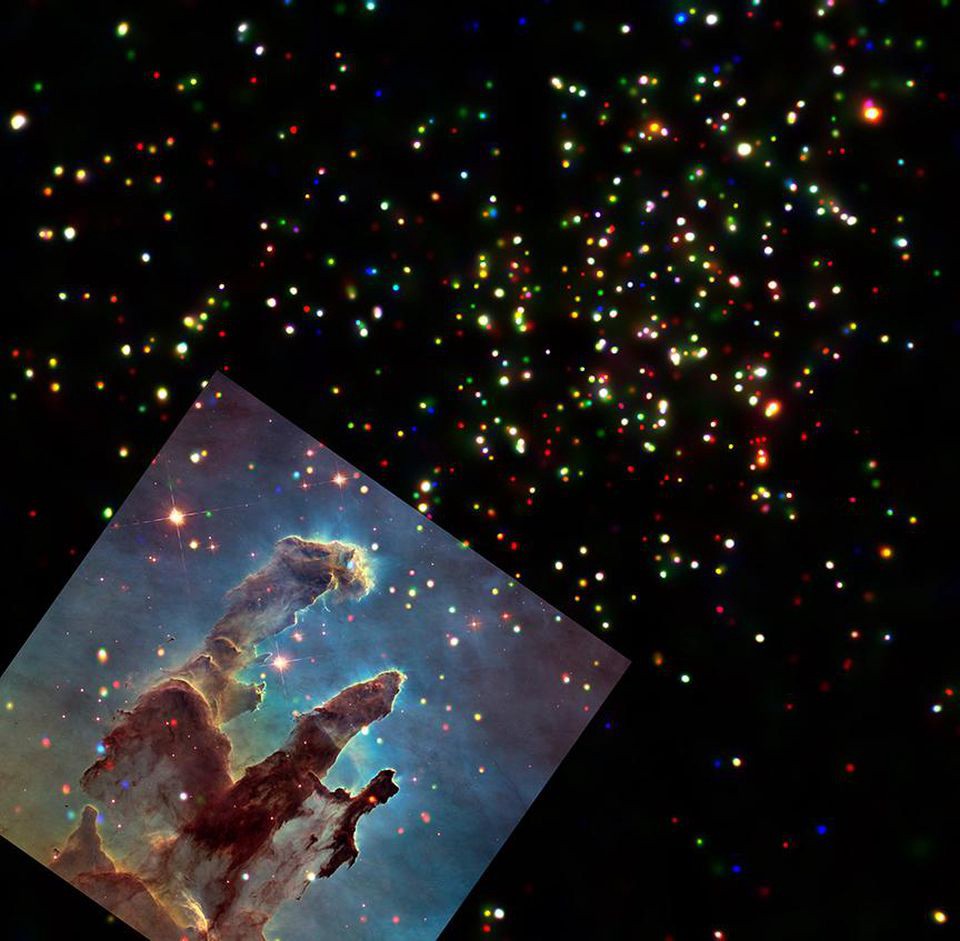 X-ray wavelengths, from NASA's Chandra, reveal new stars and stellar remnants.
Near-infrared views peer through the dust, exposing young stars inside.
The far-infrared eyes of Herschel exposed cool, neutral matter, which will subsequently form new stars.
NASA's Spitzer previously looked in JWST's wavelengths.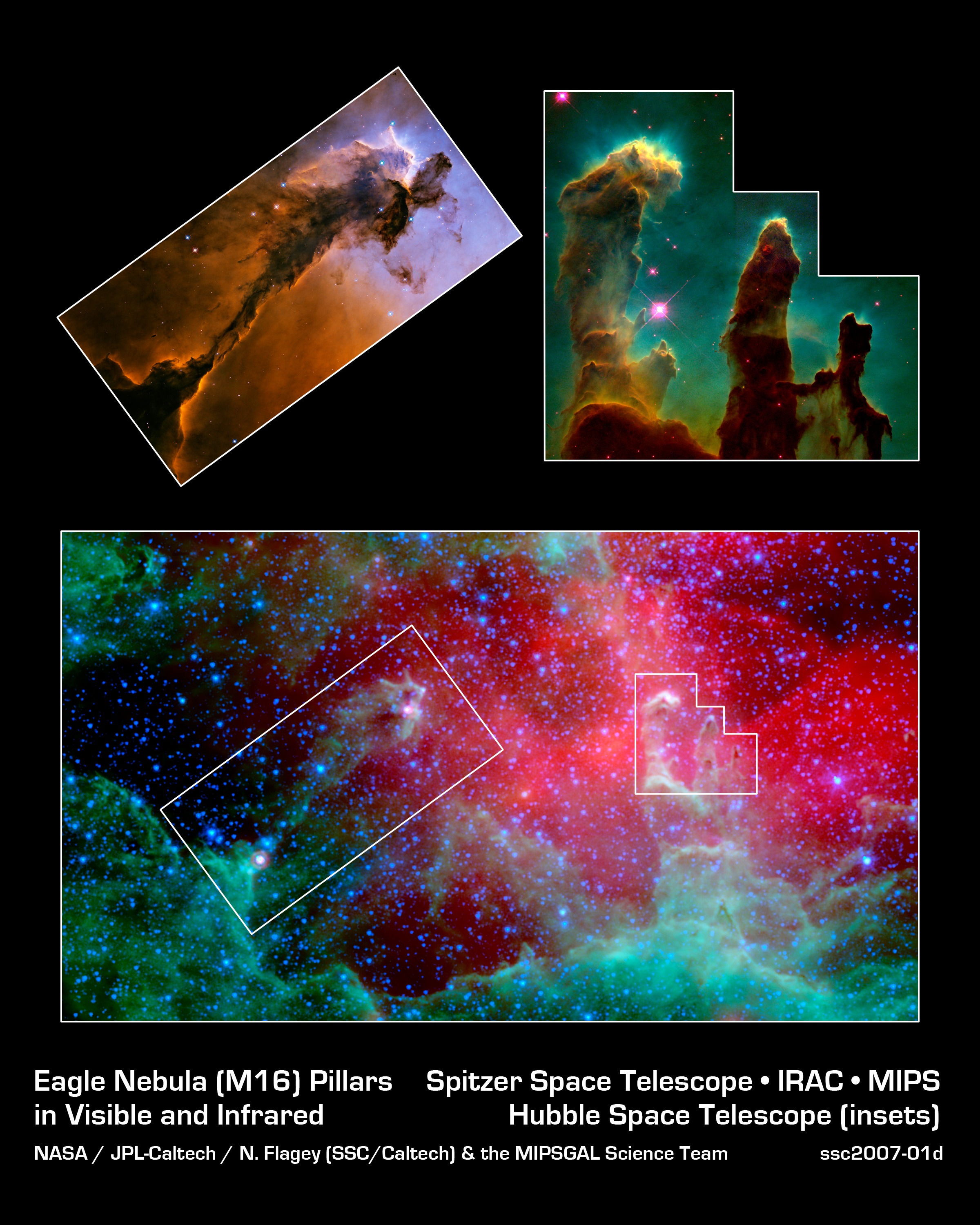 With vastly superior light-gathering power and resolution, it's JWST's perfect "first science" target.
Mostly Mute Monday tells an astronomical story in images, visuals, and no more than 200 words. Talk less; smile more.