Big ideas.
Once a week.
Subscribe to our weekly newsletter.
Sound and Science: Radiolab's Jad Abumrad (taped) Live on Big Think
15 March, 2012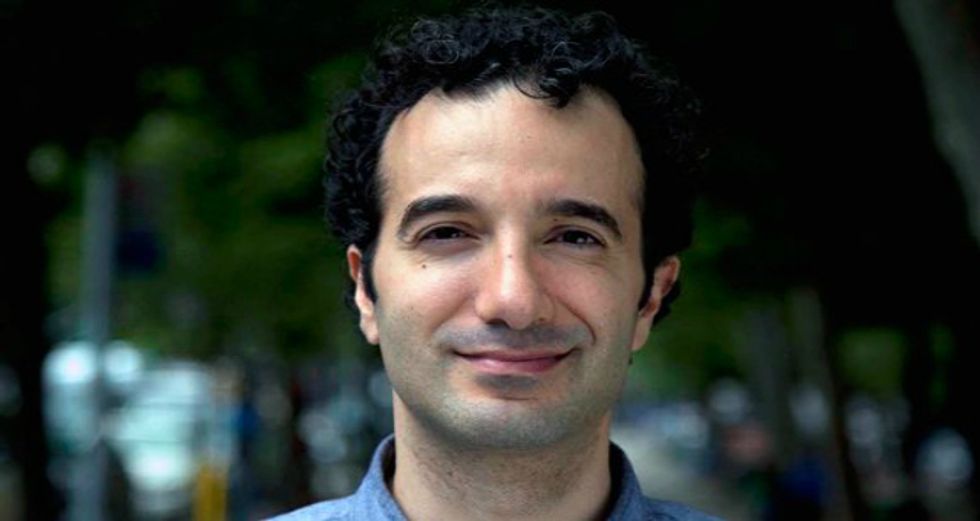 "I think of my job as 'leading people to those moments of awe – that brain fever that overtakes you when you encounter a new idea'".
---
In our livestream interview with Jad Abumrad on 3/12, he answered several reader questions about his work as creator and producer of WNYC's Radiolab, a groundbreaking radio show that uses sound and narrative to explore complex mathematical and scientific questions. We present the recorded livestream here, in its entirety.
The father of all giant sea bugs was recently discovered off the coast of Java.
SJADE 2018
Surprising Science
A new species of isopod with a resemblance to a certain Sith lord was just discovered.
It is the first known giant isopod from the Indian Ocean.
The finding extends the list of giant isopods even further.
Humanity knows surprisingly little about the ocean depths. An often-repeated bit of evidence for this is the fact that humanity has done a better job mapping the surface of Mars than the bottom of the sea. The creatures we find lurking in the watery abyss often surprise even the most dedicated researchers with their unique features and bizarre behavior.

A recent expedition off the coast of Java discovered a new isopod species remarkable for its size and resemblance to Darth Vader.
The ocean depths are home to many creatures that some consider to be unnatural.
Bathynomus raksasa specimen (left) next to a closely related supergiant isopod, B. giganteus (right)
Sidabalok CM, Wong HP-S, Ng PKL (ZooKeys 2020)
According to LiveScience, the Bathynomus genus is sometimes referred to as "Darth Vader of the Seas" because the crustaceans are shaped like the character's menacing helmet. Deemed Bathynomus raksasa ("raksasa" meaning "giant" in Indonesian), this cockroach-like creature can grow to over 30 cm (12 inches). It is one of several known species of giant ocean-going isopod. Like the other members of its order, it has compound eyes, seven body segments, two pairs of antennae, and four sets of jaws.
The incredible size of this species is likely a result of deep-sea gigantism. This is the tendency for creatures that inhabit deeper parts of the ocean to be much larger than closely related species that live in shallower waters. B. raksasa appears to make its home between 950 and 1,260 meters (3,117 and 4,134 ft) below sea level.
Perhaps fittingly for a creature so creepy looking, that is the lower sections of what is commonly called The Twilight Zone, named for the lack of light available at such depths.
It isn't the only giant isopod, far from it. Other species of ocean-going isopod can get up to 50 cm long (20 inches) and also look like they came out of a nightmare. These are the unusual ones, though. Most of the time, isopods stay at much more reasonable sizes.
The discovery of this new species was published in ZooKeys. The remainder of the specimens from the trip are still being analyzed. The full report will be published shortly.
What benefit does this find have for science? And is it as evil as it looks?
The discovery of a new species is always a cause for celebration in zoology. That this is the discovery of an animal that inhabits the deeps of the sea, one of the least explored areas humans can get to, is the icing on the cake.
Helen Wong of the National University of Singapore, who co-authored the species' description, explained the importance of the discovery:
"The identification of this new species is an indication of just how little we know about the oceans. There is certainly more for us to explore in terms of biodiversity in the deep sea of our region."
The animal's visual similarity to Darth Vader is a result of its compound eyes and the curious shape of its head. However, given the location of its discovery, the bottom of the remote seas, it may be associated with all manner of horrifically evil Elder Things and Great Old Ones.
Researchers discovered a galactic wind from a supermassive black hole that sheds light on the evolution of galaxies.
Credit: ALMA (ESO/NAOJ/NRAO)
Surprising Science
A new study finds the oldest galactic wind yet detected, from 13.1 billion years ago.
The research confirms the theory that black holes and galaxies evolve together.
The galactic wind was spotted using the Atacama Large Millimeter/submillimeter Array in Chile.
An enormously powerful galactic wind generated by a supermassive black hole 13.1 billions years ago has been discovered by researchers. The scientists used the Atacama Large Millimeter/submillimeter Array (ALMA) in Chile, which combines 66 radio telescopes, to make the find. The results are published in the Astrophysical Journal.
This is the earliest example of this type of wind yet spotted that underscores the role of black holes in the formation of galaxies. Research has shown that galactic winds affect redistribution of metals around the galaxy and impact start formation.
Black holes and galaxies evolve together
In previous studies, scientists have noticed an unexpected proportional relationship between the mass of a supermassive black hole at the center of a large galaxy, which can grow up to billions of times more massive than the sun, and the mass of the galaxy's central area (known as a "bulge"). The proportionality of the masses is especially unusual considering that galaxies and black holes are so different in size, with the bulge generally being orders of magnitude larger. This led the researchers to conclude that galaxies and black holes developed together through coevolution, which involved some physical interaction courtesy of the galactic wind.
As ALMA's press release explains, a galactic wind starts coming into existence when a supermassive black hole gobbles up giant quantities of matter. It is then moved at such a high speed by the black hole's gravity that it radiates intense energy, which in turn, pushes surrounding matter away, creating the galactic wind.
Takuma Izumi, the paper's lead author and a researcher at the National Astronomical Observatory of Japan (NAOJ), says an important question is: "When did galactic winds come into existence in the universe?" Finding this out can lead to understanding how galaxies and supermassive black holes coevolved.
Finding an ancient galactic wind
The researchers used NAOJ's Subaru Telescope to locate over 100 galaxies that existed more than 13 billion years ago that featured supermassive black holes. They then used the high sensitivity of ALMA to analyze the gas motion in these galaxies, finding that the dust and carbon of one of them (dubbed J1243+0100) emitted radio waves. This allowed the scientists to detect the presence of an intense galactic wind that rushes forth from the supermassive black hole at about 1,118,468 miles per hour (500 km/second). The energy of the wind, the oldest found so far, is so strong that it pushes away stellar materials, preventing stars from forming.
Interestingly, the mass of the bulge in J1243+0100 was found to be about 30 billion times larger than that of the sun, while the mass of the galaxy's supermassive black hole was estimated to be about 1 percent of that. This ratio is essentially the same as the mass ratio of black holes to galaxies in today's universe. To the scientists, this demonstrates how essential black holes are in affecting the growth of galaxies, supporting the notion of coevolution from the early period of the universe.
"Our observations support recent high-precision computer simulations which have predicted that coevolutionary relationships were in place even at about 13 billion years ago," explained Izumi.
The scientists are planning to observe a large pool of space objects in the future, with the goal of clarifying "whether or not the primordial coevolution seen in this object is an accurate picture of the general universe at that time," further commented Izumi.
Life is governed by unspoken rules. How do you know you're following them correctly?
Personal Growth
Most parts of everyday life involve accepting and applying various rules, from the words we speak to the cultural norms we insist on.
These rules are learned largely by observation of others and are very rarely taught explicitly.
Saul Kripke asks us how it is that we can ever be sure that we're following the rules correctly? And does it matter?
Imagine you're out with some friends and you have to, for whatever reason, add up two numbers: 432 and 222. It's easy, you think! You were great at calculus in school, and you won't even need to get out your phone. In a confident voice, you say, "Oh, that's 654."
There's a pause as everyone looks at you oddly. "You serious?" someone says. Of course you are. That's how addition works, right?
Or is it? According to Saul Kripke, how do you know that you're doing addition correctly?
The games people play
In everyday life, we all follow a series of rules, whether we know it or not. These can be the rules of etiquette, like "don't burp in public" or "don't cook fish in the office microwave," but there are also unspoken rules that apply to our use of words and concepts. For instance, consider the words "anxious" and "scared." The two are similar but there are also very specific rules for when we cannot use them interchangeably.
Sociologists, anthropologists, and linguists have varying names for these rules, but Austro-British philosopher, Ludwig Wittgenstein, called them our "form of life." Although the term is a bit ambiguous, it's taken to mean those rules that we accept to go about our public interactions. They're a bit like the rules of a game before everyone plays — "don't pick up the ball" or "start running when you hear the gun."
We all belong to various forms of life, which give us the values we have and the language we use (which in turn influences how we think). It might be, for instance, that your family has a very particular word for the remote control that other families find odd. Or a certain country might have cultural norms that others do not. It's curious how Scandinavians tend to eat their evening meal around 4 or 5pm, while Spaniards eat nearer 9 pm.
Let's return to the opening example. Mathematics is no different. There are certain rules we have to learn and understand, and then we apply them to new situations. We have axioms, parameters, operators, coefficients, and so on, all of which constitute the "form of life" of mathematics.
Do any of us know what we're doing?
Kripke was a card-carrying Wittgensteinian. He argued that while we go about applying these rules all the time, he raised the question of whether we can ever be entirely sure that we're applying them correctly.
For example, if a child or a non-native speaker is learning a language, they will often be corrected by competent speakers. In fact, it's important that they are corrected so that they can, themselves, become the ones who will enforce those rules later. As a speaker learns the proper rules of a language, they will recalibrate what Kripke calls their "rule following consideration." And yet, it's quite conceivable that someone could misunderstand a word, but use it correctly all the time, by luck, perhaps.
In my own case, I remember using the word "reprehensible" quite correctly for a long time, thinking it meant one (slightly off) thing. I was simply lucky enough to use the word only in the contexts that fit my understanding. I was never "caught out." Most adults have a vocabulary of around 30,000 words, and most haven't taken the time to look up even a fraction of those. And, even if you did, what would that prove? Lexicographers are always playing catch up — words morph and evolve as well as die, and new ones are born every day.
But, this skepticism is not limited to words. It applies, too, to things like mathematics. No one is ever shown "addition." What happens is that we're given a list of discrete examples of addition at work and are expected to just understand. We say, "2+2=4, 4+3=7, 9+7=16. You got it yet? Good, now go and do that on your own."
A teacher or a group of people competent at math might correct us as we're finding our feet, but it's a wonder how we latch on to the principle of addition. And then we assume that we're doing it right all along.
But what if addition isn't what you think it is? In the opening example, what if addition works differently if the second addend is three repeated numbers? What if addition works differently after you reach a certain number? It might be that you've just never encountered this before.
I don't care — it just works
There are some Wittgensteinians who think Kripke misses the point. They argue that when you are part of a form of life, or when you wholesale accept a system of rules, part of doing that means that you don't question it. When you play chess you don't spend all your time asking, "But why do the knights move this way? It makes no sense!" You just play the game.
Likewise, when we speak to each other, we're not crippled by doubt that we might be choosing the wrong word. We just assume that we're right and get on with it. So, too, with Kripke's "rule following considerations." To understand a rule is to accept it, not to doubt it. Addition is no different.
But, that being true, it's still an interesting thought: How do you know that you're doing anything properly? We all think that we're competent and intelligent, but what if we're just monumentally lucky? What if one day, we're exposed as poseurs?
Jonny Thomson teaches philosophy in Oxford. He runs a popular Instagram account called Mini Philosophy (@
philosophyminis
). His first book is
Mini Philosophy: A Small Book of Big Ideas
Scroll down to load more…