Street Vendor to Sell His Michelin Star Recipe for $2 Million
It's the cheapest Michelin-Star dish in the world; a plate of soya sauce chicken from this Singaporean street hawker will set you back $1.80. But the secret recipe is for sale, and it's a little steeper.
21 September, 2016
Christoph Waltz. Morgan Freeman. Rodney Dangerfield. Betty White. All people whose careers ended up in the stratosphere — but got little to no recognition until they were 50.
---
Chan Hon Meng, 51, of Singapore is the latest addition to that list.
Mr. Chan has been cooking soya sauce chicken since 1989, and this past July, his stall was awarded a Michelin star in the inaugural edition of the Singapore Michelin Guide.
Since then, Liao Fan Hong Kong Soya Sauce Chicken Rice & Noodle has seen a 300% increase in customers, selling up to 160 chickens a day. Mr. Chan claims 90% of his customers are now tourists seeking out the famed "cheapest Michelin-starred dish in the world."
And the hits keep coming: the hawker now claims he's in talks with five companies to sell his recipe, including international food and beverage conglomerates and a major hotel chain.
His starting price is $2 million, and he insists on continuing as a partner. His business goals are modest, though: he only expects to become the second-biggest chicken chain in the world, behind KFC.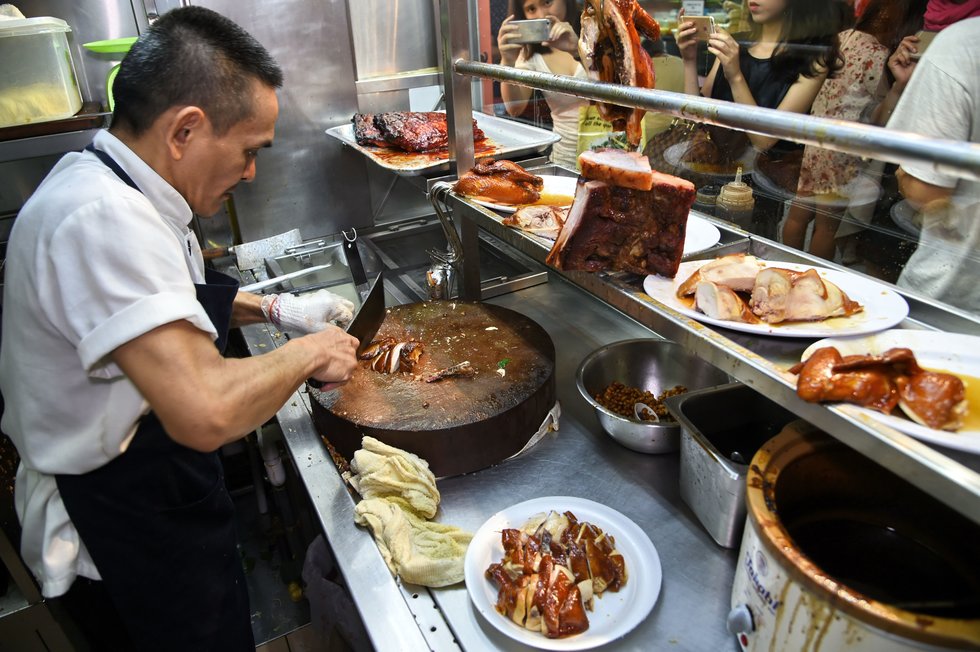 Singaporean hawker Chan Hon Meng chopping braised chicken at his Hong Kong Soya Sauce Chicken Rice and Noodle stall in Singapore. Chan is one of two street hawkers awarded one star by the culinary bible Michelin.
Of course, Mr. Chan's stall isn't the first small-scale recipe to blow up.
New York's iconic Shake Shack started as a hot dog cart in Madison Square Park before famed restaurateur Danny Meyer pitched it as an actual shack. Sixteen years later, the franchise is serving better burgers than In N' Out in over ten countries on three continents..
The granddaddy of modern hot sauces, Tabasco, started when Edmund McIlhenny decided he wanted his own hot sauce. His recipe is now shipped internationally from Avery Island, Louisiana.
Angie Cowger of Custard Stand Chili got her start by selling her grandfather's chili above a car wash in West Virginia. She and her husband, Dee, now own two Custard Stand restaurants, have franchised out four more, and count 200 Walmarts, 140 Kroger stores and 15 Sam's Clubs among their distributors.
The Bush Brothers started a tomato cannery, but it wasn't until two generations later when Condon Bush mass-produced his mother's baked beans recipe that the company finally took off.
The Mary's Gone Crackers brand of gluten-free crackers is now in 10,000 stores with over 8 million boxes sold, and all because celiac founder Mary Waldner wasn't able to eat the pre-dinner bread offered at restaurants.
Eleven-year-old Mikaila Ulmer wanted to help fight the bee population crisis, so she started selling her great-grandmother's lemonade recipe, which uses honey as a sweetener, instead of sugar. One Shark Tank appearance, 55 Whole Foods stores, and $11 million later, Mikaila is a successful, pre-teen beverage tycoon.
And of course, no conversation about chicken moguls with runaway success is complete without mentioning Harland David Sanders, whose special blend of herbs and spices eventually built the poultry empire Chan Hon Meng himself looks up to.
There are many paths to many kinds of success, it seems, but key to all of them is patience and an earnest desire to create something authentic.
Lumina Foundation is partnering with Big Think to unearth the next large-scale, rapid innovation in post-high school education. Enter the competition here!
Evolutionarily speaking, being gay is still something of an enigma
Videos
Heterosexual people have been less interesting to scientists than gay people, in terms of where they come from, because, evolutionarily speaking, being gay doesn't lead to a higher "higher reproductive fitness" — meaning, it doesn't lead to more babies.
Across cultures, gay boys tend to be more interested in spending time with their mothers.
We still don't really know why gay people are attracted to each other.
The part of your brain responsible for ASMR catalogs music, and appears to be a stronghold against Alzheimer's and dementia.
The parts of the brain highlighted in red and yellow are thought to control your sense of attention and memory. (image c/o Brain Network Lab)
popular
Some music inspires you to move your feet, some inspires you to get out there and change the world. In any case, and to move hurriedly on to the point of this article, it's fair to say that music moves people in special ways. 
Creativity can bring about unchecked harm, but it's up to us how we wield it.
Mind & Brain
Suppose you forgot it was your partner's birthday, but you know that they would appreciate the smallest of gestures, say a bouquet. It's late at night and no florists are open. The cemetery on your way home has recently had a funeral, and you walk across the site and pick up a good-looking bouquet of roses from someone's grave. You then head home, and the flowers are happily received by your partner.
Would you say that you hurt anyone?
Big think's weekly newsletter.
Get smarter faster from the comfort of your inbox.
See our newsletter privacy policy
here
Most Popular
Most Recent
Big think's weekly newsletter.
Get smarter faster from the comfort of your inbox.
See our newsletter privacy policy
here
© Copyright 2007-2018 & BIG THINK, BIG THINK EDGE,
SMARTER FASTER trademarks owned by The Big Think, Inc. All rights reserved.