Chicago 50 years later: a city looks back and disagrees on what happened
50 years ago the city of Chicago erupted in a legendary police riot.
31 August, 2018
1968 was a tough year for the United States and the rest of the world. Robert Kennedy and Martin Luther King Jr. were assassinated, Czechoslovakia tried to break free from Russian domination, the Vietnam war dragged on, French youth and blue-collar workers rose against the government, the Cultural Revolution carried on in China, and unrest raged on in every major nation on Earth.
Perhaps one of the most memorable events in that year were the riots in Chicago during the Democratic National convention which saw peace protesters, countercultural leaders, the Yippies, SDS, and more than a few people there for kicks beaten by policemen trying to keep order in the streets while the Democratic Party struggled in the International Amphitheatre.  
It was, perhaps, the entire year compressed into a single event. The forces of youth raging against the establishment while that establishment tried to carry on with the same activity that caused the rage in the first place.
So much tear gas was used by the Chicago Police that Hubert Humphrey, the Democratic Nominee for president, was made sick in his hotel room. The whole world was watching, and several political careers would be influenced by it.  So horrifying were the images on the TV screens that it was said that this was "the night America voted for Richard Nixon."
For those of you who haven't seen the images, here is a video of what was later called the "police riot."
But, as a city looks back on the 50th anniversary of the events, differing recollections suggest we haven't even decided what it was about.
On the fiftieth anniversary of the start of the convention, a panel discussion was held about the events of late August 1968. It featured such names as the Chicago Alderman Ed Burke, former Alderman and professor Dick Simpson, Professor Bernie Sieracki and newspaper reporter and author Taylor Pensoneau; all of whom were at the convention or the riot in some capacity.
The event took place in the auditorium of the illustrious Harold Washington Library in downtown Chicago, a mere half mile from where the riots took place.
Professor Sieracki was a student at the time. He was not directly involved in any of the events but saw a great deal of the events by happening to be downtown.
He argued that the riots were caused in part by "lunatics" who had no intention of making progress that day. Mentioning the application submitted to the city by the Yippies for a festival in the park; he pointed out that the various requests, including one for non-enforcement of drug laws, were designed to be rejected. 
He claimed that bags of excrement were thrown at the police by some protesters[i] and that the taunts and threats of harm would have been too much to bear for most people.
Professor Simpson, who was a Eugene McCarthy volunteer, saw The Battle of Michigan Avenue as a clash between the forces of old and new. A fight between people who held radically different views of society squaring off in the streets after the Democratic Primary, which was controlled by party insiders, prevented a meaningful clash from occurring inside the convention hall.
He recalled that he and his wife took the L-train down to the station nearest the rioting to help, but were prevented from getting closer by policemen and barbed wire. He mentions participating in the peaceful marches the day before in his autobiography. 
He mused that the same battles which were fought in '68, ones for peace, changes to the primary system, racial equality, the structure of society, and the eternal issue of law and order versus utopian ideas of a new world remain unsettled.
Alderman Burke was a plainclothes policeman in the convention hall. He recalled that the events of the convention are often misremembered, and testified that Daley didn't say the racial slurs he is often accused of[ii] towards Senator Ribicoff.  
He also, however, claimed that Dan Rather was the aggressor in the famous scuffle where he was manhandled by security on the convention floor and that Rather admitted as much, and that the authors of the Walker Report, who coined the term "police riot" to describe the events on Michigan Ave, later regretted the use of the word[iii].
Reporter Taylor Pensoneau was assigned to cover the convention and found himself having to go in and out of the Conrad Hilton hotel downtown frequently. He saw the rioting first hand and claimed to have been shoved into poet Allen Ginsberg during a struggle.
Recalling the horrors downtown during the riots, he explained the utter chaos in the streets. He described seeing a protester beaten by several policemen on one street while on the next the youths got the better of the policemen, chasing them up the street with truncheons in their hands.
He related the sight of the national guard following orders while a group of policemen broke ranks and rioted. He confirmed a few stories of protesters purposely trying to provoke the officers.
They all agreed, for the most part, that the events are often misremembered and that both sides shared blame for the riot. They further suggested that many protesters were strictly there as troublemakers without real interest in working for the cause of peace. The narrative remained the same for all of them; they differed only in details.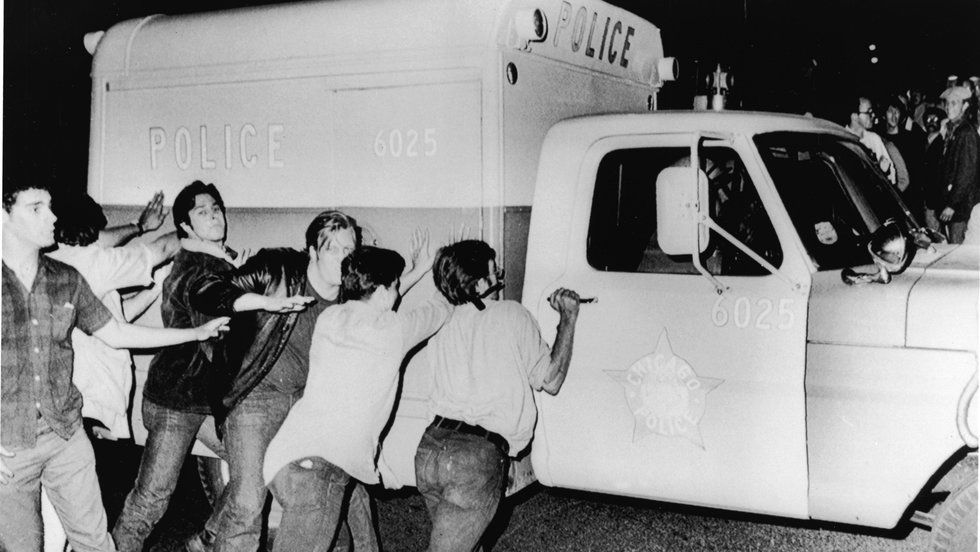 Things got out of control in a hurry, what started with peaceful protests and the nomination of a pig for president ended up in riots. Here a group of protesters tries to tip over a paddywagon. (APA/Getty Images)
But in a smaller venue, the stories changed.
A few days previously, a small discussion about the life of a Chicago-based activist had taken place on the North Side. I found myself in the cramped office it was shoved into by happenstance. Before the discussion began, aged locals recalled where they were during the convention; many of them remembered being at Grant Park, where the protests were centered. 
Not one of them regretted it, several of them proudly pointed out where they were in pictures taken during the event, and none of them mentioned anything about throwing bags of waste at the riotous policemen. For at the least the people I heard and spoke to, nobody went there to cause trouble for the sake of it. They all went to fight against a war they detested, they said. They left no doubt that they'd go again in an instant.
As Chicago looks back to a darker moment in its history and disagrees about what happened, why, and what it meant, the same questions which plagued the late sixties loom over us today. As we try to edify ourselves for the future by looking to the past, we find conflicting narratives, stories, and recollections about who threw what getting in the way. 
It all brings to mind a quote by poet William Faulkner, "The past is never dead. It's not even past." It sure isn't in Chicago. 
---
[i] I have seen contradictory evidence on if this occurred or not. The panel couldn't agree either. 
[ii] Mr. Pensoneau also supported this.
[iii] I can find nothing to support either of these statements, the second one was all but refuted by Mr. Pensoneau; who the moderator turned to for confirmation as soon as it was mentioned.  
Big Think
Sponsored by Lumina Foundation
Upvote/downvote each of the videos below!

As you vote, keep in mind that we are looking for a winner with the most engaging social venture pitch - an idea you would want to invest in.
Lumina Foundation and Big Think have partnered to bring this entrepreneurial competition to life, and we hope you'll participate! We have narrowed down the competition to four finalists and will be announcing an audience's choice award and a judges' choice award in May.
The creator of the winning video — chosen by Big Think's audience, the Lumina Foundation, and an independent panel of experts (bios below) — will be flown to New York for a taping in the Big Think studio as a way to further promote their vision for a new, disruptive idea in post-secondary education.
Thank you to all of the contestants who spent time submitting applications, and best of luck to our final four competitors.
Finalist: Greater Commons - Todd McLeod
Greater Commons, founded by Todd McLeod and Andrew Cull, is an organization that helps people live happier, more successful and fulfilling lives through agile learning. The current education system is inefficient and exclusionary, in which many students who end up earning a degree, if at all, enter a career not related to their field of study. Greater Commons solves this problem and gap in post-high school secondary education in a variety of ways. Passionately and diligently, Great Commons helps others obtain skills, knowledge, wisdom, motivation, and inspiration so that they may live better lives.
Finalist: PeerFoward - Keith Frome
PeerForward is an organization dedicated to increasing the education and career success rates of students in low-income schools and communities by mobilizing the power of positive peer influence. PeerForward works with partner schools to select influential students as a part of a team, systemizing the "peer effect." Research in the fields of sociology of schools, social-emotional learning, adult-youth partnerships, and civic education demonstrates that students can have a positive effect on the academic outcomes of their peers. PeerForward is unique through its systemic solutions to post-secondary education.
Finalist: Cogniss - Leon Young
Cogniss combines technology and best practice knowledge to enable anyone to innovate and share solutions that advance lifelong learning. Cogniss is the only platform to integrate neuroscience, through which it solves the problem of access by providing a low-code platform that enables both developers and non-developers to build sophisticated education apps fast, and at a much lower cost. It addresses the uneven quality of edtech solutions by embedding research-based learning design into its software. App creators can choose from a rich set of artificial intelligence, game, social and data analytics, and gamification to build their perfect customized solution.
Finalist: Practera - Nikki James
Practera's mission is to create a world where everyone can learn through experience. Today's workplaces are increasingly dynamic and diverse, however, costly and time-consuming experiential learning is not always able to offer the right opportunities at scale. Many students graduate without developing the essential skills for their chosen career. Practera's team of educators and technologists see this problem as an opportunity to transform the educational experience landscape, through a CPL pedagogical framework and opportunities to apply students' strengths through active feedback.
Thank you to our judges!
Our expert judges are Lorna Davis, Dan Rosensweig, and Stuart Yasgur.
Lorna Davis is the Senior Advisor to Danone CEO and is a Global Ambassador for the B Corp movement. Lorna has now joined B-Lab, the non-for-profit that supports the B Corporation movement on an assignment to support the journey of large multi nationals on the path to using business as a force of good.
Dan Rosensweig joined Chegg in 2010 with a vision for transforming the popular textbook rental service into a leading provider of digital learning services for high school and college students. As Chairman and CEO of Chegg, Dan commits the company to fulfilling its mission of putting students first and helping them save time, save money and get smarter.

Stuart Yasgur leads Ashoka's Social Financial Services globally. At Ashoka, Stuart works with others to initiate efforts that have mobilized more than $500 million in funding for social entrepreneurs, engaged the G20 through the Toronto, Seoul and Los Cabos summits and helped form partnerships with leading financial institutions and corporations.
Again, thank you to our incredible expert judges.
Upstreamism advocate Rishi Manchanda calls us to understand health not as a "personal responsibility" but a "common good."
Sponsored by Northwell Health
Upstreamism tasks health care professionals to combat unhealthy social and cultural influences that exist outside — or upstream — of medical facilities.
Patients from low-income neighborhoods are most at risk of negative health impacts.
Thankfully, health care professionals are not alone. Upstreamism is increasingly part of our cultural consciousness.
The Bajau people's nomadic lifestyle has given them remarkable adaptions, enabling them to stay underwater for unbelievable periods of time. Their lifestyle, however, is quickly disappearing.
Wikimedia Commons
Culture & Religion
The Bajau people travel in small flotillas throughout the Phillipines, Malaysia, and Indonesia, hunting fish underwater for food.
Over the years, practicing this lifestyle has given the Bajau unique adaptations to swimming underwater. Many find it straightforward to dive up to 13 minutes 200 feet below the surface of the ocean.
Unfortunately, many disparate factors are erasing the traditional Bajau way of life.
Big think's weekly newsletter.
Get smarter faster from the comfort of your inbox.
See our newsletter privacy policy
here
Most Popular
Most Recent
Big think's weekly newsletter.
Get smarter faster from the comfort of your inbox.
See our newsletter privacy policy
here
© Copyright 2007-2019 & BIG THINK, BIG THINK EDGE,
SMARTER FASTER trademarks owned by The Big Think, Inc. All rights reserved.